Vacation Meal Planning Has Its Benefits
Do you meal plan when you go on vacation? To what extent? What does vacation meal planning really mean?
Meal planning for a trip can run the spectrum from picking which restaurants you want to dine at to planning what recipes you'll make at your vacation rental.
Whether you're staying in a hotel with nothing more than an in-room coffee maker, a campsite with an open fire pit, or a rental with a serviceable kitchen, meal planning before your trip has its benefits!
Selecting which meals you'll enjoy out allows you to make early reservations, takes the guesswork out of where and what to eat, and can be worked into and around your scheduled activities.

Having a plan can help you stay on track with nutritional goals and needs by having control over portion sizes and incorporating balanced meals and healthy snacks (with room for treats and indulgences built in…it's vacation after all!)

Planning the right assortment of packed meals & snacks, meals to cook, or dining out experiences can help you stay within your vacation budget.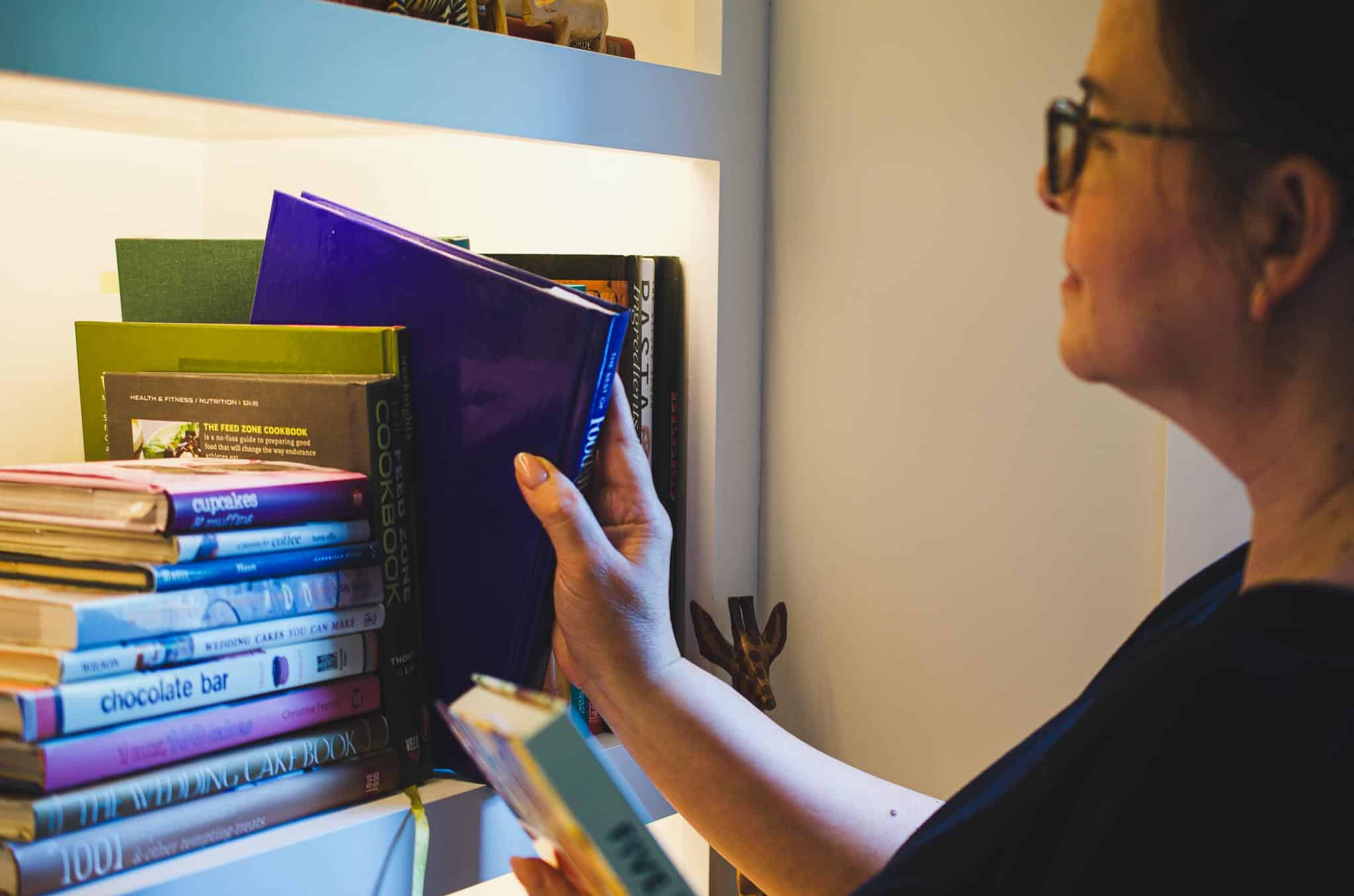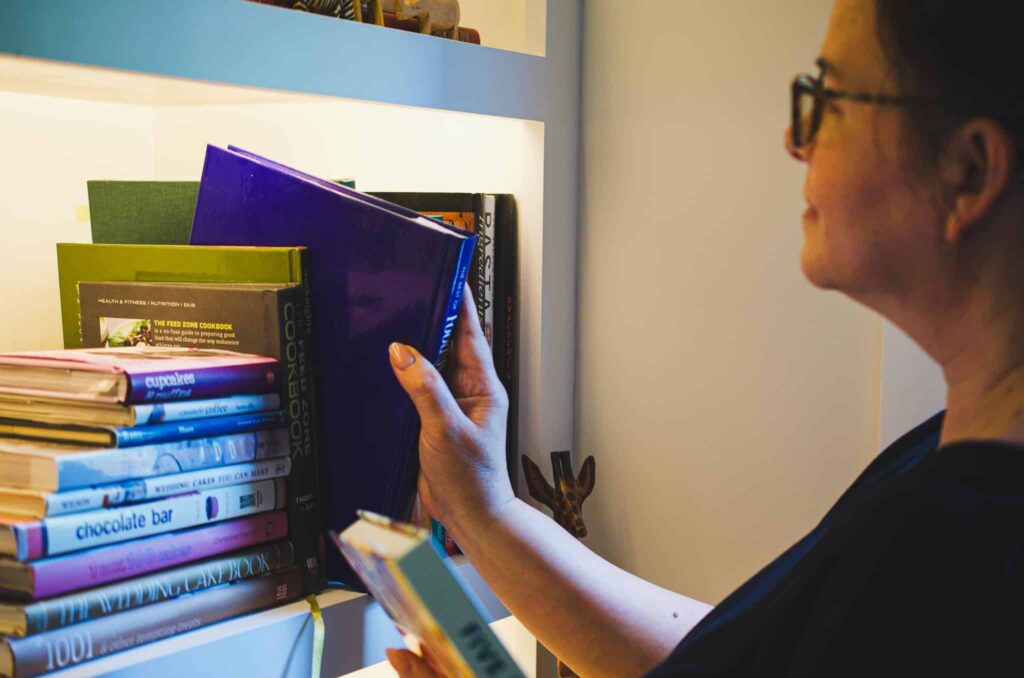 Meal Planning Tips for Your Vacation
We have an upcoming road trip to Cape Cod, so I'm in full-on planning & list mode. We've rented a quaint cottage with a small kitchen and outdoor grill that will allow us to cook some meals at home. 
There are several things to consider so we can enjoy a convenient, hassle-free, (mostly) healthy, and cost-effective holiday. If your future plans include a vacation rental (or even if they don't), I hope some of these tips can help you do the same!
Brainstorm Recipes
Make a list of your favorite recipes — consider the level of difficulty, preparation time, or if they require special equipment or ingredients. 

Make a list of regional-friendly recipes to try — since we'll be oceanside, I'll be including some seafood recipes in my list!
You can decide which recipes to include or omit based on what you'll have access to during your stay. 
*Plan to Eat Pro Tip: add these recipes to your Queue or create a Tag named for your trip for easy access later.*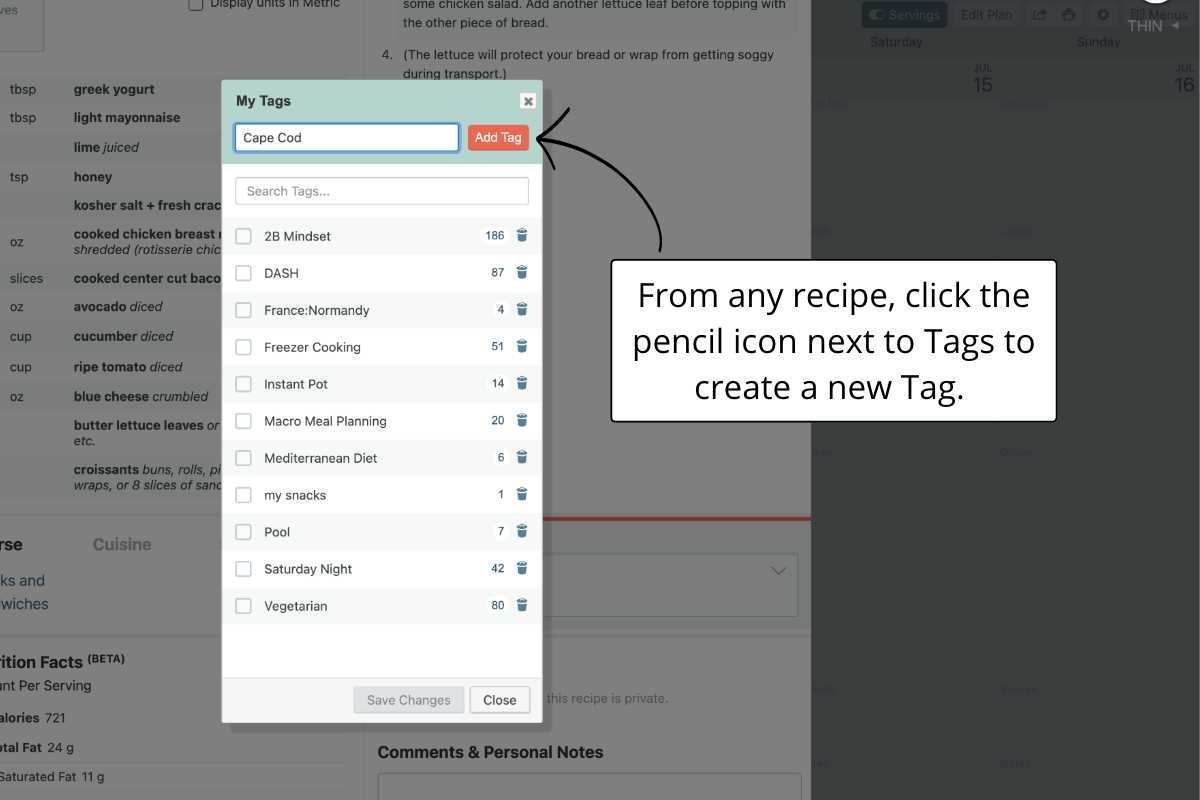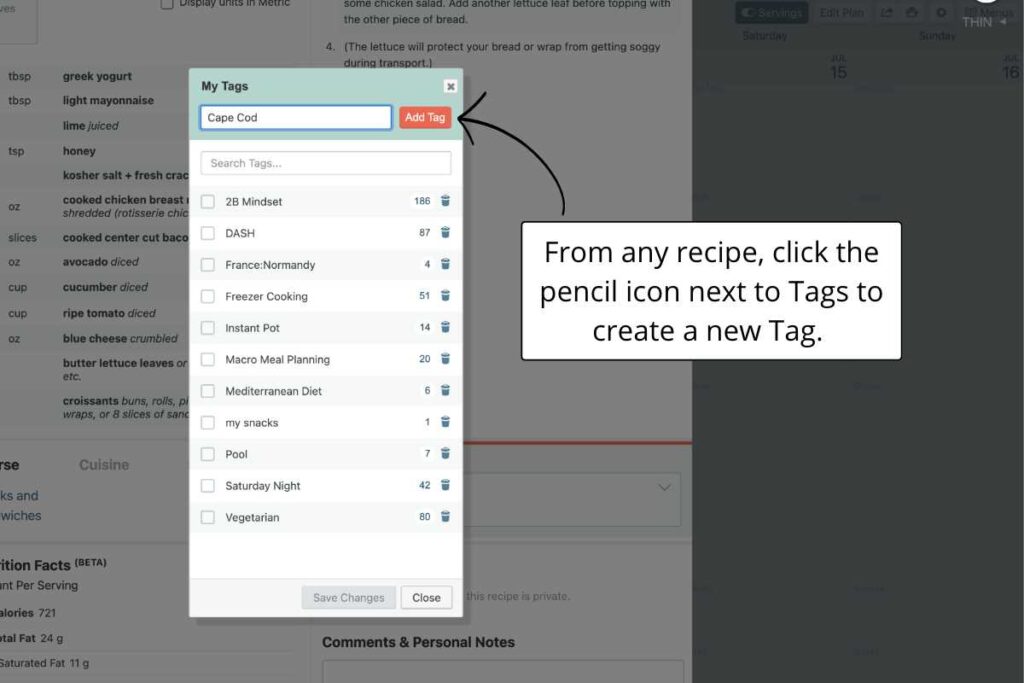 Must-Try Restaurants
Is there a regional cuisine or specific restaurant you absolutely must try?
Jot them down and note which ones are most important to you.

Determine how many restaurant meals fit your budget. 
Don't forget, restaurants often serve the same dishes for lunch and dinner. While lunch portions may be smaller, they are also less expensive! This is a great strategy for enjoying your must-have meal at higher-end establishments.
*Plan to Eat Pro Tip: when scheduling a reservation or planning which meal you'll enjoy out, include the restaurant name & information on your meal plan using the Add Note feature.*
Must-Have Tools
Having stayed at a number of vacation rentals, I've learned that there's no kitchen like my kitchen. More importantly, I know what tools I can't live without: my knives and a decent cutting board. So yes, I often pack at least one knife (a Santoku) if not all of them, and a board.
Based on your method of travel and available space, bringing your must-have kitchen gadgets may not be feasible (or recommended!). If you do have that option, your favorite tools will make your vacation meal prep all the more enjoyable.
When in doubt, reach out to the vacation rental owner to ask about specific appliances or tools as online descriptions aren't always comprehensive or accurate.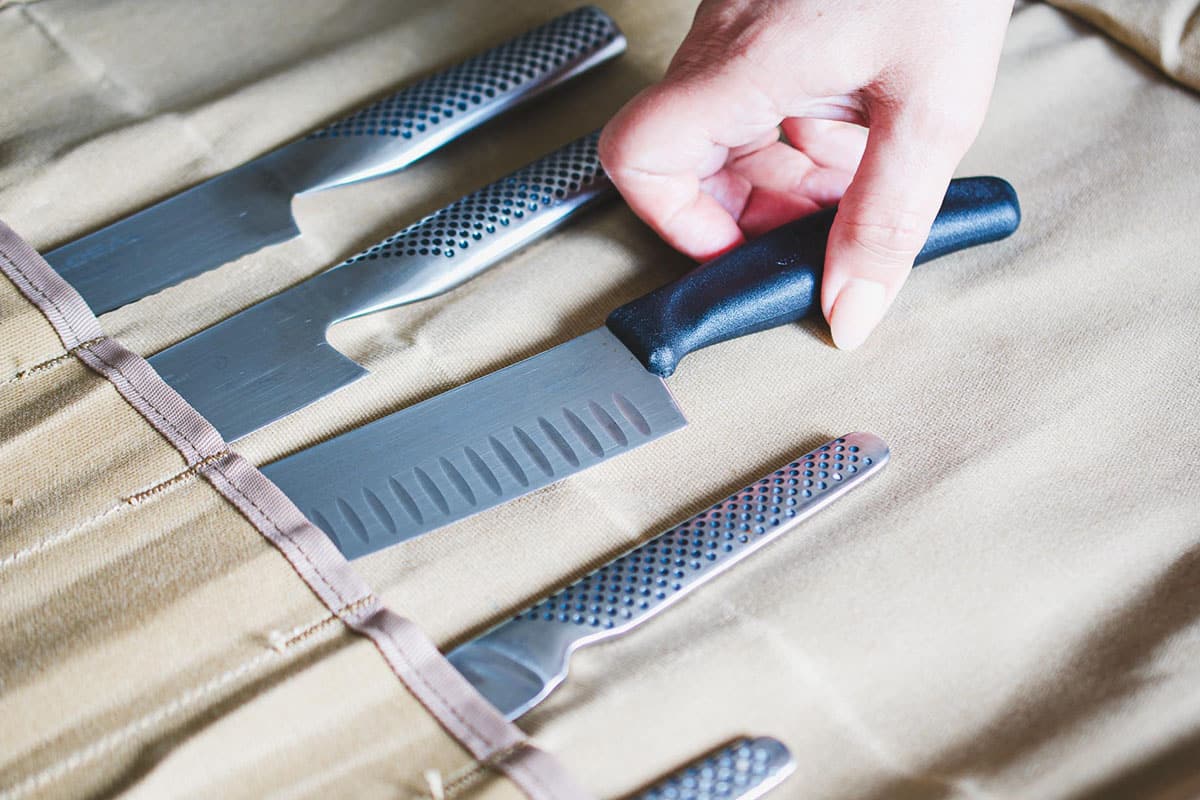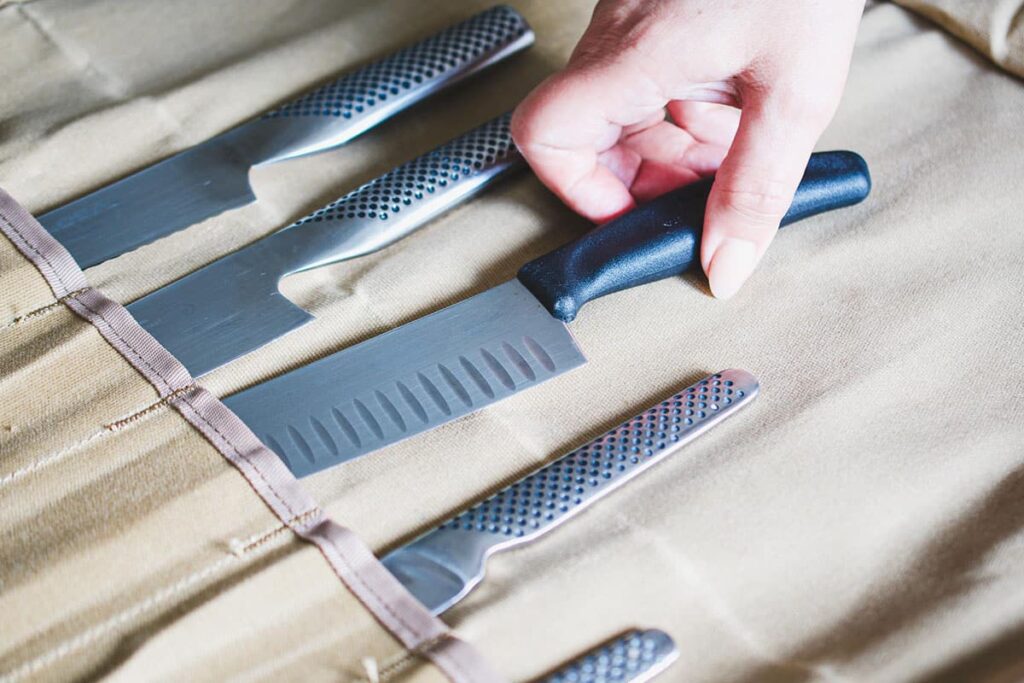 Scope Out Shopping Options
You're likely not going to pack an entire vacation's worth of ingredients to bring with you, so do some research to locate the closest grocery store. While you're at it, search for farmer's markets and farm stands and note their days and hours of operation. What a great way to enjoy the regional bounty & color. 
Likewise, there may be specialty shops that sell locally produced goods to incorporate into your meal plan, like jams, baked goods, or other delicacies. (I'm mapping out the fish markets nearest to our cottage!)
Create Your Meal Plan
Dining out — I like to pop restaurant meals into my vacation meal plan first since they are usually tied to a reservation or specific to a day trip excursion. It's then easy to see what at-home meals need to be slotted in.

Cook at least one meal per day — for ease and to stay on budget, it's also helpful to plan at least one at-home meal for each day. Perhaps it's always breakfast, or maybe it's a mix. It doesn't even have to be something you cook.

Stay flexible & adaptable — allow for spontaneous dining opportunities or modify as circumstances change. To that end, you could leave a meal or two unplanned so you can shuffle recipes around or make a last-minute addition based on the amazing homemade pasta you found during that day's outing.
*Plan to Eat Pro Tip: When creating your Shopping List, don't forget to add snacks (for the road and your destination), beverages, or paper goods. If you plan to do some of your shopping before the trip, you can also add a grocery Category or Store to separate out those ingredients.*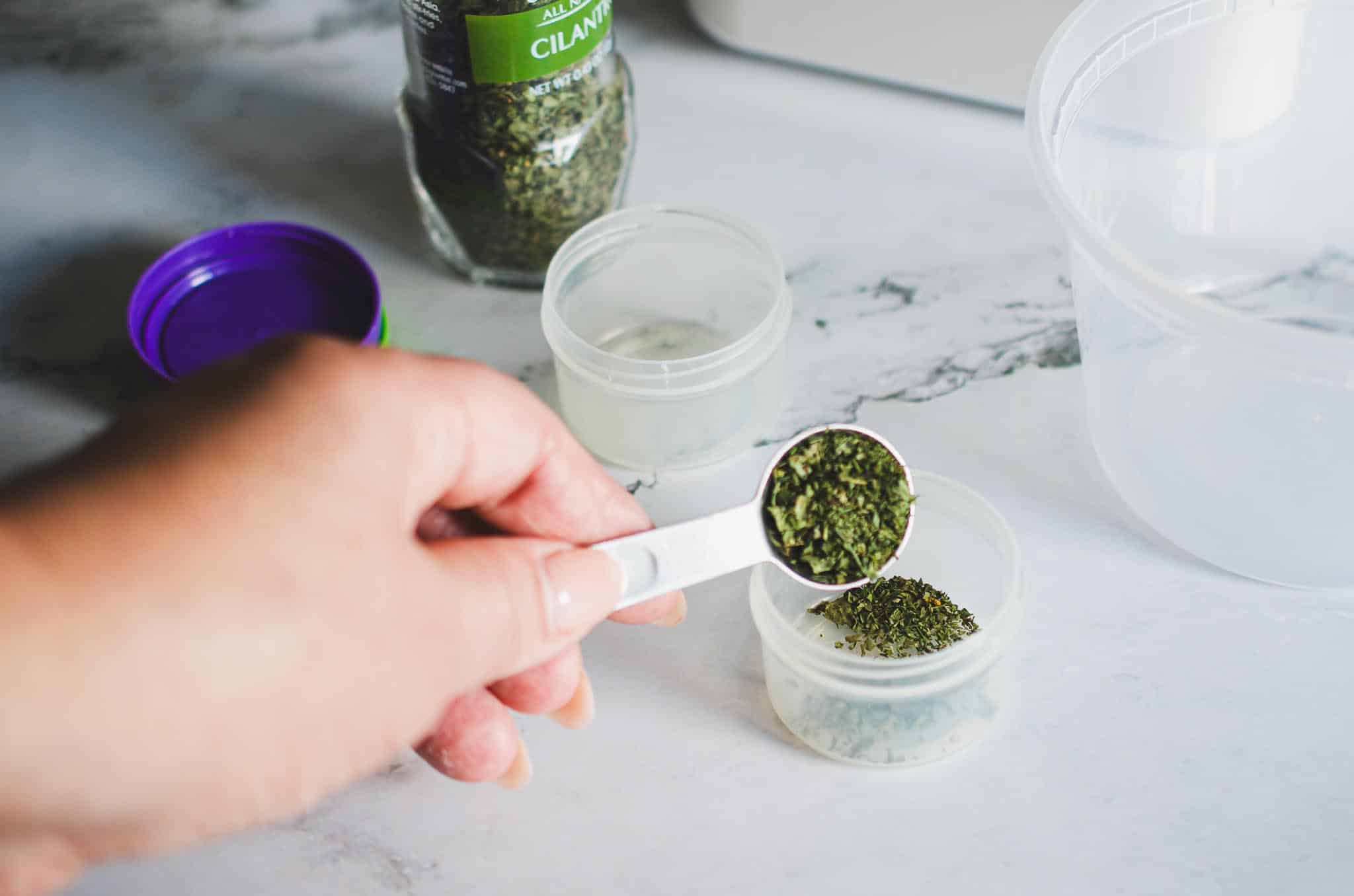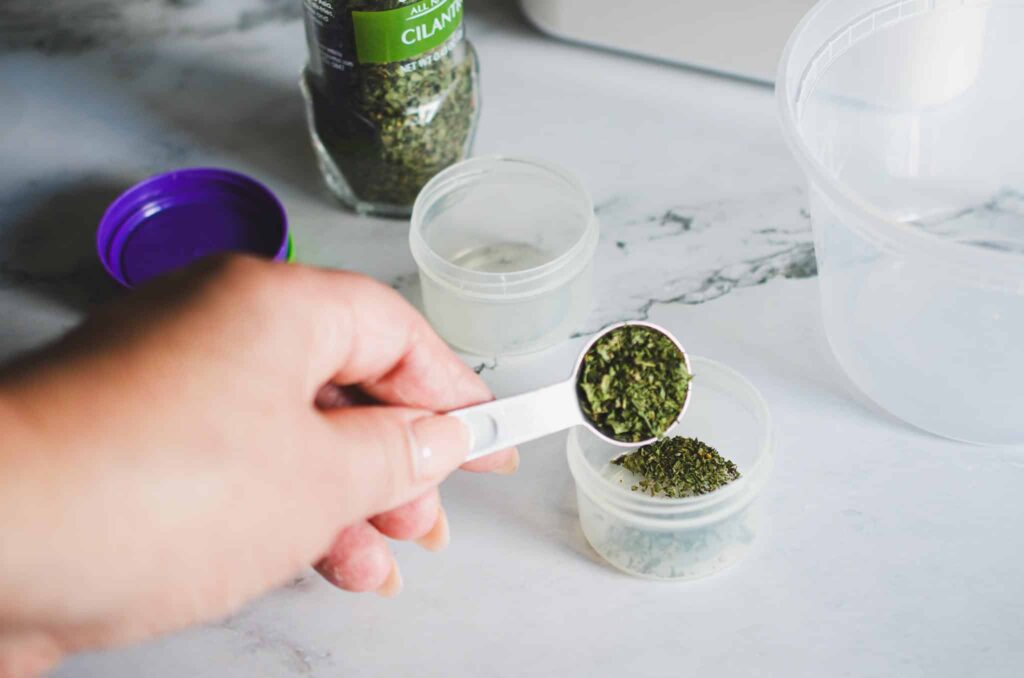 Pre-Vacation Meal Prep
There are times when doing a little prep at home can be helpful. Review the recipes you've planned to determine what steps you can complete at home, especially if you're traveling by road and have the space:
Portion out certain ingredients — items like flour & sugar and dried herbs & spices can be portioned into transportable containers so you don't have to buy a bag of flour when you only need a 1/2 cup. 

Mix dry ingredients for a recipe at home — we love to make pancakes when we go camping, so I'll combine all the dry ingredients into a labeled container rather than bring each of the individual items. 

Make a freezer meal to save time — if your drive is short or you have a really tight cooler, consider assembling and freezing a meal at home. This will eliminate some of the prep work and give you more time for relaxing!
A Travel-Friendly Lunch Recipe
Since we've adopted our dog, most of our trips are road trips. It took a few tries to figure out what was most comfortable and convenient for our car travel adventures with a dog. Initially, we'd stop for lunch at a fast food restaurant and eat in the car. It always seemed like such a production and left us feeling not so great after a meal of burgers & fries. 
But, we've since rediscovered the joy of interstate rest areas! Most have plenty of parking, lots of green space and picnic tables where we can enjoy lunch together, pooch included! Our lunch stops have become more efficient and quicker.
Planning and packing lunch and drinks affords us more control over how we fuel our bodies, takes the guesswork out of where to buy lunch, and saves money. 
For our upcoming trip, I'll be packing this Creamy Chicken Cobb Salad Sandwich! It's got lean protein, lots of fresh veg, just enough bacon and blue cheese to satisfy, and is tossed in a light & creamy honey-lime dressing. I know my kiddo will opt for a croissant, but I'm choosing a whole wheat wrap. 
With some fresh fruit on the side, it's a fuel-filled lunch that will sustain us until we reach our destination. (Hey, it's great for picnics, too!) Happy travels!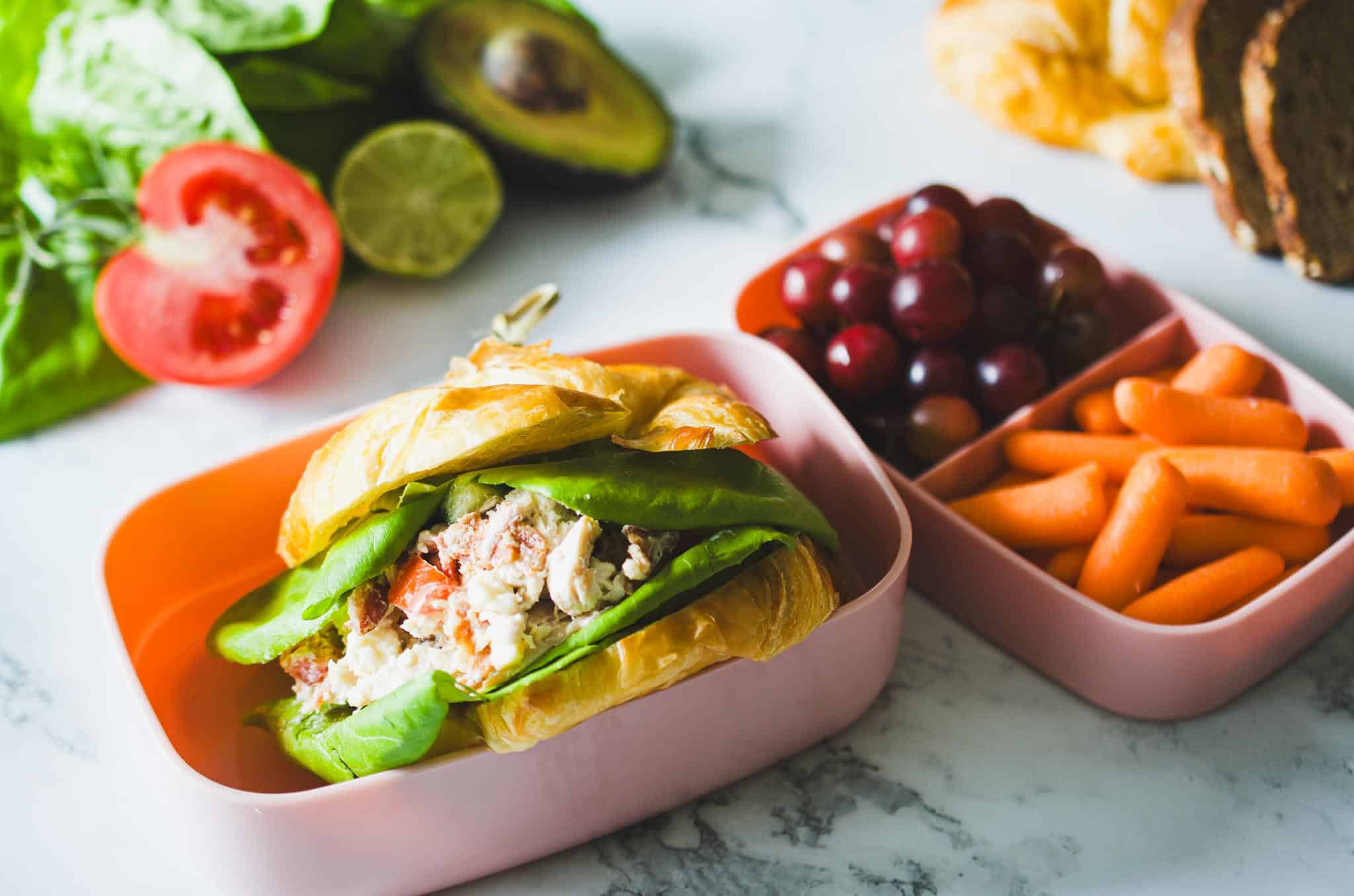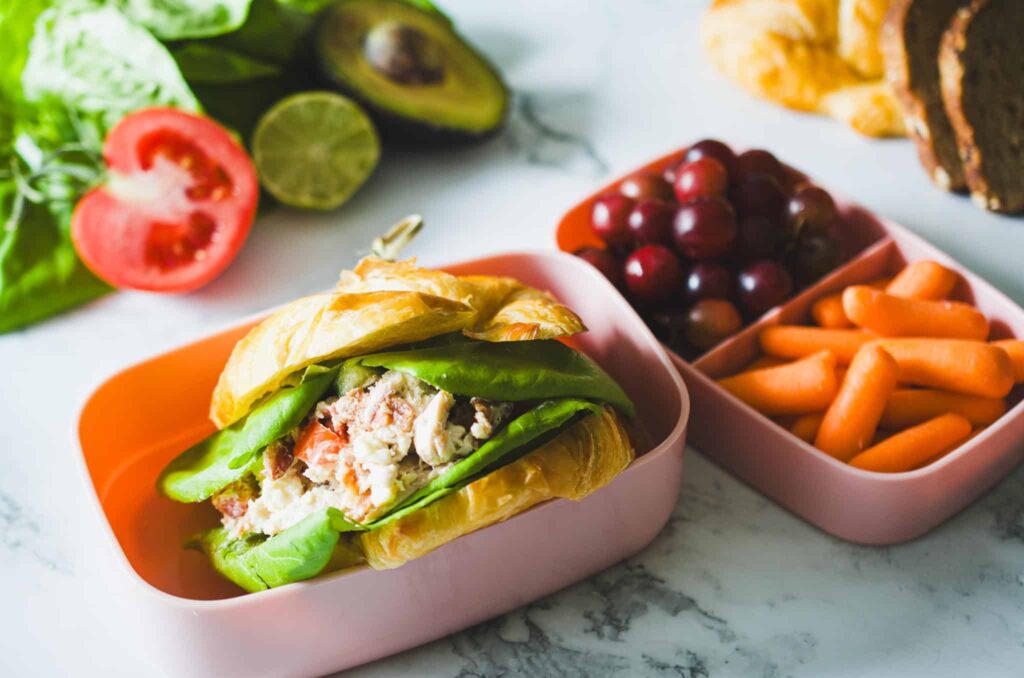 Linda Feller has been a Plan to Eat superfan since 2013 and will whip out the app to share with anyone who expresses the least bit of interest. She is a recipe developer, food photographer and the gal behind Sip + Sanity, recipes for entertaining and celebrating. 
FB | Instagram | Threads | Pinterest: @sipandsanity
The classic Cobb salad is taking a spin...we've omitted the egg and subbed in crisp cucumber, tossed everything together in a creamy honey-lime dressing, and stuffed it into a sandwich! This portable chicken salad sandwich is perfect for lunches, picnics, and road trips!
Source: Sip + Sanity | Linda Feller for Plan to Eat
Course: Snacks and Sandwiches
Ingredients
2 tbsp

greek yogurt

2 tbsp

light mayonnaise
1⁄2 lime juiced

2 tsp

honey

6 oz

cooked chicken breast meat cubed or shredded (rotisserie chicken is easy!)

6 slices

cooked center cut bacon crumbled

2 oz

avocado diced
1⁄2 cup cucumber diced
1⁄2 cup ripe tomato diced

2 oz

blue cheese crumbled

16

butter lettuce leaves or romaine, iceberg, etc.
croissants, buns, rolls, pitas, large tortilla wraps, or sandwich bread
Directions
In a large bowl, whisk together the greek yogurt, mayonnaise, lime juice and honey. (Taste and season as desired with salt + pepper, but I find it doesn't need really need it.)
To the bowl, add the chicken, bacon, avocado, cucumber, tomato and blue cheese. Toss everything together with the dressing.
Place two lettuce leaves on the bottom piece of bread. Top that with some chicken salad. Add another two lettuce leaves before topping with the other piece of bread.
(The lettuce will protect your bread or wrap from getting soggy during transport.)
(Nutrition note: the estimated nutrition data is based on all ingredients except for the bread.)
Amount Per Serving (4)
Calories: 232
Protein: 22 g
Sugar: 4 g
Carbohydrate: 8 g
Fat: 13 g
Saturated Fat: 4 g
Cholesterol: 22 mg
Sodium: 442 mg
Fiber: 2 g
Powered by