Meal plans for a dynamic life
With your favorite recipes in Plan to Eat, you can create meal plans wherever you are!
Whether you're waiting in the dentist's office lobby or sitting in your car outside the grocery store, you can create a meal plan in minutes.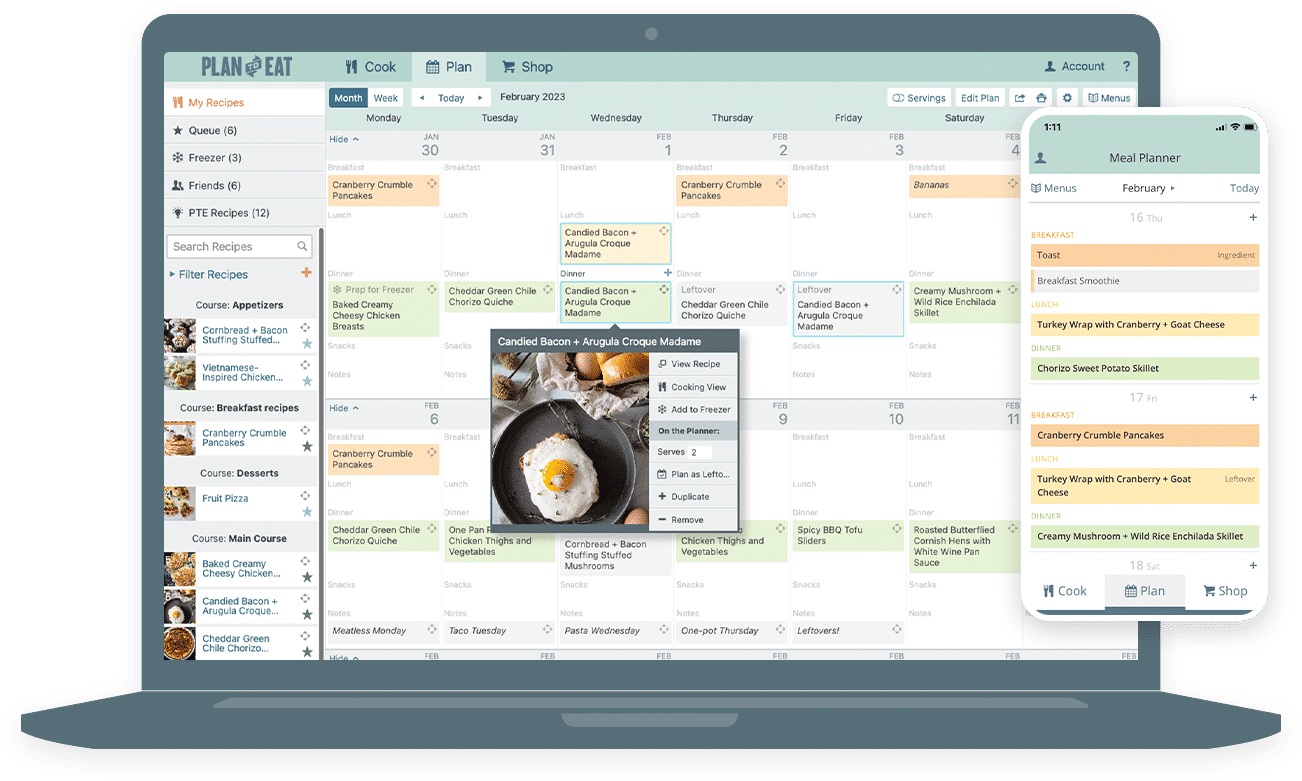 The Planner allows you to add recipes to specific mealtimes and days of the week to work around your schedule. Add events and reminders to your Planner with notes and plan ahead for any length of time. There's no limit to the number of recipes you can add to the Planner, so you can create a plan that's as detailed or simple as you need.
Create customized meal plans to fit your schedule and diet.
Plan recipes for specific dates and mealtimes on a digital calendar. There's no limit to the number of recipes or ingredients you can add to your meal plan, so make it as detailed as you'd like!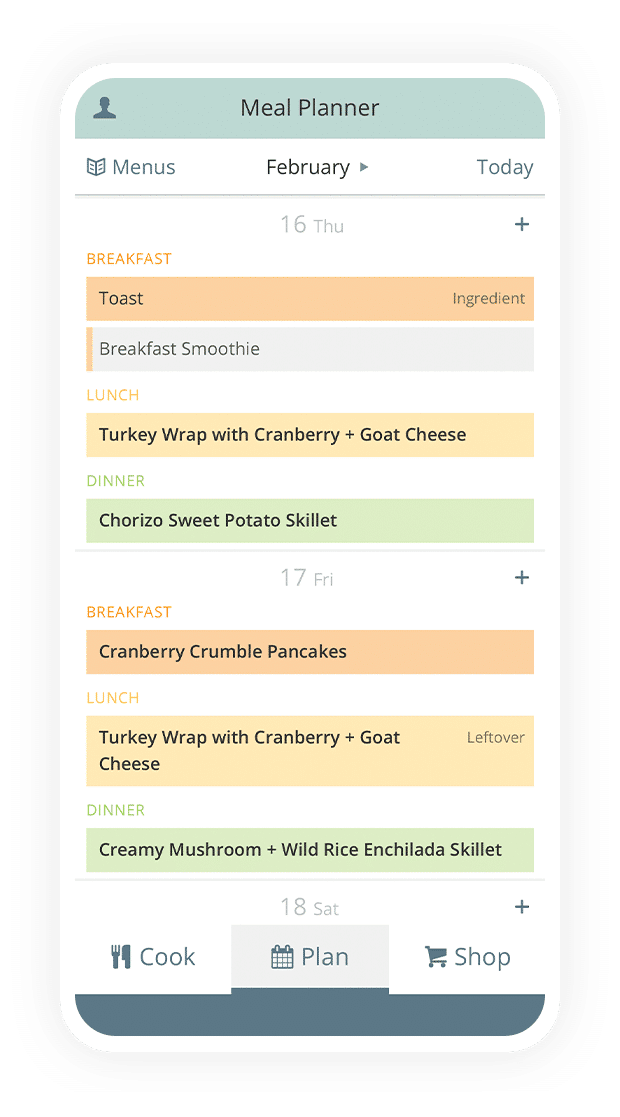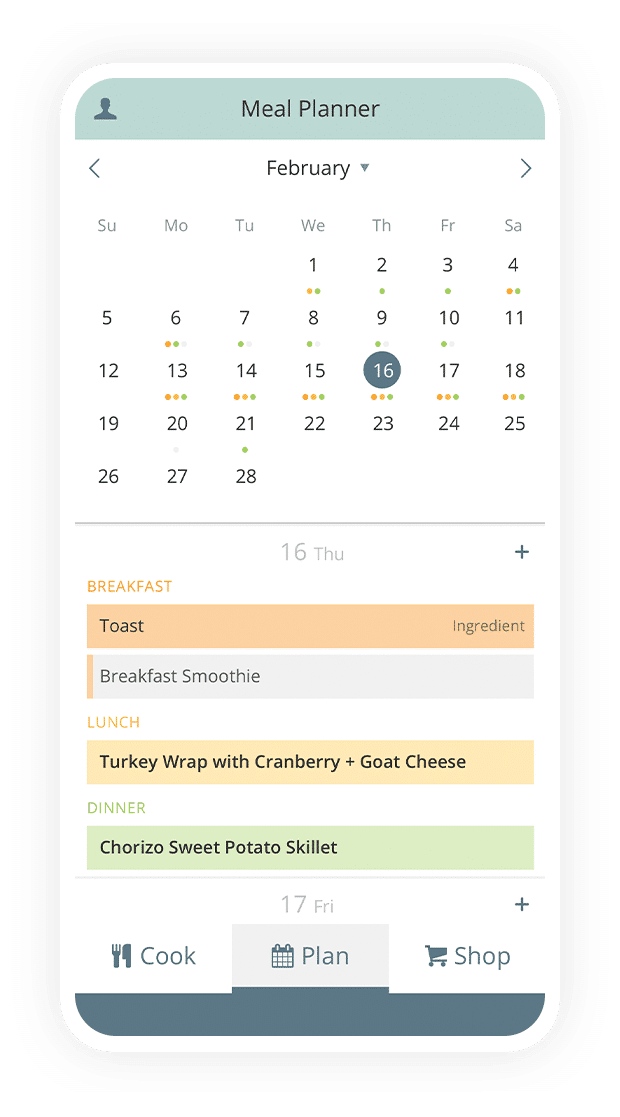 Better than string on a finger
Keep track of your schedule.
Use notes and ingredients on the Planner to remind yourself of weekly events or single grocery items to accompany a meal.
Embrace the freedom of flexibility. Move recipes, update serving sizes, plan leftovers, and swap entire weeks' worth of meals.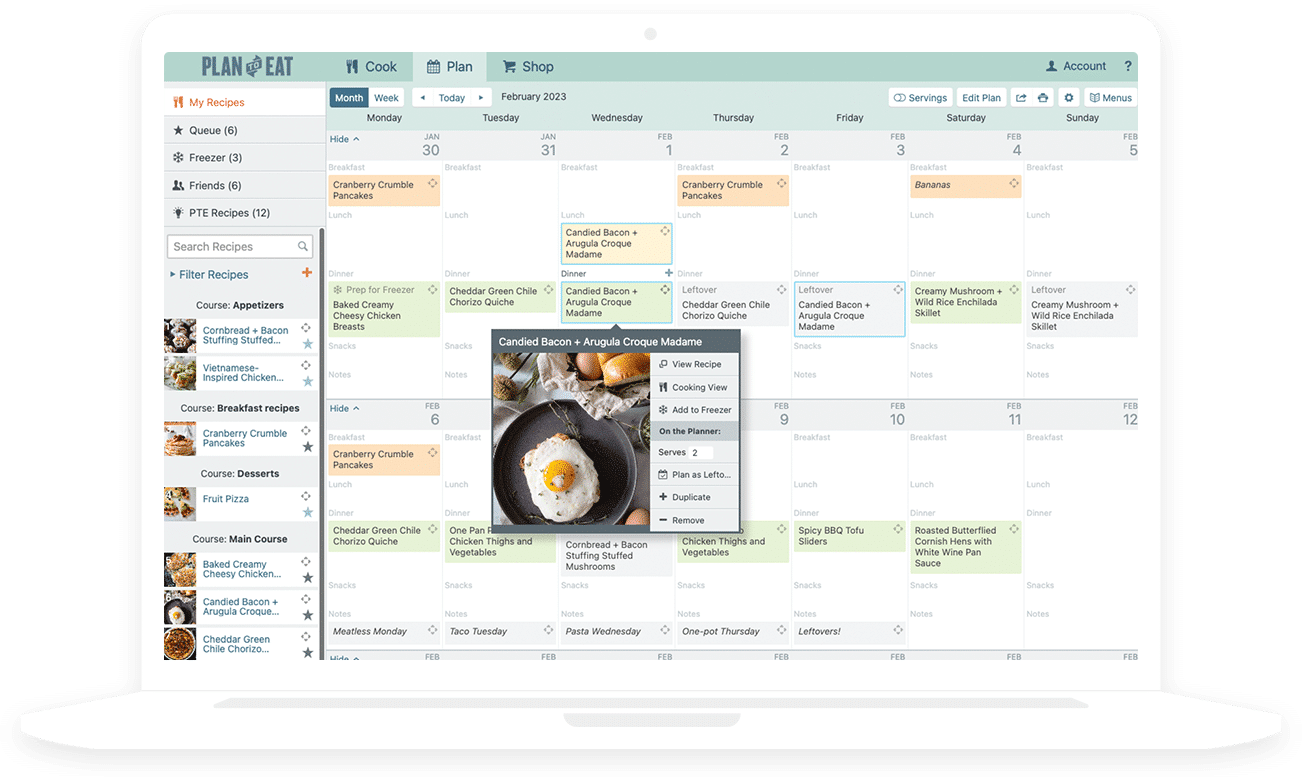 Save and reuse meal plans.
Menus allow you to save and reuse meal plans for simplified meal planning! Create new Menus or save past meal plans and cut your time spent planning down to mere minutes a week.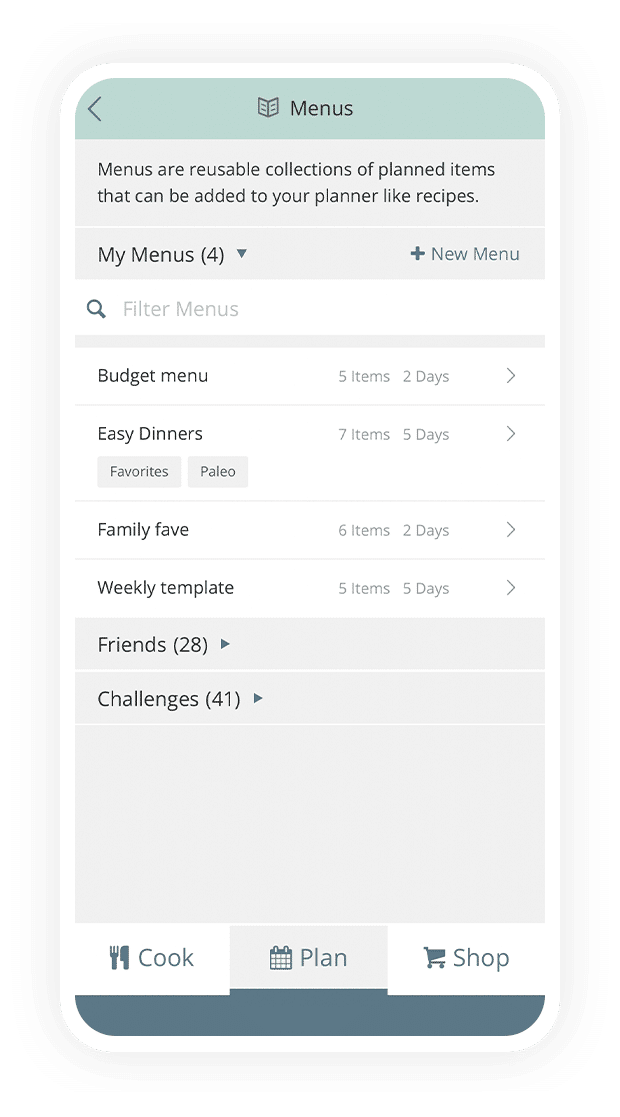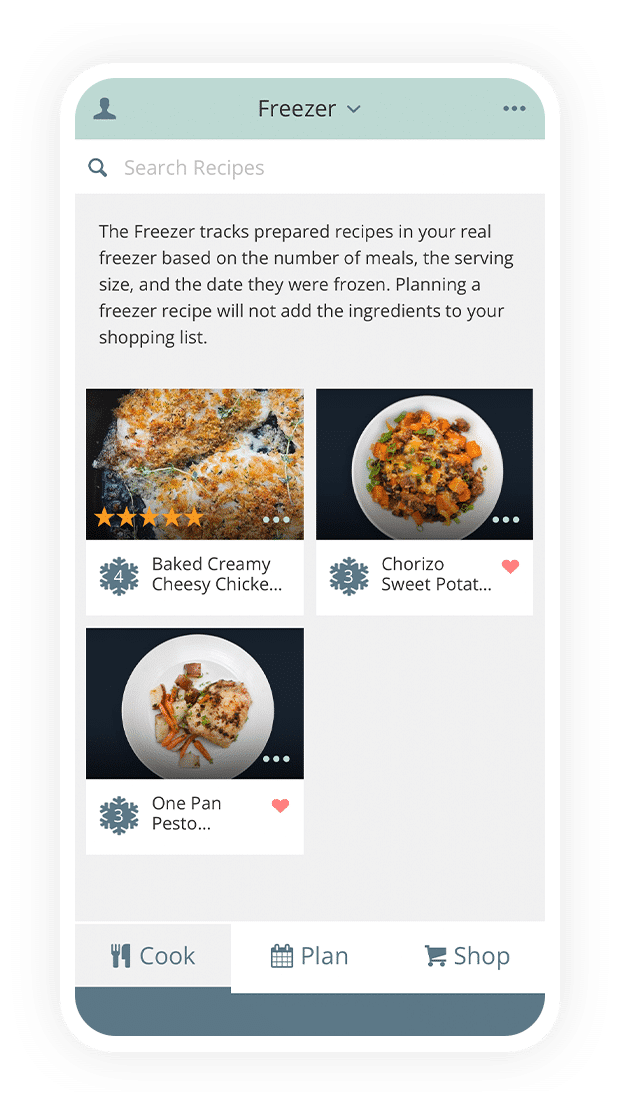 Batch cook and freeze recipes.
The Freezer allows you to batch cook and keep track of your frozen recipes. Use the Freezer to keep a list of frozen meals, track quantities, and remember the date you made the recipe.
Always have an answer for "what's for dinner?"
Have your plan on display for everyone to see. Your meal plan is always available on your computer and mobile devices, but you can also print a copy to keep on the fridge.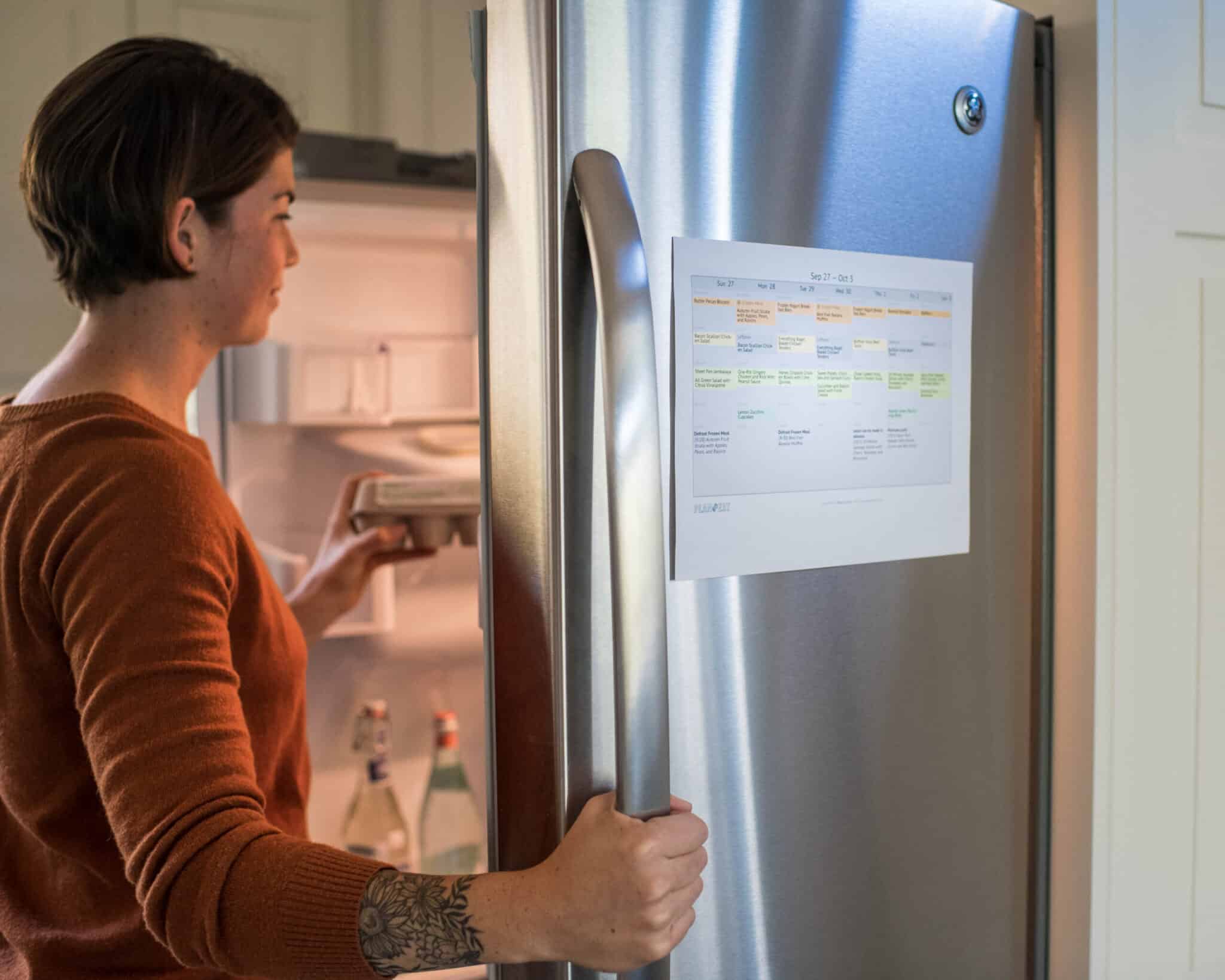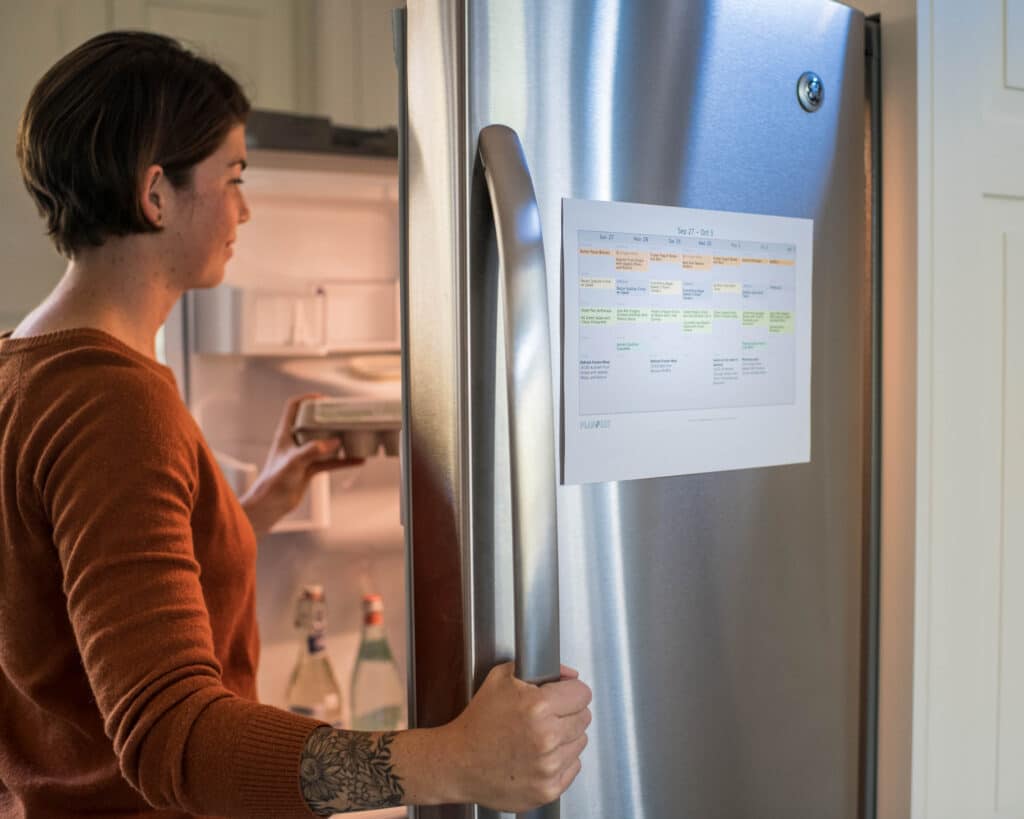 More Meal Planning features:
Show macro totals on your Planner
Customize your calendar view
Start creating meal plans that work for you!
No credit card required. Only $5.95/mo or $49/year if you choose to subscribe.
Reduction in time planning and grocery shopping
The average time our 2,568 survey respondents spent planning and grocery shopping was reduced from 140 to 73 minutes per week.
Reported a decrease in anxiety about meals.
"A little planning upfront saves a ton of frustration during the week. Especially with kids in activities and meetings, it's nice to know what's for dinner every day."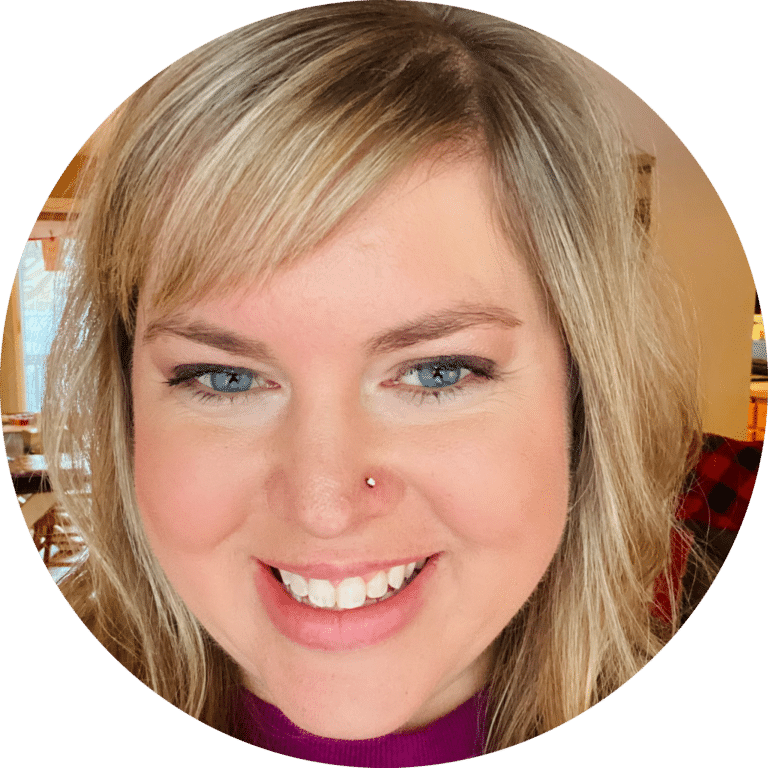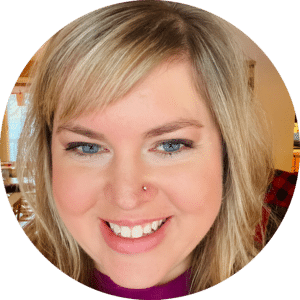 Before I got this app, my meal planning was messy, inconsistent, and expensive. I was spending way too much of my food budget on unhealthy and costly pre-packaged meals and take-out. By having my recipes and shopping list in one app, I can plan meals from wherever I am.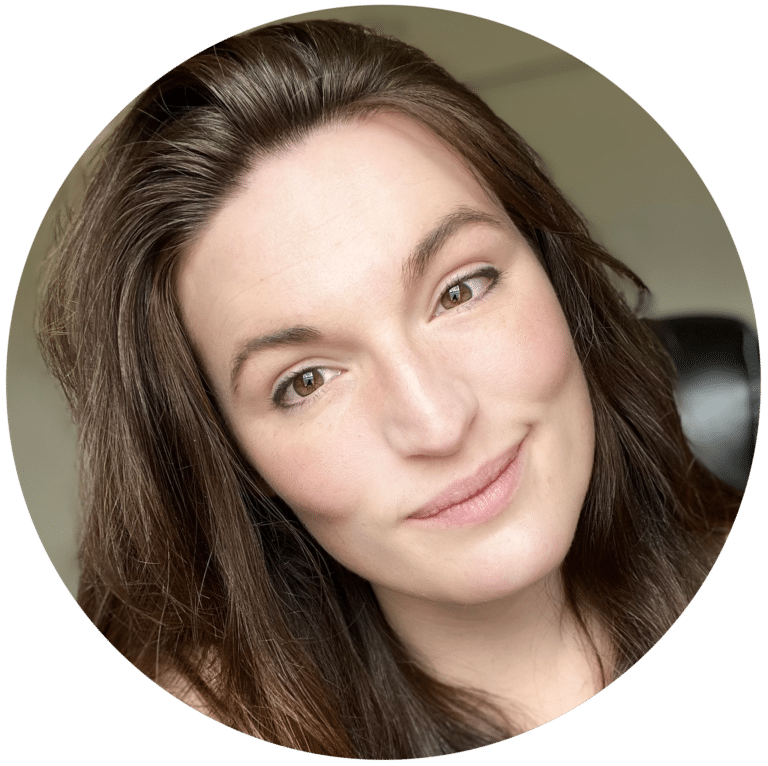 Before using Plan to Eat I would do rough meal planning, but always struggled to actually get what I needed on the week to week basis. Now, that I started using Plan To Eat my shopping experience has become so streamlined, simple, and effective.
I've saved money, reduced food waste, and actually stuck to my meal plan better than ever before just because of Plan To Eat and its incredible program! I plan on having this app for as long as I'm cooking.