Your personal recipe library
When it comes time to meal plan, you need to be able to find what you're looking for!
With Plan to Eat, you can store all your recipes in one place, categorize them how you want, and then search to find the perfect recipe every time. You won't be stuck digging through handwritten cards and bookmarked recipes to create your meal plan.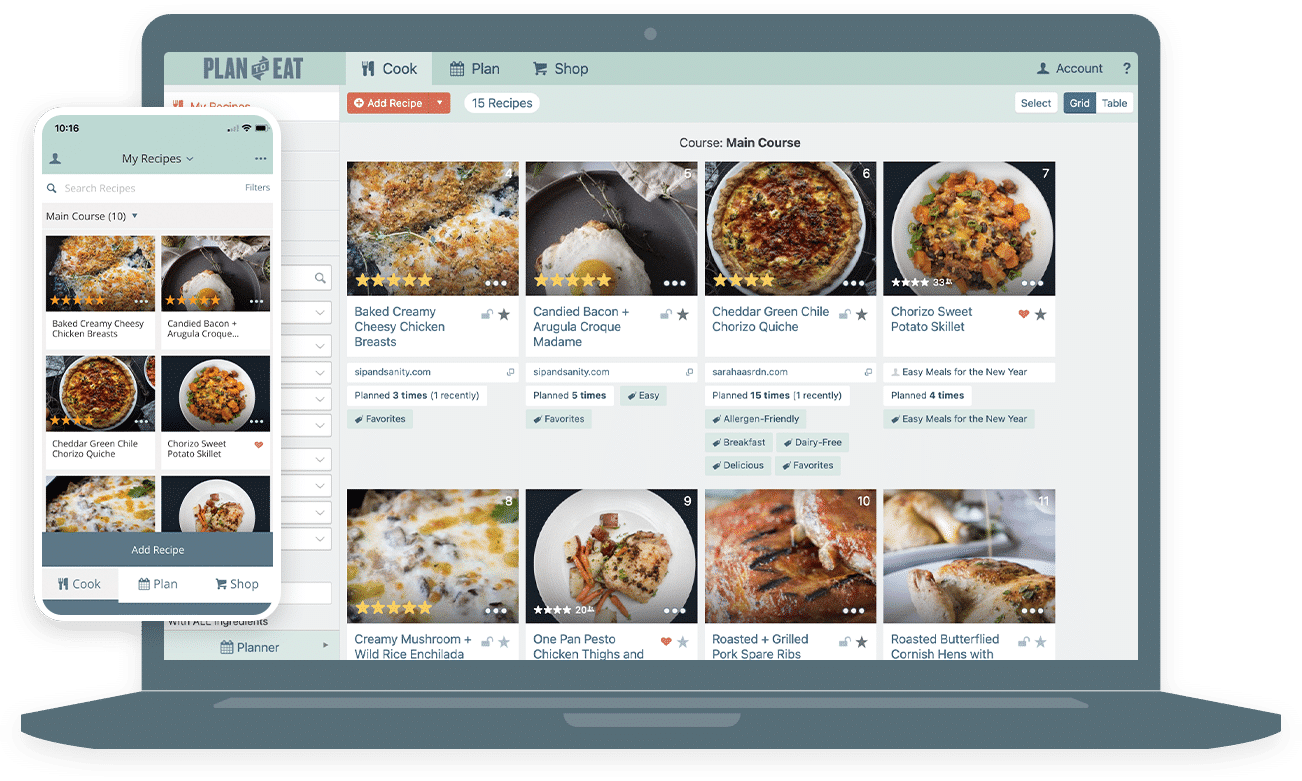 Your Recipe Book in Plan to Eat is your own; curated by you with only the recipes you want to prepare and eat. Our import tools allow you to add bookmarked recipes, your family's favorite recipes, and all the recipes from your Pinterest boards. Edit, comment, and update the servings on recipes for a fully customized digital recipe library.
Add recipes with a click.
Saving recipes to your account is fun and easy! With our recipe clipper, you can add recipes to your Recipe Book from all over the web. Save recipes from your phone or in a desktop web browser.
Update the serving size on all your recipes to fit the number of people you're feeding. Or increase a recipe's servings for leftovers and take a night off from cooking.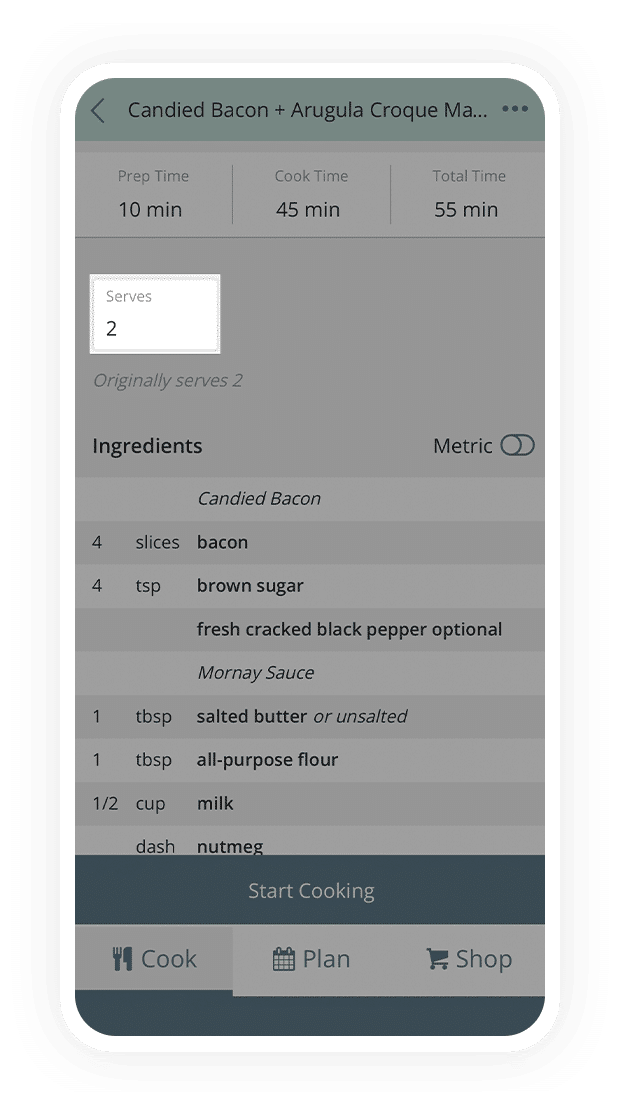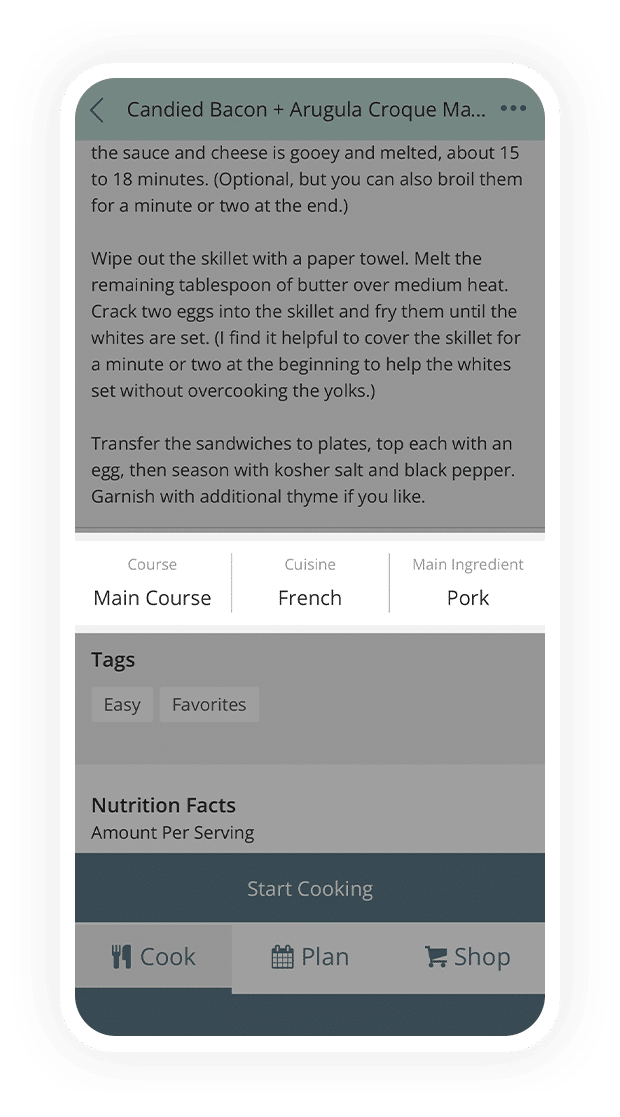 Organize your recipes, your way.
Group your recipes by course, cuisine, main ingredient, rating, and tags. You can customize these categories and organize your recipes how you like!
Find what you're looking for.
Search your recipes by title and keyword. Sort and filter by category. Enter ingredients and find related recipes. Find the recipe you're looking for, whether it's something specific, a certain ingredient, or even a way of cooking.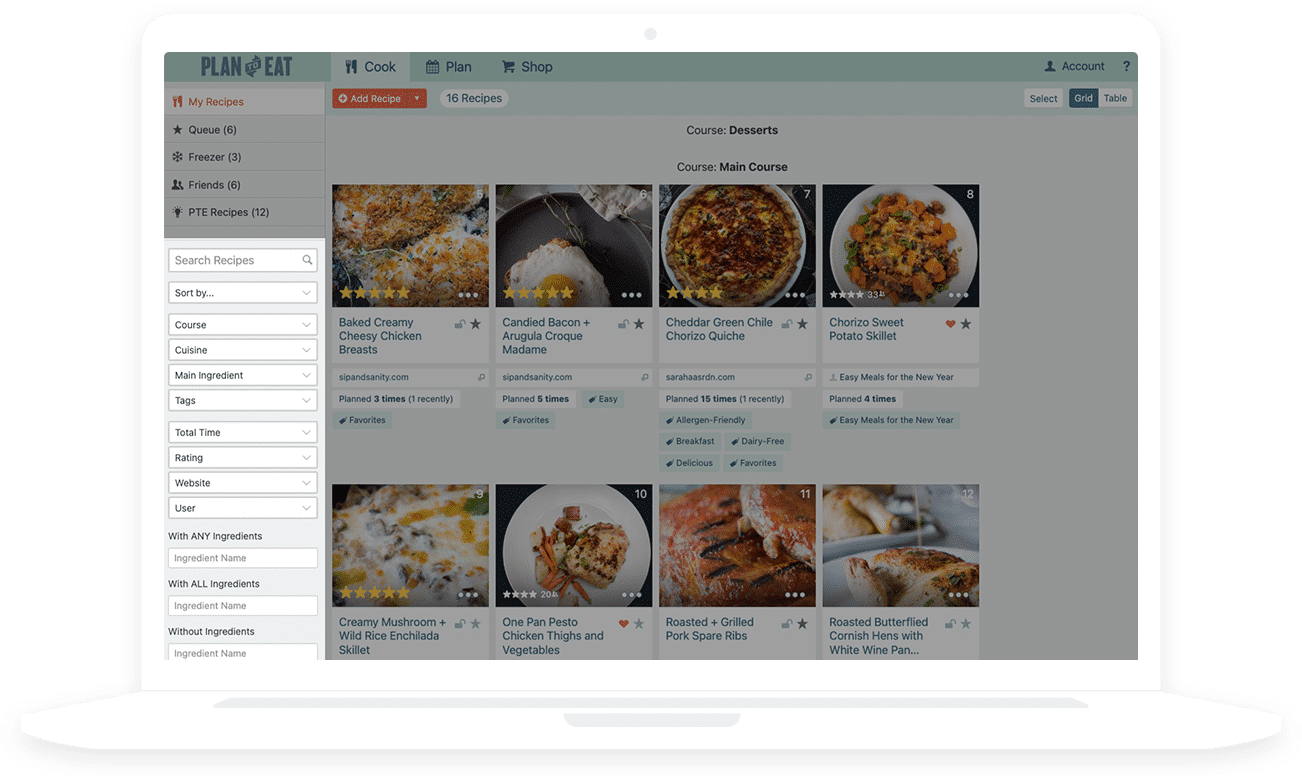 Share your favorite recipes.
Text or email recipes to friends and family members or share recipes with other Plan to Eat customers through the Friends section. Get inspiration and discover your new favorite recipe!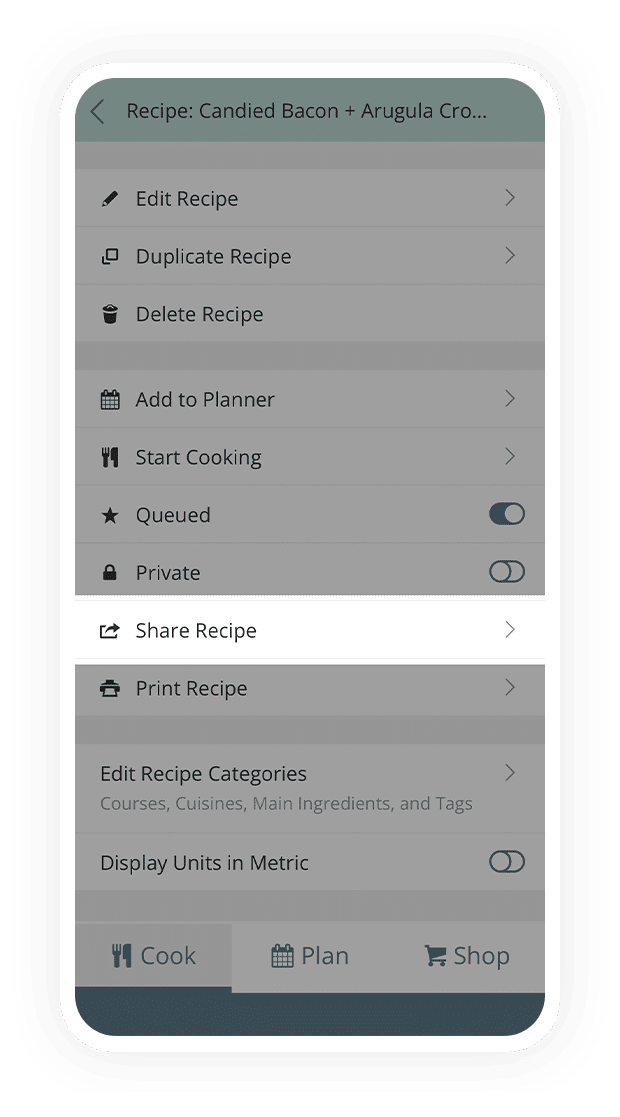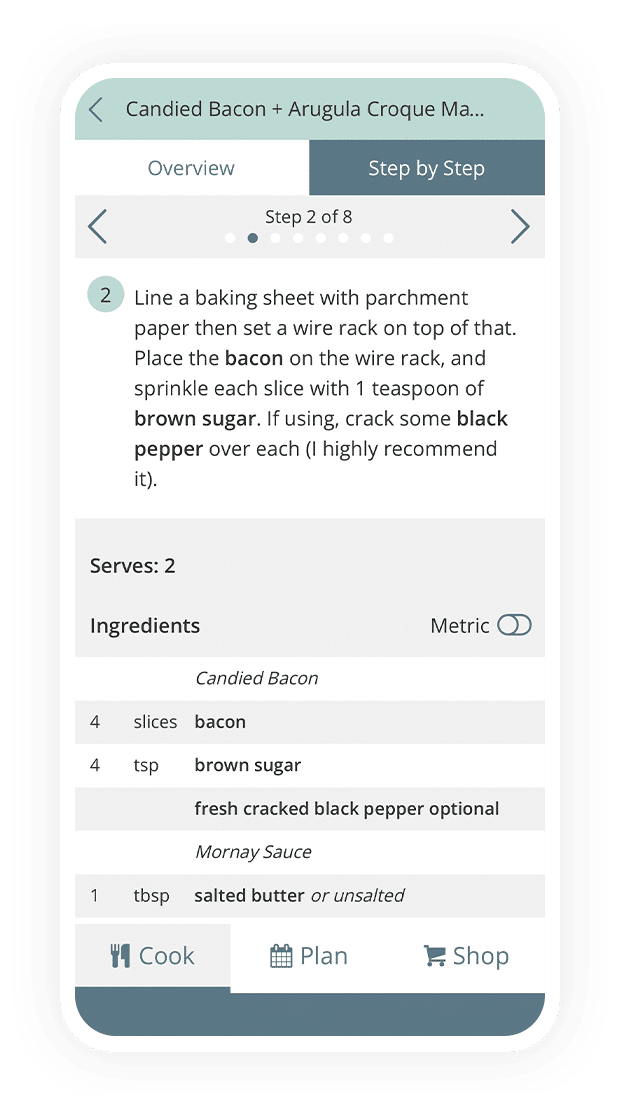 Keep your mobile screen awake while cooking and get a simplified view of your recipe with The Cooking View. Cook from an overview or step-by-step instructions using your tablet, phone, or laptop.
Macro counting done for you.
Automatically calculate detailed nutrition facts for your saved recipes and keep track of your daily totals on the Planner.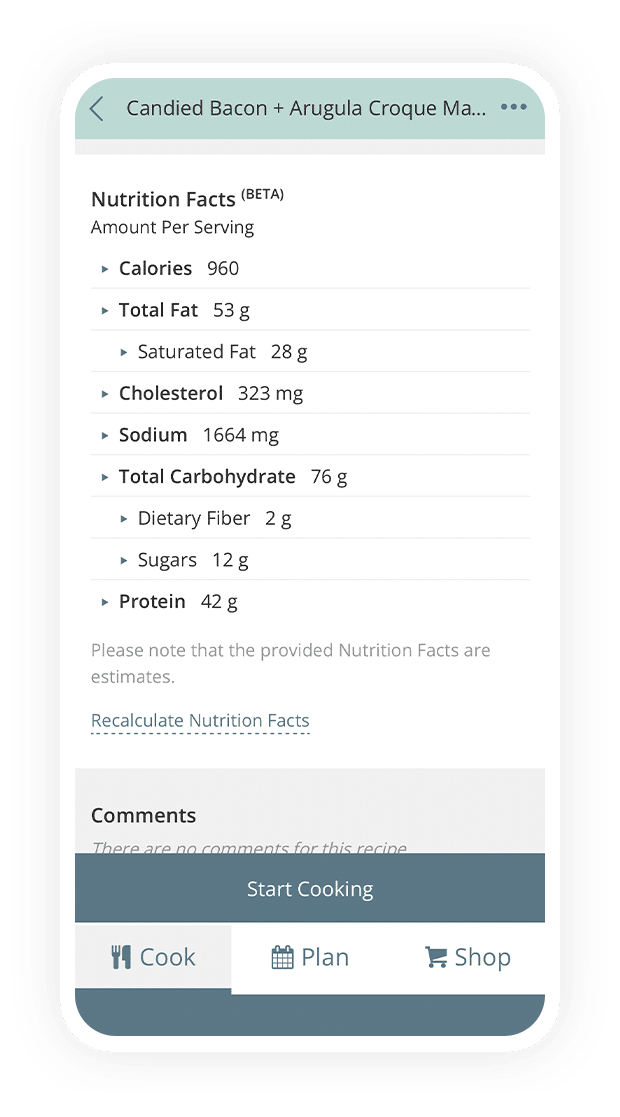 More Recipe Book features:
Import recipe files from other applications.​
Add prep notes to your recipes​
Convert recipes to metric
Use recipes from our Cooking Challenges
Store recipes in the Queue​
Rate your recipes for quick reference​
Increase in consumption of "healthier foods".
"For me, healthier eating begins with meals I prepare myself, using fresh, healthy ingredients. Plan to Eat simplifies the process of locating and planning healthy recipes that my family will enjoy."
Ate more meals together at home
The average number of dinners eaten together at home per week increased from 3.6 to 5.6.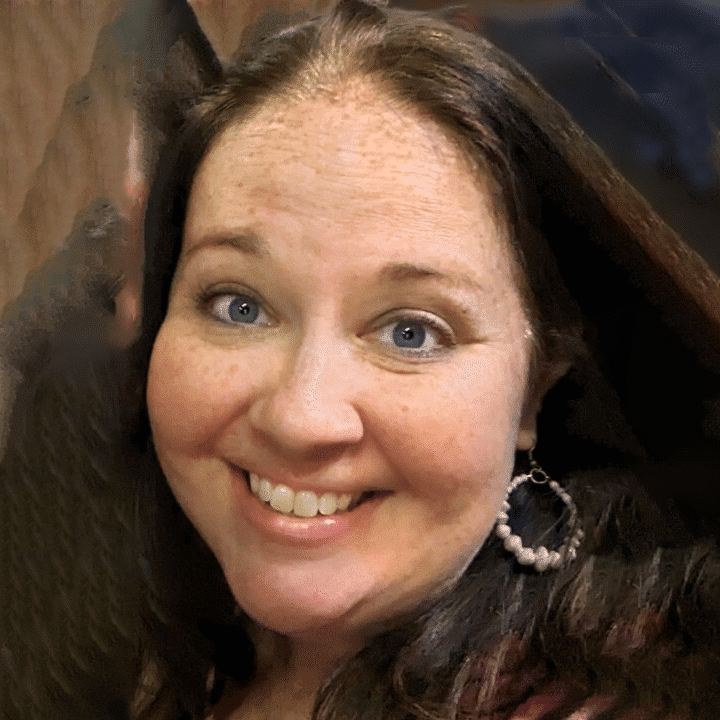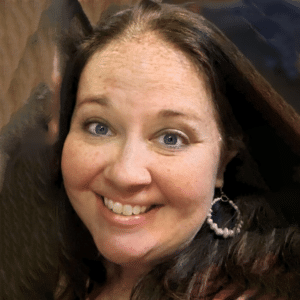 I used to keep folders full of paper recipes and weekly meal plans. It was so hard to sort and reorganize the whole pile; I often lost favorite recipe pages or misplaced the menu and coordinating shopping list. With Plan to Eat, I never lose a recipe and can easily replicate a week's worth of meals with one click. my whole family uses the website to participate in preparing meals and grocery shopping. It's a real time and money saver!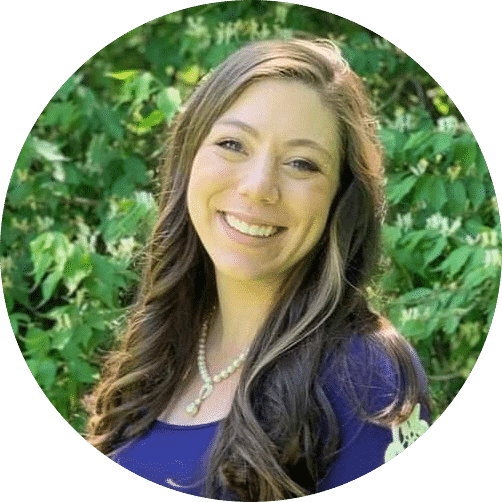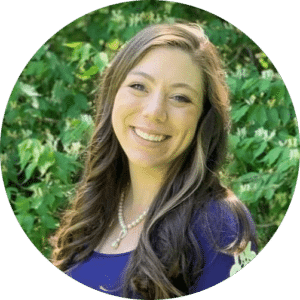 Before I used Plan to Eat, I was so overwhelmed! I was buried in cookbooks, web browsers, and recipe printouts, lost in grocery lists, and stuck planning the same meals over and over. Plan to Eat was such a blessing! I love that I can plan out meals for a whole month at a time, adding things I find on my own or borrowing ideas from my Plan to Eat friends. I can plan anywhere if needed, and I never forget my shopping list.