This giveaway has ended!
In May, we shared advice on how to become a better cook with posts about common cooking terms, utensils, and what to do when your recipe "fails". We are continuing to help you build kitchen confidence this month with tips and tricks for becoming a better baker!
This month, our blogs will be dedicated to baking advice and recipes, plus we are hosting a giveaway (info on how to enter below)!
What Baking Basics is about:
Our long-time blog contributor, Anna, is helping us this month to bring you ALL the information on baking! Anna is a self-taught baker, who has experienced all the ups and downs that come with learning to bake successfully. We are excited to share new blogs and recipes to help you grow your confidence in the kitchen, whether you're a novice or experienced baker. 
We will be sharing one recipe each week, but you can find all the recipes right away by connecting with Anna's Plan to Eat account under the username "The Little Blue Mixer". Find the related Challenge recipes under the Course "Kitchen Confidence: Baking Basics".
Anna will not only be sharing her knowledge on our blog, but also on our Instagram account! Be sure to follow us @plantoeat on Instagram and look for her Stories on baking (we will also save them in a highlight, for you to watch at any time!).
How to Participate: 
For participation in the Challenge, simply fill out the giveaway form below! There is a separate giveaway option for residents outside the US, so please fill out the correct form. 
One of the participation options is to share an image of any baked good you make in the month of September on your Instagram account! It does not have to be a recipe we share this month, any baked good is acceptable. This is not the only way to be entered into the giveaway, but we would love to see you put your new skills to the test!
When you share your picture, be sure to tag @plantoeat, @thelittlebluemixer and use the #bakingwithPTE hashtag.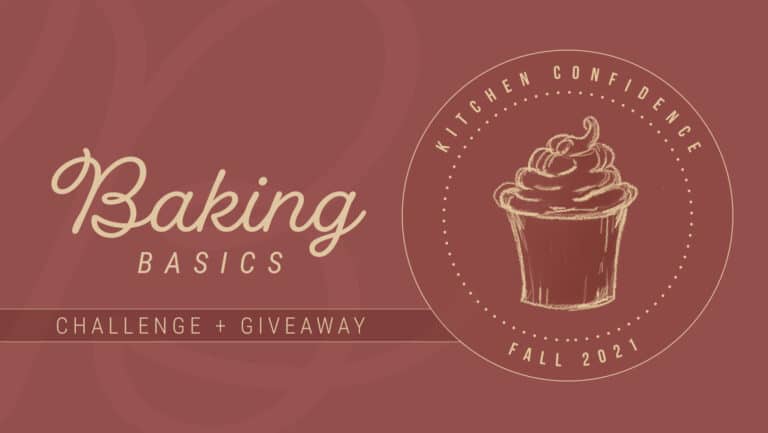 We've also partnered with Redmond Real Salt for our giveaway! Redmond is a US-based salt company in Utah, where their pink salt is mined from an ancient ocean bed. We're honored that Redmond sent us a prize package to include in our giveaway, plus a discount code for everyone to use on their site! 
Use the code "plantoeat" at checkout to get 15% off your entire order at https://redmond.life/
To enter the Challenge + Giveaway, fill out the form below.
(non-US residents, please see the note and additional form below!)
The giveaway prize pack includes: 
A year subscription to Plan to Eat

A unique Plan to Eat mug

A Plan to Eat tea towel

A grocery tote bag

A prize pack from Redmond Real Salt (worth $100!)

A baking tart pan

Rubber spatulas
A sterling silver pie server
An oven mitt
The giveaway winner will be chosen on October 1st, 2021.
Per the terms and conditions, the above giveaway is only open to US residents, however we are doing a special digital giveaway for customers outside the US! 
If you are outside the US, please fill out the second giveaway form!
This giveaway is separate from the above giveaway and will include an annual subscription to Plan to Eat and a $50 Amazon gift card! The winner will also be chosen on October 1st, 2021.
Please only participate in this option if you are outside the US. Thank you for your understanding and participation!