If you're new to cooking homemade meals, you might be curious what tools you need in your kitchen.
Do you need lots of fancy gadgets to make delicious meals? No. But some items do make cooking easier!
In this post, we're going to discover some basic tools you might want to have in your kitchen and what you would use them for! We will also share some feedback from our customers on what their favorite small kitchen appliances are.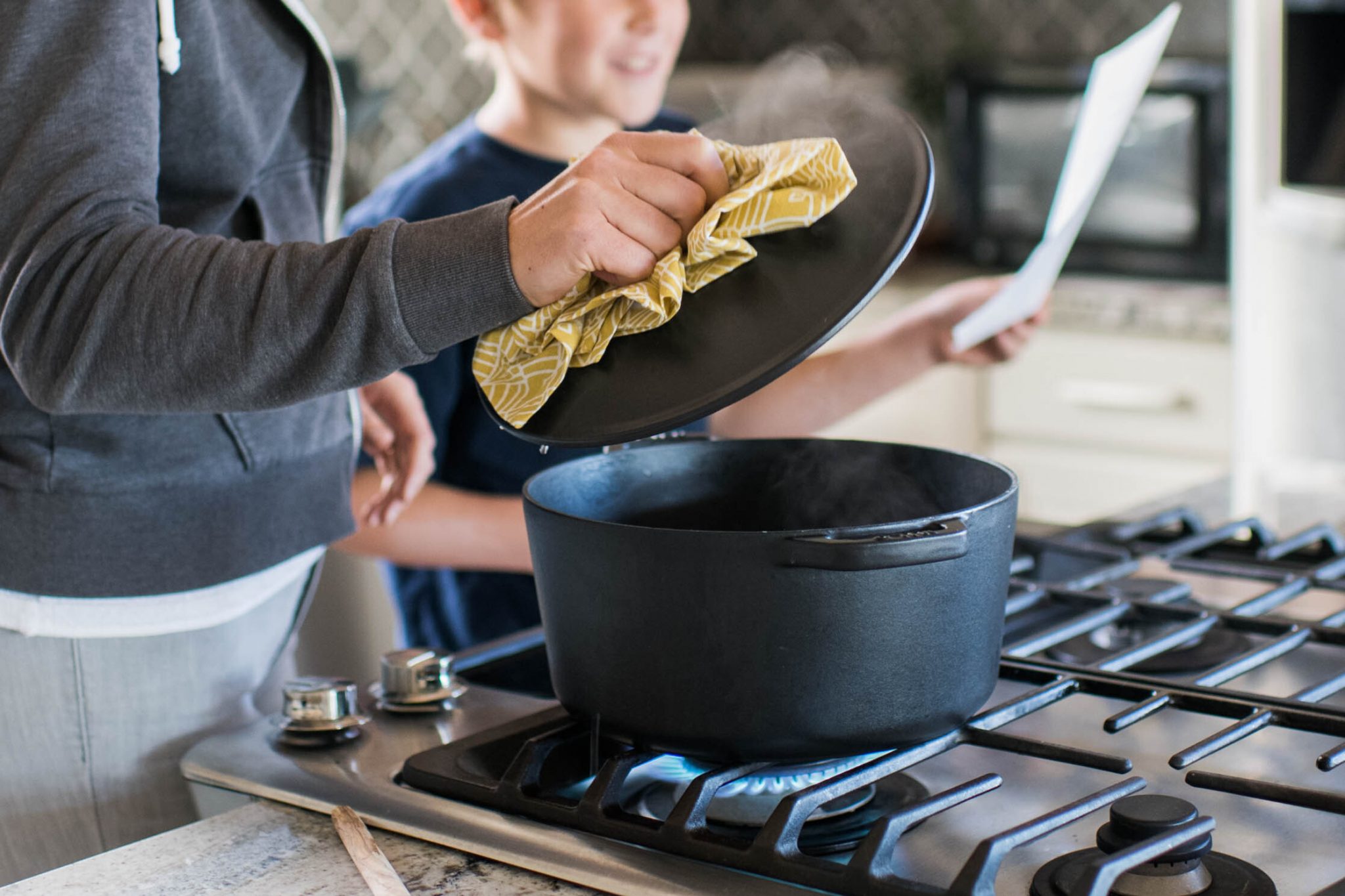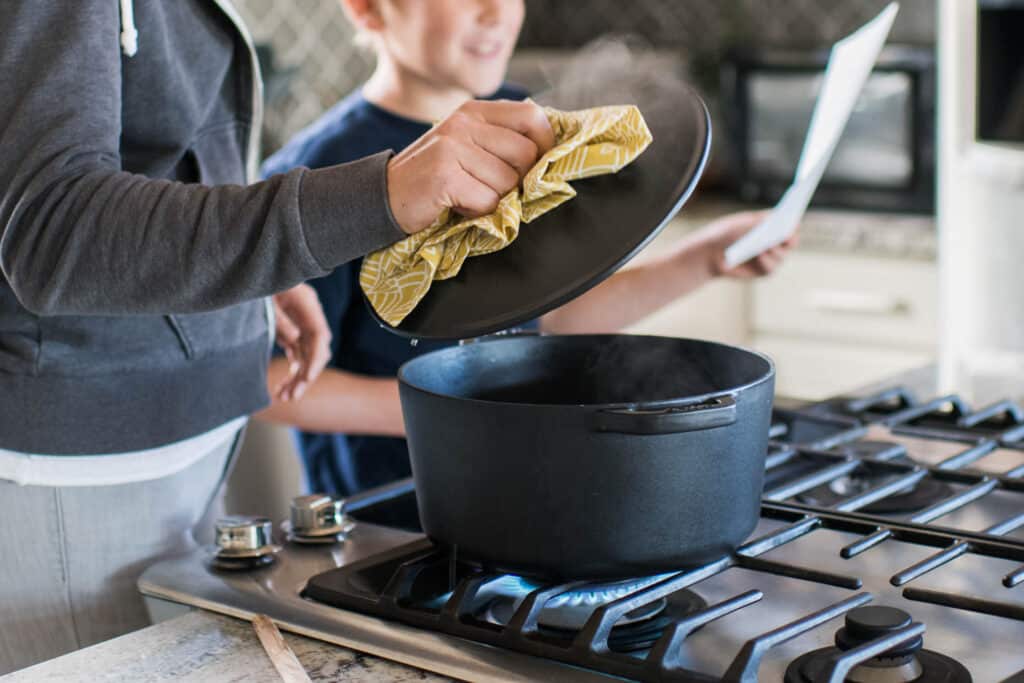 Basic Cooking Tools:
The following is a list of items you might need to make basic recipes, but if you don't have everything here, don't stress! You can pick up new kitchen utensils and tools over time, and as you grow as a home cook. Many items in this list can have multiple uses and sometimes, less is actually more.
Baking sheets – aluminum ones are great for heat conduction, which results in even cooking and roasting.
Blender – stand blenders are better for "high powered" jobs like frozen smoothies, but if you are simply making sauces or whipped cream, you can get away with an immersion blender. Check out this article for a comparison of stand vs. immersion.
Cutting boards – Either wood or plastic is a fine choice, as long as you take care of your boards and thoroughly wash them after use! Read more about wood vs. plastic and their care.
Grill pan – You can use a grill pan to grill food in the kitchen, using your stovetop! This is not a necessity, but can be a good alternative to grilling, especially in colder months. 
Instant read thermometer – having a thermometer handy is great for knowing if your food, especially meat, has been cooked to the right temperature. An instant read thermometer can be used in all kinds of dishes, to tell you the internal temperature. Learn more about the different types of cooking thermometers.
Knives – every home cook needs a couple knives and every experienced cook knows a sharp knife is their most valued tool in the kitchen! Sharpen your knives at home every few months, but also take them to be professionally sharpened every couple years.
A couple good knives to own are: 

A chef's knife has a broad blade and can be used for cutting meat, dicing vegetables, and chopping herbs.
A paring knife is a smaller, short-bladed knife used for finner peeling and cutting of fruit and vegetables.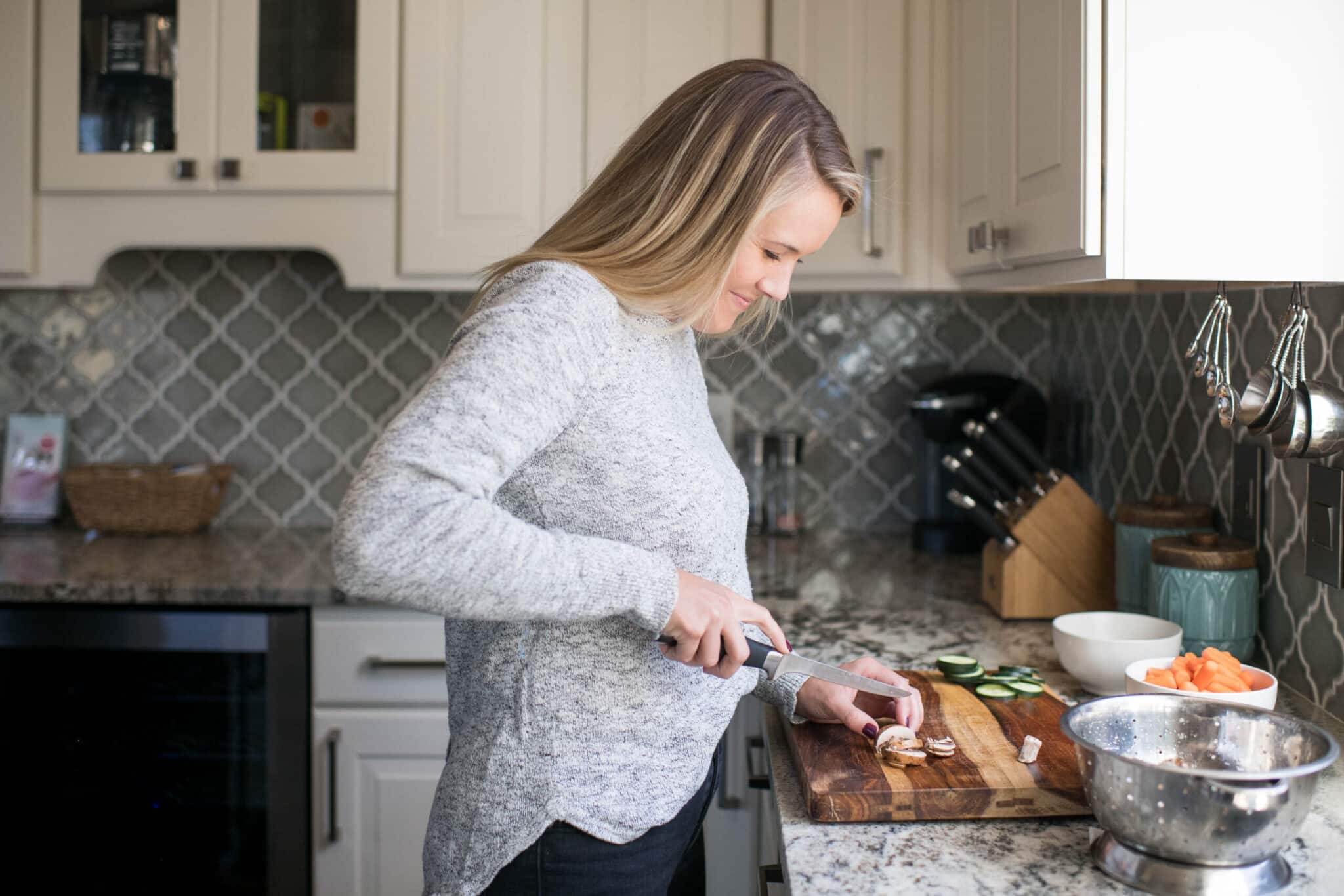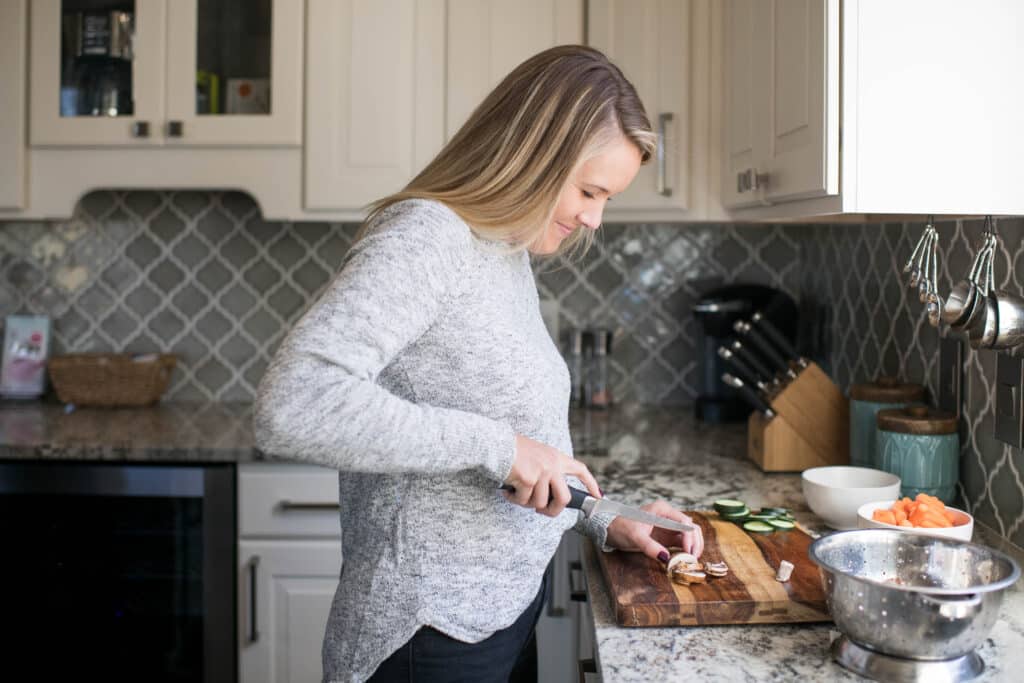 A large cook pot – you'll find a large pot useful for soups, stews, and broths.
Mixing bowls – we love "nested" mixing bowls, which usually have 4 different sized bowls that all fit together to save space, but also give you options!
Measuring cups and spoons – once again, we love the nested measuring cups and spoons. You may also need a glass measuring cup of at least 2 cups in volume (glass is less likely to crack in the dishwasher or with hot liquid).
Sauce pan – a sauce pan is circular with high sides and a long handle. The high sides allow for more volume inside the pan, so things like sauces don't spill out.
Saute pan – a saute pan has straight sides and a larger surface area, which is good for searing meat or reducing a thin sauce.
Skillet – a skillet has slanted sides (sometimes called a frying pan) and is best for quick stir-frying and cooking that involves moving the ingredients around a lot.
Slow cooker – A slow cooker (also known as a Crockpot) maintains a consistent temperature so you can cook a recipe slowly and let the flavors develop. A great tool for making shredded meat or strews. Read this comparison of the Instant Pot vs. the Slow Cooker.
Spatulas – you'll need both a "flipper" and a "spreader" for different tasks. Silicone is the most versatile material for these tools, as it won't scratch your cookware, like metal. And it won't melt, like rubber, if you leave it on your stovetop.
Tongs – get a pair with scalloped ends for good gripping when picking up food
Vegetable peeler – Check out this review of 9 different peelers, to find the right one for you.
Whisk – a basic whisk is called a balloon whisk, which is best for mixing. Choose a balloon whisk with stiff wires for the most effective mixing.
Wooden spoons – when it comes to stirring and mixing, wooden spoons are preferred to metal or plastic because they don't quickly heat to scalding temperatures or react to acidic foods (like metal). And they won't melt or leach chemicals (like plastic).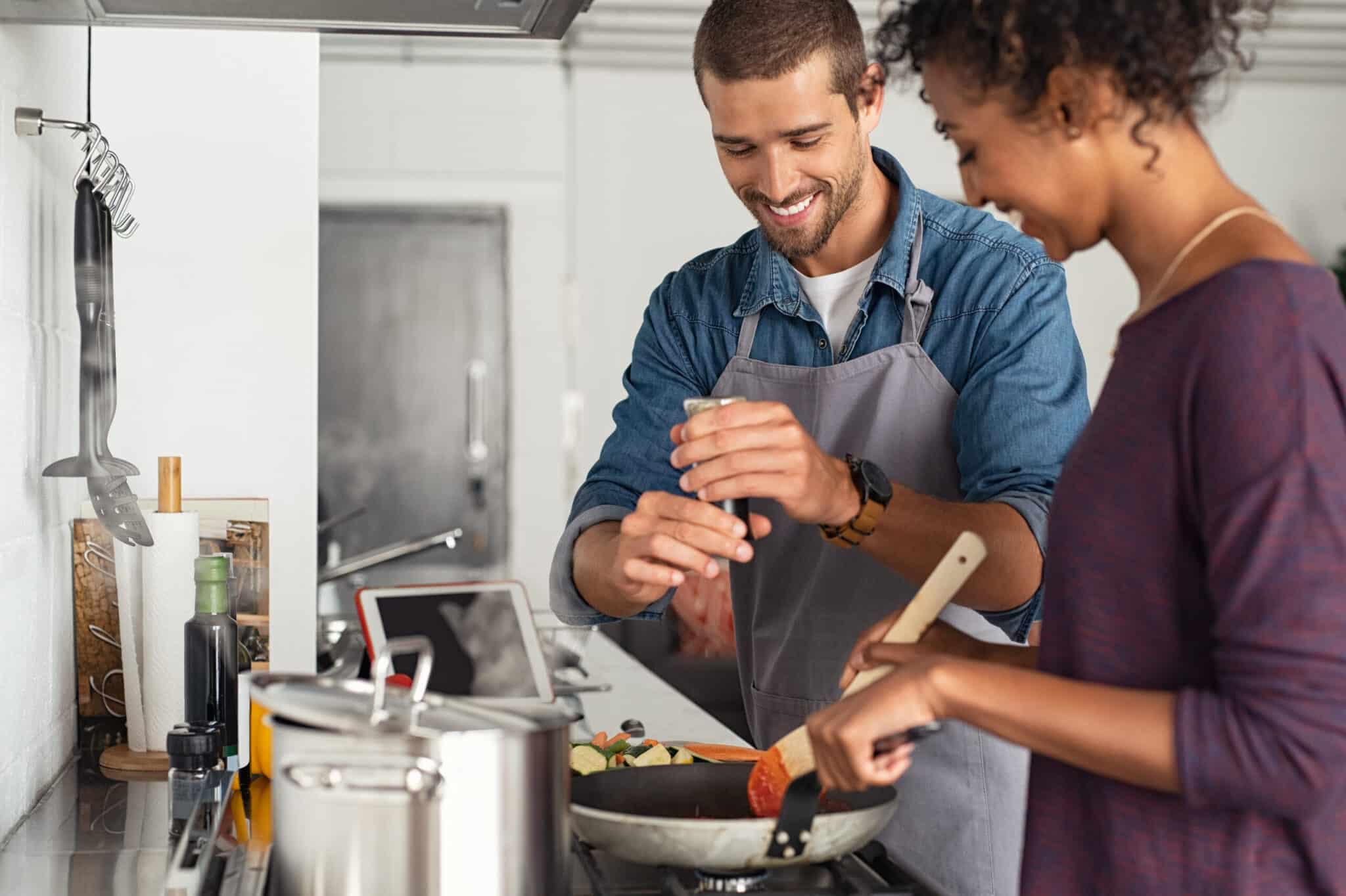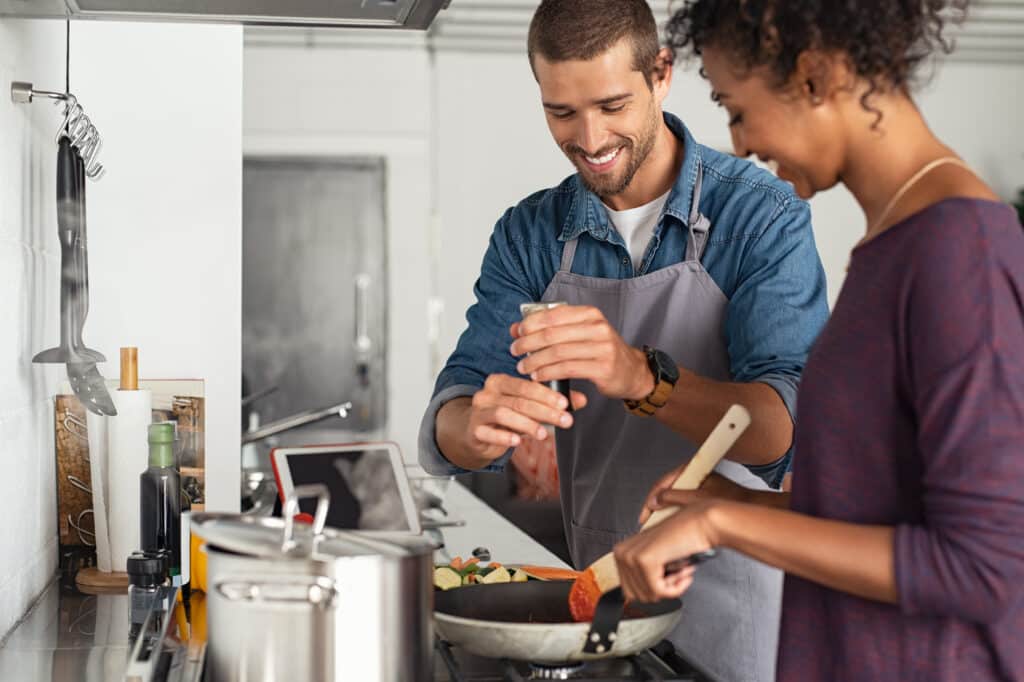 Small Kitchen Appliances:
We took a poll on our Instagram Stories for customer feedback on common small kitchen appliances to find out if they are worth the money. Here's what we found out:
70% of respondents said they love their Instant Pot

67% said they love their Air Fryer

85% said they love their high powered blender (such as Vitamix or similar)
We also asked our followers to tell us their favorite kitchen tools and from the responses, we had a clear winner: the Air Fryer!
We were a little surprised that the Air Fryer was the winner! But these results make us think it might be time to test out an Air Fryer ourselves. 🙂
 Here are the other top kitchen favorites in order of ranking:
Instant Pot

KitchenAid Stand Mixer

Vitamix or other high powered blender

Food Processor

Crockpot

Immersion Blender
None of these items are necessary to make a delicious, homemade meal, but if you're into gadgets, now you know what to invest in!
If you have a favorite kitchen tool or small appliance, please let us know in the comments!
Happy Cooking!
Join us this month for more cooking basics! Whether you're a novice or a well-seasoned cook, we're sharing tips and tricks to help everyone gain Kitchen Confidence!
More in this series: Cooking Terms: Defined! Don't get confused by fancy recipe lingo ever again!