Our marketing team, Riley and Roni, tested some new cookware last month from Milo Kitchen. Milo was kind enough to send us their 5-piece cast iron cookware set to try out and review!
Starting next week, we're excited to partner with Milo for an awesome challenge and giveaway! We will be giving you all the challenge details next week, but today we're giving you a preview of what you could win! (One lucky winner will win this 5-piece cookware set along with a lifetime Plan to Eat subscription!) 
We tried and reviewed these products in preparation for the challenge and giveaway. We took time to prepare three different recipes to assess the cookware and our experience was overall fantastic.
We'll give you a dual perspective review below, but some of the things we both loved right away were: we didn't need to season the pans before cooking, the care instructions were simple, and the size variety of cookware was perfect for a variety of recipes. We used less oil than normal in our cooking because the cast irons were beautifully non-stick. They're also versatile, we went from stovetop to oven easily and cooked at high temperatures.
Riley's Pros: I loved how simple the getting started instructions were! Nothing overwhelming & nothing to season to get started. We were able to get started cooking (the best part!). The pieces from Milo Kitchen are simply gorgeous and will suit any kitchen!
Roni's Pros: While these cast irons are modern and minimalist in appearance, they're still sturdy and heavy duty like traditional, rustic looking, cast iron. They're also a great price for enameled dutch ovens and cast iron skillet! 
Riley's Cons: Not really a con, but more of a caution to readers about the weight of the pieces. I want people to know they are pretty heavy, just in case you have never used large cast iron cookware before! (Small dutch oven is 8lbs before food is added. Large dutch oven is 10.5 lbs before food is added.)
Roni's Cons: It takes a long time to cool down. The care instructions state the dutch ovens and skillet need to be cool before washing and that can take a while. Some might consider this a positive because this also means these dishes hold the heat in your food for a long time!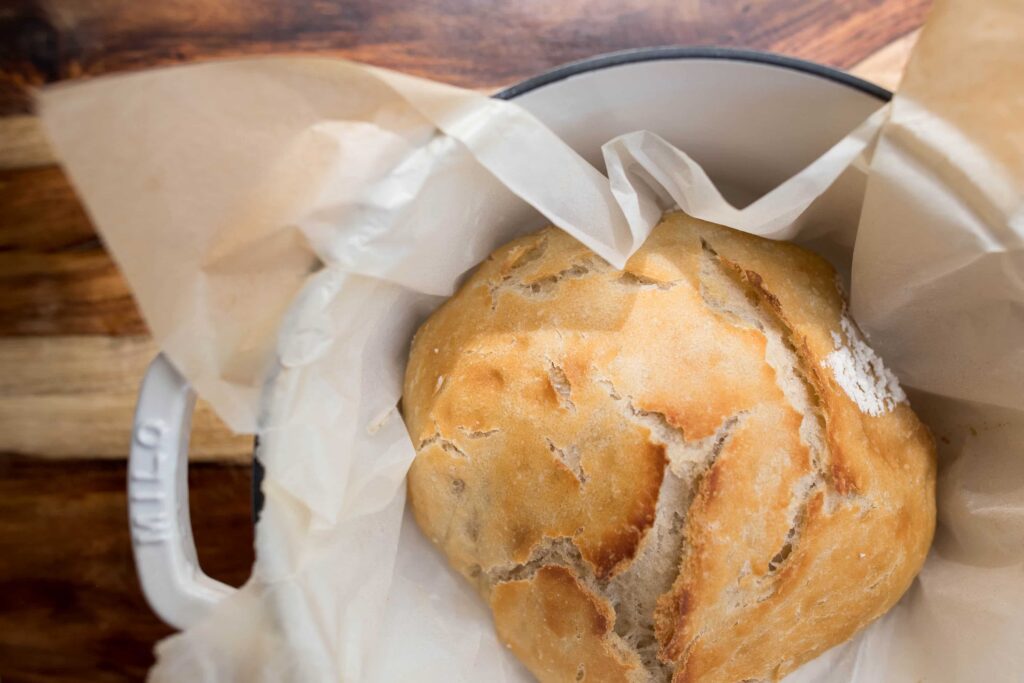 Small Dutch Oven Review
3.5 quarts
8lbs
We baked a no-knead sourdough loaf in the small dutch oven. The bread came out perfectly baked with a delightfully crispy exterior. A little butter on a slice of this bread was heaven!
Our Take: The small dutch oven would be perfect for dinner sides, a pot of beans, or just cooking for two! The size is small enough to not take up too much room in a cupboard, but not so small you need to scale down recipes.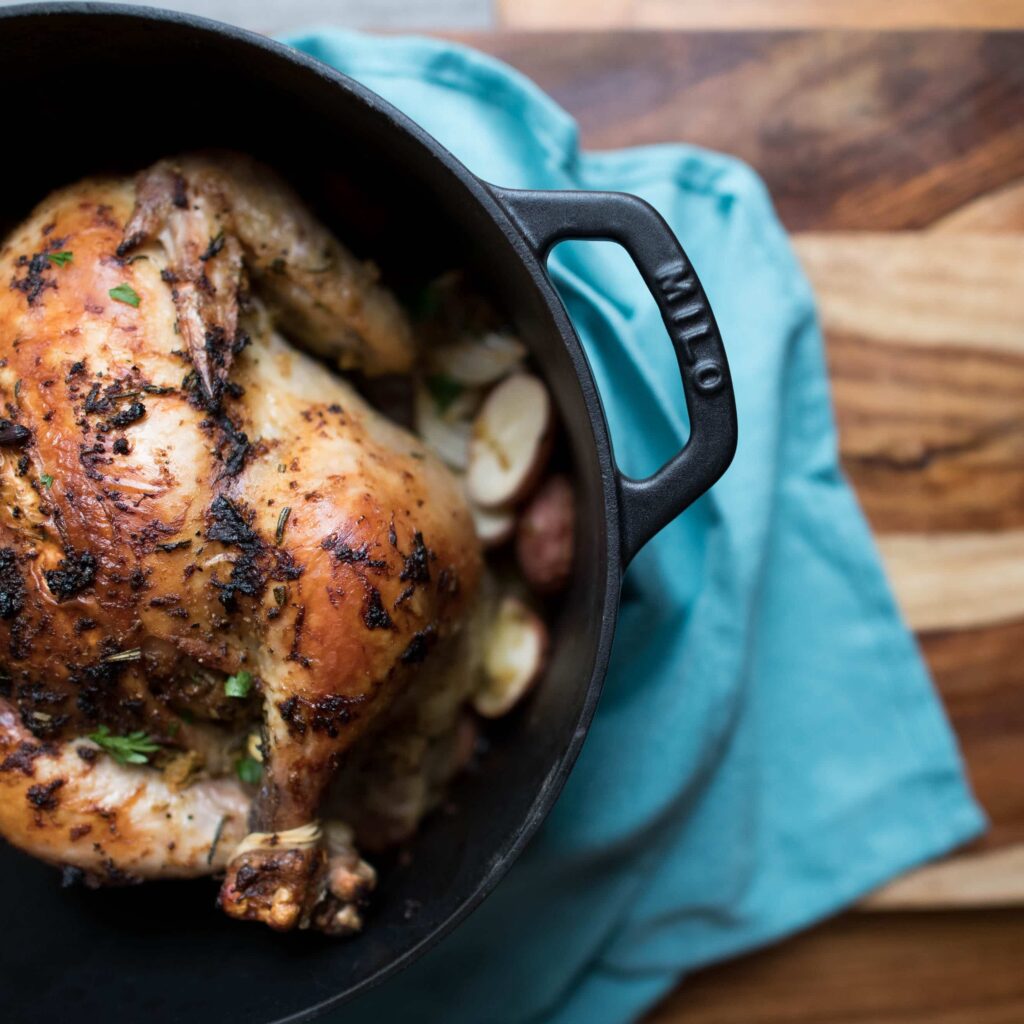 Large Dutch Oven Review
5.5 quart
10.5lb
In the large dutch oven, we baked a whole chicken. Seriously! We fit a 5lb chicken in this dutch oven, which made for a hefty pot to take out of the oven, but it was the perfect size! The chicken came out ridiculously tender and moist with the potatoes and onions cooked through perfectly. 
Riley's Take: This pot is really versatile, just like it's smaller counterpart. It can be used for so many different types of recipes and it easily goes from the stovetop to the oven! If you batch cook, this pot is for you! Make a large pot of chilli or chicken noodle soup and freeze a portion for a later date. 
Roni's Take: The 5.5 quart dutch oven is the perfect size for dinner recipes, stews, and soups. Once again, it's not so big it takes up a whole cabinet, but it can still fit a lot of food. If you have a huge family, this size might be too small, but cooking for 4-6 people, this would be perfect. The black with gold detail is super classy and modern; I love the look of it!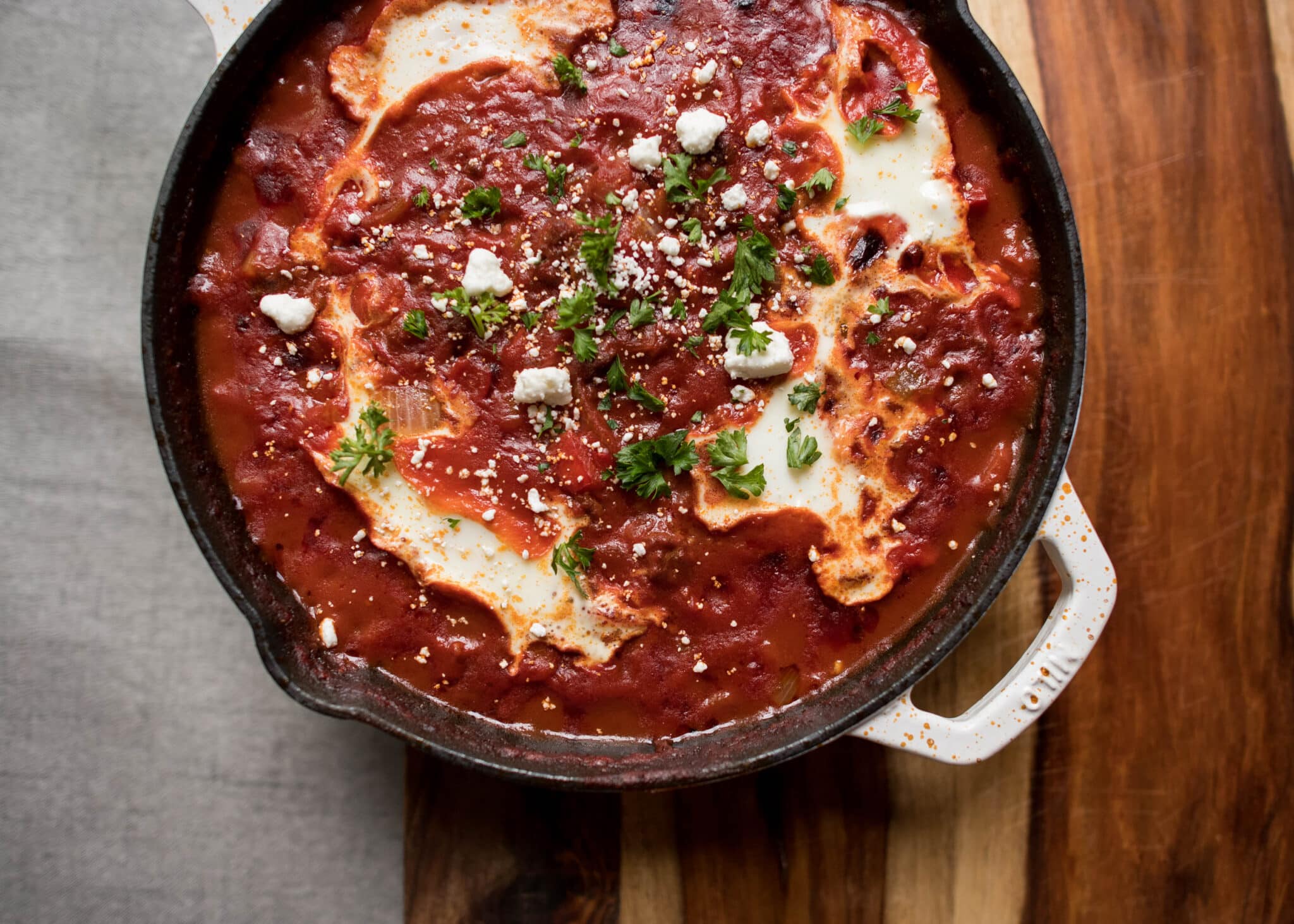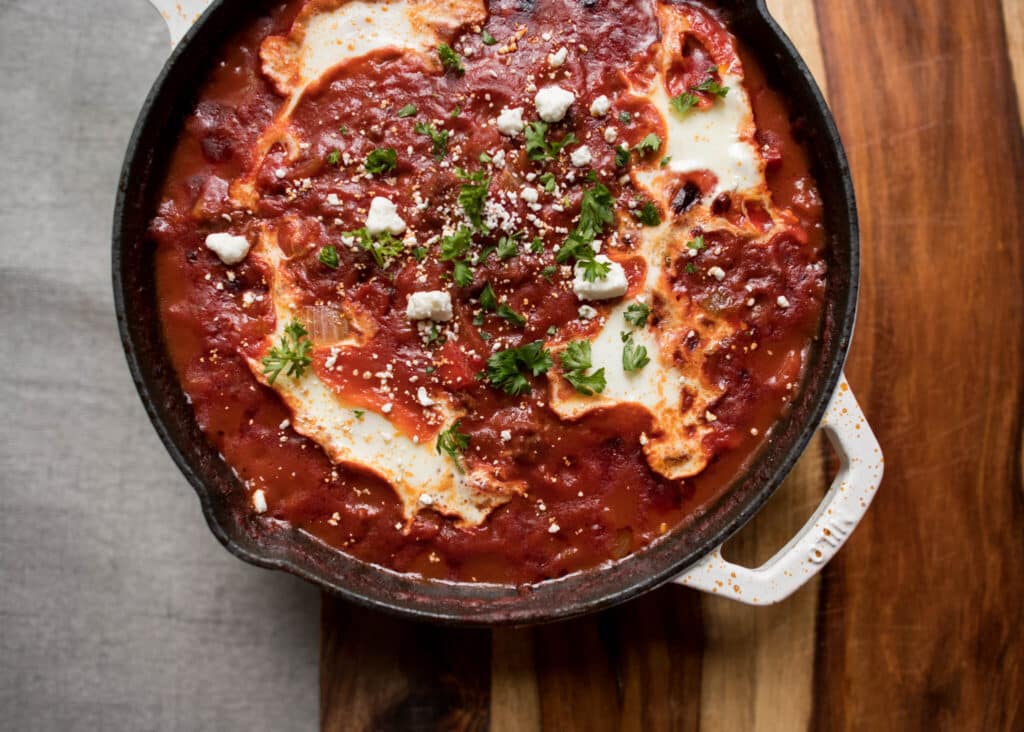 Skillet Review
10" diameter
6lbs
We made shakshuka in the 10" skillet, which turned out to be the perfect size for this 4 serving recipe. We started the dish on the stovetop, sauteing the chorizo and veggies and then popped it right in the oven to finish the eggs!  
Roni's Take: I love the ability to transition a pan from stovetop to oven! It makes certain recipes, like shakshuka, so simple! This cast iron skillet heated up quickly and evenly and was non-stick without needing to season it. This skillet is so nice, it's probably going to replace my regular 10" skillet!
Riley's Take: Like, Roni, I have a 10" cast iron skillet that will soon be replaced by the Milo Kitchen brand. The best part of this skillet was how non-stick it is. It's pretty surprising actually! This skillet was also wonderfully easy to clean — even baked on sauce from the shakshuka came off quickly!
We were overall impressed by the Milo Kitchen cast iron cookware and we hope you'll love cooking with it as much as we did. 
On October 7th, the "Let's Go Dutch" challenge and giveaway begins! Look for more information next week!