I love the change in seasons.  I've always lived somewhere with four distinct seasons and there's something about swapping out your warm weather clothes for your woolens, and flipping through cookbooks looking for hearty recipes, slow-cooked and savory.  I've never been particularly fond of the name Apple Grunt, a rather coarse name for such a delectable mealtime treat.  So, if you can think of a more apt name, feel free to suggest it!  In the meantime, I'll share the recipe for one of my favorite autumn comfort foods.
The apple part couldn't be more simple; peel a bunch of apples, core and slice them.  Put them in your stock pot with a bit of water on the bottom to prevent scorching.  You won't need too much as they'll make their own juice, just an inch or so.  If you have a place to get apples locally, do!  They always seem so much tastier than the store-bought varieties.  I love a good crispy apple that's the perfect balance of sweet and tart.  The texture won't matter as much in this dish as it all gets cooked down, but flavor will make all the difference.
For the biscuit topping my version is a bit different than my mom's heavenly, fluffy, white biscuits.  Mine are pretty dense, being all whole wheat, but we love the flavor and the moist texture.  I add plenty of butter too!  I've included a link for another variation on biscuits that seem much fluffier, but I haven't tried them with apple grunt yet.  Growing up we used to eat this with a side of breakfast links.  Mmm, there's nothing better!
You'll put the biscuits close together on top of the apples and then turn it on to steam.  As the apples cook down, the biscuits will cook into a nice, moist, dumpling-like topping.  You can't really overcook the biscuits, so concentrate on how you like your apples done; they can range from firm enough to hold their shape, to complete applesauce, depending on how you like them.  I like my apple grunt straight out of the pot, steaming hot with plenty of salt and butter (and that side of sausage!).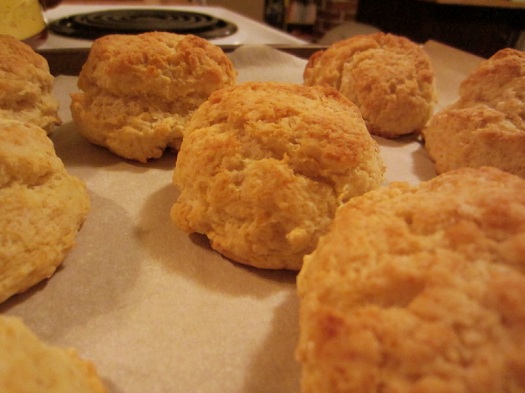 If you're the experimenting sort, these biscuits pictured above are very delicious made mostly with whole wheat. (I haven't had them 100% whole wheat only about 75%, but I'm willing to bet they'd be great and probably fluffier than the ones in my recipe below.)  I'm just not sure how well they'd hold their shape, but then, this dish isn't really about presentation, it's about pure deliciousness:)  If you try them, let me know how they turn out!
Source: www.plantoeat.com
Ingredients
8

Apples peeled, cored, sliced

2 cups

flour if using all whole wheat you can make it a scant 2 cups, these will be dense, but because they're steamed, it's more a moist
2 1⁄2 tsp baking soda
1⁄2 tsp baking powder
3⁄4 tsp sea salt

1 TBSP

sucanat or evap. cane sugar

6 TBSP

butter 3/4 cup coconut milk

1 TBSP

vinegar mix this into the coconut milk. You can also use 3/4 cup buttermilk.
Directions
Peel, core and slice your apples. Fill up a stock pot about 1/2 to 3/4 full with the apples, adding a bit of water at the bottom to keep them from scorching before they start producing their own juice.
Mix the dry biscuit ingredients together.
Cut in the butter. Add the coconut milk and vinegar.
Mix the dough all together; don't over mix. Roll it out and use a butter knife to cut into squares. Pop these on top of your apple mixture. Cover and let simmer until the apples are nice and soft.
Serve with butter, salt and a side of breakfast sausage. It seems like a breakfast food, but we always ate it for dinner as a treat:)
Powered by