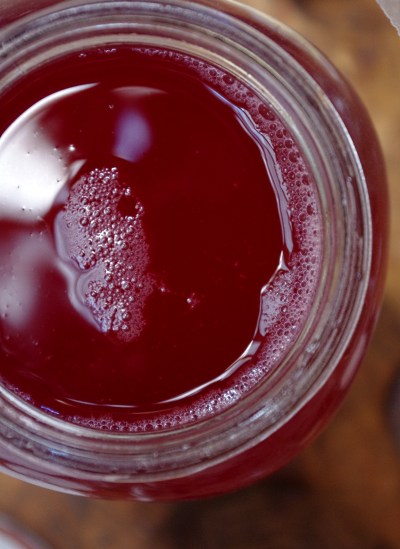 When you read Nourishing Traditions you can be overwhelmed with it all. There's just a lot of crazy stuff in there, if you're the average American eater that is.
But what most people don't realize on first glance is that all of those fermented foods are not crazy or weird. They're actually really traditional in the sense that they are taken from cultures all over the world who have relied on them for health and healing for thousands of years.
Sauerkraut from the Germans. Kimchi from the Koreans. Yogurt from Bulgaria. You get my drift.
In discovering these foods I have found a whole new world of really simple to prepare nourishing foods for my family. One of my most recent discoveries is beet kvass.
I couldn't tell you exactly where it hails from, though Eastern Europe seems about right. Kvass is also made from bread into a simple fermented beverage with a low alcohol content.
Beet kvass is less alcohol ferment and more lactic acid ferment, especially if you include the whey. It's not yummy tasty like kombucha, but it is touted as a super tonic due to its fermented qualities and the general health and purifying qualities of the beets themselves.
Best of all, it is super easy and inexpensive to make!
Source: www.plantoeat.com
Ingredients
2 large

beets scrubbed and cut into large chunks

6-8 cups

filtered water

2 teaspoons

sea salt
1⁄4 cup whey (optional)
Directions
Place the beet pieces into a half-gallon jar. Cover with water, add sea salt (and whey, if using), and stir really well to dissolve salt.
Cover tightly and allow to ferment for 2-3 days, depending on temperature.
Strain off all but about 1/2 cup of the liquid. This is the kvass which you can drink in small amounts daily.
Leave the beet pieces in your jar with the remaining liquid which you will use as a starter for your second batch. Cover with water again and add more salt. Stir vigorously, seal, and culture again. This time it may take an additional day or so.
Once your second batch is done you have "spent" the beets and can throw them to the compost or your chickens. You'll now want to start over with fresh beets.
Powered by