Going to holiday parties and gatherings can be stressful if you have food allergies or restrictions. You might feel like a burden to the host or feel like it's impossible to avoid the foods you can no longer have. The holiday season is meant to be a time of joy and connection, so how do you reduce your stress and find more enjoyment?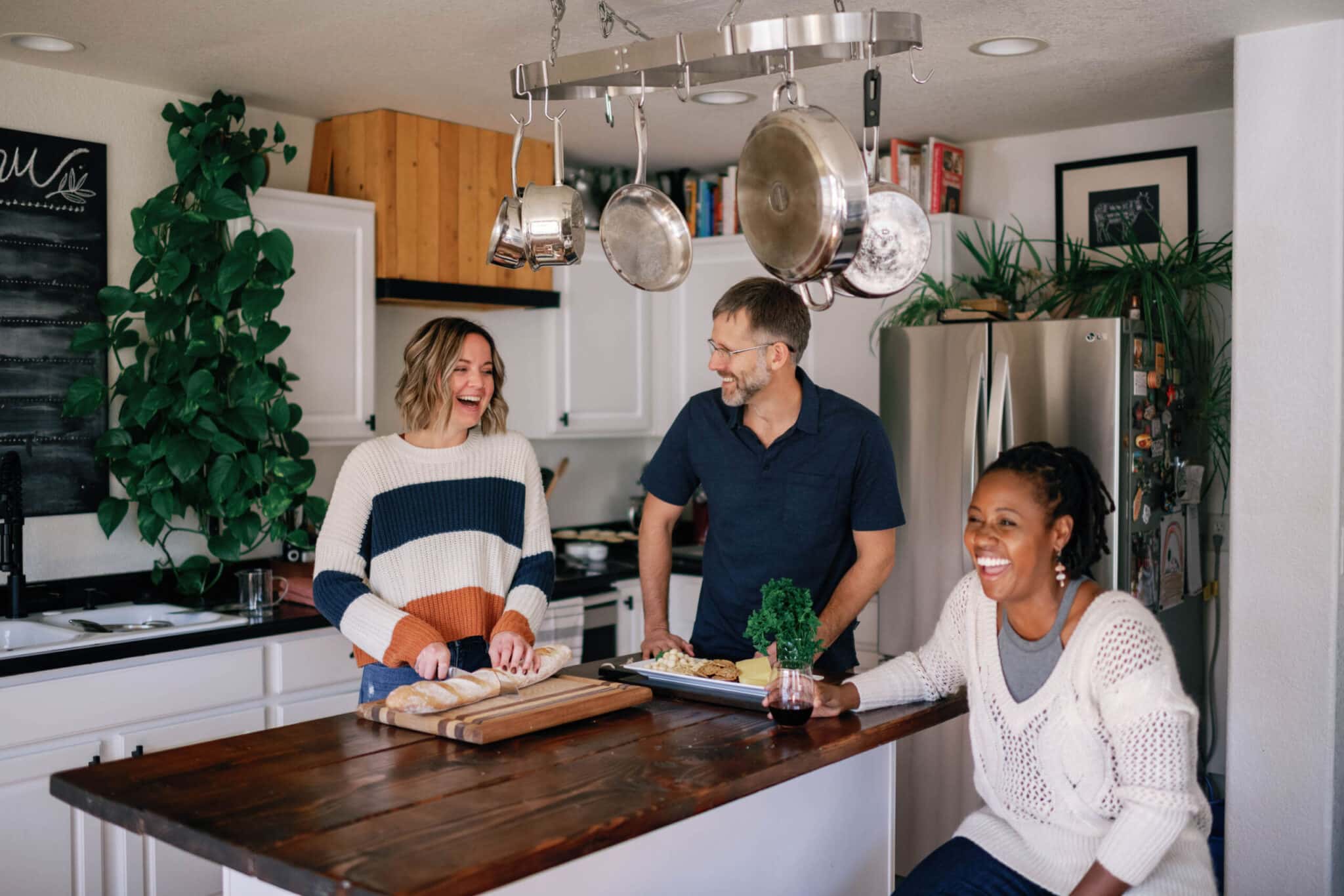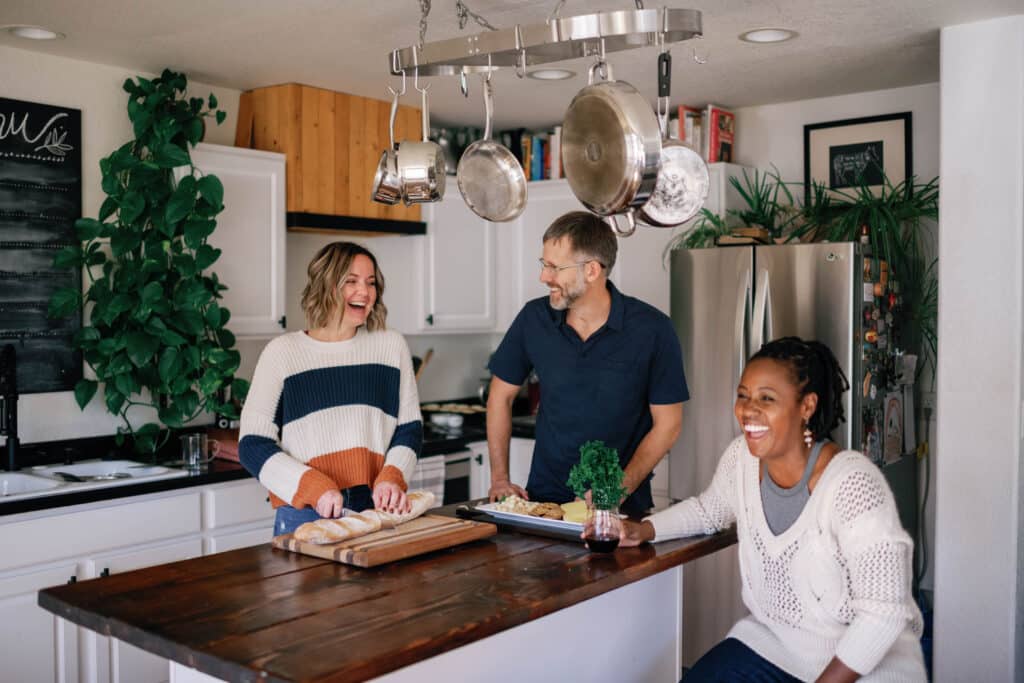 1. Offer to bring a dish to share that fits your needs.
If you're concerned there won't be food that fits your needs at a holiday gathering, let your host know you're happy to bring another dish. The host will likely appreciate the help and you'll know there will be something available for you. 
2. Find alternative recipes for foods you love.
Rather than grieve the foods you can't have this time of year, find an alternative recipe! There are so many websites and blogs dedicated to specific food allergies and eating types that it's never been easier to enjoy the foods you love. 
Blogs like All Day I Dream About Food cater to individuals who eat keto, gluten-free, or low-glycemic foods. We partnered with Carolyn from ADIDAF to get her triple chocolate peppermint biscotti recipe that's keto and gluten-free with options for dairy-free and nut-free! You'll find Carolyn's recipe at the bottom of this post and a conventional biscotti recipe from our long-time blog contributor, Anna. 
No matter your eating preference, we hope you enjoy these recipes!
3. Remember the holidays are more than food. 
Gathering around a table is a great way to connect with people, but eating doesn't have to be the main focus. Enjoying the company of your friends and family is really what the holiday season is about. Food doesn't have to be the only thing that brings people together, you can offer to have a game night or movie party instead. Shifting the focus of the night can take some of the pressure off what food and drinks are available.
If you're working around food allergies or restrictions, the holidays can seem stressful, but try to concentrate on ways you can help, find recipes that fit your needs and put your energy into connecting with the people around you. 
Next week, in Part 2, we'll share how Plan to Eat can reduce the stress of prepping and planning for holiday meals with dietary restrictions!
Keto chocolate biscotti with peppermint and white chocolate is a festive holiday treat. These easy keto Christmas cookies are perfect for making ahead and giving aways as gifts. Or keeping them all for yourself!
Source: alldayidreamaboutfood.com
Prep Time: 25 min
Total Time: 25 min
Ingredients
Biscotti
1 3⁄4 cup almond flour
1⁄3 cup Swerve Sweetener
1⁄4 cup cocoa powder
1⁄2 teaspoon baking powder
1⁄8 teaspoon salt
1⁄4 cup butter melted

1 large

egg

1 teaspoon

peppermint extract
Chocolate Peppermint Dip
2 1⁄2 ounces dark chocolate chips sugar-free
1⁄2 ounce cocoa butter
1⁄2 teaspoon peppermint extract
White Chocolate Drizzle
3⁄4 ounce sugar-free white chocolate chips
1⁄4 ounce cocoa butter
Directions
Biscotti
Preheat the oven to 325F and line a baking sheet with parchment or a silicone baking mat.
In a large bowl, whisk together the almond flour, sweetener, cocoa powder, baking powder, and salt. Stir in the coconut oil, egg, and peppermint extract until the dough comes together.
Turn the dough out onto baking sheet and form into a long, low log, about 10 by 4 inches.
Bake 25 minutes or until just firm to the touch. Remove from oven and let cool 30 minutes. Reduce the oven temperature to 250F.
With a sharp knife, carefully cut log into 14 even slices. Place the slices back on baking sheet, cut-side down and bake 15 minutes. Turn the slices over and bake another 15 minutes. Turn off the oven and let sit inside until cool.
Chocolate Peppermint Dip
Place the chocolate and cocoa butter in a heatproof bowl set over a pan of gently simmering water. Stir until melted and smooth. Stir in the peppermint extract.
Dip each biscotti fully on one side into the chocolate and place back on the baking sheet. Refrigerate to set the chocolate.
White Chocolate Drizzle
In another heatproof bowl set over a pan of barely simmering water, melt the white chocolate and cocoa butter until smooth.
Place in a ziplock baggie with the very corner snipped off and drizzle lightly over the biscotti. Or you can simply drizzle it over with a small spoon.
Amount Per Serving (14)
Calories: 164
Protein: 4g
Carbohydrate: 6.6g
Fat: 15.3g
Powered by

Source: The Little Blue Mixer
Ingredients
2 cups

flour
1⁄2 cup cocoa powder

1 teaspoon

baking soda
3⁄4 teaspoon salt

6 tablespoons

unsalted butter softened
1⁄4 cup granulated sugar
3⁄4 cup brown sugar

2

eggs

2 teaspoons

vanilla

1 cup

semi-sweet chocolate chips
Topping
crushed peppermints

1 cup

semi-sweet chocolate chips

1 tablespoon

shortening
Directions
Line a large baking sheet with parchment paper and preheat the oven to 350 degrees.
In a medium bowl, whisk together the flour, cocoa powder, baking soda, and salt. Set to the side.
In a separate bowl, cream together the butter, sugar, and brown sugar with a mixer until cohesive.
Add in the eggs one at a time, mixing well after each addition. Be sure to scrape down the sides of the bowl with a spatula to make sure everything is incorporated.
Mix in the vanilla.
Gradually mix in the dry ingredients.
Stir in 1 cup of chocolate chips.
Pour the dough out onto a lightly floured surface and divide in half. Form each half into a ball, and then roll each into a log about 1 1/2 to 2 inches wide. Transfer the logs onto the lined baking sheet and flatten to be about 3/4 inches tall. Leave several inches between the two logs to allow for spreading.
Bake at 350 for 30-35 minutes. The biscotti will spread out, have cracks on the top, and be slightly firm to the touch when ready. Let cool for 10-15 minutes.
Preheat the oven to 325 degrees.
Using a sharp, serrated knife, gently cut the biscotti into 1/2 inch slices. Place each slice on the lined baking sheet cut side down.
Bake at 325 for 15 minutes, flipping the biscotti over half way through to create an evenly crunchy cookie. Let the biscotti cool completely on a cooling rack before dipping in chocolate.
For the topping, crush a handful of peppermints and set to the side.
For the chocolate, melt 1 cup of chocolate chips with 1 tablespoon shortening in the microwave for 30 second intervals. Stir well between each interval. It should take 1-1.5 minutes to fully melt the chocolate.
Working over parchment paper for easy cleanup, either dip each biscotti in the chocolate or drizzle the desired amount of chocolate on top of the biscotti. Sprinkle the crushed peppermint on top. Set aside to let the chocolate harden.
Enjoy!
Powered by