When Autumn comes around, we tend to turn our attention to warm spices and baked desserts. If you're team a la mode, a scoop of vanilla ice cream slowly melting over a slice of warm apple pie is a wonderful thing to behold. 
But, why stop there when you can have an ice cream that also boasts notes of cinnamon, clove, ginger, and maple for a seriously autumnal dessert experience? The best part is, you can totally make it yourself…ice cream maker NOT REQUIRED!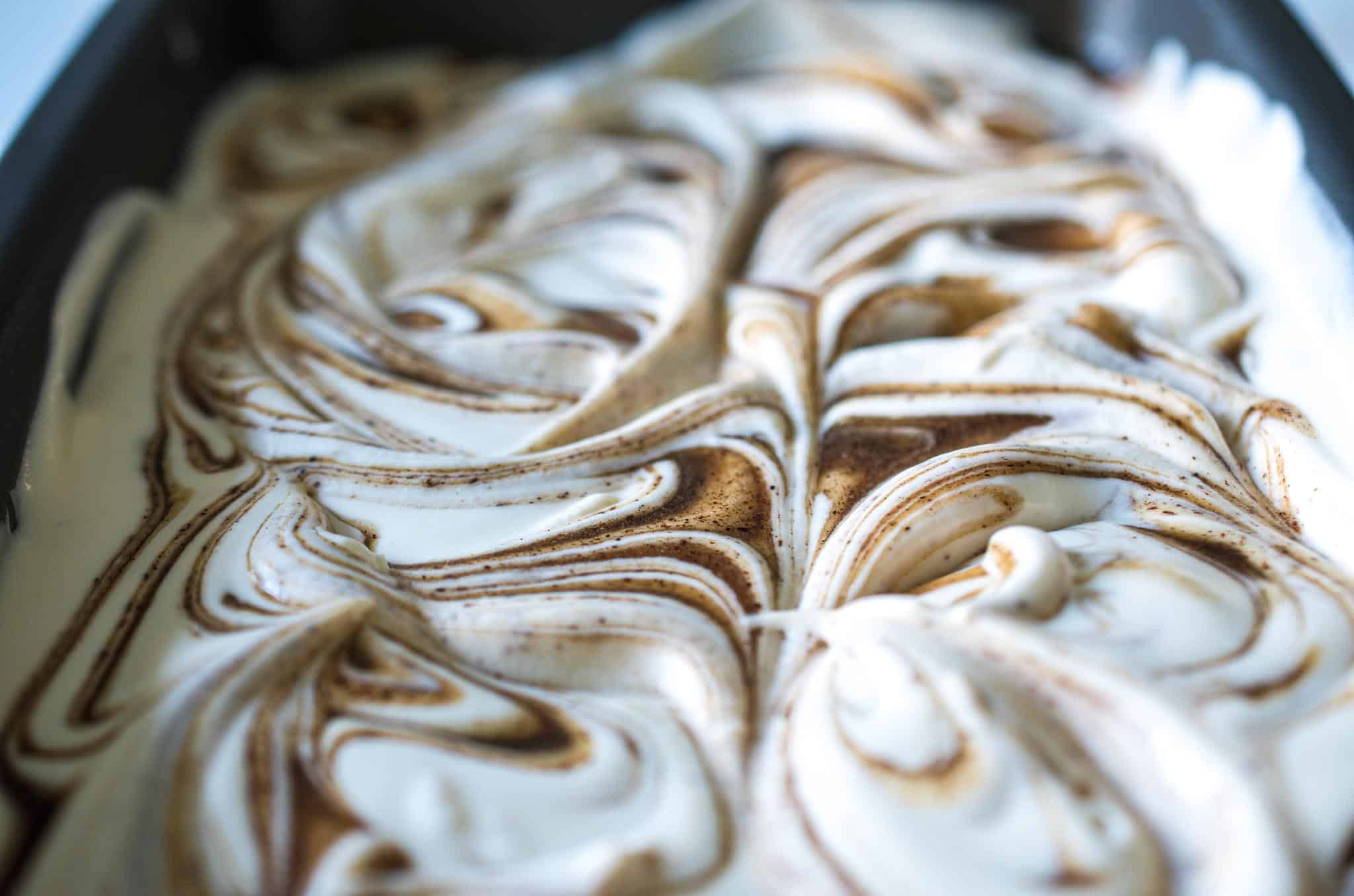 Gather Your Ingredients
This recipe includes the usual suspects needed to make no-churn ice cream, plus some fun mix-ins to amp up the flavor.
Heavy whipping cream – is used as a vehicle to introduce the chai and gets whipped to provide a light, airy texture for the ice cream
Chai – I used tea bags versus loose-leaf tea for ease. Also, if you're concerned about it, decaffeinated chai is available. 
Sweetened condensed milk – its high sugar and low water content help to create a creamy texture that won't freeze too hard.
Vanilla extract – if you prefer fresh vanilla bean, use about one-half to two-thirds of the pod.
Fine salt – just a pinch to enhance and balance.
Maple cinnamon syrup – this is made with brown sugar, water, cinnamon, unsalted butter & maple syrup.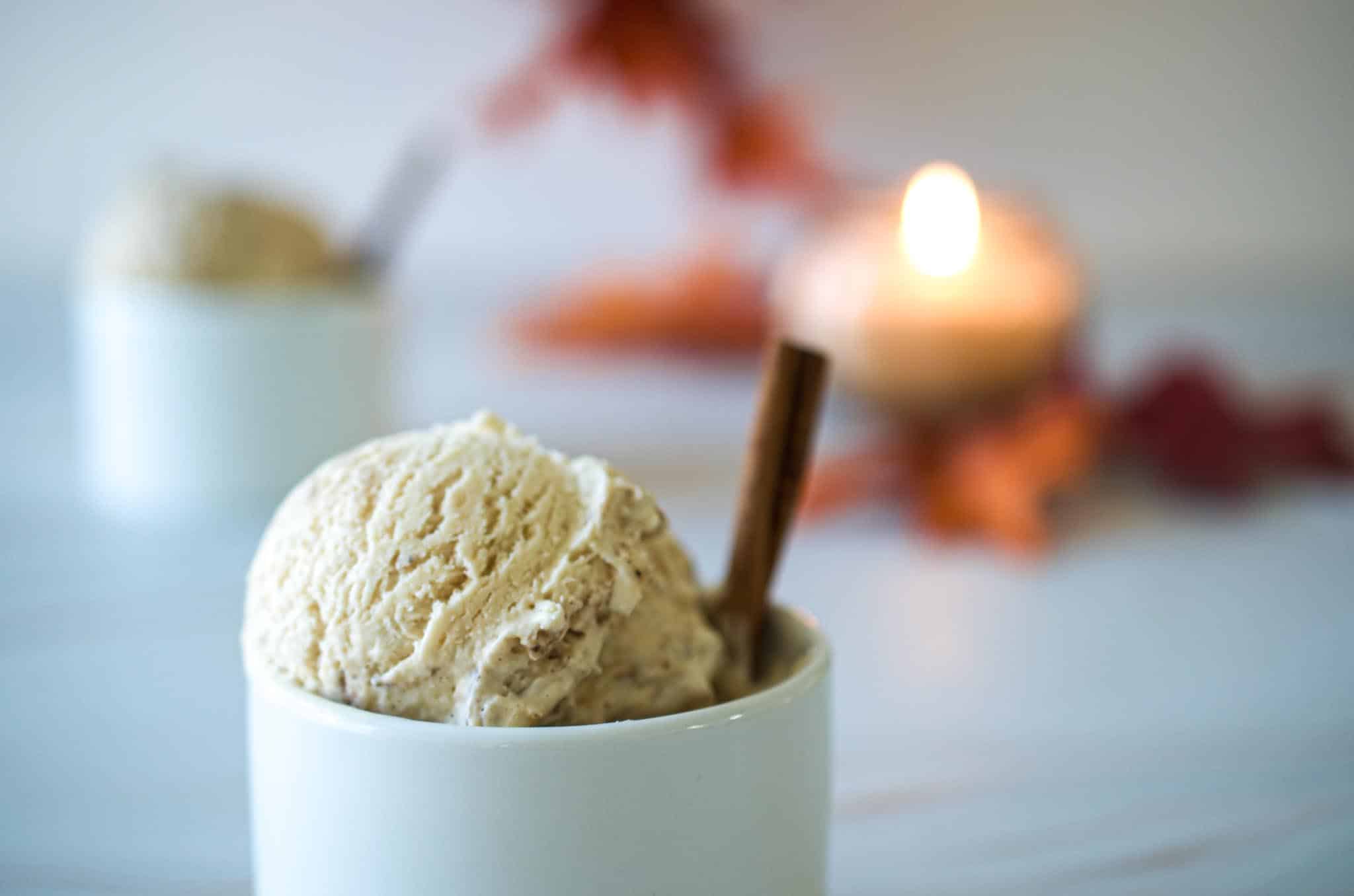 Round Up Some Equipment
While you don't need a fancy ice cream maker, there are a few tools that will make things easier.
Vessel for freezing the ice cream – a simple metal loaf pan is what I use. I've seen folks use other sizes of metal pans, as well as freezer-safe glassware. Whatever you choose, it should have a minimum 8-cup volume.
Bowl for whipping cream – if you have a stand mixer, then use that bowl (and the whisk attachment). If not, grab a large glass or metal bowl and use an electric handheld mixer…or a human-powered whisk.
Large mixing bowl – for folding the components of the ice cream base together.
Small saucepan – for heating some of the cream and making the maple cinnamon swirl.
Prep bowls – a couple of smaller prep bowls for cooling ingredients in the fridge.
Gadgets – a silicone spatula and a blunt knife.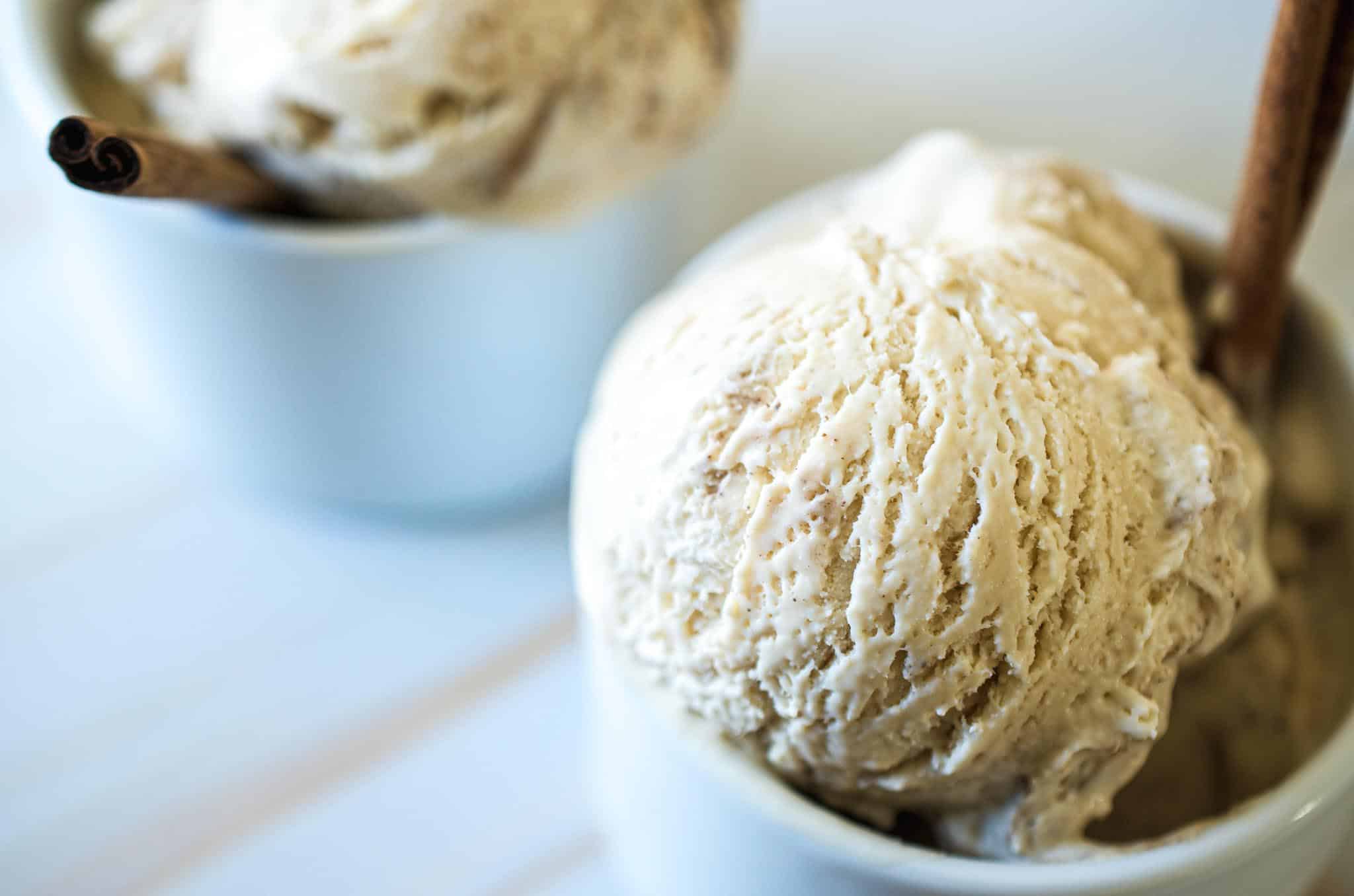 Let's Make No Churn Ice Cream
For this to work, we first have to heat some things up and cool some things down.
Chill vessels – place the loaf pan in the freezer and the bowl of your stand mixer in the fridge to cool them down. 
Make chai cream – in a small saucepan, heat only ½ cup of the heavy cream just until it starts to bubble around the edges of the pan. Pour the cream over the tea bags set in a small bowl. Allow to steep for about 30 minutes. Drain and discard the tea bags, then place the bowl in the fridge.
Make maple cinnamon syrup – combine brown sugar, water, and ground cinnamon in a small saucepan over low heat. Simmer for 3 to 4 minutes then take it off the heat. Whisk in the butter and maple syrup. Transfer this to a bowl and place that in the fridge, too.
Make whipped cream – place ALL the whipping cream (the chai-infused cream, too) into the bowl of the stand mixer and whip until stiff peaks form.
Finish the ice cream base – in a large mixing bowl, whisk together the sweetened condensed milk, vanilla extract, and pinch of salt. Add the whipped cream to this bowl and gently fold the ingredients together until well combined.
Swirl in the syrup – transfer half the ice cream base to the loaf pan then drizzle half the maple cinnamon syrup over it. Use the tip of a blunt knife to swirl them together. Repeat the process with the remaining ingredients.
Freeze – cover tightly with foil and freeze for 4 to 6 hours before serving.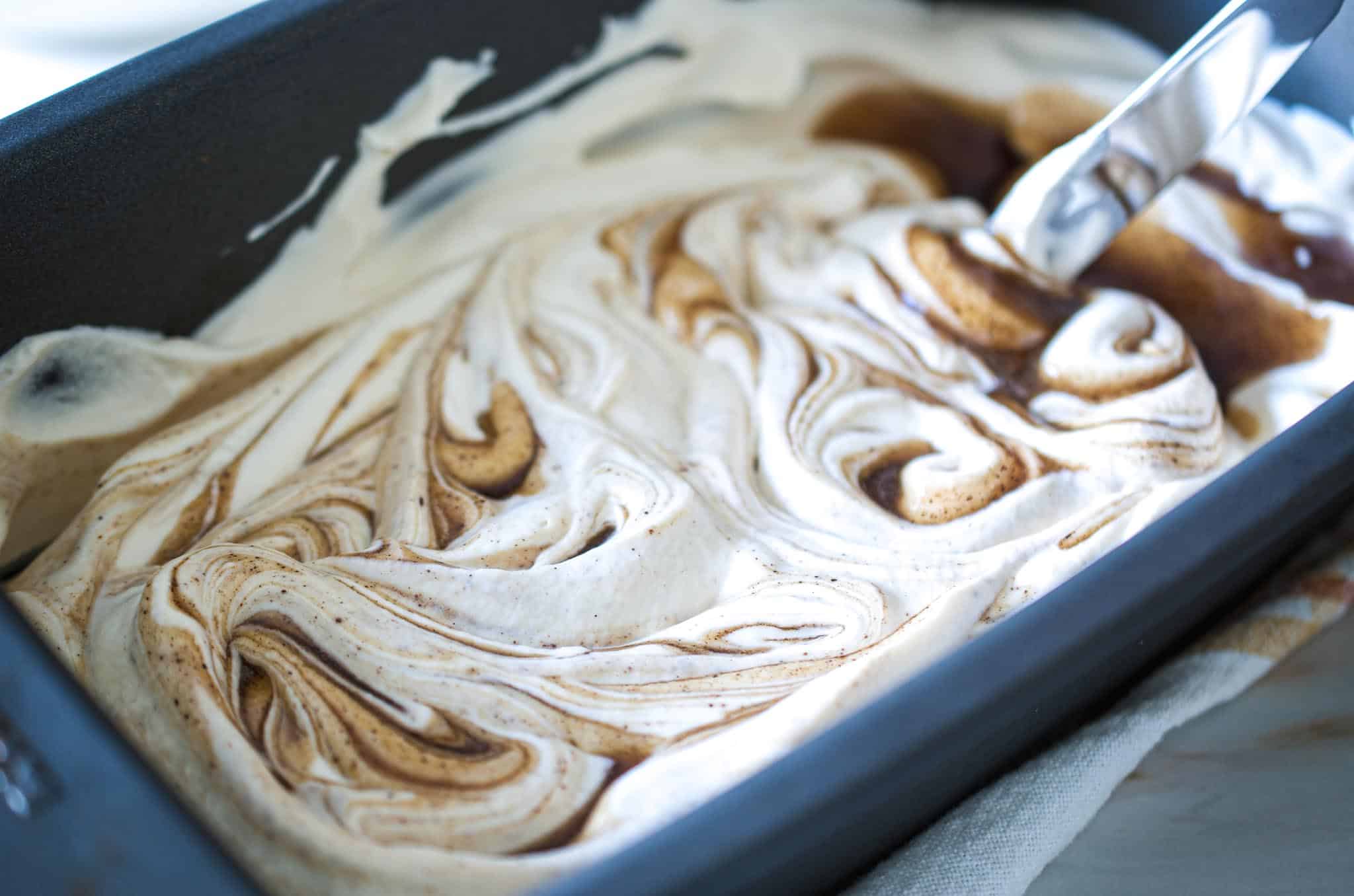 Helpful Recipe Tips
Once the ice cream has set up, press some wax paper or cling film against the surface of the ice cream, then wrap it tightly again in cling film or foil to store in the freezer. After serving, it might be helpful to transfer any leftovers to an airtight, freezer-safe container.
When serving, allow it to rest on the counter for 5 to 10 minutes, depending on how hard it has frozen, to make it easier to scoop.
Serve It Up!
This ice cream is for ALL the fall and winter pies…and gingerbread cake…and sandwiched between soft molasses cookies for spiced ice cream sandwiches. Oh, and how about a warm baked pumpkin donut ice cream sundae with salted caramel sauce? So. Good.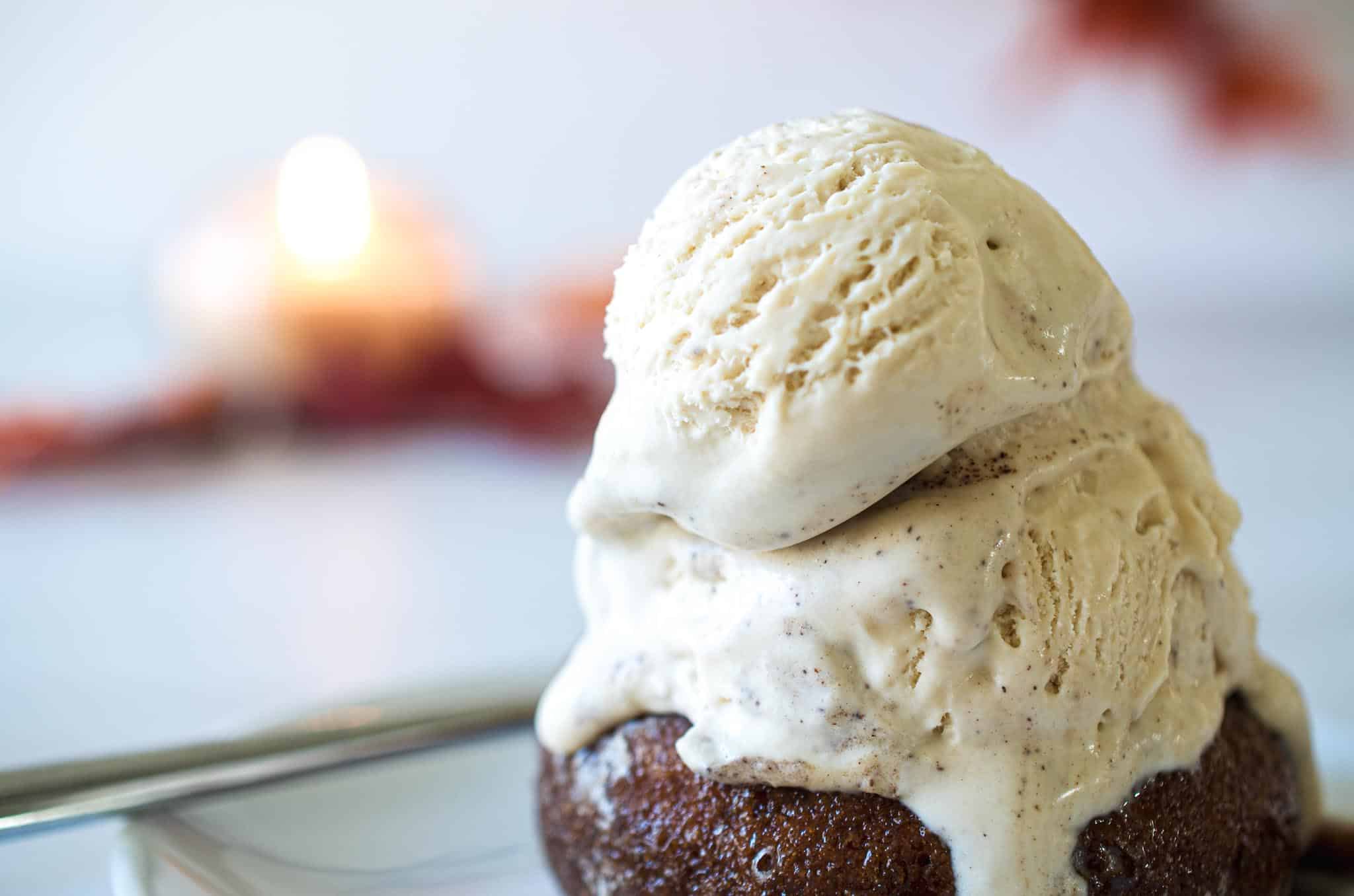 Linda Feller has been a Plan to Eat superfan since 2013 and will whip out the app to share with anyone who expresses the least bit of interest. She is a recipe developer, food photographer and the gal behind Sip + Sanity, a blog for recipes, entertaining and lifestyle. www.sipandsanity.com
FB & Instagram: @sipandsanity 
Twitter: @SanitySip
Plan ahead and make this no churn ice cream in stages as parts need to heat, then chill. Give your ice cream at least 4 hours of freezer time before you plan to enjoy!
Source: Sip + Sanity | Linda Feller for Plan to Eat
Prep Time: 6 hr 45 min
Cook Time: 10 min
Total Time: 6 hr 55 min
Ingredients
Chai Ice Cream Base

2 cups

heavy cream chilled, divided

6 bags

chai (tea)

14 oz

sweetened condensed milk

2 tsp

vanilla extract

pinch

fine salt
Maple Cinnamon Syrup
1⁄4 cup brown sugar

2 tbsp

water

1 tsp

cinnamon or chai spice blend

2 tbsp

unsalted butter

2 tbsp

maple syrup
Directions
Place a metal 9x5-inch loaf pan in your freezer. Place the bowl of a stand mixer or a standard mixing bowl in your fridge.
In a small saucepan (or in the microwave), heat 1/2 cup of the heavy cream until it begins to bubble around the edges of the pan. Pour it over the tea bags and set it aside to steep for about 30 minutes. Drain and discard the tea bags, then place the heavy cream in the refrigerator.
Make the maple cinnamon syrup by combining brown sugar, water and cinnamon together in a small saucepan over low heat. Cook for about 3 to 4 minutes until it's syrupy, stirring occasionally. Take it off the heat and stir in the butter and maple syrup. Transfer to a bowl and place this in the refrigerator as well.
In the bowl of your stand mixer, beat the heavy cream, including the chai flavored cream, until stiff peaks form. (Or, use an electric hand mixer and a standard mixing bowl.)
In a large mixing bowl, whisk together the sweetened condensed milk, vanilla extract and pinch of fine salt. Add the whipped cream and gently fold the two together until thoroughly combined.
Transfer half the ice cream mixture to the loaf pan, and with a blunt knife, swirl in half the maple cinnamon swirl mixture. Repeat with the remaining. Cover and freeze for 4 to six hours.
Allow it to rest on the counter for 10 minutes before scooping.
Powered by