I have happy childhood memories of scenic drives into the mountains for a long weekend of camping, fishing, and playing in the dirt. My family took nature hikes by day and sat around the campfire at night. We cooked hot dogs and marshmallows on the fire and filled aluminum foil with bananas and chocolate chips to roast in the coals. Camping was my family's vacation of choice and it instilled in me a love for the outdoors. 
This is also the basis of The Campout Cookbook; the co-authors of this cookbook have a love for camping and cooking under the stars. The preface sets the scene for their individual love of camping and the nostalgia of a night out in the great outdoors.
My first impression of The Campout Cookbook is that it's beautiful. The hardcover is textured and decorated to feel like woodgrain and a skim through the pages reveals adorable illustrations to accompany the recipes and anecdotes. From the first sentences, the writing is kitschy and fun, which gives the cookbook an endearing quality.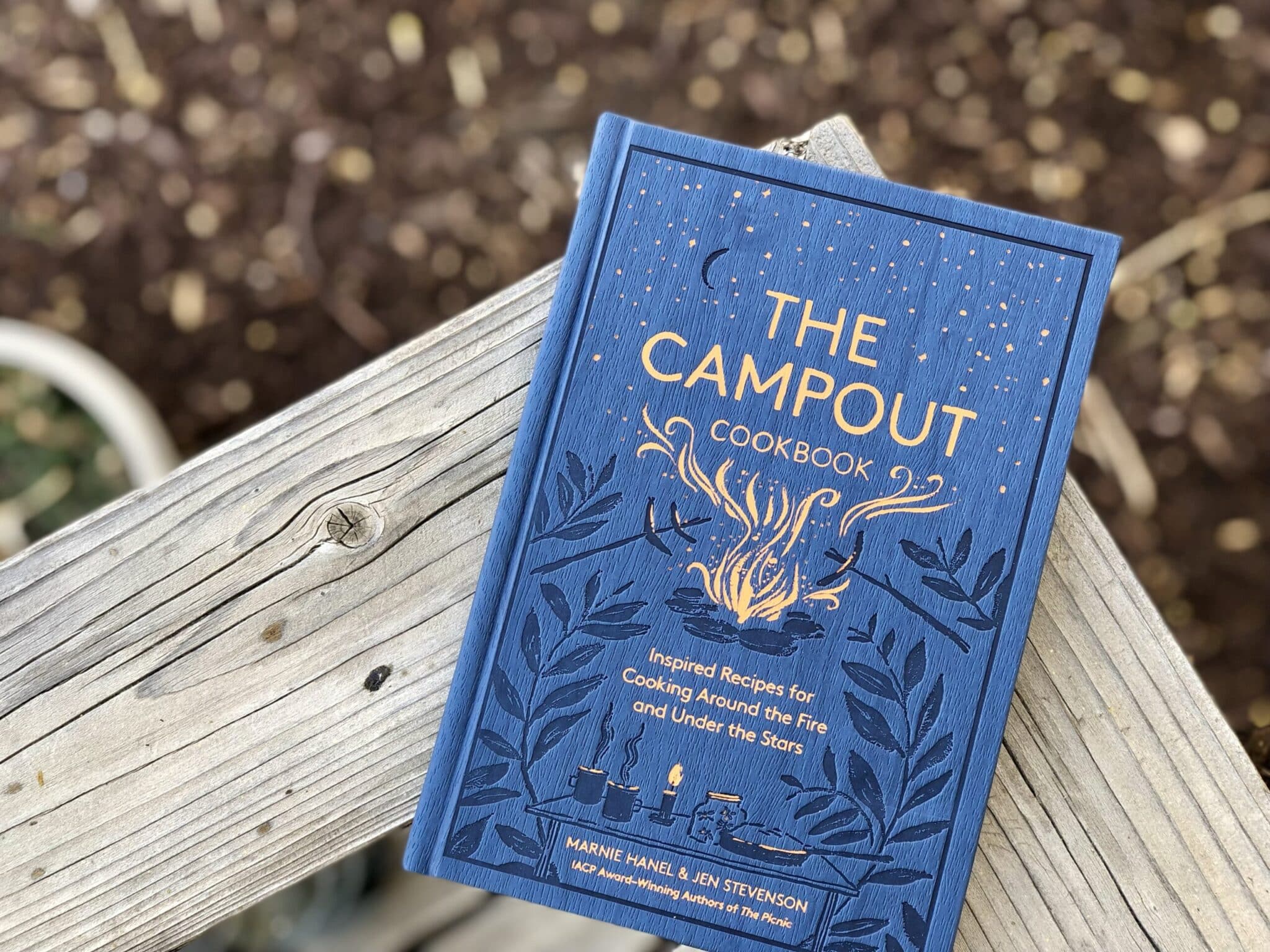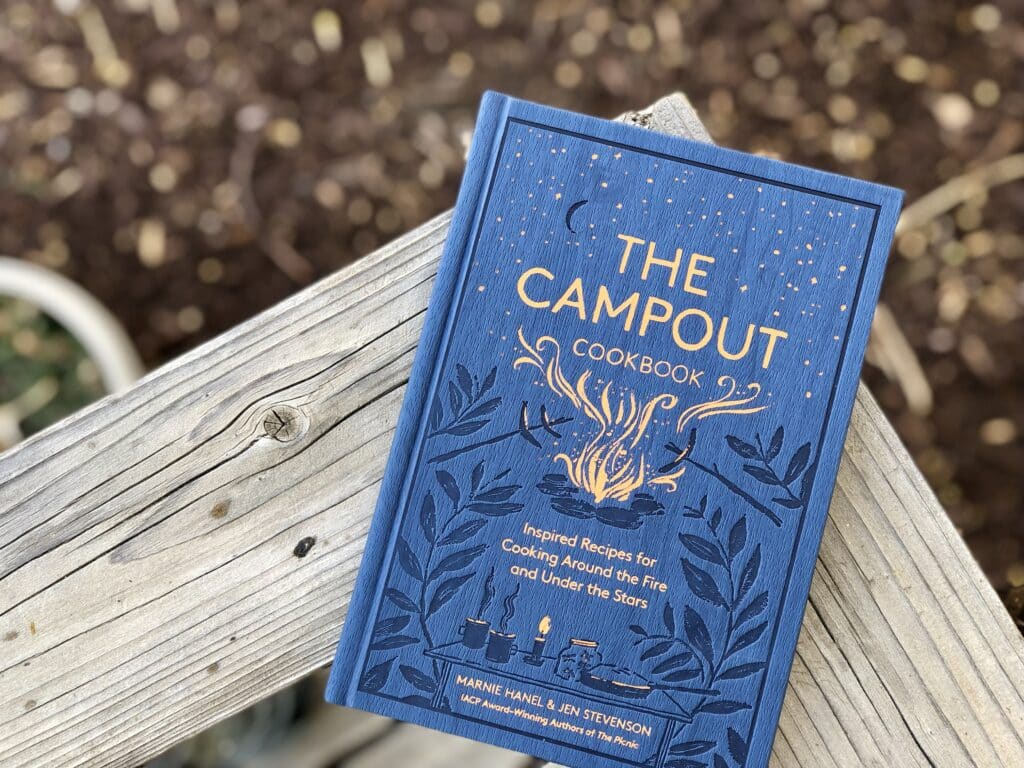 This cookbook is geared toward car campers, which is stated in the preface, so if you like to backpack or pack lightly, I wouldn't suggest purchasing this book. The ideal subset of car campers this book would attract is the foodie crowd. While there are a few simple recipes, the majority are more time intensive and lavish than your standard hotdog on a stick. 
I like to spend 30-45 minutes actively cooking a recipe, with prepwork I don't want a recipe to take more than an hour. My experience with these recipes is they took a minimum of an hour between prep and cooking. There are some obvious exceptions like making trail mix or preparing a salad, but for the most part, the recipes took longer than I expected. 
However, you won't need an elaborate camp setup to prepare these recipes, but a cast-iron pan, cutting board, knives, and a few mixing bowls should allow you to make most of the recipes. The book has its own packing list and kitchen essentials to help you know what to bring. 
My favorite part of the cookbook, aside from the illustrations, are the quick "guides" that show you how to do things like pick a cast-iron pan, start a campfire, and create a campsite charcuterie board. 
One major downside to this book is there are no recipe photos. While the illustrations are loveable and appealing, they don't represent the recipes found in the book because they are simply cartoons. If you like to decide which recipes to make based on yummy pictures, this cookbook is not suitable for you.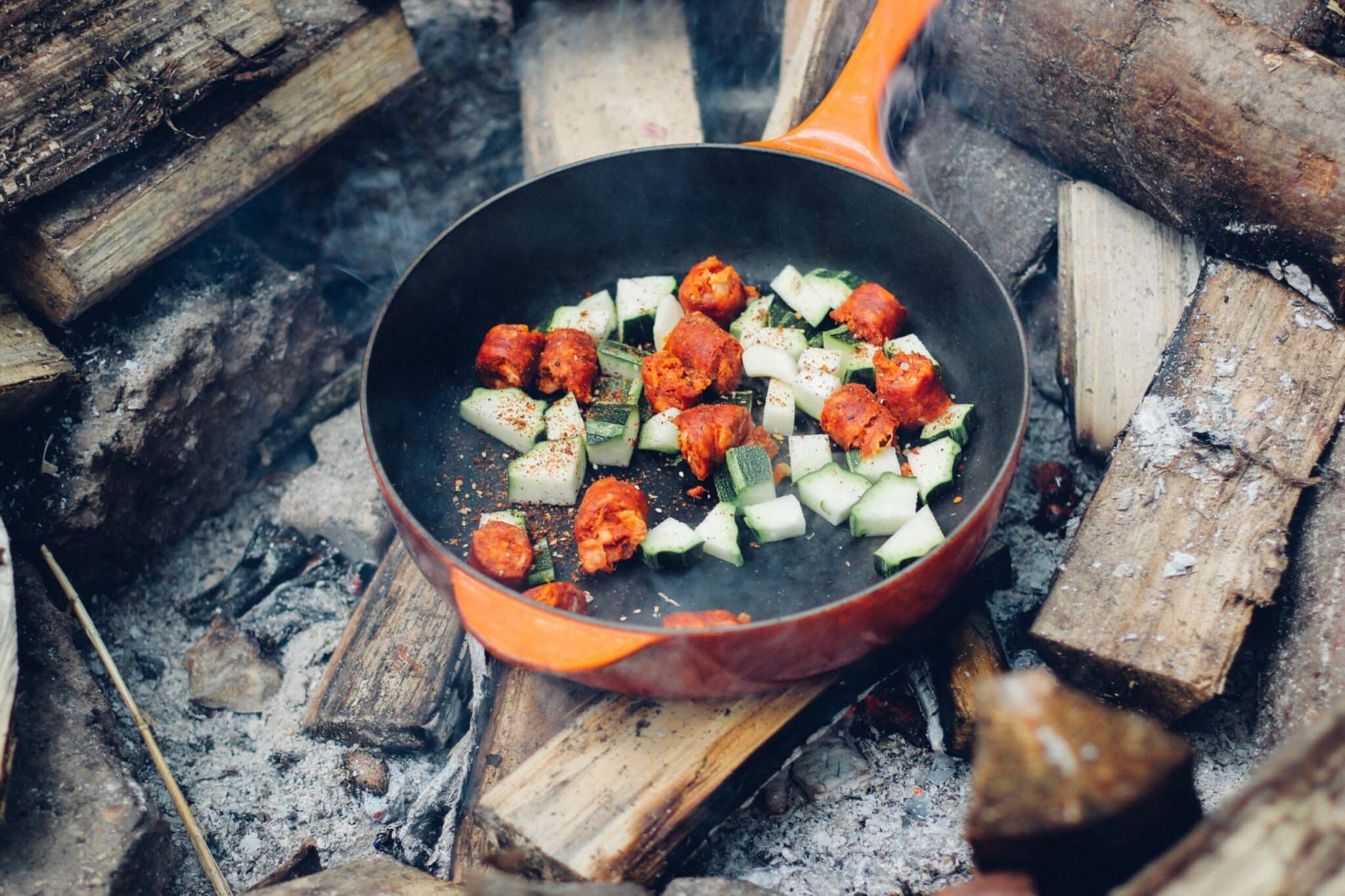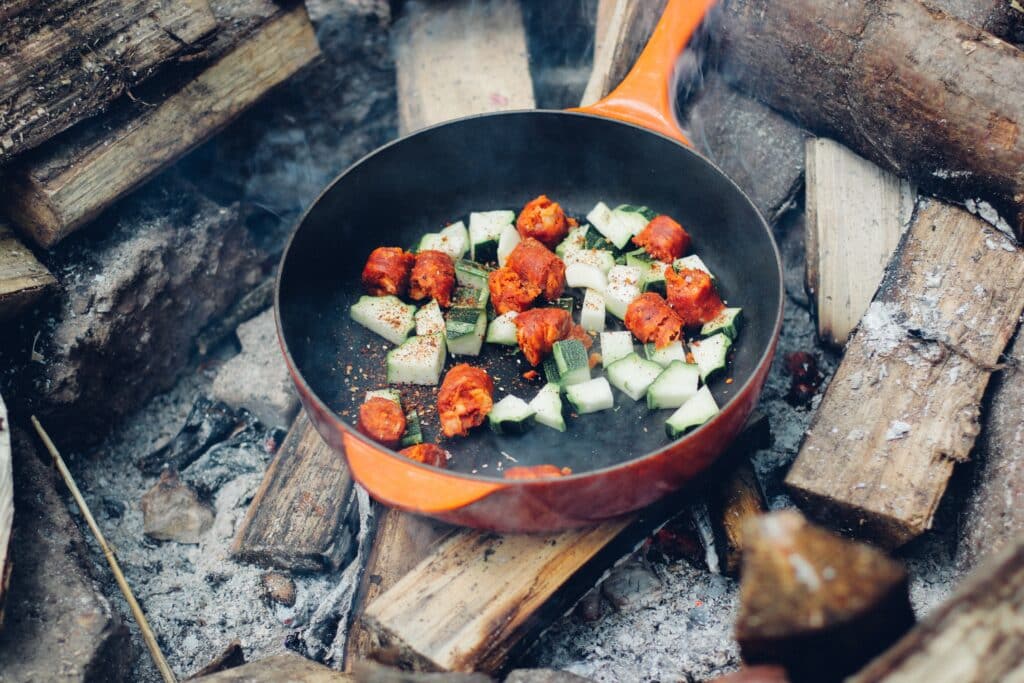 As I mentioned, the recipes are geared toward "foodies", but for recipes that are meant to be made at a campsite, they seemed a little over-the-top. Many of them require hard to find ingredients, unless you regularly shop at specialty grocery stores, and in general, a large number of ingredients. If I were to actually make these recipes while camping, they would require bringing along a long list of ingredients. Maybe it's just that my style of camping is different from that of the authors' (even when I car camp, I keep things pretty minimal), but the recipes didn't fit the amount of work I want to put in, nor the number of ingredients I want to buy/pack/use. 
If I were to give this cookbook a star rating, I would say three out of five. It is a fun read, the illustrations are cute, and the recipes are interesting. But I didn't find it very practical for camping and some of the recipes didn't even feel very practical for everyday home use. 
If you're a foodie and you like "glamping", this cookbook is definitely for you! If you like dinner to be done in 30 minutes or less, regardless of your location, I'd recommend leaving this one on the bookshelf. 
Below is my favorite recipe from the cookbook. It's a really simple and fresh summer salad and I loved it!  
Source: The Campout Cookbook pg. 90
Ingredients
Vinaigrette

2 tbsp

red wine vinegar

1 tbsp

lemon juice

1 tbsp

dijon mustard
1⁄4 tsp grated lemon zest
1⁄4 tsp salt
1⁄8 tsp ground pepper
1⁄2 cup oil
Salad

2

zucchini optional: yellow squash, asparagus, snap peas, carrots (whatever is in season)

2

yellow squash
1⁄2 lb thin asparagus spears

1 cup

snap peas

2 large

carrots
1⁄2 cup fresh mint leaves finely chopped

12

fresh chives minced

2 oz

ricotta salata cheese
1⁄4 cup chopped roasted almonds
Directions
see page 90 of The Campout Cookbook for full directions
Powered by