Like many people, I jumped on the sourdough bandwagon in 2020. I love a good sourdough loaf with a tangy, sour flavor and I wanted to try it myself! But I felt pretty intimidated. I'd never made bread before that needed to rest and ferment for an entire day (or more, for some recipes!) and that made me feel like I didn't have the skills needed to make sourdough from scratch.
I started out with an easy recipe that only had a minor amount of stretching and folding and the fermentation schedule was easily customizable. It created a perfectly fine loaf of bread, but it didn't have the tangy flavor I was hoping for. 
So, I started following different sourdough bakers on Instagram to learn more about the process and to try and ease my apprehension about more complicated recipes. It did the exact opposite.
I found that many bakers use hydration levels and percentages to produce an open or closed crumb (the texture inside the loaf), which felt way over my head. I had a hard time finding recipes that mixed the overly complicated with the overly simple. And felt like maybe I would stick to my super easy, only okay, sourdough recipe for a while. Until I stumbled on Bryan Ford. 
Bryan is a master baker and baking consultant who's recipes blend elements of the "traditional", overly complicated, with the simplicity beginners need to succeed. The intro in New World Sourdough states, "…to embrace a more simplified bread-making process that celebrates creative approaches to flavor while appreciating the quality of every single loaf that comes out of the oven."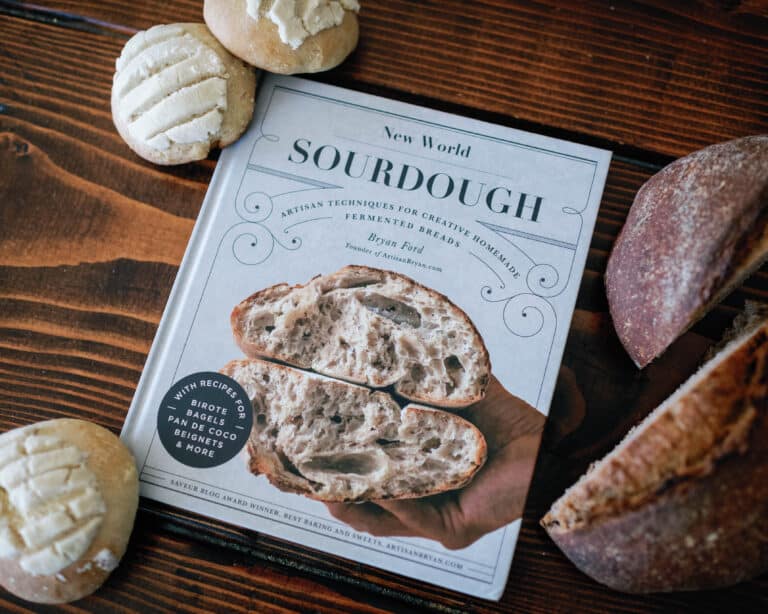 He's interested in being a baker who doesn't need percentages to bake, and appreciate, a great loaf of bread (my kind of guy!). On his blog and Instagram account, he's extremely down to earth and shows how much he loves sourdough baking. His personality is really what drew me to buy his book; I didn't even have an expectation for what the recipes would be like!
When I got the book, I was surprised at how many recipes were not rustic, "artisan" loaves, but enriched breads that use sourdough to leaven recipes, like the semitas de yema featured in this post. It's an even mix between rustic breads and enriched breads, so don't worry, you'll get both! 
I was nervous to try the enriched breads because I had never used sourdough for anything other than a simple, rustic round loaf. However, I have really enjoyed making the enriched breads from this book because they are simpler than they seem.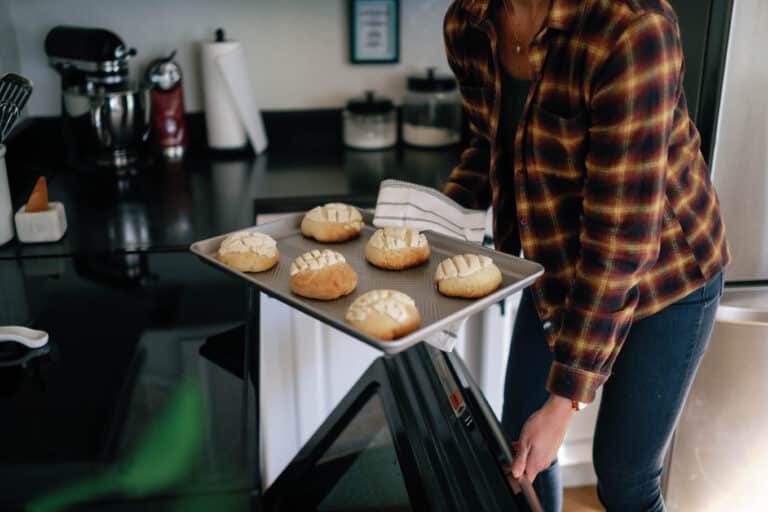 How to use this cookbook
In order to help a beginner baker, the first 26 pages of the cookbook are dedicated to tools, ingredients, and techniques. While my instinct was to immediately skip ahead to the recipes, Bryan references this section throughout the book, to ensure you know what to do and how to do it. I placed tabs on the pages detailing how to properly mix the dough and how to shape different loaves. There is certainly an element of page flipping while making the recipes, but the good thing is that you're never truly on a time crunch with sourdough. 
My advice for using this book, if you're familiar with sourdough, is to skim the first chapter to get an idea of the layout and how he provides instructions. Then you can flip back to those pages when you need a refresher on how to shape or proof a certain loaf. 
If you are a complete sourdough novice, read this section before starting your first recipe! Iit will give you a great understanding of your sourdough starter and the type of "work" you will put into your loaves. 
An important thing about making sourdough, in my limited experience, is planning out the timing of your fermentations. Be sure to read the recipes fully before you start, so you know what to expect! All of the recipes I've tried from New World Sourdough have you make a fresh levain before you mix your final bread dough. So if your starter has been sitting in the fridge for a while, you're not ready to bake right away. And most of the fermentations take four or more hours. 
An area I still struggle with in my baking is fermentation time. Byan lives in New Orleans, which is much warmer and at a lower altitude, than Northern Colorado. So when his recipes call for four hours of fermentation at room temperature, I usually have to increase my time by two or more hours. 
In general, I keep my house cool and I live at 5,000ft, so the fermentation process is slower. Keep this in mind, if you live in a colder climate or at higher altitude. My loaves are often under-proofed if I follow a recipe to a T because the fermentation is usually not long enough.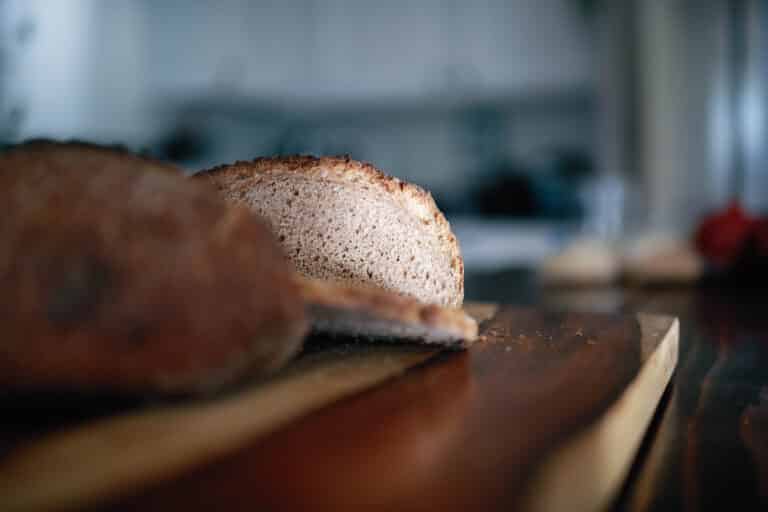 Bryan's Sourdough Methods
One thing that's different about Bryan's methods, compared to the other recipes I've tried, is he uses more whole wheat and rye flours. Particularly in the process of making the levian, whole wheat, rye, or both are used to activate your starter, even if the rest of the bread recipe only calls for bread or all-purpose flour. My experience with this is a final loaf that does contain those tangy notes you expect from a sourdough bread. 
Another technique he encourages is to mix your doughs by hand. Bryan is all about getting your hands messy with dough to get connected with the process. I'll admit, it is much more fun than watching my KitchenAid spin for ten minutes! 
My only "con" for this cookbook is, as I mentioned before, the need to flip back to the beginning to understand which technique is being used. This is a very small con because 1) I cannot think of a better way to organize the book to make the techniques more accessible and 2) it could just be a personal issue that I can't remember a proper "balling up" technique!
Overall, I love this cookbook and will continue to use it for my sourdough baking! 
If you're new to sourdough, Bryan will guide you through the process of learning how to bake some fun and flavorful recipes and I highly recommend this book! If you're a sourdough baker who uses hydration levels to get a perfect crumb, this book might be too simplistic (or it could be a fun departure from more strict recipes). Either way, I think this cookbook will expose most bakers to new flavors, inspired by Bryan's Honduran heritage. 
My favorite things about this cookbook:
Clear instruction (and pictures) on how to perform each technique. This is helpful for me as a timid beginner in the sourdough world!

Defined step-by-step directions for each recipe. 

A fun collection of recipes that will satisfy different palettes and experience levels. 

Multiple options and methods for creating and baking your loaves. For example, you don't need to go out and buy a dutch oven, if you don't have one because Bryan has other alternatives!
Happy Baking!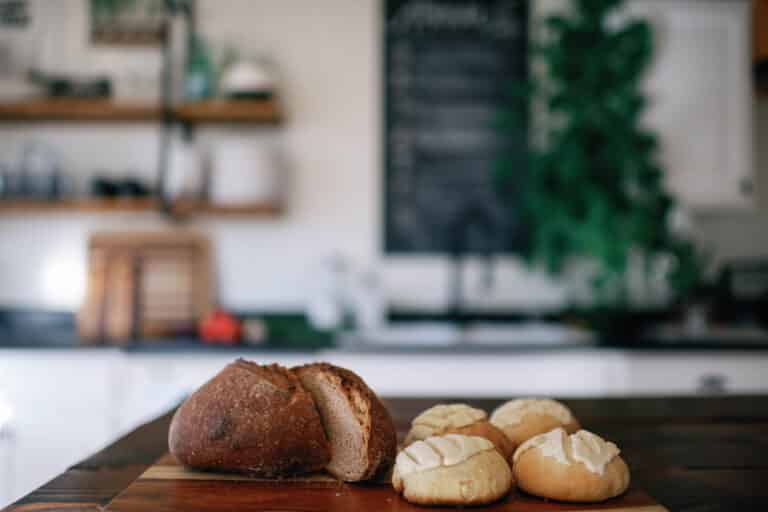 This bread, made by Bryan Ford, is a semisweet, dense brioche-style bread capped with a crisp mixture of oil and sugar and is best served with a warm cup of coffee.
Source: delish.com
Prep Time: 15 min
Total Time: 15 min
Ingredients
levain

100 g

mature sourdough starter

150 g

bread flour

50 g

whole wheat flour

200 g

warm water
final dough

500 g

bread flour

500 g

all-purpose flour

200 g

egg yolks

250 g

granulated sugar

250 g

unsalted butter at room temperature

100 g

water

350 g

levain

5 g

kosher salt
la cubierta

200 g

all-purpose flour plus more as needed

150 g

coconut oil

100 g

granulated sugar
Directions
To build the levain: In a tall jar or medium bowl, mix the mature starter, flours, and warm water until incorporated. Cover with a lid or clean kitchen towel and leave in a warm place for 3 to 4 hours until doubled. You can use your levain immediately, or refrigerate it for 12 hours to use later or the next day.
Make the final dough mix: In a large bowl, mix all the final dough mix ingredients, squeezing them with both hands until a dough starts to come together. Cover the dough with a clean kitchen cloth or plastic bag and let ferment at room temperature for 6 hours. Refrigerate the dough for 12 hours.
To make la cubierta: Remove the dough from the fridge and let it sit on the counter while you make la cubierta. In a medium bowl, combine flour, coconut oil, and granulated sugar. Whisk rapidly until you have a soft, crumbly mixture. You want it to be more dry than wet, so, if needed, add a bit more flour.
Turn the mixture out on to a work surface and gently knead it into a ball. Set aside.
To shape and proof the dough, line a sheet pan with parchment paper and set aside. Divide the dough into 120-g pieces(about 16) and shape each one using a "balling up" technique.
Take a small handful of the cubierta mixture, make a flat disk with the mixture and place it on top of each rounded dough ball. Place the dough rounds on the prepared sheet pan.
Proof the dough at room temperature for 4 hours until you see some cracking in the cubierta and growth in size. Use a razor blade or knife to cut some designs into the cubierta before baking, if desired.
To bake the bread: Preheat the oven to 375°F and bake the semitas for 30 minutes or until golden brown.
Let cool for 15 or 20 minutes to ensure they are cooked all the way through before eating. Remember, these are best enjoyed with your favorite cup of coffee. Dip it in and enjoy.
Powered by