If you are new to baking, this recipe is a wonderful place to start. You don't need to use a mixer, there are minimal ingredients, and the clean up is so easy after only using one bowl. Don't let the simplicity of these brownies cause you to overlook just how delicious they are though. These are the perfect brownies… fudgy in the middle, shiny crust on top, and full of chocolate chunks. These have been a true favorite of mine for quite some time, and I am so excited to share them with you now!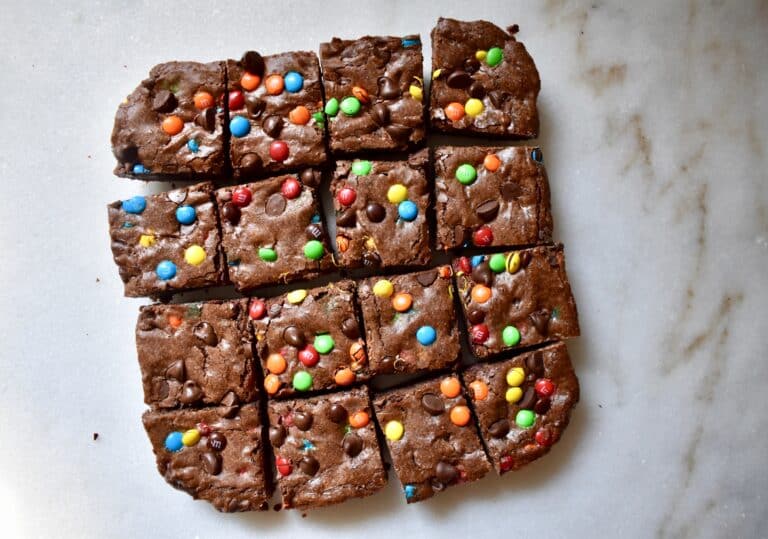 My interest in baking started back when I was a little girl baking with my mom. We actually made these very brownies together, and now I have the honor of making them with my little ones. Because of those sweet memories I have with my mom, I am more intentional about spending time in the kitchen with my own kids. The simplicity of this recipe makes it the perfect place to start in the kitchen with your kiddos too! Make it extra fun for them by using some bright M&Ms or some fun sprinkles! If you are making these with young kiddos, I have found that it helps to have the ingredients measured out and ready to add into the bowl. If your kids are a little older, however, measuring and leveling the ingredients is a perfect job for them.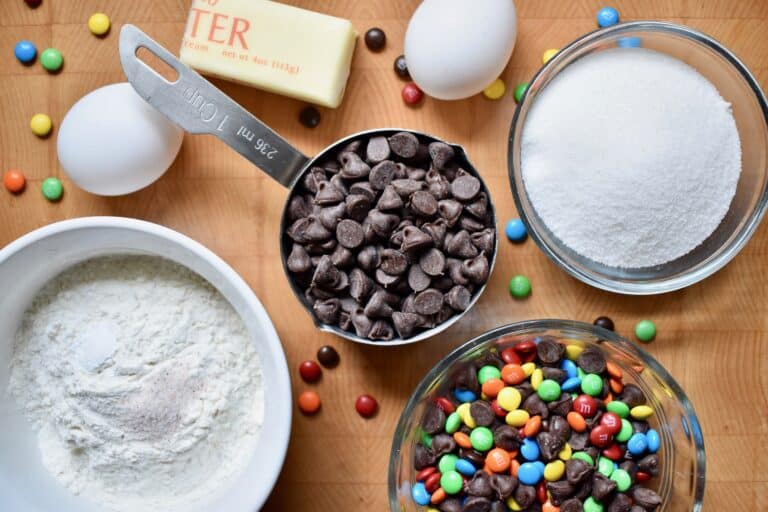 Before we start mixing, prep an 8" square pan by either greasing or lining with parchment. I prefer to line my pan so I can take the whole batch of brownies out of the pan (once cooled) to cut. It's a little bit cleaner, but I promise they taste just as good without doing that.
In a microwave safe bowl, add one cup of semi-sweet chocolate chips and 1/4 cup of butter, roughly chopped. (Note that the butter doesn't need to be softened to room temperature because it's going right in the microwave! Yay, timesaver!) Microwave the butter and chocolate for 30 seconds and then remove the bowl to stir. Microwave for another 30 seconds and stir. If the chocolate and butter are not quite cohesive, microwave for 15-30 more seconds. You shouldn't need more than a minute and a half total in the microwave, and be sure to alternate warming and stirring.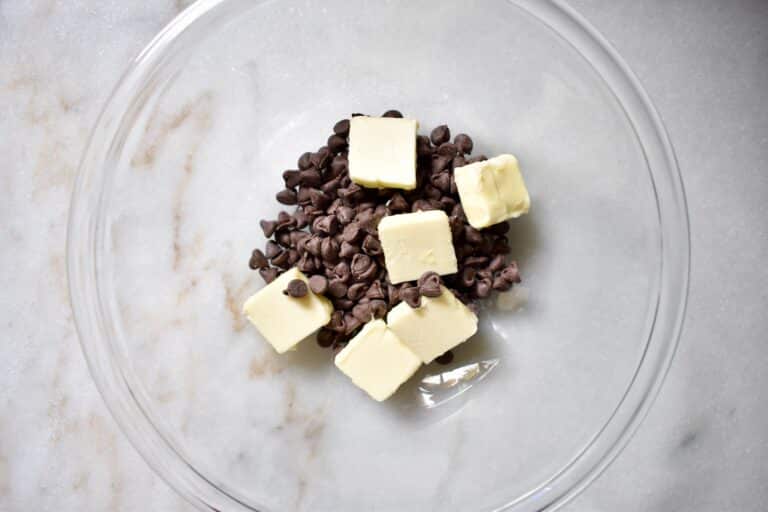 Pour the sugar into the bowl and stir together. Then add the flour, vanilla, baking powder, salt, and eggs and stir until the batter is smooth. Lastly, add in your chunks… chocolate chips, m&ms, pecans, you can mix it up here and use your favorites. For the brownies you see here, I used semi-sweet chocolate chips and mini M&Ms. 
Spread the brownie batter evenly in the 8" square pan and sprinkle a few more chocolate chips or whatever chunks you are using on top. I've found that adding a few extra bits on top always kicks up the presentation of your bake. This step was likely my daughter's favorite in the whole process because of all of the "taste testing" she was able to do! Bake the brownies for 30 minutes at 350 degrees and let cool in the pan completely before cutting.
This is such a special recipe for me, and I have absolutely loved sharing it with my friends over the years. They have begun to share it with other friends, and I hope you all will enjoy them so much that you do the same!
Whether it's for dinner with friends or as a fun project in the kitchen with the kiddos, these are sure to please any chocolate lover. You might even find that you rarely opt for that box brownie mix again!
Anna
Join us this month for more baking basics! Whether you're a novice or a well-seasoned baker, we're sharing tips and tricks to help everyone gain Kitchen Confidence!
Fudgy in the middle, shiny crust on top, and full of chocolate chunks... these will be any chocolate lover's favorite brownies! With no mixer needed, minimal ingredients, and only one bowl, these are the perfect for making with the kids and sharing with friends!
Source: thelittlebluemixer.wordpress.com
Course: Kitchen Confidence: Baking Basics
Cuisine: American
Prep Time: 20 min
Cook Time: 30 min
Total Time: 50 min
Ingredients
1⁄4 cup unsalted butter roughly chopped

1 cup

semi-sweet chocolate chips
3⁄4 cup sugar
2⁄3 cup all purpose flour
1⁄2 teaspoon vanilla
1⁄4 teaspoon baking powder
1⁄4 teaspoon salt

2

eggs
1⁄2 cup semi-sweet chocolate chips
1⁄2 cup M&Ms or pecans optional
Directions
Preheat oven to 350 degrees.
Prep 8" square pan by lining with parchment paper or greasing lightly.
In a microwave safe bowl, melt one cup of chocolate chips and butter. Alternate microwaving for 30 seconds and stirring until melted. You shouldn't need more than a minute and a half total in the microwave.
Stir in granulated sugar.
Add in flour, vanilla, baking powder, salt, and eggs, and stir until batter is smooth.
Stir in chocolate chips and M&Ms or chopped pecans, if desired.
Spread batter evenly in prepared pan and sprinkle top with extra chunks.
Bake for 30 minutes and let cool completely in pan on wire rack.
Enjoy!
Powered by