We recently launched a new version (2.5.1) for our iOS and Android App! This update is a big one and we are very excited to share all the details with you. We have elaborated on all the details below, but for those of you that are too excited to wait, here's a brief synopsis:
We added a new Grocery Delivery option (BETA). 
We added the option to print your Shopping List in the Shopping List Settings!
You can now use a limited list of custom HTML tags in your recipe directions.
We removed the Shopping List Settings ••• option from the Staples List because the majority of the settings only work on the shopping list. 
Bug Fix: We fixed the missing photo library permissions on some tablets.
Using Grocery Delivery:
From the Shop tab, tap on the 3-dot menu. 
Tap the Grocery Delivery option.
Select the store(s) with items you want to order.
Note: Delivering more than 100 items may not work correctly.
With stores selected, tap the Deliver Groceries button.
You will be redirected to your browser, where you can complete the order after selecting your desired store based on location.
When delivering groceries, you can select stores in the app, but not individual items. If you'd like to select specific items, you can use the Grocery Delivery option on our desktop shopping list. (If you didn't know this was an option on the desktop site, this help article to show you how it works! )
Things to keep in mind when using grocery delivery in the app:
Grocery Delivery is currently in BETA. We are working with multiple third-parties to delivery this feature and it does not work perfectly, 100% of the time.
Before sending items to one of the grocery delivery providers, be sure to merge and edit your shopping list items. 
Once your items are transferred, you can select brands, swap items, and update quantities in the grocery service.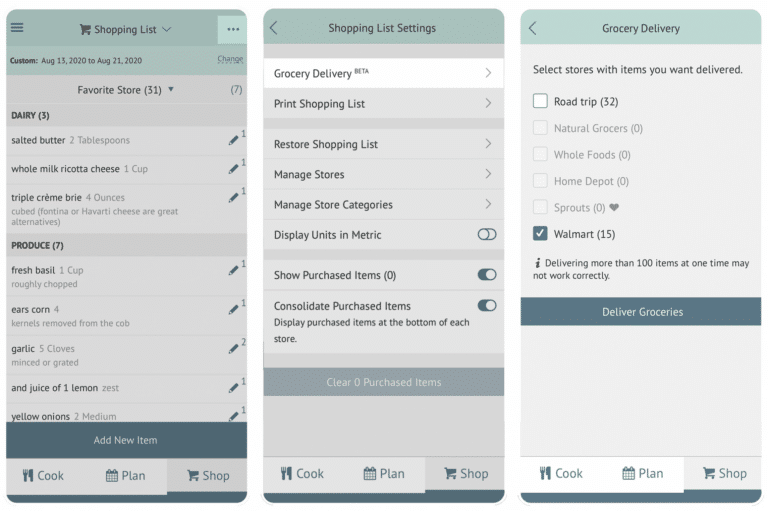 Print your shopping list
From the Shop tab, tap on the 3-dot menu. 
Tap the Print Shopping List option.
You will be redirected to your browser with a print preview of your shopping list.
Tap the Print button in the upper right to continue with printing from your device.
Sharing the print preview
To share this printable version with someone else, tap the Share button in your browser and select the desired sharing option, like texting, email, etc. 
Note: The shared url does not change and will always display a read-only, print preview of your current shopping list using your currently selected date range. It can be accessed by anyone, even if they do not have a Plan to Eat account. They will not be able to make any changes or access other features in your account.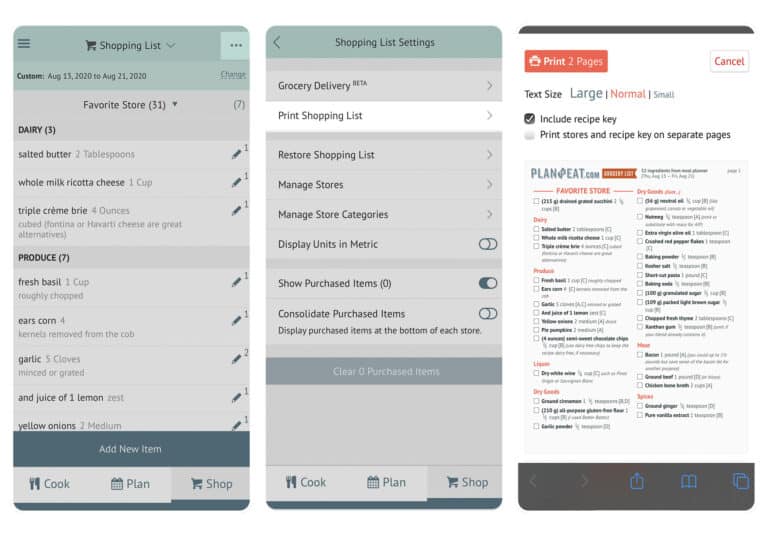 Do you have an expired trial or subscription and want to try out these new features?
No problem! Email us at [email protected] and we'll extend your trial for 7 days.