Suddenly, it is mid-August and I find myself looking back wondering where the time has gone. I feel that summer has a way of doing that to you. The sun-kissed days offer so much heartwarming joy that we blink and the Season begins to change…ever so slightly at first. First the nights begin to cool and then the leaves will begin to turn. But for now, summer remains and so many wonderful foods are still freshly available.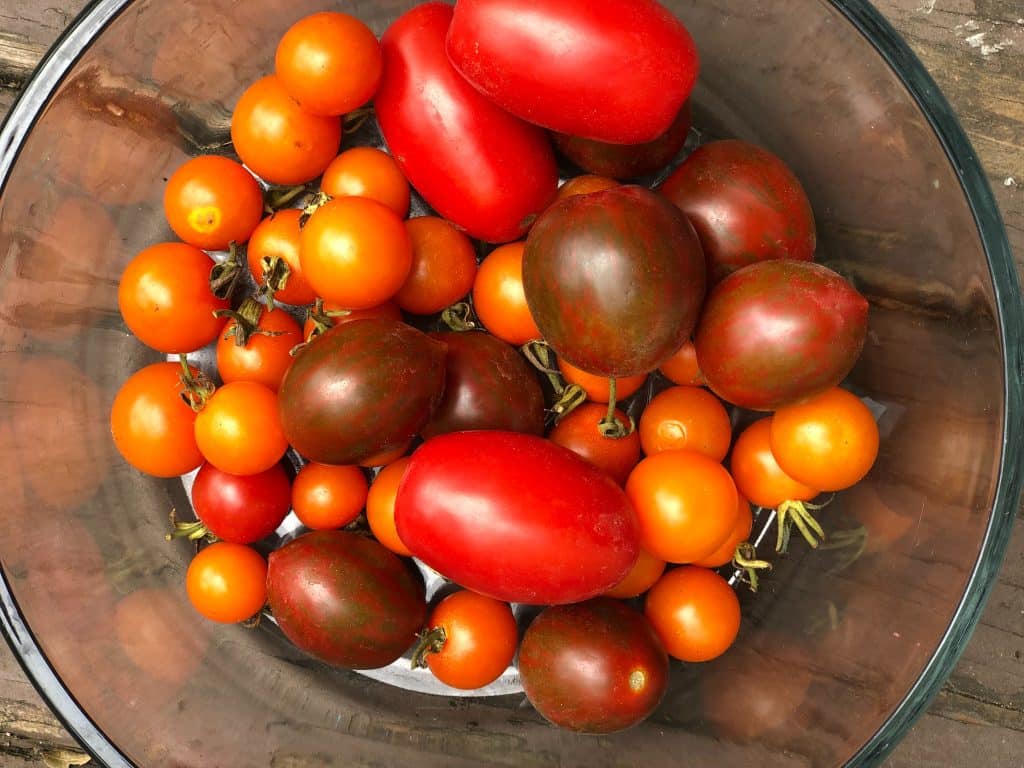 In my house, August manifests as an ode to the tomato, for it is August when I indulge myself and put tomatoes in as many meals as possible. There is something to be cherished about a vine-ripened tomato. The flavor, the texture, the color, the fragrance all come together to offer an amazing fruit. Summer fills your mouth with a burst of flavor from your first bite. It's sweet, it's tangy…the acid pairs delightfully with the sweetness of a perfectly ripe tomato. It is the heat of the summer that provides enough warmth for the small tomato plants to grow and produce delicious fruit.
Oh, dear August tomato, you are summer to the very core of your round little form! Juicy insides burst at the first bite and sweetness fills the senses with the slightest bit of acidity. Your vines are weighted down by voluptuous fruit. You are calling to be picked; to be plucked carefully from the weight-burdened vines. And as my busy hands pick these delectable morsels, a few manage to find their way into the mouths of babes for a juicy afternoon snack. Bring me this bountiful crop. Fill my counters full.
Stock the freezer. Can the jars. Preserve the summer. For it is the season of the tomato and there is no other time of year that offers these vine ripened beauties at their best. Bring on summer! Give me the heat of August, for all too soon the tomato will have left the vine. The vine will return to the dirt and all will be gone until next year when I eagerly await for the first ripe fruit. Tomatoes are in the nightshade family…meaning they ripen in the dark. A great way to save the remaining green fruit when the frost is near is to allow them to ripen in the dark. You can do this many different ways. I have plucked the green, firm fruit and placed them in a cardboard box, leaving a bit of space between each one. I have also cut the plant down and hung it upside down, fruit and all, in a dark location in my basement. A bit of a warning, these ripening techniques work but won't result in the same pleasure as peak season fruit. But before the fear of frost fills my head I am determined to eat my fill of juicy, vine ripened fruit!
Wondering what other delicious fruits and vegetables to look forward to while we enjoy the heat of summer? Check out this list of what's in season (varies upon area):
Chard
Chicories
Chives
Cilantro
Collard Greens
Corn
Cucumbers
Eggplant
Endive
Fennel Bulb
Garlic
Grapes
Green Onion
Ground Cherries
Horseradish
Kale
Kohlrabi
Lamb's Quarter
Lavender
Leeks
Melon
Mint
Mushrooms
Mustard Green s
Nectarines
New Potatoes
Okra
Onions
Oregano
Parsley
Parsnips
Peaches
Peas
Pears
Peppers
Plums
Pole Beans
Pumpkin
Purslane
Raspberries
Rosemary
Rutabaga
Sage
Shallots
Sorrel
Spinach
Summer Squash
Sunchokes
Sweet Potatoes
Tarragon
Thyme
Tomatillos
Tomatoes
Turnips
Watercress
Winter Squash
Zucchi
A light and refreshing salad with cherry tomatoes, cucumber, avocado and provolone cheese.
Source: heartinsoil.com
Prep Time: 10 min
Total Time: 10 min
Ingredients
.5-1 lb

Cherry Tomatoes

8 oz

Cucumbers

1 Tablespoon

Fresh Basil

1 Medium

Avocado

3 oz

Provolone Cheese

1

⁄ 4 teaspoon Garlic Powder

1

⁄ 2 teaspoon Himalayan Sea Salt

1 teaspoon

Olive Oil

2 teaspoon

Fig Balsamic or Regular Balsamic
Directions
Wash all the produce. Slice cucumbers into 1/2 inch pieces. Slice avocado into 1/4-1/2 inch pieces. Dice fresh basil. Cut larger cherry tomatoes in half if needed. Slice provolone cheese into 1/4 – 1/2 pieces. Combine all produce in a bowl.
Add garlic powder, salt, olive oil and balsamic vinegar, mix until well combined. Serve immediately or chill for 30 minutes prior to serving.
Powered by