The asparagus is coming to an end. The last few morsels have been tenderly cooked and served; we soak up the last of the season's offerings. As we say goodbye to asparagus we welcome new items onto our table. The end of asparagus means the beginning of strawberry season…a period to which my children eagerly look forward.
They watch the market stands week after week for signs of fruit, longing to bite into the first sweet berry of the season. Last week we finally found some. I loaded our market bags with the kids looking on. They waited just long enough for me to pay and then asked if they could dive into to the beautiful red baskets of berries. Honestly, none of us could wait to take the first bite of the season's first offerings, they were so good.
Mid-June means berries, delicious berries. It is the time of the strawberry full moon, the full moon given its name due to it indicating that the strawberries were ripe and ready to be harvested. I am always in awe of the signs that nature gives to us: the answers waiting for us in nature, waiting for us to pay attention and look, listen and feel. Each season has its own information to share. Each month brings something different to learn. And June tells us of asparagus' passing, strawberries' arrival and the warmth to come.
The strawberry is a unique fruit, the one that bares its seeds on the outside. Varieties vary in size and shape. Wild mountain berries often look too small to be filled with flavor until you take the first bite. The small wild strawberry packs an enormous amount of sweetness. We are used to seeing plump uniform options in the grocery store. Most local berries will not be as uniform and will vary in size, shape and sweetness but they are so worth waiting for. A seasonally ripened strawberry tastes so good!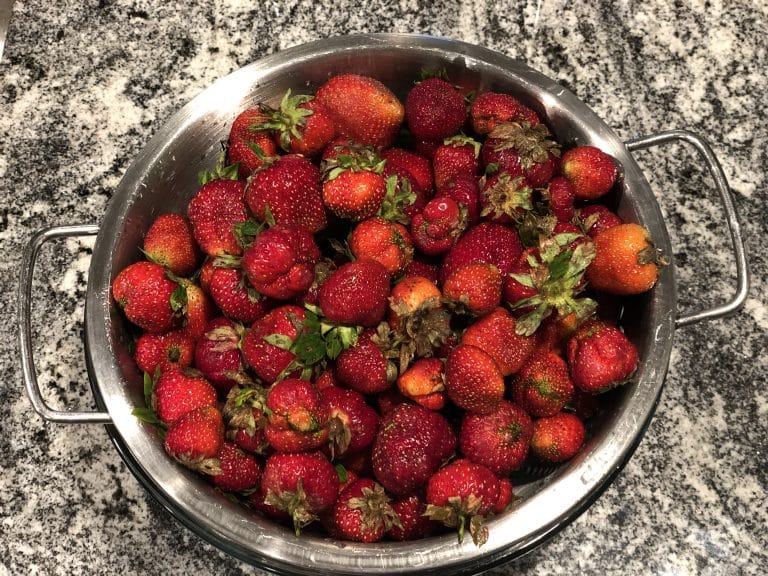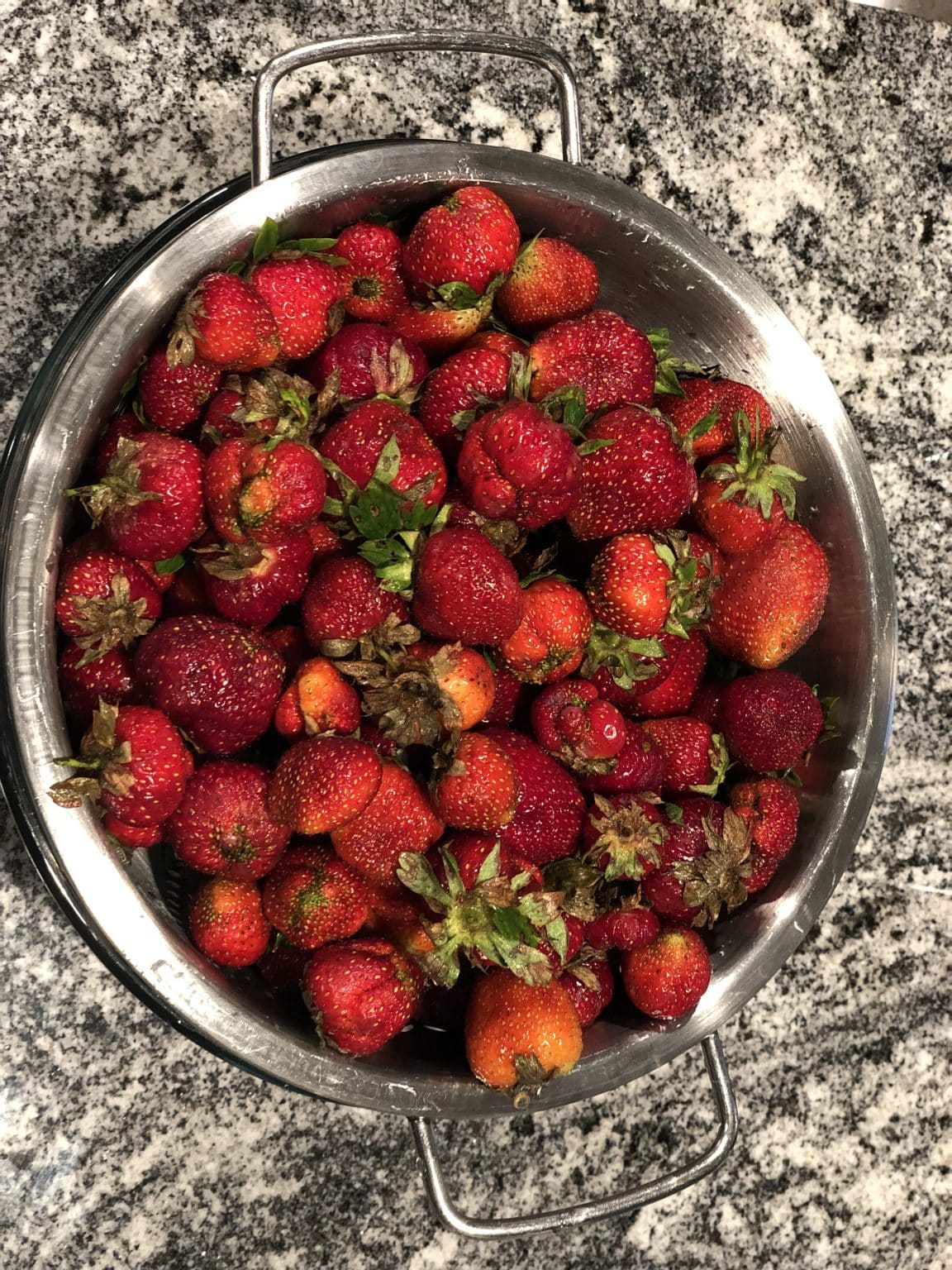 June portends the beginning of fruit season beyond strawberries and many more varieties will soon be available. Ripe and ready for the picking, they will flood the farmers
market. Oh yes, the tables will be full of colorful, ripe, sun kissed, sweet fruit!
Strawberries fill my childhood memories. Great plates of berries served at family gatherings with short bread, whip cream or ice cream: my grandfather's birthday, father's day, family BBQs and any excuse to serve strawberries really. To me strawberries are Summer: the memories past and the memories I am making with my own children.
Summer is often the favored season. The daylight peaks with midsummer sun shining late into the evening on the 21 st . The days will slowly begin to shorten as we move into the hotter days. July is coming: the warmth, the heat, the urge to soak it all up. June can still lend itself to days that dip in temperature. It is a month that effects so much of the harvest season yet to come. For strawberries – like so many plants – it is an elaborate dance between light, air and moisture. Where we live, the excessive precipitation has brought about some challenges this year. Too much water makes for a juicy berry that lacks flavor. Not enough water and too much sun will scorch the tender
fruit and dry it out. The farmer dances the steps choreographed by Mother Nature. Some fields remain to be planted even in mid-June due to the weather, the farmer waiting for it to dry out. Then all too soon the heat of July will steal the luster of leafy greens, the sun telling them to bolt and concentrate its effort into producing new seeds. June is a beautiful melting pot of leafy greens that enjoy cool weather and the beginning of hot crops; the in-between of Spring and the hot Summer coming together in beautiful culinary combinations.
As June comes to an end and we welcome a new month, the following produce will begin to be
available. Availability varies upon location, climate and what Mother Nature has in store: 
Apricots
Arugula
Basil
Beets
Berries
Bok Choy
Broccoli
Carrots
Cauliflower
Chard
Cherries
Chives
Celery
Celery Root
Cilantro
Collard Greens
Corn
Cucumber
Currants
Dandelion Greens
Dill
Endive
Fava Bean
Fennel
Garlic Scapes
Gooseberries
Green Beans
Green Onions
Kale
Kohlrabi
Lamb's Quarter
Lavender
Lettuce
Melons
Mint
Mushrooms
Mustard Greens
Nectarines
Onions
Oregano
Parsley
Peaches
Peas
Peashoots
Peppers
Potatoes
Purslane
Radicchio
Radishes
Rapini
Rhubarb
Rosemary
Rutabaga
Sage
Shallots
Sorrel
Spinach
Strawberries
Summer Squash
Sunchokes
Tarragon
Thyme
Turnips
Watercress
Zucchini
Source: Jen Iacoboni
Prep Time: 12 hr 30 min
Cook Time: 15 min
Total Time: 12 hr 45 min
Ingredients
1 Cup

Steel Cut Oats Soaked

1 Tablespoon

Apple Cider Vinegar Used for soaking
Water Enough to cover oats for soaking

1 teaspoon

Cinnamon

1 teaspoon

Coriander

12 teaspoon

Vanilla

1 pinch

Cardamom

1 dash

Himalayan Sea Salt

1 Cup

Half & Half

1 Tablespoon

Organic Cane Sugar

4 Cups

Fresh Strawberries Sliced

4 Tablespoons

Hemp Hearts Optional
Honey Optional
Directions
Cover oats with water, adding about ¼ – ½ cup extra. Add the apple cider vinegar and let soak for 12-24 hours. Soaking your oats will aid in digestion.
Once the 12-24 hours have passed drain oats in a colander and rinse well.
Place the oats in a stove pot safe pan. Add enough water to cover the oats, 1 tsp cinnamon, `1 tsp coriander, 1 tsp vanilla, 1 tsp butter, a dash of salt and a pinch of cardamom.
Cook on low, stirring occasionally. This will cook for 15-30 minutes depending upon your stove top. Once the oats have a gelatinous look and are soft to eat they are ready.
While the oats are cooking slice ½- 1 cup fresh strawberries and make the whip cream.
Place 1 cup half and half into a quart sized mason jar with 1 tsp vanilla and 1 tablespoon cane sugar.
Now shake, shake, shake. You want to shake the container until the contents are light and airy, like whip cream. This can be a fun project to do with kids, taking turns shaking the contents of the container.
Once the oats are cooked and the whip cream is fluffy you are ready to serve.
Place 1/4 – 1/2 cup oats in your bowl, cover with a scoop of whip cream and top with strawberries.
You can add a tablespoon of hemp seed for extra protein.
If you like your oats slightly sweeter drizzle a touch of raw honey over top and enjoy.
Powered by