These days creating meals for my family is kind of like solving a puzzle. We have food intolerances – wheat, dairy, fruit, and sugars. We have a budget we need to adhere to. We have a growing family and three children – 7, 5, and 2 – who often eat as much as I do. And we have a new baby to fit all of this meal preparation around.
In some ways, not much has changed. We still live off-grid. I still make three meals from scratch. We still eat real, simple food.
But in some ways it feels as though I just woke up to a family of six to feed with a variety of narrowing parameters to work within. I've been troubleshooting this situation for a while now, and while I know I still have a lot to learn, I thought I'd take you through what is working for us so far.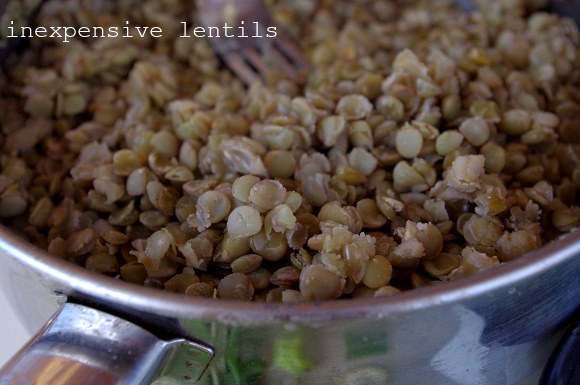 Budgeting
I know I'm not alone in working within a grocery budget. As our family continues to grow, I've tried not to let our grocery budget grow with it. I've implemented a few things that I think have helped:
Try to produce as much food as you can. This is the single biggest game-changer, in my opinion. Having our own eggs, meat, dairy, vegetables, and grains is ideal. For now, though, even just having some eggs from our hens and always trying to grow more calorie crops in our garden – like beans and potatoes – helps.
If you're not producing meat, eat less of it. We love pastured meats, so I never thought I would be saying that sentence. But, meat costs dictate change. We butcher roosters around here when necessary, but that is the only homegrown meat we provide, and it's sporadic. Good meat, even conventional meat, is expensive. So, we just eat a little bit of it every day mixed into other protein sources – beans, eggs, and lentils.
Make the most of the foods you are eating. To get the most benefit from the foods we are spending money on, I try to ferment and soak foods as needed. Legumes can all be soaked or sprouted and we eat a lot of sourdough and fermented grains.
Invest in good fats. If there is one item we're going to splurge on, it's animal fats. Having good quality butter, coconut oil, or lard in every meal makes those beans, rice, and vegetables go that much further.
Planning
So, how exactly do we work with these foods to create inexpensive, simple, and nutrient-dense meals that fill those little tummies? Well, that's exactly what I intend to share with you in the weeks to come. I've got some recipes that are simple enough for the cook and dish-washer, while being satisfying enough for continuously hungry little bellies. And I hope to discuss more kitchen logistics as we go.
In the meantime, though, I'd love to hear your advice…
How do you feed a growing family?