I've long been a fan of Danielle Walker's recipes, and I grabbed new favorite recipes regularly at her blog. Her food was always delicious and not overly-fussy. My family loved her recipes, and I could count on them to be tested and trustworthy. Plus she had some yummy photography. So when she announced that she'd be writing a book, and Victory Belt Publishing offered to send me a review copy*, I jumped at the opportunity.
Danielle has taken all the good things about her blog and put them into one hefty grain-free, dairy-free cookbook. I've been so thrilled with it that I've already bought another copy to gift to a friend, and this book is now one of my top recommendations to friends wanting to dip their toes into a Paleo-esque diet. If that's you, be sure to read all the way to the end! Victory Belt Publishing is giving away a copy of Against All Grain to one of our readers!
Danielle's journey into a Paleo diet began with a diagnosis of Ulcerative Colitis. As a fellow sufferer of this autoimmune disorder, I deeply appreciated reading the introduction to her cookbook as much as I've enjoyed cooking from the recipes. When we suffer, it is always helpful to hear the voices of those who have been there, and overcome the trials, to give us hope that we, too, can emerge from the suffering.
Regardless of your reason for approaching a grain-free, dairy-free lifestyle, Danielle's recipes are sure to please your palate. Against All Grain includes tasty recipes for all hours of the day: breakfast, lunch, dinner, dessert and everything in-between. There is even a special chapter of recipes especially pleasing to kids. Every recipe has a gorgeous, full-page, color photo with it. Danielle created an easy labeling system for her recipes, so you can quickly find recipes that are nut-free, egg-free, vegan, or Specific Carbohydrate Diet (SCD) compliant. If you happen to be following the Paleo Autoimmune Protocol (AIP) you'll find tons of delicious recipes for you, too, even though they aren't labelled.
I regrettably must confess that I was cooking from Against All Grain during a very busy season of life. I utterly failed to photograph practically all of the dishes I made, and the few photos I ended up with were so blurry and ill-lighted that they did not do justice to the deliciousness of the recipes. So I only have this one photograph to share, of a dinner that we shared with friends, that was an Against All Grain feast: Indian-Spiced Pork Roast with Cumin Curry Carrots, Asian Pear Chutney, Asian Mango Slaw with Thai "Peanut" Vinaigrette, and Peach Streusel Coffee Cake for dessert. Everyone oohed and aahed over the deliciousness.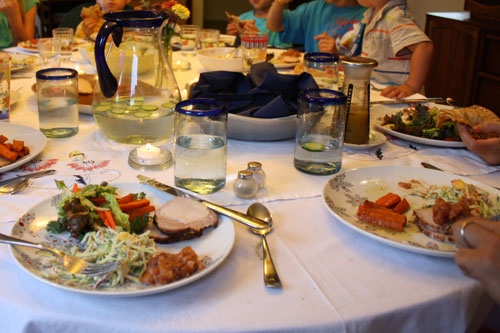 People who choose a Paleo-lifestyle because they're interested in squeaky-clean eating and working out, may or may not appreciate Danielle's cooking style (though she includes several fish recipes and lots of simple veggie sides, if that's your thing). But I think this cookbook resonates more with the other Paleo populations. Danielle is a mom who knows that kids don't always eat wild salmon and kale, even if you do send it in their lunchbox. Moms? She's got your chicken fingers and "sugar" cookies. Danielle lives with a chronic illness that requires giving up certain delicious foods. IBD sufferers? Danielle's got your brownies and ice cream. And she knows the difficulty of switching from a grain-centered to a grain-free diet. Newbies? She's got your sandwich bread and hamburger buns.
The other recipes I've tried (and loved)? Pizza Crust, Pie Crust, French Vanilla Ice Cream, Curried Chicken Salad, and Maple Sage Sausage. And I'm deeply indebted to Danielle for her Allergy-Free Breakfast Cookies, which are egg- and nut-free and completely AIP-legal. I keep a container of the dough in the fridge and bake a few every morning to accompany my sausage and green smoothie. There still remain another two-dozen dog-eared pages to try! It'll be a while before I reach the end of this cookbook.
Victory Belt Publishing is giving away a copy of Against All Grain to one of our readers! To enter:
* Review posts are my opinions on items that were sent to me free of charge. The items were given to me, but the thoughts and opinions are my own. I only provide reviews of items that I find to be truly worthy of recommendation.