The Sweet Pea is a creative soul. She loves to craft and assemble and invent and create. She enjoys playing the piano, but she loves composing. She likes reading, but she adores writing. So it seemed natural to me that she would enjoy cooking. I confess to not being the most-encouraging mother in regards to having my kiddos in the kitchen. I am either pressed for time and just trying to "get 'er done" or I am in a creative zone of my own and don't wish to be disturbed. However, I know that I want my children to love good food and know how to prepare it. And so, with the Sweet Pea turning 10, it was time.
She's here today to share her review of a delightful cookbook that she found in the library, The Do It Myself Kids' Cookbook by Laurie Goldrich Wolf. I helped her contact the publisher for a copy, who kindly agreed to provide one for her, and one more for some other budding chef (see the giveaway details at the end of the post).* Apart from some minor guidance from me, the Sweet Pea did all of the remaining work herself—the cooking, the photography, and the writing. 
As the mom, there were several things I appreciated about this cookbook. First, as the title suggests, my 10-year-old is perfectly capable of cooking every single recipe by herself. There is sometimes a small amount of prep-work needed from me (boiling pasta, or cooking a piece of chicken), but this is no trouble. I also love that the recipes are fun for kids to eat, but also wholesome. They use real food and, in many cases, sugar can be easily avoided if you're careful buying your ingredients (I had to search around a little bit for cinnamon raisin bread without sugar, but eventually discovered that Ezekial 4:9 bread is refined-sugar-free. Yay!) There are even many dessert recipes that are fruit-based.
I whole-heartedly give this cookbook an enthusiastic thumbs-up from the mom. And with that, I'll turn it over to the Sweet Pea, who can fill you in on the kid's opinion.
There are lots of pictures in the cookbook I used. There is one main picture to tell you what the recipe will look like when you're done. There's also a picture for each step to make things clear.
I really liked the cookbook. It was easy and clear. The only time I had to use anything sharp was when I was cutting a big sandwich (3 pieces of bread, honey, peanut butter, coconut, and strawberries. It was really good.) The only time I remember having trouble was when I got confused measuring a lot of liquids (at least 5) and put too much of this and too little of that into a bowl.
I liked that I could do 100% of the work by myself on MOST of the recipes. On one recipe, I did more like 50%. Mama made the spaghetti and I made the peanut sauce. It was good. I think the food was Vietnamese, Chinese, Japanese, or Korean. I also made a recipe with my friend, Laurel. We made a piece of toast with a deviled egg mix and peppers on top. That was good, too.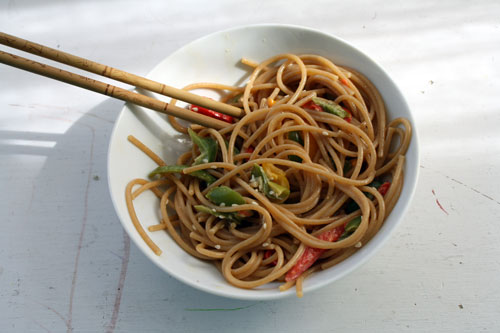 The recipes I tried were: Peanut Butter, Banana, Strawberry, and Coconut on Cinnamon Bread; Sesame Noodle Salad; and Egg Salad with Red and Yellow Peppers on Flower Toast. Out of them all my favorite was the Sesame Noodle Salad. I really like food from that part of the world. It was so good that I want to make it 10,000 more times!
I think that if there were 1,000 good kids cookbooks and you had to pick 40 of the best this cookbook would be one.
* Review posts are my opinions on items that were sent to me free of charge. The items were given to me, but the thoughts and opinions are my own. I only provide reviews of items that I find to be truly worthy of recommendation.
Downtown Bookworks is giving away one copy of The Do It Myself Kids' Cookbook by Laurie Goldrich Wolf. To enter: