The two breakfast dishes I tried on my family this past week are from the casserole category known as a "strata". Think of a casserole as a dish that is all mixed together and baked (like a tuna casserole) and a strata as a dish that is layered into the pan and baked (like a lasagna). Though I question the actual use of the term "strata" in bread casseroles where the bread cubes in one layer are hardly distinguishable from the bread cubes in another. But whatever.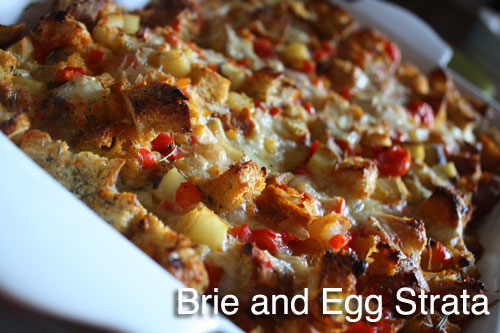 We sampled two similar recipes. The Sicilian-Style Strata I pulled from a page in Sunset magazine 10 years ago (seriously, I can't believe how long I've held on to some of these recipes!). It was good, easy to assemble, and the family liked it. But nothing about it really stood out to me. Everyone said it tasted like pizza, in a casserole. There's nothing wrong with pizza in a casserole dish, but it does seem a little….predictable.
The Brie and Egg Strata is adapted from a Cooking Light recipe, also filed years ago. I've occasionally pulled it out over the years, thought about making it, but then remembered it required buying Brie. My family loves Brie, but it is a little pricier than say, a chunk of cheddar cheese. Anyway, once I finally committed to making it I realized that it was really only a small amount of Brie that was called for–perhaps the size of a chunk left over from last night's party. And really, you could just use cheddar. La Fromage Police will not issue a citation at your dinner table.
Since I'd bought a very large wheel of Brie, I doubled the amount of cheese in our strata. The 4 oz. in the recipe is the amount originally called for. Doubling the cheese and the yumminess to 8 oz. (or more) is entirely up to you.
I also replaced the "fake" foods in the original recipe (cooking spray, egg substitute) with "real" foods (butter and eggs) because that's the way I feed my family.
Between last week's Marmalade French Toast Casserole and this week's Brie and Egg Strata, I consider myself well-prepared for any sweet or savory breakfast occasion. They are both winners, but so different that I don't mind keeping both of them in my recipe book.
Source: Cooking Light, 2006 (adapted)
Ingredients
3 tablespoons

butter

2 cups

chopped onion
1 1⁄2 cups diced unpeeled Yukon gold potato 1 large

1 cup

chopped red bell pepper

1 cup

halved grape tomatoes

1 teaspoon

salt divided
3⁄4 pound ciabatta cut into 1-inch cubes, toasted
butter for greasing

4 ounces

Brie cheese rind removed and chopped

6 large

eggs

1 teaspoon

herbes de Provence
1⁄4 teaspoon freshly ground black pepper

3 cups

milk
Directions
Melt butter in a large skillet over medium-high heat. Add onion, potato, and bell pepper; sauté 4 minutes or until tender. Stir in tomatoes; sauté 2 more minutes. Stir in 1/2 teaspoon salt. Remove from the heat and stir in the bread cubes.
Place half of bread mixture into a 13 x 9-inch deep casserole dish greased with butter. Sprinkle with half of the Brie. Top with remaining bread mixture and remaining Brie.
Place eggs in a medium bowl. Add remaining 1/2 teaspoon salt, herbes de Provence, and pepper. Add milk and whisk together until well blended. Pour egg mixture over bread mixture. Let stand 30 minutes.
Preheat oven to 350°.
Bake at 350° for 50 minutes or until set. Serve immediately.
Powered by