One of the dishes that I fall back on often when the temperatures reach 100+ is the skillet meal. Throw a bunch of vegetables, seasonings, and protein into a pan and you've got yourself a meal. And since I haven't turned the oven on since early June I think we've been eating a lot of these lately.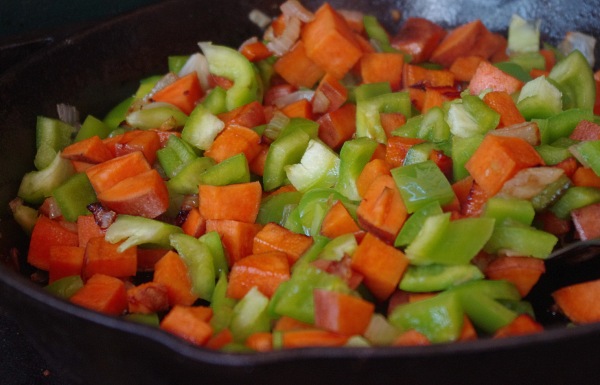 One of our favorite vegetable bases is the sweet potato. True to southern form, we've got a few rows of them growing in our garden and are excited to see if the loads of green foliage on top actually equates to some delicious tubers under the ground.
Back to this hash… it's got all of the flavors of the southwest and vegetables of summer. Serve it up with some sour cream, cilantro, and maybe some cultured salsa and you've got a delicious one-pan meal. And you've beaten the heat
Southwestern Sweet Potato and Black Bean Hash
Ingredients
1/4 cup olive oil
1 onion, diced
2 large sweet potatoes, cut into 1/2″ cubes
2 green or red peppers, diced
2 cans of black beans with the liquid or 3-4 cups of beans with 1/2 cup cooking liquid
4 cloves of garlic, minced or 2 teaspoons garlic powder
1 teaspoon ground cumin
pinch of cayenne
1/2 teaspoon dried oregano
Directions
Heat olive oil over medium heat in a large cast-iron skillet. Add onion and saute for a few minutes before adding diced sweet potatoes and peppers. Turn heat to low and cook approximately ten minutes or until potatoes are nearly tender. Stir in garlic and spices.
Add beans and juice and allow to cook another five minutes or until beans are heated through and vegetables are tender.
Serve with your favorite southwestern toppings.