I have a husband who goes googly-eyed and weak-kneed for potato salad. So when I found myself with a dozen freshly-laid eggs last week and turned to the "Egg" chapter in The Art of Real Food, I knew this was the recipe I had to make. And he called it one of the best potato salads he'd ever had.
I highly recommend seeking out a genuine pickle relish for this recipe. I used Bubbie's brand, which is technically not a sweet relish but was delicious all the same. It even elicited comments from appreciative kiddos at the table.
I wasn't familiar with Torpedo onions, but apparently they are a mild, sweet red onion native to Italy. I'm guessing that shallots or even a plain old red onion would be a good stand-in, if you can't find them. I used a green onion ("green" meaning small and early, not a shallot) from my CSA box, just because it's what I had available.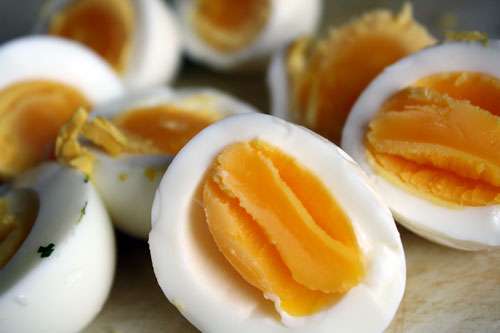 Farm fresh eggs can be difficult to peel when hard-boiled. Everyone seems to have their own tricks, but here's what works for me (most of the time). After boiling, crack the shells just slightly once they're cool enough to handle. Then put them in the fridge until chilled. A well-chilled egg that is slightly cracked will usually peel pretty easily for me.
Note that this recipe is best when made ahead of time and chilled for several hours, a definite plus for all those late-summer bar-b-ques.
Delicious classic potato salad.
Source: The Art of Real Food by Joanne Neft and Laura Kenny
Course: Side Dishes (Bread and Starches)
Serves: 6
Ingredients
1 1/2 pound

Yukon Gold potatoes peeled

1 cup

mayonnaise or 1/2 cup mayonnaise and 1/2 cup Greek yogurt

1/3 cup

sweet relish

2 Tbs

Worcestershire sauce

1 tsp

salt

1/2 tsp

pepper

1 Tbs

Dijon mustard

2 Tbs

Italian parsley finely chopped

3

eggs hard boiled and diced
salt and pepper

1 cup

celery

1 cup

Torpedo onions finely diced
Hungarian paprika

2-3

parsley stems
Directions
Cook potatoes in salted water until fork tender. Drain and let cool. Set aside.
Meanwhile, blend mayonnaise, relish, Worcestershire sauce, salt, pepper, Dijon mustard, and parsley. Set aside.
Slice potatoes into 1/2-inch square cubes; add diced eggs. Pour mayonnaise mixture over potatoes and carefully blend. Add salt and pepper to taste.
Before serving, check consistency of salad. Add 1 Tbs half and half or whole milk if needed to moisturize potatoes. Gently stir in celery and onions.
Cover salad and place in refrigerator, at least 6 hours or overnight. To serve, sprinkle lightly with paprika and garnish with parsley stems.
Powered by

The Art of Real Food Cookbook Giveaway!
The authors of The Art of Real Food want you to cook along with us! They are giving away 5 copies of their cookbook to 5 readers. If you love cooking with fresh, seasonal ingredients from your garden, farmers' market, or CSA; and if you love eating delicious food that has been simply prepared, then you'll love this cookbook.
You may have up to two entries for this giveaway. To enter:
leave a comment answering the following question: "What is your family's favorite recipe and how do you prepare it?"
"Like" Placer County Real Food on Facebook (and leave a comment saying you did so)
Please note that you'll need to leave a separate comment for each entry.
This giveaway will begin on Wednesday, August 1 and will remain open until 11:59 p.m. on Monday, August 6. The winners will be announced in next Wednesdays post.