Craving a big juicy burger but want a healthier alternative that will still satisfy your appetite? These fully-loaded burger bowls are packed with fresh veggies and entail all the mouth-watering flavors of a classic burger. It even has a homemade burger sauce that elevates this dish to the next level of yumminess. 
These are soo quick and easy to make, they'll be on the table quicker than if you ordered home delivery… and much more satisfying. Perfect for a no-fuss weeknight meal or Friday night 'fakeaway'! They are also the ideal prep-ahead dish, making lunch or dinner stress-free on those busy days. 
Even better, these burger bowls are fully customizable so everyone in the family will be pleased with what's for dinner. The combinations are endless and it also gives you a chance to use up any ingredients you already have on hand – be it beef, chicken, lamb, veggie or vegan paired with your favorite salads. Plus, you can make this a fully interactive dinner by laying out all of the ingredients on the table for the family to build their bowls, so they can personalize it to their individual likings. This is really something the whole family will enjoy!
What you'll need!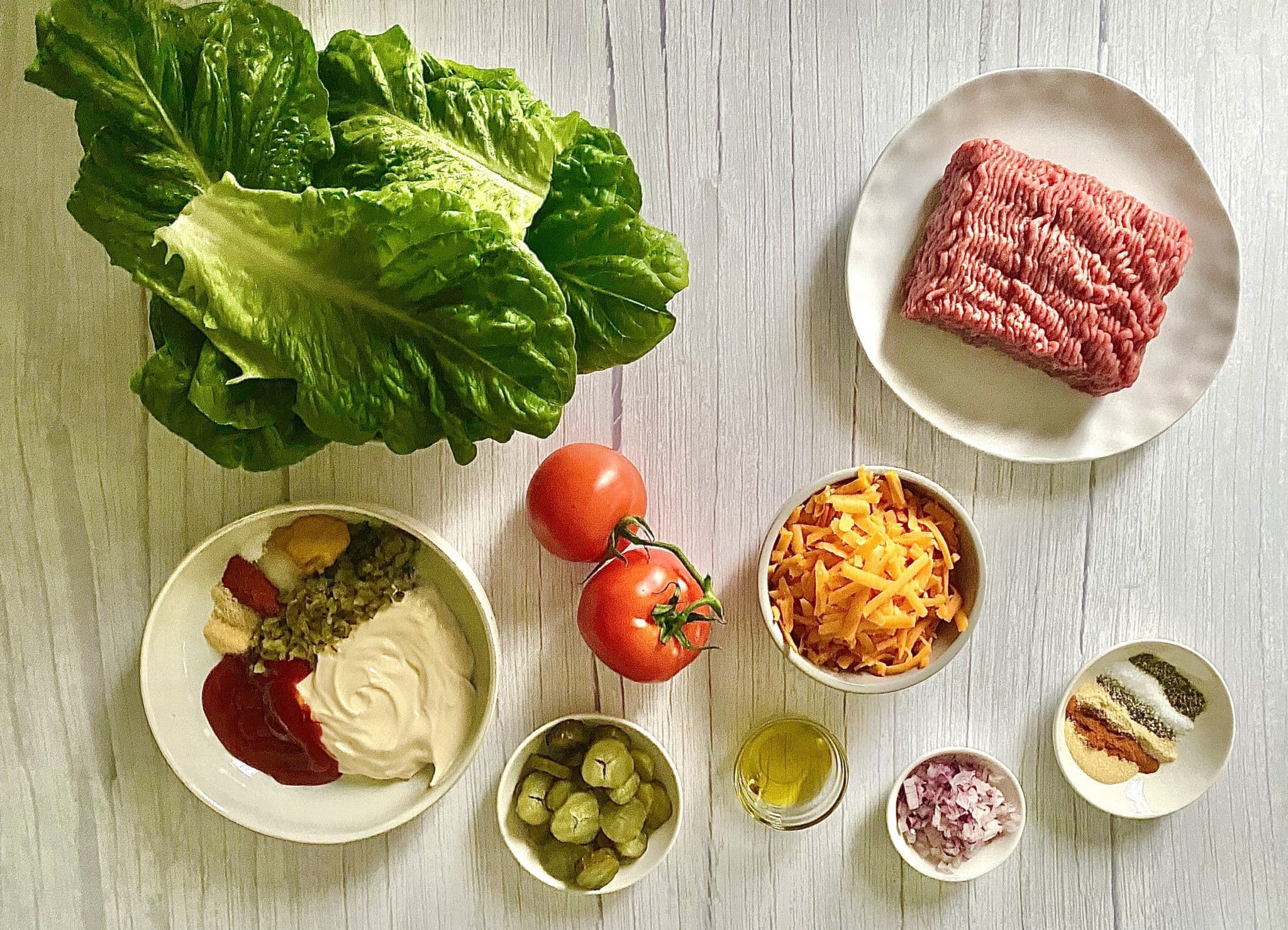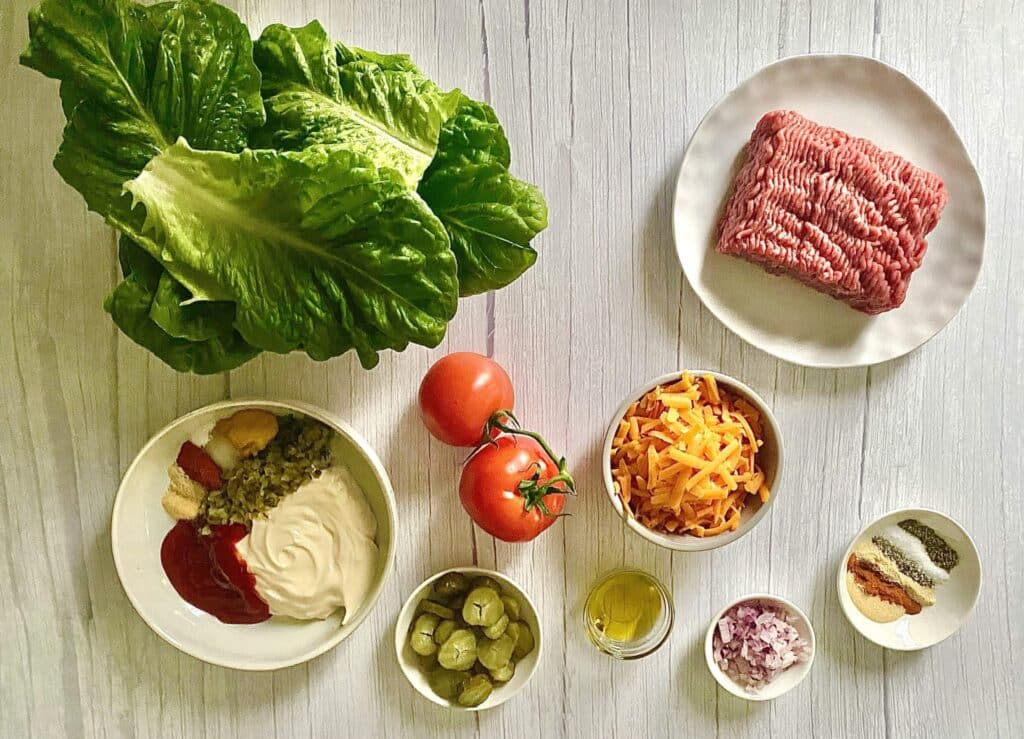 Ground beef – I love this recipe because you simply just chuck the ground beef into the skillet which means 'no rolling meat patties'.  
Spices – The beef is packed full of flavor with these spices: onion powder, sweet paprika, garlic powder, dried oregano, salt, and freshly ground black pepper. 
Salads – Use whatever you like! This recipe is fully customizable but here we've used the more traditional burger salad ingredients, like romaine lettuce, tomatoes, cheddar cheese, pickles, and red onion. Feel free to add or swap any salads of your choice. 
The Sauce! – Skip the supermarket bottled sauce! It's honestly so simple to make this homemade burger sauce, you'll never go back to store-bought again! Made with mayonnaise, ketchup, pickles, mustard, sugar, pickle juice, sweet paprika, garlic powder, and onion powder, it tastes just like the real thing.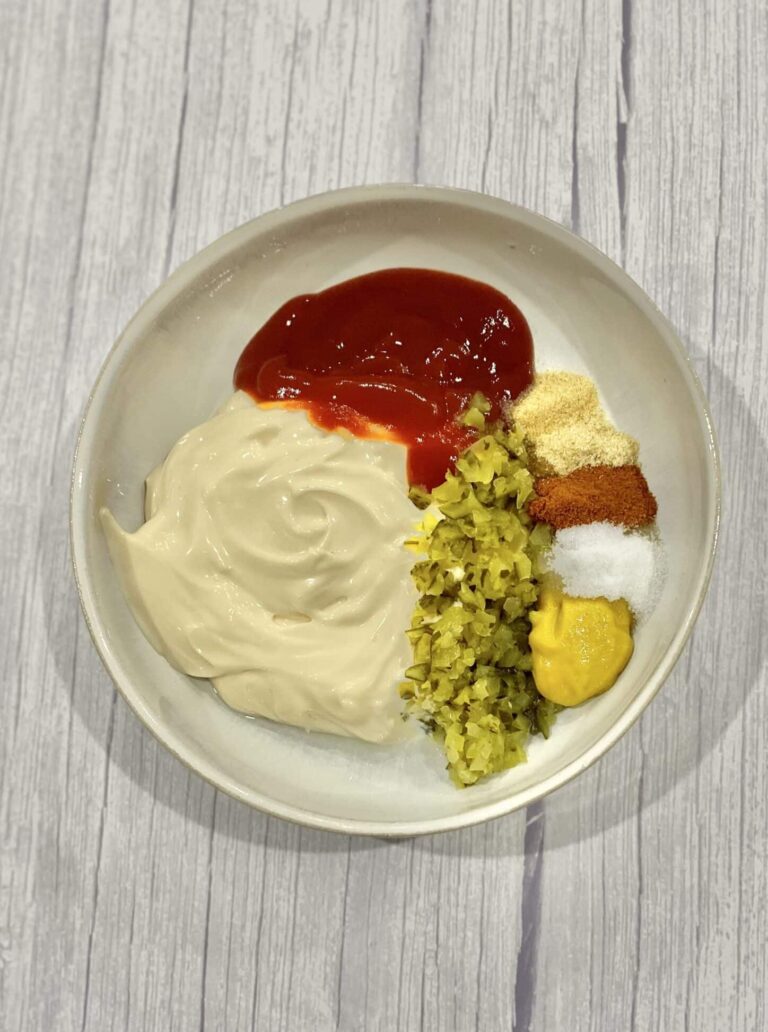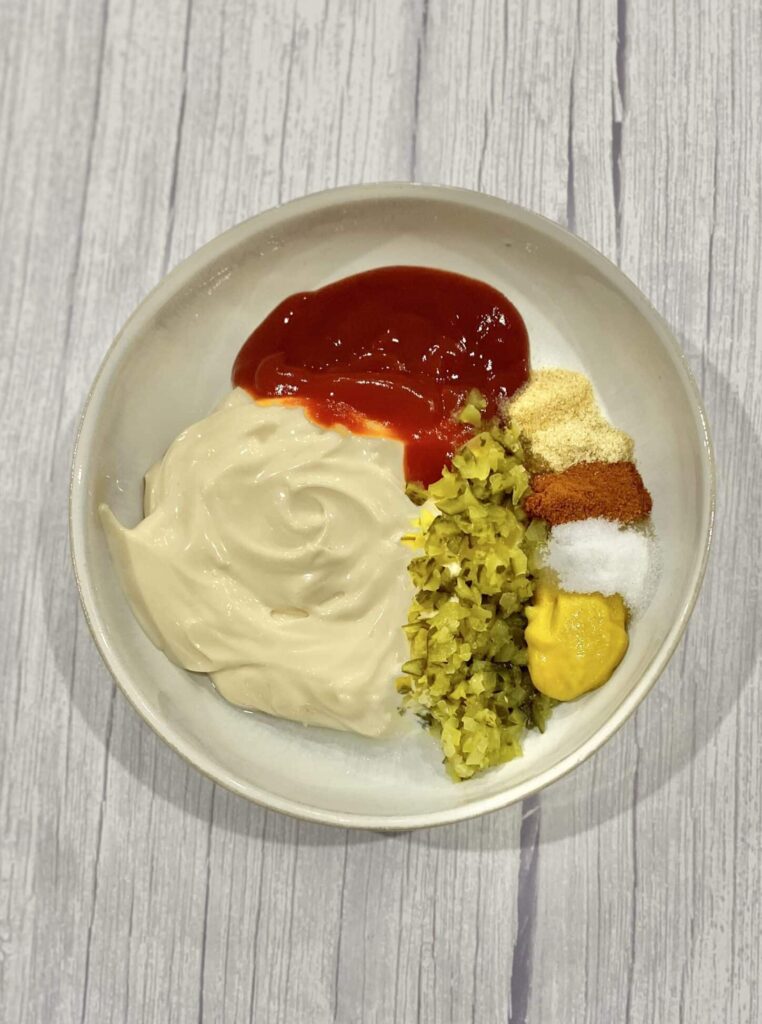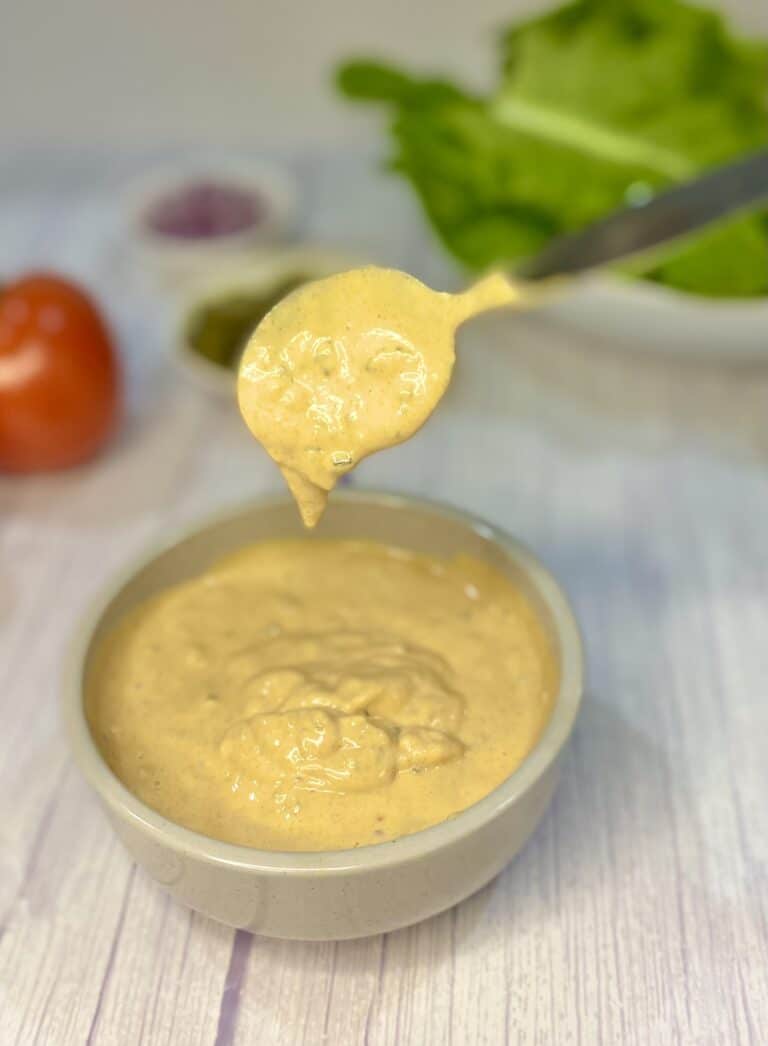 How To Make The Burger Bowl With 'Special Sauce'
Prep your salads – Gather all of your salad ingredients and chop them up. If you're making this ahead of time, store your chopped salads in separate containers ready for you to easily assemble when it's time to eat!
Season and cook the beef – All you have to do for the cooking part is brown the beef and add a mix of spices that are going to turn your boring ground beef into a flavor-packed sensation. For optimum browning, ensure you use a large skillet so the beef has plenty of room to move around. If the skillet is too small it will stew in its juices rather than caramelize and brown. If you've only got a smaller skillet then cook it in batches! Stirring the beef constantly won't allow it to brown. Use a wooden spoon to break it up in the skillet, then let it sit without moving for 1 minute before stirring and breaking it up again. This will help develop flavor, allowing it to brown up nicely. 
Make the special sauce – Now listen carefully because this step is very technical … place all sauce ingredients in a bowl and mix! If only there were more simple recipes like this!!!
Assemble your bowls – Start with the lettuce and beef as your base, then top with tomatoes, cheese, pickles, and onion. Drizzle with your homemade special sauce for the perfect finishing touch! Or, another fun way to serve this dish is to lay out all the ingredients and let your family members assemble their own burger bowls.
This is a one-pan quick dinner that will be on your table in just 25 minutes! With minimal cooking and super easy prep work, this will easily become a household favorite to add to the weekly meal prep calendar.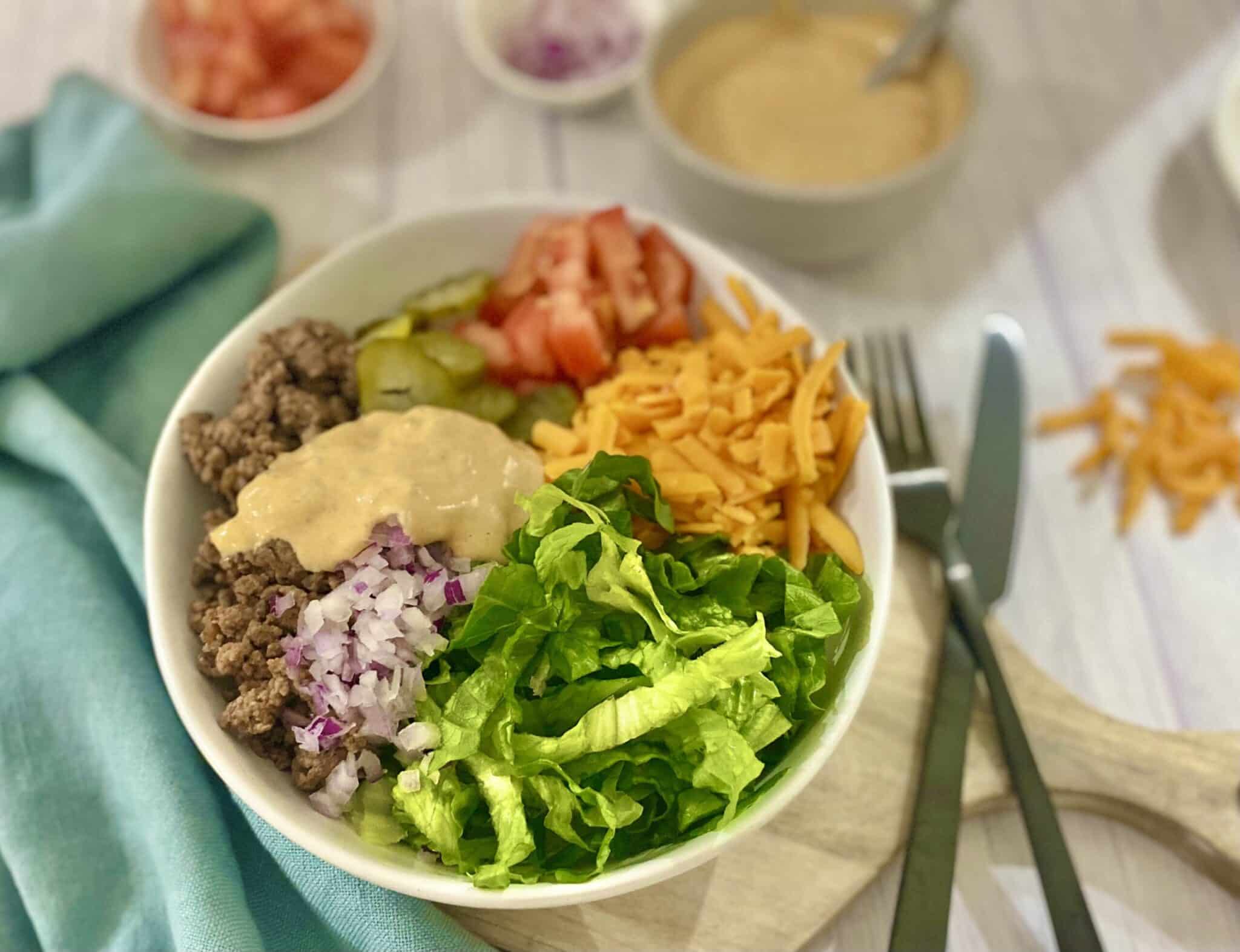 These fully-loaded burger bowls are a healthier alternative for when you're craving that big juicy burger. Packed with fresh veggies and all the mouth-watering flavors of a classic burger, finished with a homemade burger sauce that will leave you feeling satisfied.
Source: Miche Bloch - Plan to Eat Blog
Course: Salad
Main Ingredient: Beef
Prep Time: 20 min
Cook Time: 5 min
Total Time: 25 min
Ingredients
2 tsp

olive oil

1 pound

ground beef

1 tsp

onion powder

1 tsp

sweet paprika

1 tsp

garlic powder
1⁄2 tsp dried oregano
1⁄2 tsp salt
1⁄4 tsp freshly ground black pepper
Salad

1

romaine lettuce shredded

2

tomatoes diced

1 cup

shredded cheddar cheese
1⁄2 cup sliced pickles
1⁄2 red onion finely chopped
'Special' Sauce
1⁄2 cup mayonnaise

2 tbsp

ketchup

2 tbsp

finely chopped pickles

2 tsp

yellow mustard
1 1⁄2 tsp white sugar

1 tsp

pickle juice
1⁄2 tsp sweet paprika
1⁄4 tsp garlic powder
1⁄4 tsp onion powder
Directions
Heat the oil in a large nonstick skillet over medium-high heat. Add the beef and spices to the skillet and cook, stirring occasionally to break up lumps, for 5 minutes or until browned.
Meanwhile, add all the sauce ingredients to a small bowl and stir to combine.
Divide the beef, lettuce, tomatoes, cheese, pickles and onion among bowls. Drizzle with sauce to serve.
Powered by