Last year, Heidi Priestley wrote to our help site asking for help while preparing a meal plan for a 5-week sailing trip from Mexico to Hawaii. She was using Plan to Eat to schedule all their meals and create a comprehensive shopping list for the trip.
Since our email conversation, I reached out to Heidi to learn more about her sailing adventures and how she planned meals and stored food on the boat during their voyage. Below is an interview with her about how she meal planned for a sailing trip.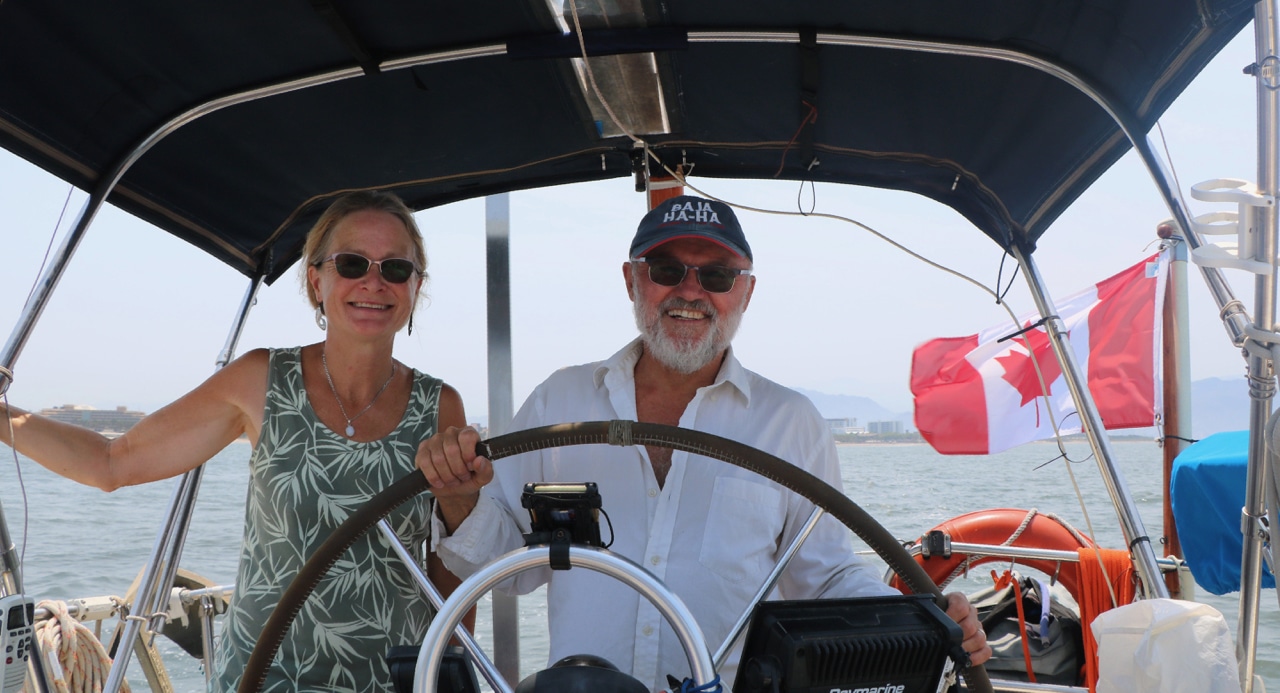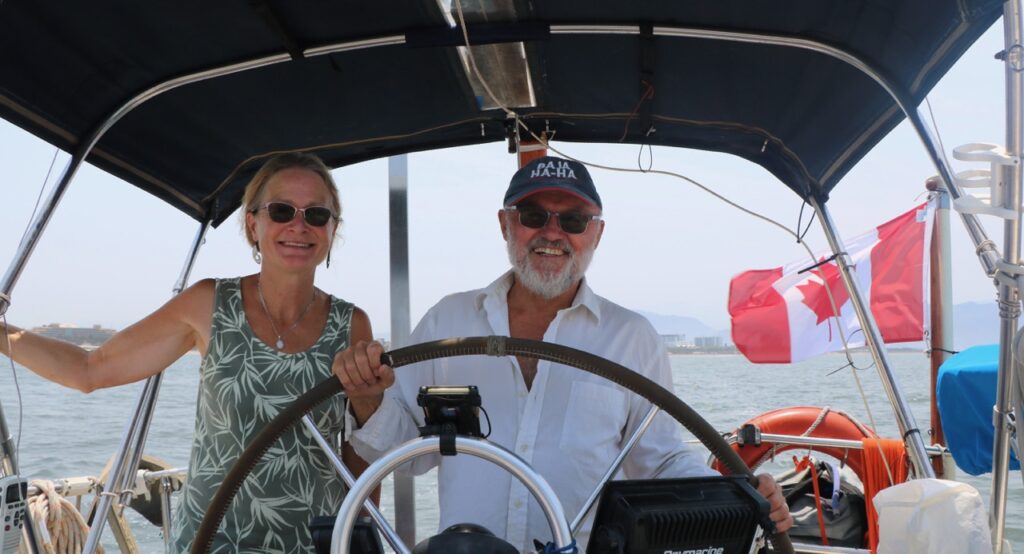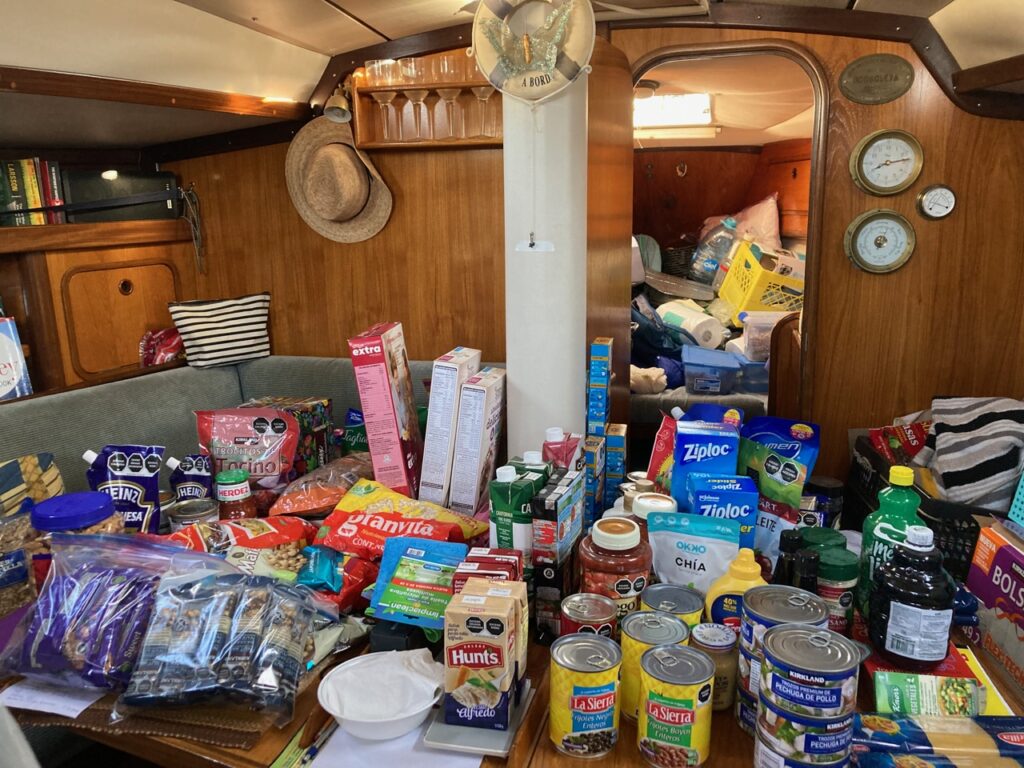 Let's start with an introduction: who are you?
My name is Heidi Priestley. I am a retired elementary public school teacher living in Vancouver, British Columbia, Canada. My husband and I own a 40-foot Beneteau sailing boat named Borboleta (which is Portuguese for butterfly). We also have a Triumph Bonneville motorcycle and really enjoy riding around in the summers! We have two adult children.
What made you decide to start sailing? I started sailing in little boats when I was a young girl. My father crewed on racing boats and, as a family, we would charter a sailboat every summer to sail around, exploring the Gulf Islands (in B.C.) and the San Juans Islands (in Washington state).
What's your food storage situation on the boat? It is rather limited because it was originally designed and built (in France) as a racer-cruiser. We do have storage space under the floorboards, and a few cupboards. We have had to resort to large lidded Tupperware bins in which to store shelf-stable food items. These bins are kept wherever they can be secured to the boat.
That is why it is essential for me to have a map of the boat and to note where and what I store in the various parts of the boat!
In the cupboards, I have a full supply of herbs, spices, and sauces. The dry goods are in those bins. Under the floorboards is where the cans are (and I write their contents on top of each can, corn, tomatoes, etc.).
You meal planned for an entire month, what did that look like? I spent a few months crafting the meals, and then re-doing them if I thought there was too much prep needed, or there were ingredients I couldn't find in Mexico. We were cruising in Mexico for a few months before we left for the Big Passage, so I used that time to test out my proposed meals. This was very useful as I discovered certain meals that weren't suitable for the conditions and, a big discovery – serve meals in "dog bowls" and not on plates (as the table is rarely level for any length of time)!
I planned out 5 weeks' worth of meals and mapped it out on a blank calendar I'd printed out. This was so I could see, at a glance, how balanced and varied it all was. I did it day by day, 3 meals a day but, when we were on passage, I didn't feel I HAD to have that meal on that particular day. It was just freeing to know I had enough meals for 5 weeks.
I also planned (from experience) how many days I'd have fresh Romaine hearts, tomatoes, and various fruits, and then, when I would move to dried food and canned foods.
What kind of meals did you plan? I planned breakfasts, lunches, and dinners, plus snacks for 3 adults for 5 weeks! I made my own yoghurt, and granola. Breakfasts were fruit salads with yoghurt and granola (I used canned fruit after the fresh fruit was gone), scrambled eggs, hot cooked cereal, breakfast burritos, pancakes, cold cereal, omelets, potato and egg hash.
Lunches were charcuterie boards, quesadillas, pasta salads, soup (from dried) and raw veggies, bean salads, cabbage salads, crunchy Ramen coleslaw, peanut butter & jam sandwiches, even a box of KD! Dinners, I've outlined below.
Do you have room to buy items in bulk? As I mentioned above, we don't have much room to buy items in bulk BUT I did buy a lot of shelf-stable items, pastas, rice, and dried beans which were kept in those big lidded bins. That worked out well.
How did you keep variety in your meals? With the bird's eye view I had using a simple calendar filled out with my meals, I was able to see that I had a variety of meats sprinkled throughout, as opposed to chicken, chicken, chicken. I planned a meat-based meal (using up the meats that lasted the shortest time in our fridge), and then a pasta meal, and then a dinner salad, and then a chicken meal, and then a rice dish, an egg-based dish, and so on. I'd also researched "tasty meals using canned meat" which I'd tested prior to our Passage!
What was the process like of figuring out how much/how little you should buy? With the help I received from Roni and Shelby (via email), I saw that I could change the servings of a meal and the shopping list would automatically update that change!
I had planned all 5 weeks, and then my husband said "You get hungry on a long passage so make meals bigger, even double them". Huh?? So I had to go back and change serving sizes to all I'd planned. Then, I printed out the long resulting shopping list! Since I planned all 5 weeks on Plan to Eat, I was able to get the accompanying Shopping List and this gave me an idea of how much to buy. I also took information from a Cruisers published book which listed all supplies they needed for a passage from Indonesia to British Columbia! So, for example, if she took 10 kilos of flour, I took 8 kilos. I purposely over-provisioned in Mexico because you never want to be down to your last can of beans! (and our boat arrived back in Canada with still some Mexican food items on board!)
How did Plan to Eat help you with this process? I found Plan to Eat extremely helpful to this process. Of course, I could've done all this on paper and collected recipes, and kept it all in a 3-ring binder. However, using Plan To Eat made this process FAR less time-consuming. Plus, I had 90% of all my recipes on the PTE app so I could access it whenever I wanted on my iPhone. Another important point is that I could access my recipes in the middle of the Pacific with no Internet! I think that is VERY important to know.
What's the biggest challenge of living on a boat? I don't find it challenging at all to live on our boat! The biggest challenge, by far, was when we sailed from Mexico across the Pacific Ocean to Hilo, Hawaii. The boat was heeled over 10-15 degrees and we were being smacked by ocean waves on our sides so there was plenty of movement. Obviously, prepping and cooking was quite difficult and demanding. I'm SUPER fortunate that I do not get seasick (otherwise, no one would have been fed)!
Biggest meal-related challenge? Given these conditions, I found the meals that had several steps or required chopping and dicing or sauté were a challenge.
Biggest challenge overall? I would have to say the inability to get enough good sleep. There is constant and significant movement. There are always concerns (will we find more wind? Have to start up the watermaker tomorrow, etc.) which have an impact on falling asleep.
What's easy about life on a boat? You have everything with you (if you've planned carefully!) and your sleeping arrangements are comfortable (once again if you planned carefully). You DO have to be able to fix whatever breaks, but that is empowering! Once all is going well, you often have a good deal of free time to read, or knit, or draw, or ? There's a great sense of peace as you sail on the ocean, being propelled by the winds, pondering the patterns of the waves, noticing the cloud formations overhead. All worries seem to fall away and your world is, literally, the dimensions of your boat!
What's something you will do differently next time? Not allowing oneself to become complacent because everything is going so well, the sun is shining, and the waves have been consistent. We forgot to securely latch a few hatches on the boat and when some BIG waves came, we took on some saltwater. . . .
Any advice for others who might be looking to start a sailing journey? I would suggest joining a Blue Water Cruising Club and learning from other sailors, and taking boating courses in order to build up your knowledge and confidence. Plus you find out what you need to know! (for example, a CPR/First Aid course, or how to bake bread in a pressure cooker). Then, I'd say DO IT!!! There's a wonderful group of sailors out there from such incredibly diverse backgrounds. Being on the sea is truly magical and a gift!