Do you always use recipes? As a recipe developer, this question goes a little against the grain. But the truth is, I often wing it throughout the week. Sometimes it's because I have a hodgepodge of ingredients to use up, I'm short on time, or just feel like free-styling.
I bet most everyone has at least two or three dishes they make from memory or intuition – changing slightly each time, depending on what's on hand or available. (Even if it's that weird version of ramen you concocted in your first apartment that is just so comforting and surprisingly yummy!)
I definitely tend to gravitate to the same mash-ups – last night's leftovers topped with a fried egg for breakfast (think polenta and tomatoes), repurposing extra rotisserie chicken into a salad or stir fry, or sticking about-to-turn veggies into a gooey grilled cheese sandwich. 
The magic of no-recipe cooking is that you're only limited by your imagination. Even novice cooks can create a nourishing and delicious meal by using a little creativity and trusting their gut.
What Exactly Is No Recipe Cooking?
No recipe cooking is exactly what it sounds like: creating a meal without prescribed quantities of ingredients or carefully outlined steps. 
It simply starts with an idea, some basic knowledge, and perhaps a willingness to experiment. 
Some of the easiest meals to create without recipes are sandwiches, salads, omelets and scrambles, rice and noodle bowls, soups, and casseroles. 
A Stocked Pantry Helps
If you haven't already, head to the library or your local bookstore and pick up a copy of The New York Times Cooking No-Recipe Recipes by Sam Sifton. You will feel inspired! 
Definitely worth checking out is the healthy list of pantry staples Sifton typically has on hand. It's a great jumping-off point and meant to be customized based on the way your tastebuds lean. 
Here's a brief run-down:
Aromatics – alliums, herbs, carrots and celery
Flours and thickeners (like cornstarch)
Canned goods – beans, fish, tomatoes
Dairy items – butter, cheese and eggs
Dry goods – rice, pasta and grains
Cooking liquids – stock and broth
Sweetening agents – sugars and syrups
Basic vegetables – fresh (like potatoes) and frozen
Dried herbs and spices 
Condiments and flavor enhancers – like soy sauce, bacon, vinegars, oils
The No-Recipe Cooking Challenge
All you need is a little inspiration. In addition to Sifton's book, flip through cookbooks and cooking magazines, watch a cooking show or think back to some of your favorite meals of the past. New ideas are just waiting to spark. 
I decided to challenge my no-recipe cooking chops and contacted a few friends to find out what's hiding in their pantries and fridges. Here are some "no-recipes recipes" that came from my quest. 

No-Recipe Cooking Tip: If you try any of these at home or come up with your own creations, I cannot stress enough – be present, and taste as you go! Taste not just for flavor and seasonings, but for texture and doneness. You won't know if it's right [for you] until you stick a fork in it!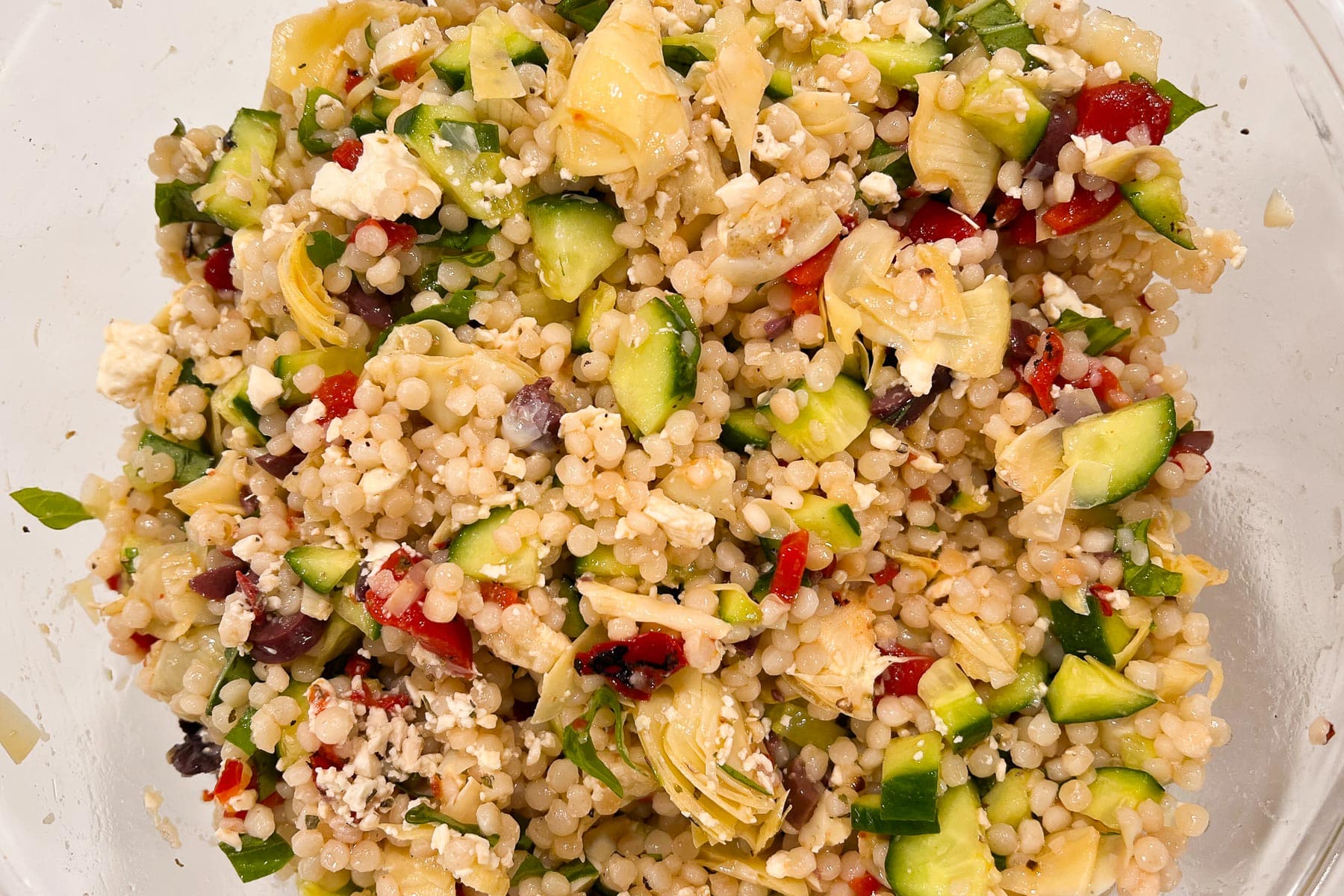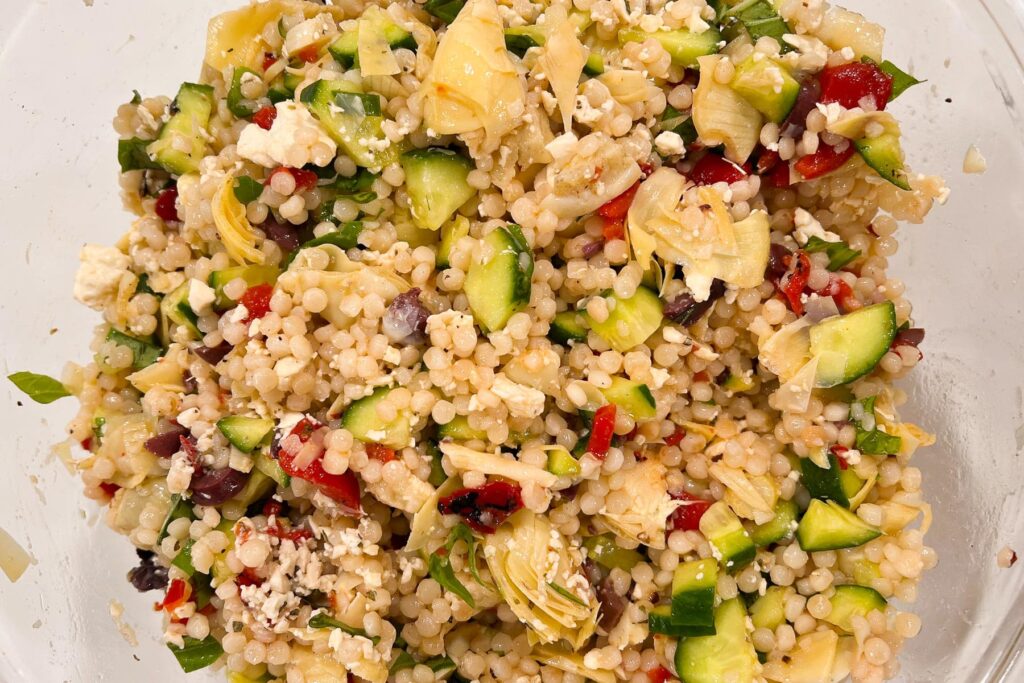 Amanda
Recipe: Israeli Couscous Salad
Ingredients on hand:
Israeli couscous
Roasted red peppers
Sundried tomatoes
Artichoke hearts
In a large bowl, whisk up a vinaigrette with mustard, vinegar or lemon juice and olive oil. Toss in some fresh or dried herbs and season with salt, pepper and spices (like paprika and garlic or onion powder). 
Add prepared couscous, chopped roasted red peppers, minced sundried tomatoes and drained artichoke hearts. Season to taste.
(Some crumbled feta, chopped cucumber and olives would be great additions, too!)
Recipe: Polenta with Chunky Tomato Meat Sauce
Ingredients on hand:
Canned whole tomatoes 
Ground beef
Jarred marinara 
Polenta
Crush the whole tomatoes with your hands.
In a large pot, brown the ground beef, then drain most of the fat off. Add minced garlic and cook for another couple minutes. Add the marinara and crushed whole tomatoes along with a healthy pinch of sugar. Simmer for 15 to 20 minutes. Season to taste.
Heat olive oil in a nonstick skillet over medium high. Saute prepared polenta slices until golden and crispy on the surface. Plate and top with the chunky tomato meat sauce.
(Serve with grated parm and a side salad.)
Recipe: Stir Fried Vegetable and Shrimp Noodle Bowls with Coconut Sauce
Ingredients on hand:
Coconut milk
Soy sauce
Rice noodles
Frozen stir fry vegetables
Frozen shrimp
Whisk together coconut milk, some soy sauce, brown sugar (and something spicy, like sriracha or red pepper flakes). A splash of lime juice or rice vinegar would also be nice. Season with some ground ginger and garlic.
Prepare the rice noodles by soaking them in hot water until they are as tender as you like them. Drain well and distribute to bowls.
Heat some oil in a large skillet over medium-high heat. Add the vegetables and stir fry until they are crisp-tender. Toss in the shrimp and coconut sauce and cook for another couple minutes until the sauce is warmed through and the shrimp are just pink. Spoon over the noodles.
(Chopped scallions would be a great garnish as well as an extra drizzle of sriracha!)
Jamie
Recipe: SB & J Stuffed Crescent Roll French Toast
Ingredients on hand:
Crescent roll dough (tube)
Sunbutter
Fruit preserves
Eggs
Milk
Prepare the crescent rolls per the package directions. Cut a pocket in each roll and spread Sunbutter and preserves inside.
Beat together a couple eggs, a small juice glass measure of milk, a splash of vanilla extract and a couple dashes of cinnamon.
Melt butter in a nonstick skillet over medium heat. Dip each crescent roll in the milk mixture then cook on both sides until golden brown. Add more butter as needed.
Sprinkle with a little powdered sugar, if you're feeling it.
Recipe: Creamy Pasta with Peas and Meatballs
Ingredients on hand:
Butter
Milk
Dry pasta
Frozen meatballs
Frozen peas
Prepare the meatballs per the package instructions. Bring a large pot of salted water to a boil and cook the pasta. Add frozen peas to the pasta pot during the last couple of minutes of cook time. Reserve some of the pasta water before draining.
Melt a couple knobs of butter in a saucepan over medium heat. Sprinkle an equal amount of flour over the butter and cook for a minute or two, stirring constantly. Gradually stir in a glassful of milk. Continue cooking until the sauce begins to thicken. Take it off the heat and add some grated or shredded cheese. Taste and season as needed.
Toss the sauce together with the pasta, peas and meatballs. Add some of the reserved pasta water to thin the sauce, as needed.
(Season the sauce with a dash or two of nutmeg or garlic powder, if you like.)
Recipe: Honey Mustard Chicken Salad with Shaved Carrots
Ingredients on hand:
Honey
Mustard
Carrots
Salad greens
Chicken breasts
Make a glaze for the chicken by combining honey, mustard and olive oil. Adjust the ratios to suit your taste and season with salt and pepper.
Remove a couple spoonfuls of the glaze to a large salad bowl. Add some apple cider vinegar and additional oil to create a salad dressing.
Peel the outer skin from the carrots. Continue running your vegetable peeler over the carrots to create thin strips. Cut long pieces in half. Add these to the salad bowl, then top with salad greens (but don't toss yet).
Season chicken breasts with salt and pepper and add them to a baking dish coated with oil or cooking spray. Brush or spoon the honey mustard glaze over the chicken and bake at 400°F for 20-25 minutes.
Toss the salad. Slice the chicken breasts to serve on top of the salad.
Bernita
Recipe: Tuna, Pickle, and Pimento Cheese Melts
Ingredients on hand:
Canned tuna
Bread & butter pickles
Pimento cheese
Combine drained tuna with a little mayo and diced pickles.
For one sandwich, spread a thin layer of pimento cheese on two slices of bread. Add some prepared tuna on top of the pimento cheese on one slice of bread, then top with the other slice.
Melt some butter in a nonstick skillet. Add the sandwich and cook on both sides until the bread is golden brown and the cheese is melty.
Recipe: Coconut Curry Ramen with Mushrooms & Peas
Ingredients on hand:
Mushrooms
Bone broth
Ramen noodles
Frozen peas
Coconut cream
Heat oil in a nonstick skillet over medium heat. Add sliced mushrooms, a small spoonful of curry powder (or to taste) and ginger and garlic powders (or fresh ginger and garlic). Cook until the mushrooms have spent their liquid and begin to brown along the edges.
Bring the broth to a boil. Add the ramen noodles (discard the seasoning packet) and frozen peas. Cook for about 3 minutes. Stir in some coconut cream. Add the mushrooms. Season with soy sauce (or salt).
Distribute between bowls and top with soft boiled eggs, scallions and lime wedges.
Recipe: Pan Seared Mahi Mahi over Soffrito Seasoned Beans and Tomatoes
Ingredients on hand:
Trader Joes's Italian Soffrito Seasoning
Great Northern beans
Canned tomatoes
Frozen mahi mahi
In a saucepan, combine a glug of olive oil and Italian Soffrito seasoning over medium heat. Add rinsed and drained Great Northern Beans and canned tomatoes. Stir to combine. Simmer together over low heat. Add more Soffrito seasoning to taste.
Generously season thawed mahi mahi with salt and pepper. Heat some butter and olive in a nonstick skillet over medium-high heat. Sear the fish on both sides until golden brown. Reduce heat and cook through.
Distribute the beans and tomatoes between bowls and top with fish. Drizzle any remaining butter and olive oil from the pan over the fish.
(You could add some chopped spinach to the beans and tomatoes. This would be great with a hunk of crusty bread, too.)
Leann
Recipe: Crispy Breaded Chicken and Roasted Potatoes
Ingredients on hand:
Chicken breasts
Russet potatoes
Lipton Vegetable Soup Mix
Eggs
Place the chicken breasts between 2 pieces of plastic wrap and pound thin. Place them in the fridge to air dry.
Cut potatoes into chunks and place in a large bowl. Add 1 packet of vegetable soup mix, some melted butter, salt and pepper. Toss to coat well. Transfer to a baking dish and roast for about 40 minutes.
Create a dredging station in 3 parts: 1 dish of flour, 1 dish of eggs (whisked up), 1 dish of Panko bread crumbs. Season the chicken with salt and pepper. Coat both sides with flour, then egg, then Panko.
Heat olive oil in a large skillet. Working in batches, pan fry the chicken for 2 to 3 minutes on each side. Season again after cooking.
(Serve with a side salad or some steamed vegetables.)
Recipe: Risotto with Sausage and Veggies
Ingredients on hand:
Italian sausage
Better Than Bouillon
Onions
Dried herbs
Long grain rice
Frozen mixed vegetables
Cook the sausage using your preferred method (skillet / grill). Once cool enough to handle, slice into 1 inch pieces.
Dissolve some Better Than Bouillon in water in a medium saucepan over low heat.
In a large Dutch oven, heat a couple generous glugs of olive oil over medium heat. Add chopped onion, garlic and dried herbs (like thyme) and cook for several minutes. Add the rice and cook, stirring constantly, for a couple minutes. Add a couple ladlefuls of warm broth to the pan and stir. Allow the rice to absorb most of the broth before adding more. Repeat this process for about 25 minutes or until the rice is tender. Stir in a knob of butter and a handful of grated parmesan cheese.
Cover and rest off heat while you steam the vegetables (stove-top or in the microwave). Stir the veggies (drained of excess moisture) and cooked sausage into the risotto and serve.
Recipe: Open-Faced Breakfast Sandwiches with Smashed Beans and Eggs
Ingredients on hand:
Ciabatta rolls
Red bell peppers
Great Northern beans
Dried herbs
Eggs
Split the ciabatta rolls in half.
Heat a knob of butter and some oil in a large skillet over medium heat. Place the ciabatta, cut side down in the skillet to toast until golden brown. Remove to a sheet pan.
Add more butter and oil to the pan if needed. Toss in some diced red bell pepper and saute for a few minutes until it begins to soften. Add a can of drained and rinsed white beans. Season with salt and pepper, dried Italian herbs, crushed red pepper flakes and a squeeze of lemon juice. After a couple minutes, smash some of the beans. Once it's done to your liking (some crispy edged beans would be lovely!), distribute the mixture across each piece of ciabatta toast. Place the sheet pan in a low oven to keep warm.
Cook the eggs using your preferred method. (I vote for poached or fried…runny yolk = instant sauce.) Top each roll with an egg. Hit it with some salt and fresh cracked black pepper.
(A little sprinkle of parm or tangy goat cheese would both be delish on this sandwich!)
Jo
Recipe: My Mom's "Salty Meat & Rice Bowl"
Ingredients on hand:
Garlic
Onion
Chicken thighs, pork tenderloin or pork shoulder
Doenjang
Fish Sauce
Jasmine Rice
Scallions
Mini cucumbers
Carrots
Gochujang
Chop about half a head of garlic, and slice 2 or 3 shallots (or an onion). Slice the protein (chicken thighs, pork tenderloin or pork shoulder).
In a small bowl, combine a couple big spoonfuls of doenjang with an equal amount of fish sauce, some salt, and several grinds of black pepper.
Heat oil in a large skillet or wok over medium. Saute the onions and garlic for a minute, then add a sprinkling of sugar. Add the pork. Cook until it's browned on the exterior. Stir in the doenjang sauce along with some water, cover and simmer until the meat is cooked through and the sauce has reduced some.
Serve over steamed jasmine rice. Garnish with scallions, sliced mini cucumbers, shredded carrots and gochujang.
(While this meat is "salty" thanks to the doenjang and fish sauce, don't be shy with the sugar. Adjust the heat in the pan to try and get a little caramelization on the meat. It's so worth it.)
Recipe: Grilled Halloumi and Summer Squash Salad
Ingredients on hand:
Zucchini
Yellow squash
Halloumi
Cut zucchini and summer squash on the bias into thick slices. Slice the halloumi the same thickness. Drizzle some olive oil over everything.
Grill the veggies and cheese on a hot grill for about 2 to 3 minutes on each side. Remove to a platter.
Season with salt & pepper and dress with balsamic vinegar and additional olive oil. Garnish with some fresh herbs if you have them.
Recipe: Baked Brie with Peaches & Pistachios
Ingredients on hand:
Brie
Peaches
Pistachios
Vanilla granola
Place the brie in a pie plate. Top with sliced or chopped peaches and a handful of shelled pistachios. Drizzle with a little honey. Bake at 350°F for 5 to 7 minutes.
For a little extra crunch and sweetness, sprinkle a spoonful of granola over the top. Serve with crackers or toasted bread.
Linda Feller has been a Plan to Eat superfan since 2013 and will whip out the app to share with anyone who expresses the least bit of interest. She is a recipe developer, food photographer and the gal behind Sip + Sanity, a blog for recipes, entertaining and lifestyle. 
FB & Instagram: @sipandsanity 
Twitter: @SanitySip