When my son, Milo, was much younger he enjoyed helping out in the kitchen doing small tasks: cutting ingredients with his special plastic knife, mixing batters, shredding brussels sprouts with the food processor (I mean, machines are cool, right?). Sadly for me, that enthusiasm has waned in the years since.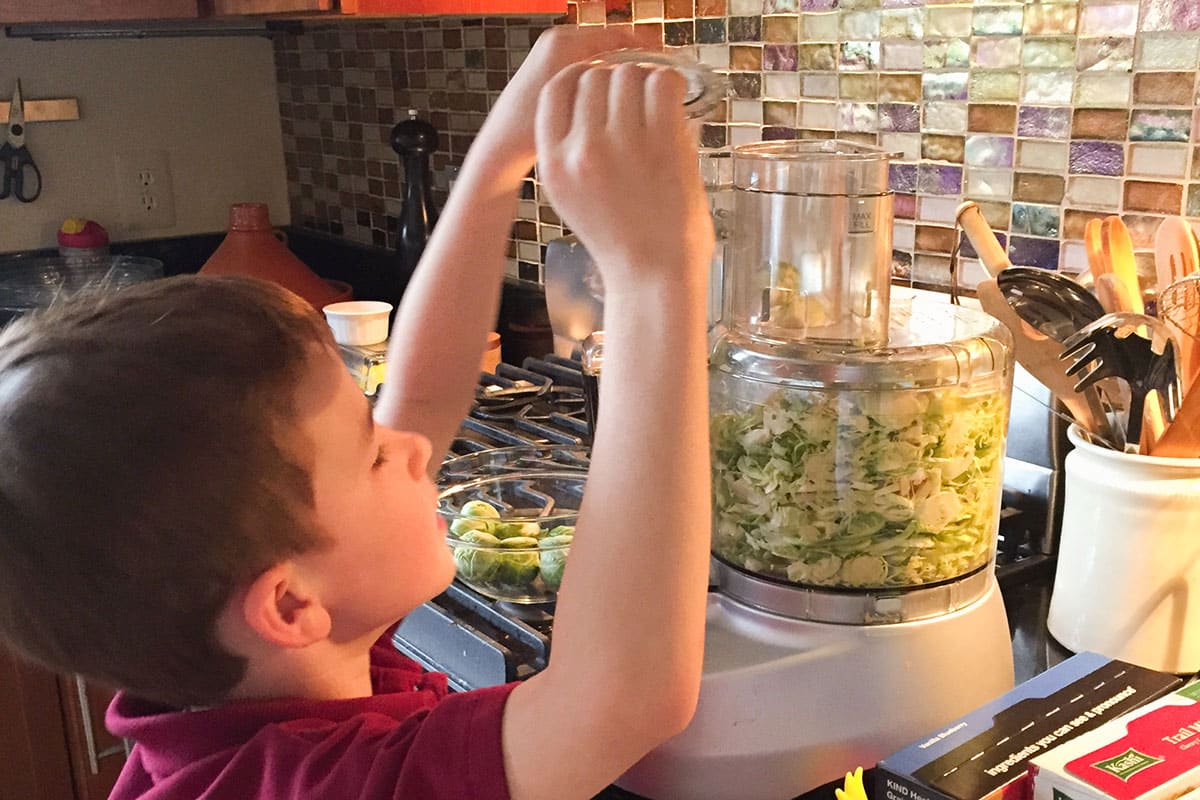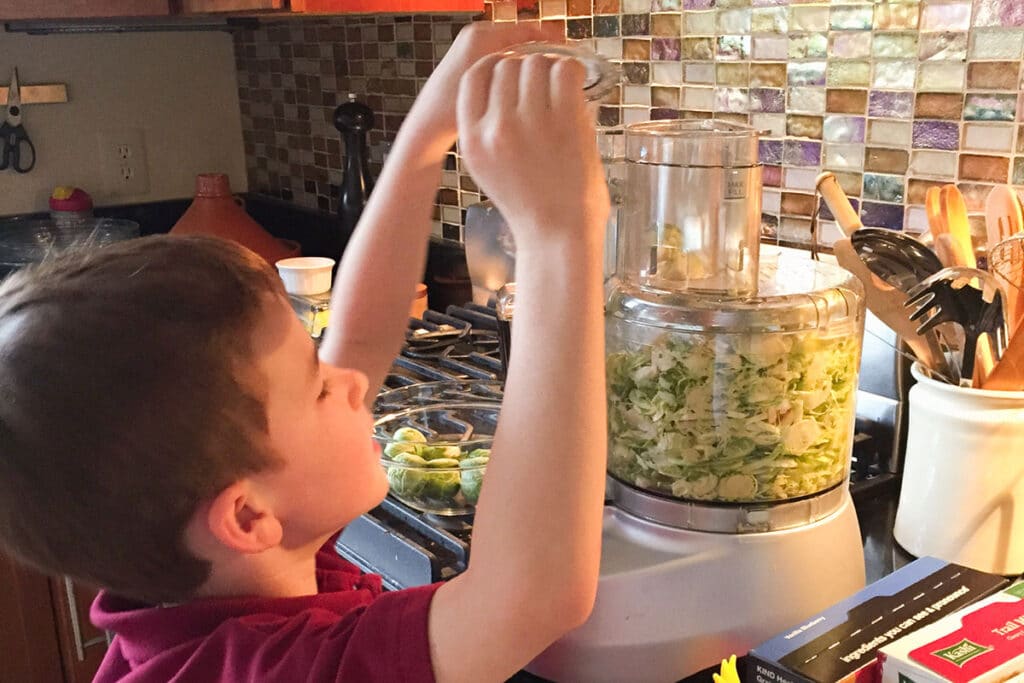 As a teen, and especially since the beginning of the pandemic, we've encouraged him to spend more time in the kitchen (life skills, man!). To add some fun, we started a tradition of spinning a globe to decide what an upcoming weekend meal would be. He and Dad are in charge of finding and cooking a recipe from that region. We've enjoyed dishes like Chicken Kabsa, homemade pasta, tuna poké, and spicy ramen bowls. There has certainly been some frustration, but a lot of laughter, too.
He's learned a few things, including that he much prefers to bake! (I'm sure that has nothing to do with his wicked sweet tooth.) So, we're off to the kitchen to remix one of his grandfather's favorite breakfast treats.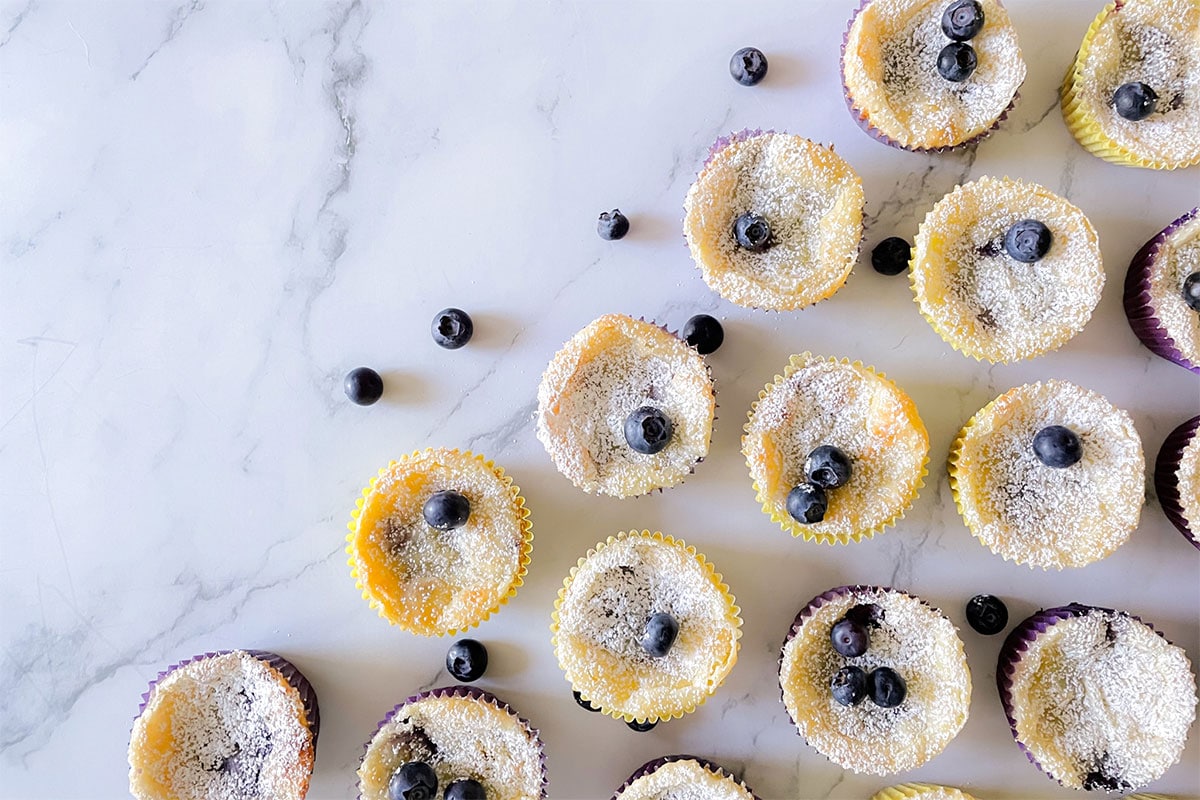 A Semi-Homemade Gooey Butter Treat
Gooey Butter Cake is a St. Louis, Missouri tradition with a couple different origin stories. It's usually enjoyed as a coffee cake vs. a dessert cake, although I definitely remember it on the dessert table at many potlucks growing up. When we visit my in-laws, they always have one on hand to enjoy with morning coffee
The original recipe has a yeasted cake base and gooey topping that includes corn syrup, butter and eggs. In both family and old grade school cookbooks we have, the recipe is made with yellow box cake mix for the base and cream cheese in the gooey topping. You'll commonly find the cake mix version in many online recipes, too. 
In this iteration, we're sticking with the semi-homemade method (which is a great simplified option for new bakers), and infusing some summery flavor into a miniature version.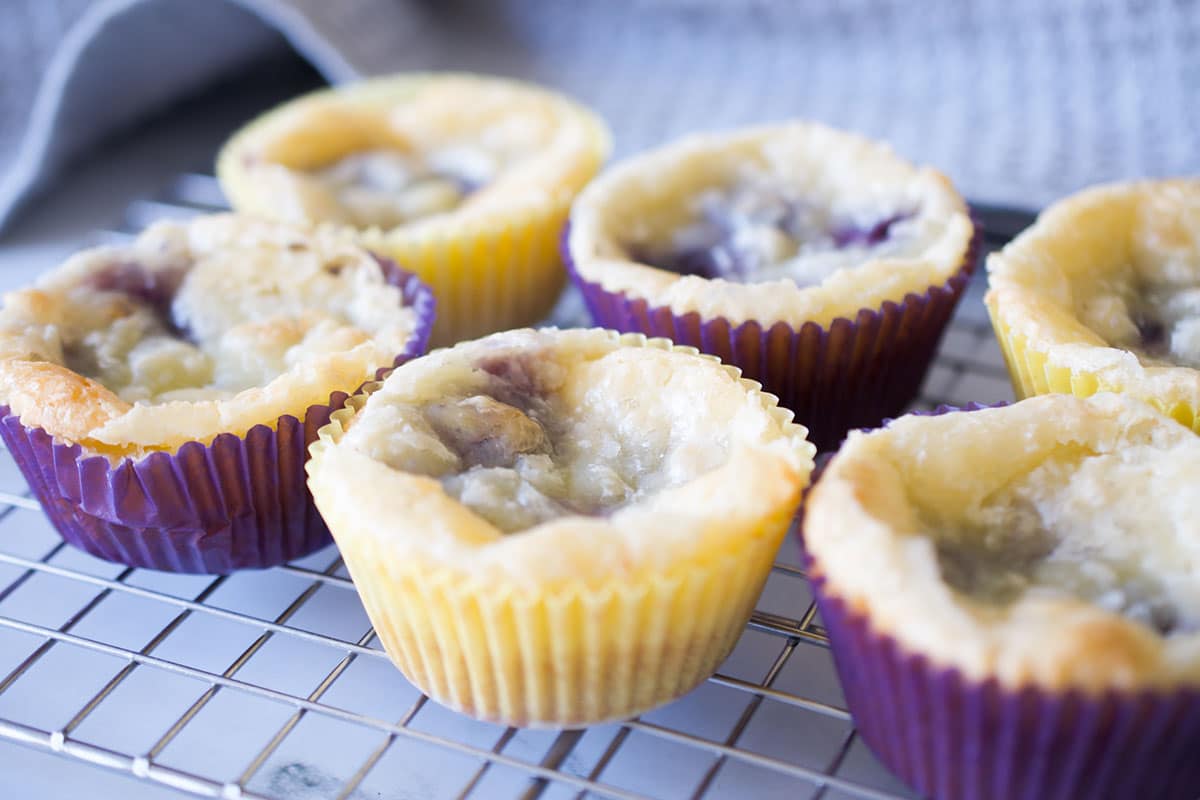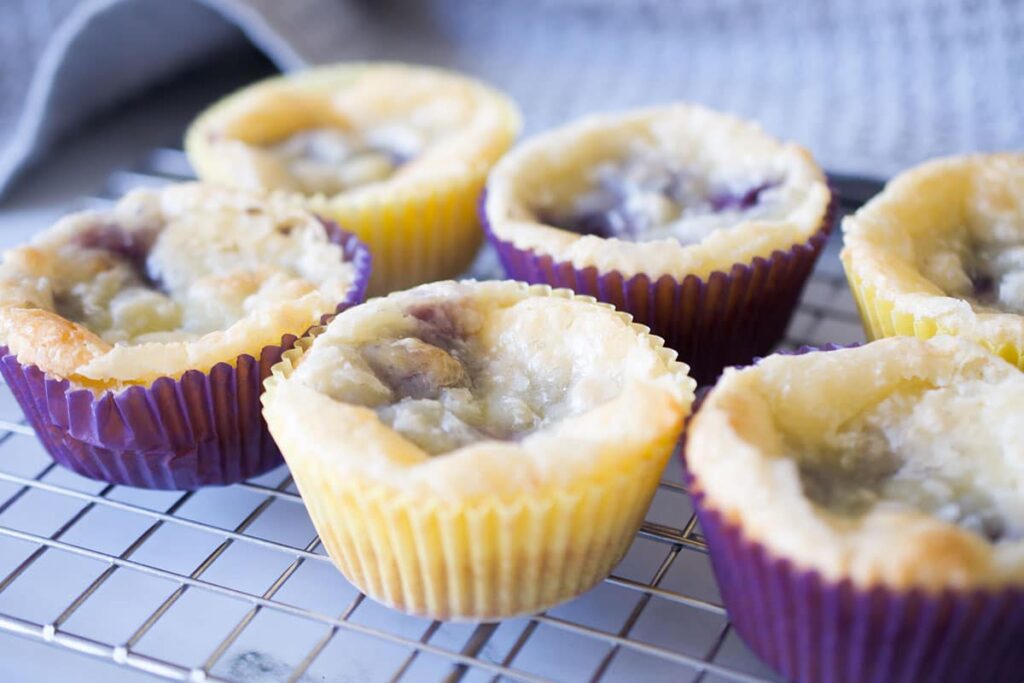 Ingredients for Lemon & Blueberry Gooey Butter Cupcakes
Lemon cake mix – a 15-16 oz box. Not pound cake mix, though.
Eggs 
Unsalted butter
Fresh blueberries
Cream cheese
Vanilla extract
Powdered sugar
Lemon zest – optional, but if you love lemon…highly recommended.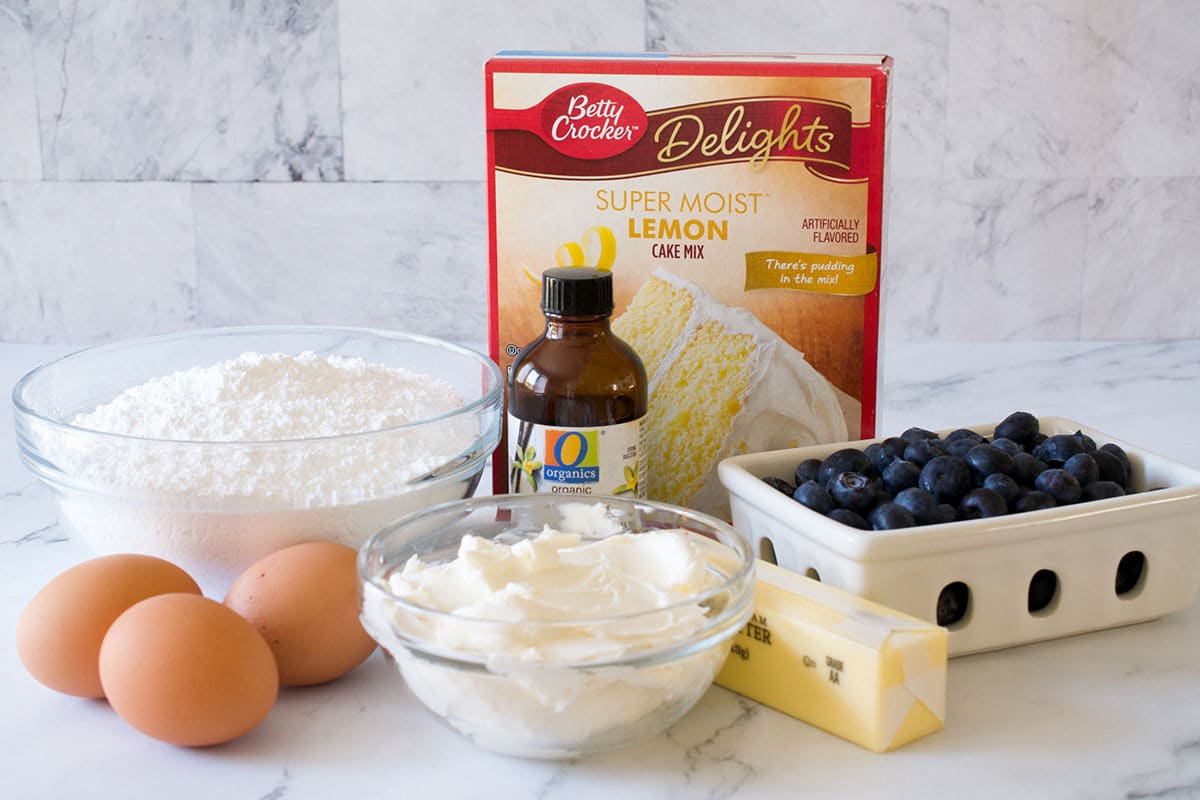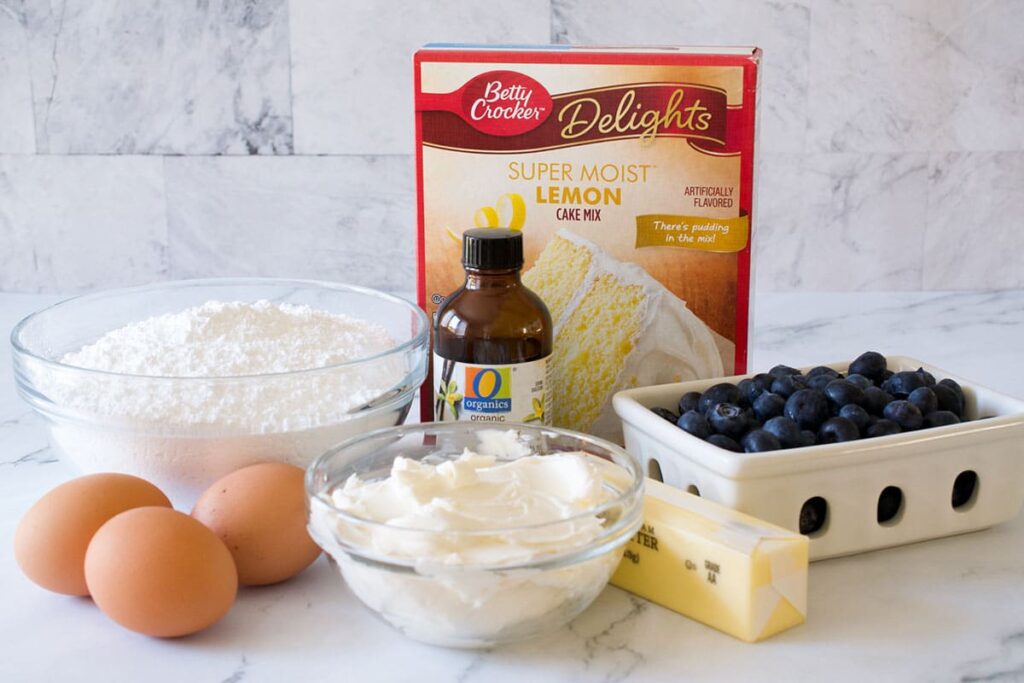 How to Make Lemon & Blueberry Gooey Butter Cupcakes
Older kids can handle these steps on their own, but little ones can definitely get in the game with a little supervision! The Just For Kids tips in each step are perfect for even the most timid of kitchen assistants. 
Prepare a Muffin Tin – Line a muffin tin with paper liners. Spritz the liners with cooking spray. This is helpful for removing the papers from the cupcakes.
JUST FOR KIDS: Let them have fun creating a pattern in the tins with multi colored paper liners. My 14 year old insisted on it!
Mix the Cake Base – Combine the box of cake mix with an egg and the softened butter using a handheld electric mixer or stand mixer. It will have a coarse, crumbly texture resembling shortcrust. (If you're using lemon zest, add it into this step.)
JUST FOR KIDS: With clean hands, reach in and collect the crumbs into a large ball of dough.
Press the Cake Mix into the Tin – Gently press about 1-½ tablespoons of the mix into the bottom of each paper liner. Top each with 4 or 5 fresh blueberries, depending on their size.
JUST FOR KIDS: They can count out the blueberries, turning it into a counting or multiplication game.
Mix the Top Layer – Beat the cream cheese until it's fluffy. Mix in two eggs and vanilla extract. Set aside 2 tablespoons of the powdered sugar for later. On low speed, blend in the remaining powdered sugar, a little at a time. The consistency will resemble cake batter. Divide the cream cheese mixture over the bases until each is filled ⅔ of the way up (about 2 tablespoons per cupcake).
JUST FOR KIDS: Let them crack the eggs, one at a time, into a smaller bowl. Explain that this helps to catch any egg shells that might otherwise end up in the batter.
Bake! – Bake for 25 minutes in a 350°F oven. They may turn golden brown around the edges and high spots and that is totally normal. Don't be tempted to cook them longer if you think they are underdone…they'll lose their gooey factor!
JUST FOR KIDS: While the task of putting the tins in the oven should be left to an adult or older kid, younger children can be in charge of setting the timer.
Cool & Serve – Allow to cool completely. They will sink in the center and that, too, is completely normal for gooey butter cake. Garnish with additional fresh blueberries and dust with the reserved powdered sugar.
JUST FOR KIDS: If you aren't concerned about potentially having powdered sugar all over the place, dusting the cupcakes just might be the most fun task!
Enjoy Your Gooey Butter Cupcakes
These are definitely an 'only sometimes' treat! Enjoy them at a special breakfast or brunch with a cup of coffee or tea. They would also make a great party dessert…especially for summer!
Milo may not have aspirations to be a pastry chef, but perhaps he'll find work as a hand model. ('No photos of the face' were written into his contract with mom.) He can't wait to share these cupcakes with his Papa!
Linda Feller has been a Plan to Eat superfan since 2013 and will whip out the app to share with anyone who expresses the least bit of interest. She is a recipe developer, food photographer and the gal behind Sip + Sanity, a blog for recipes, entertaining and lifestyle. (She's not afraid of breaking contract with Milo for that photo from 8 years ago.)
FB & Instagram: @sipandsanity 
Twitter: @SanitySip
Rich, sweet & deliciously gooey, Lemon & Blueberry Gooey Butter Cupcakes are a new spin on a classic midwestern morning treat.
Source: Sip + Sanity | Linda Feller for Plan to Eat
Ingredients
For the Cupcake Base

15.25 oz

box of lemon cake mix (like Duncan Hines Signature Cake Mix Moist Lemon Supreme)

1 large

egg

8 tbsp

unsalted butter (1 stick), softened
zest of one lemon (optional)

1 pint

blueberries divided
For the Gooey Top

8 oz

cream cheese softened

2 large

eggs

1 tsp

vanilla

4 cups

powdered sugar divided
Directions
Preheat oven to 350°F. Line two 12-cup muffin tins with paper liners and lightly spritz the papers with cooking spray.
Combine the cake mix, egg and butter (and lemon zest, if using) with a stand mixer, electric mixer, or by hand. Press about 1-1/2 tablespoons of cake mix into the bottom of each cupcake paper. Place 4 or 5 blueberries on top.
Beat the cream cheese until it's fluffy. Add the eggs and vanilla and mix thoroughly. Set aside 2 tablespoons of the powdered sugar for dusting the tops after they bake. Using low speed, blend the remaining powdered sugar into the cream cheese a little at a time. Pour this over the cupcake bases until each is filled about 2/3 full (roughly 2 tablespoons per cupcake).
Bake for 25 minutes. Allow to cool completely in the tins. Garnish with a few more fresh blueberries and dust with the powdered sugar you set aside earlier.
Powered by