While there are several reasons you may need to make a substitution while baking, food allergens are at the top of the list. Food allergies are quite common and because of them baked goods are off the market for many people. Allergies to gluten, dairy, and eggs can be especially tricky while baking because these ingredients play such key roles in many recipes. Thankfully, there are lots of amazing products out there to make baked goods accessible to almost anyone! I do not personally have these allergies, but I am sharing some things that have worked for me when catering to them. Keep in mind that these are not all-inclusive lists, and you may know a different product that works wonderfully. If you do, please share with us in the comments! And always double check for yourself to make sure all of the ingredients you are using are a good fit for you.
As you make substitutions, be aware that the recipe may not come out quite as expected the first time. Baking is a science, and changing ingredients in a recipe will alter the way it bakes.  Be patient with the process and know that you may need to attempt the recipe several times to fine tune it to come out just right. If your recipe isn't a success, try finding a recipe specifically crafted to fit your needs and go from there.
Substitutes for Gluten
If you are interested in baking a gluten free recipe from scratch, you will need to a good gluten free flour and possibly xanthan gum. King Arthur has two different gluten free flour products that I have found helpful. The first type, GF All Purpose flour does not contain xanthan gum, which will have to be added to the bake as part of the recipe. This flour is more ideal if you are making a recipe that is specifically crafted to be gluten free. The second type, GF Measure for Measure flour does contain xanthan gum. This flour is ideal if you are making a traditional recipe yet changing it to be gluten free. 
Here are links to those flours as well as a blog from King Arthur detailing more of the differences in the flours:
Gluten free mixes are also a wonderful and reliable tool to have. After testing out quite a few gluten free cake mixes, I have found that my favorite products are from King Arthur. If you need to make a GF cake, I highly recommend these two mixes. The cakes are delicious, and no one I baked them for could even tell that they were GF bakes! These are found in many different grocery stores, but I have been able to find them consistently stocked at Whole Foods.
Substitutes for Dairy
Butter and milk are commonly used while baking to make cakes, frostings, pastries, cookies, breads… the list goes on. When trying to find an appropriate substitute for the diary in your recipe, I have found one thing especially helpful to remember – the flavor of the dairy-free milk or butter you choose will filter through to your baked goods.
Dairy-Free Milk
There are many options for dairy-free milk these days and each one comes with it's own unique flavor. A few types available are oat, almond, coconut, soy, rice, cashew, or macadamia. For the best baking results, just be sure to select one that is unflavored and unsweetened. Do keep in mind that you some dairy-free milks are made with nut products if that is a concern for you.
My personal favorites:
Dairy-Free Butter
Dairy-free butter options include vegan butters, coconut oil, shortening, and oils. When choosing a dairy free option, there are two main considerations – flavor and consistency. 
For the most part, an oil or shortening will not change the flavor of your bake. However, many dairy-free butters have an added "butter flavor" or salts to create a likeness to true butter. This is helpful for cooking, but added salts in baking can often throw off a recipe. Find an unsalted version of dairy-free butter and you will be good to go in the flavor department! Miyoko's Creamery makes an unsalted cashew and coconut oil spread that is crafted specifically for baking with a very mild flavor. While making dairy-free buttercream, I tested many many brands and Miyoko's came out as my favorite. The mildness of the "butter" led to a more true buttercream flavor and the consistency held up well even for a July wedding in the south!
The consistency of your dairy-free option can make a difference in your bake. For example, if a recipe calls for melted butter you can usually substitute with an oil since it is also liquid. However, if a recipe calls for softened butter, an oil would not be an equal substitute. In that case, you would need to find something with the same consistency as softened butter. Vegan butter sticks or solid coconut oil or shortening would be a better choice. So, note the current recipe's requirements and use that to help make your selection. 
My personal favorite:
I have been able to find this at Whole Foods, but you can also order online.
Substitutes for Eggs

 
I am still quite new in the world of egg substitutes, but I have compiled a list of common ones that are readily available. The end result of your bake may be slightly different in taste or texture from the normal version, but it will hopefully result in a similar and delicious result. If one substitute doesn't work as hoped, don't give up, simply try again using another option. Let us know if you have any tried and true egg substitutes!
One trick that I have heard works great is to pick your favorite box cake mix and simply mix in a can of sprite. Bake as directed and you have an egg free cake! Have you ever tried that one? 
In addition to commercial egg replacement products, here are some other ideas:
1 egg = ¼ cup applesauce
1 egg = 1 tablespoons ground flaxseed + 3 tablespoons water
1 egg = ¼ cup silken tofu pureed
1 egg = 1/4 cup yogurt
1 egg = 1/4 cup buttermilk
1 egg = 1/4 cup sweetened condensed milk
1 egg = ½ banana mashed
Try it out
If you are looking for a recipe that is gluten, dairy, & egg free, check out these No Bake Oatmeal Cookies I shared on the Plan to Eat blog a few years ago! They are truly delicious and I hope you enjoy them! If you need to make the recipe nut free as well, try using SunButter, which is made from sunflower seeds, instead of peanut butter.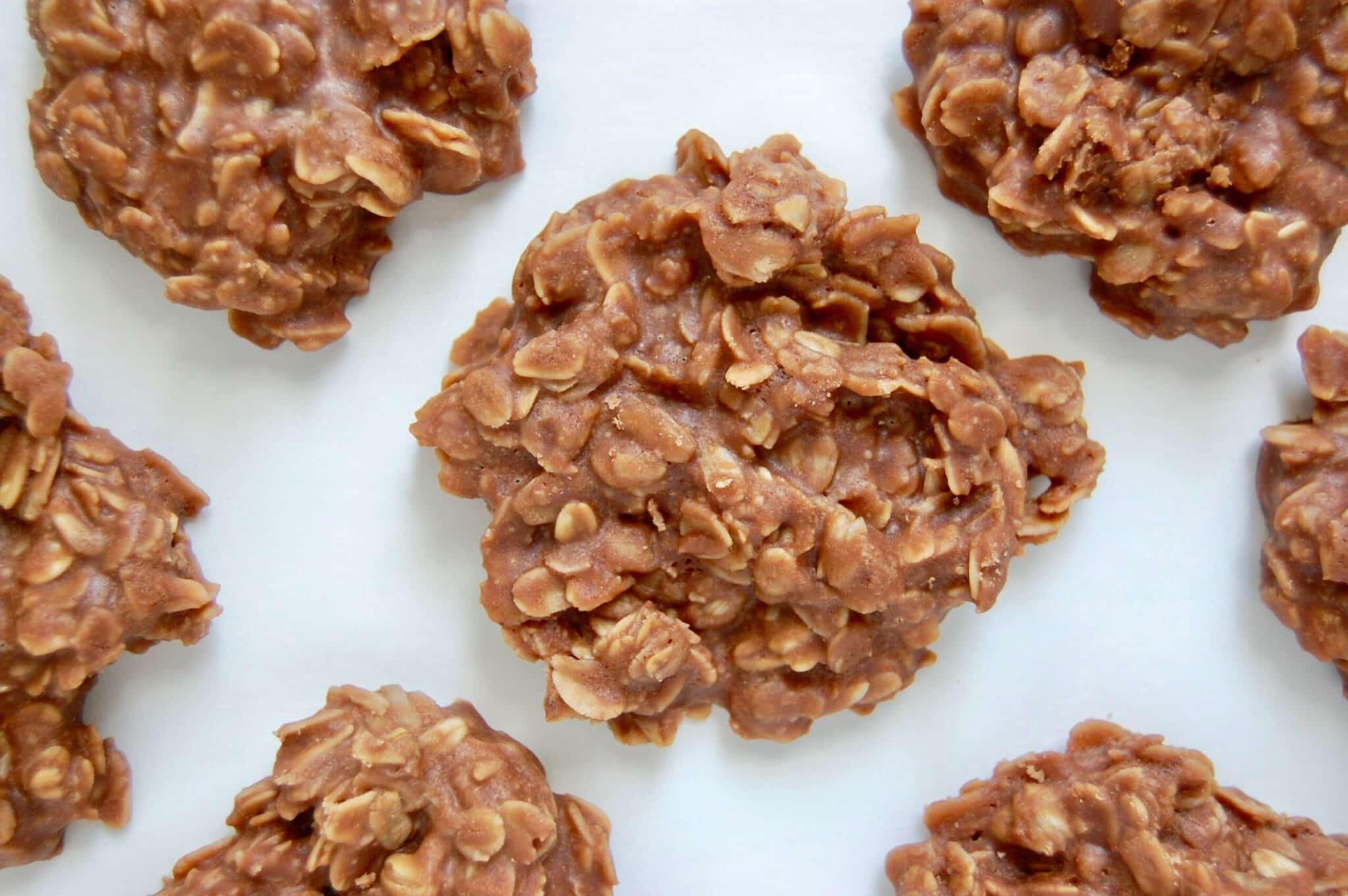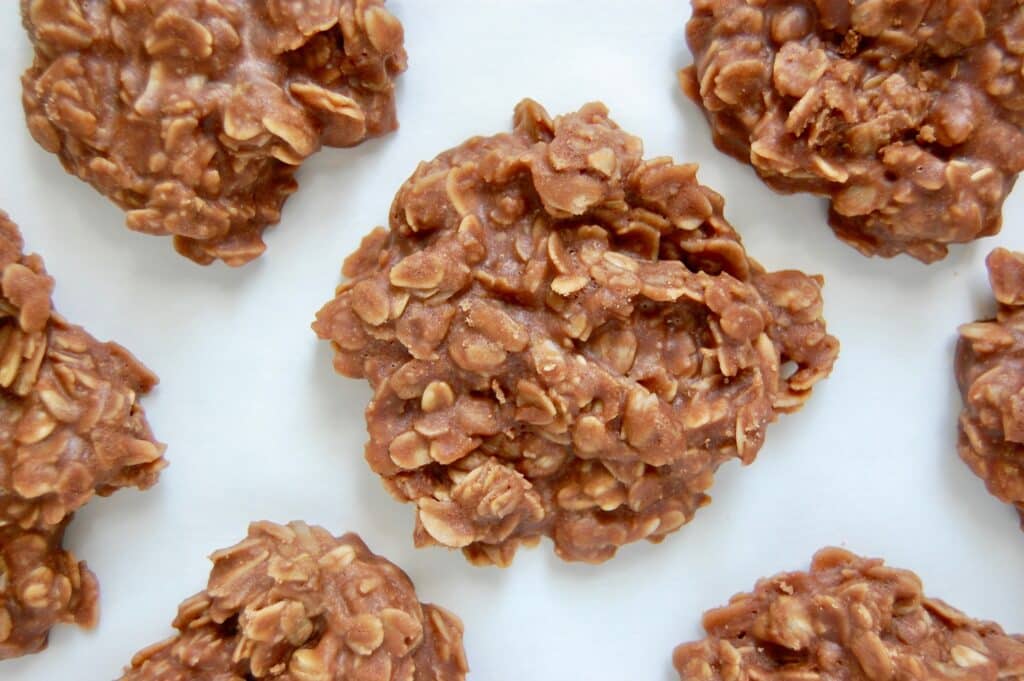 I hope these tips will be helpful to keep in mind as you plan your recipes. Never be afraid to do a quick internet search if something isn't coming out quite right. There is a wealth of information available from people sharing their stories of what has worked best in unique situations. I shared a few of my personal recommendations to get you started, but remember to choose the products that you enjoy and that fit your specific dietary needs.
Anna
Join us this month for more baking basics! Whether you're a novice or a well-seasoned baker, we're sharing tips and tricks to help everyone gain Kitchen Confidence!
Course: Desserts-Bars and Cookies
Main Ingredient: Chocolate
Prep Time: 15 min
Total Time: 15 min
Ingredients
1⁄2 cup peanut butter

2 cups

sugar
1⁄2 cup coconut oil measured as liquid
1⁄4 cup cocoa powder
1⁄2 cup almond milk
1⁄2 tsp salt

1 tsp

vanilla
3 1⁄2 cups oats
Directions
Combine peanut butter, sugar, coconut oil, cocoa, almond milk, & salt in a large saucepan. Stir until combined.
Turn the heat on to medium; stir continuously until the mixture reaches a rolling boil.
Set a timer for 4 minutes and continue to stir the mixture for the entire duration. Don't turn the heat down after you reach the rolling boil; you want it to continue boiling while you stir.
When the timer goes off, turn off the stove and remove the pan from the heat. Immediately pour in the vanilla and continue to stir. The mixture will boil again for just a moment when you add the vanilla; this is what we want!
Pour in the oats and stir until all are evenly coated with the chocolate.
Drop the oatmeal mixture by the spoonful onto a parchment-covered countertop.
Leave cookies to cool and set. They will lose some of their shine while cooling and should easily lift off of the parchment when ready.
Enjoy!
Powered by