Welcome to week number three of 2021! New Years is an exciting time as we focus on new goals and resolutions. We're focused on getting out of a meal planning rut, as we make our way into 2021!
Today, we'd like to highlight the recipe filter and sorting options of our online recipe organizer app and how they can make your meal plans Practical.
Whether you have have hundreds (even thousands!) of recipes in your account, or only a few, you may struggle to find the right recipes to make on any given week. If you're trying to waste less food, stick to a budget, or simply find something new, the filter and sorting options can help!
If you're an organizer, you might already have all your recipes categorized and tagged, so you can find the perfect recipe in a pinch. If your recipes are scattered in your account, there's no need to worry because the filtering options can still help you find the right recipe every time!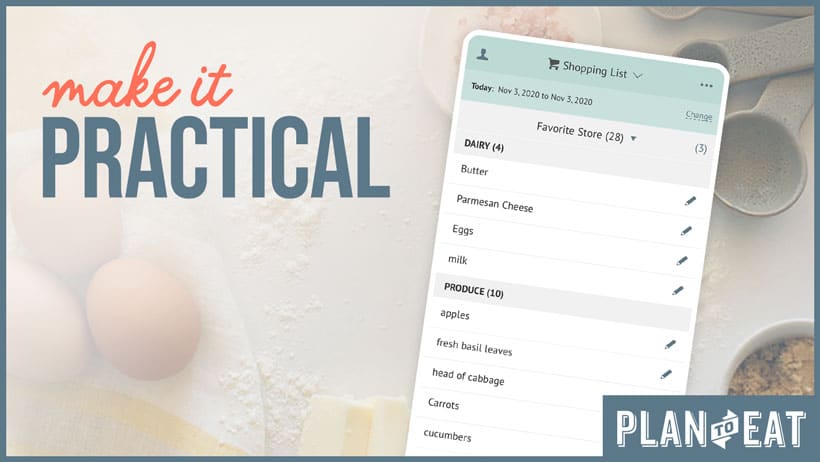 When you want to waste less or stay on budget:
On the website, use the "With ANY" and "With ALL Ingredients" options to use up what you already have at home! 
Check in your fridge and cupboards for items you have in stock. Find ingredients you have too much of, or that are getting ready to expire, to create your meal plans around.
Use the dropdown menus to filter your recipes into specific categories. Then, you can either add an ingredient into the keyword search for a broad recipe search, or you can add them into the "with any/with all ingredients" search boxes for more targeted recipes. 
With the ingredient searches you'll find recipes that include items you already have, so you're not buying all new ingredients for each recipe in your meal plan!
When you want to change up your meal plan:
Use the "Without Ingredients" option to find recipes you may have never planned!
Look at past meal plans and see what ingredients you commonly use in recipes. Then add those frequent ingredients into the "without ingredients" search box to show recipes that do not include those items!
Experiment with new main ingredients or cuisine types and spice up your meal plan!
Stay with us during January, as we give new tips each week to refresh your meal plans and get you out of a meal planning rut!
Email us at [email protected] if you have any questions!