Summer is in full swing and this month I'm bringing you a delicious recipe that utilizes one of summer's best veggies – zucchini!
If you were like us and planted a garden this year, this would be a great way to use some of that zucchini you have in the back yard! If not, zucchini should be readily available at your grocery store or farmer's market right now. Our grocery store brings in locally grown South Carolina produce, which we really love.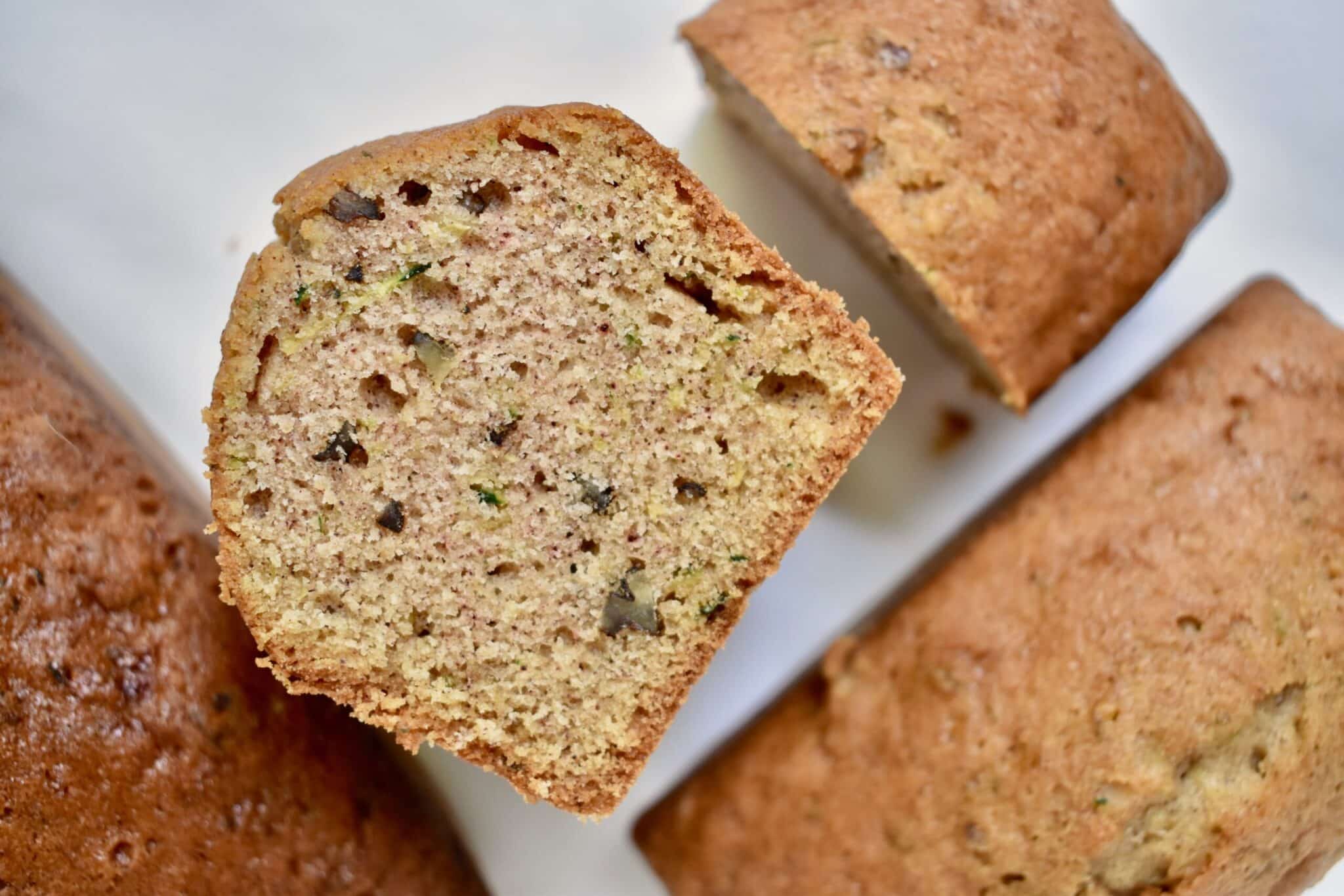 This zucchini bread is a favorite in our family. My little one loves it so much that she went downstairs to get some out of the freezer after she saw me working on photos for this blog! And while we're on the topic, I'm a big fan of the freezer! Often times I will make a double recipe and freeze a few loaves to enjoy later. You can check out Riley's recent post for more tips on using your freezer and the freezer options within Plan to Eat!
One last thing before we get started…this is a very versatile recipe! As you will see in the photos, I baked the same recipe three different ways. A regular loaf, mini loaves, and as a cake! And each one is so yummy. So many possibilities here!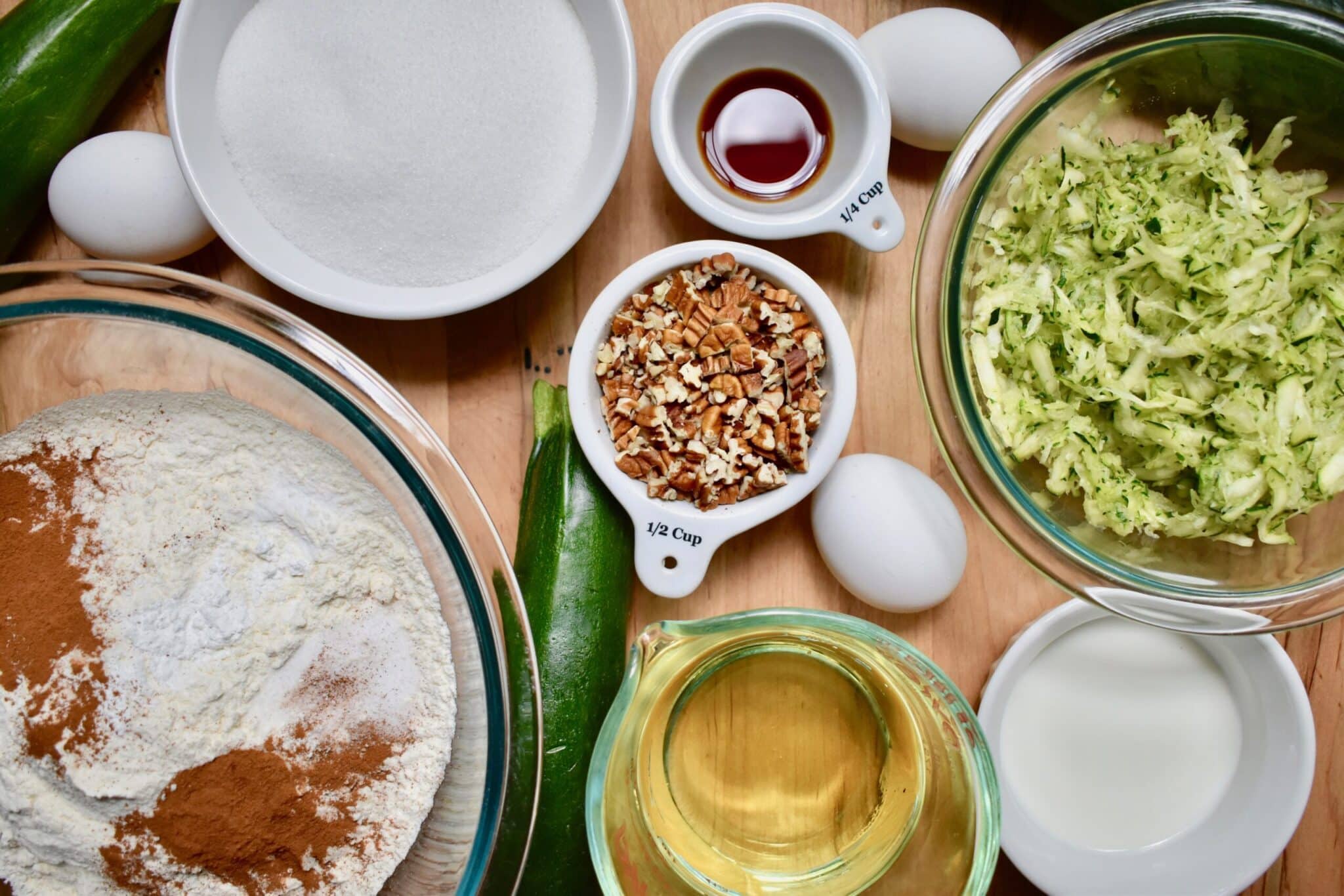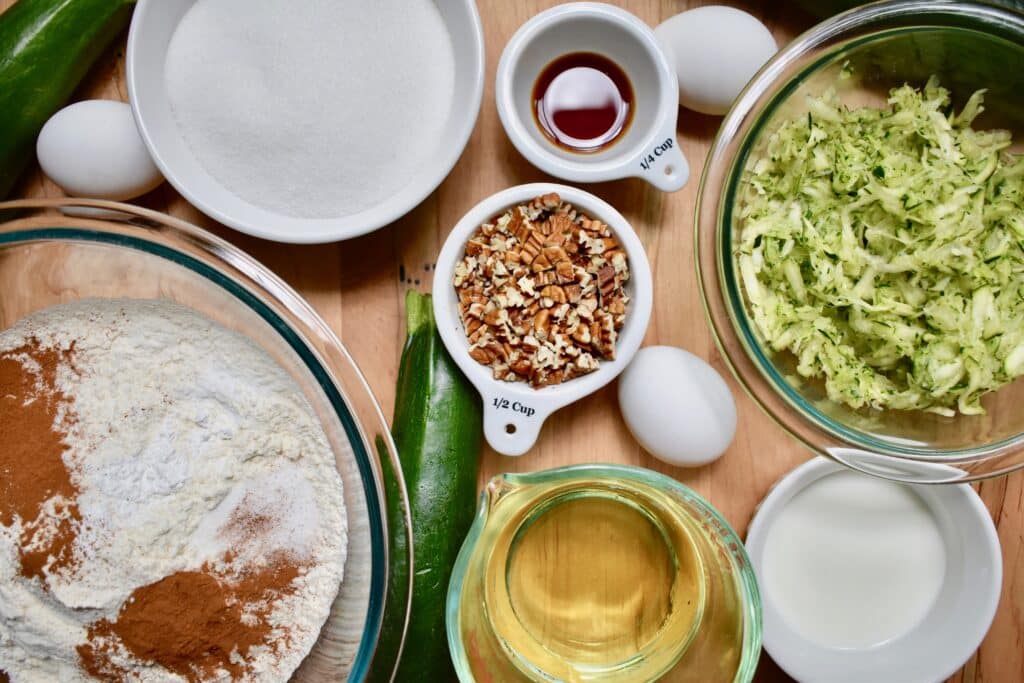 First, shred the zucchini into fine pieces. Use the smallest shredder you have; this helps to spread out the flavor and keep the pieces from settling during the bake. You may notice some extra liquid from the zucchini during and after shredding, let it rest for a minute and then drain off any excess water.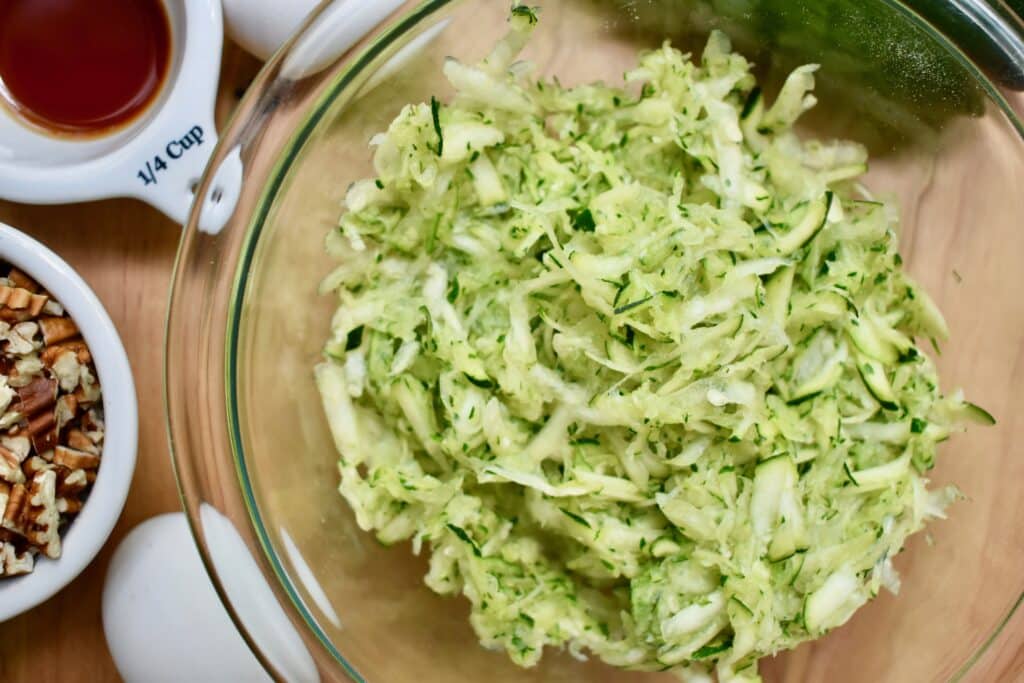 Whisk together the flour, salt, baking soda, baking powder, and cinnamon in a medium sized bowl and create a well in the center. Then mix the eggs, oil, milk, sugar, and vanilla in a separate small bowl. Pour the liquid ingredients into the well in the dry ingredients and mix until combined. Lastly, stir in the zucchini and chopped pecans. If you aren't a fan of nuts, you can definitely leave them out.
One recipe will make either 2 regular loaves, 5-6 mini loaves, or one cake. You can decide how you would like to enjoy your zucchini bread! We actually really love the mini loaves; they are the perfect size for breakfast, a snack, or for sharing with friends.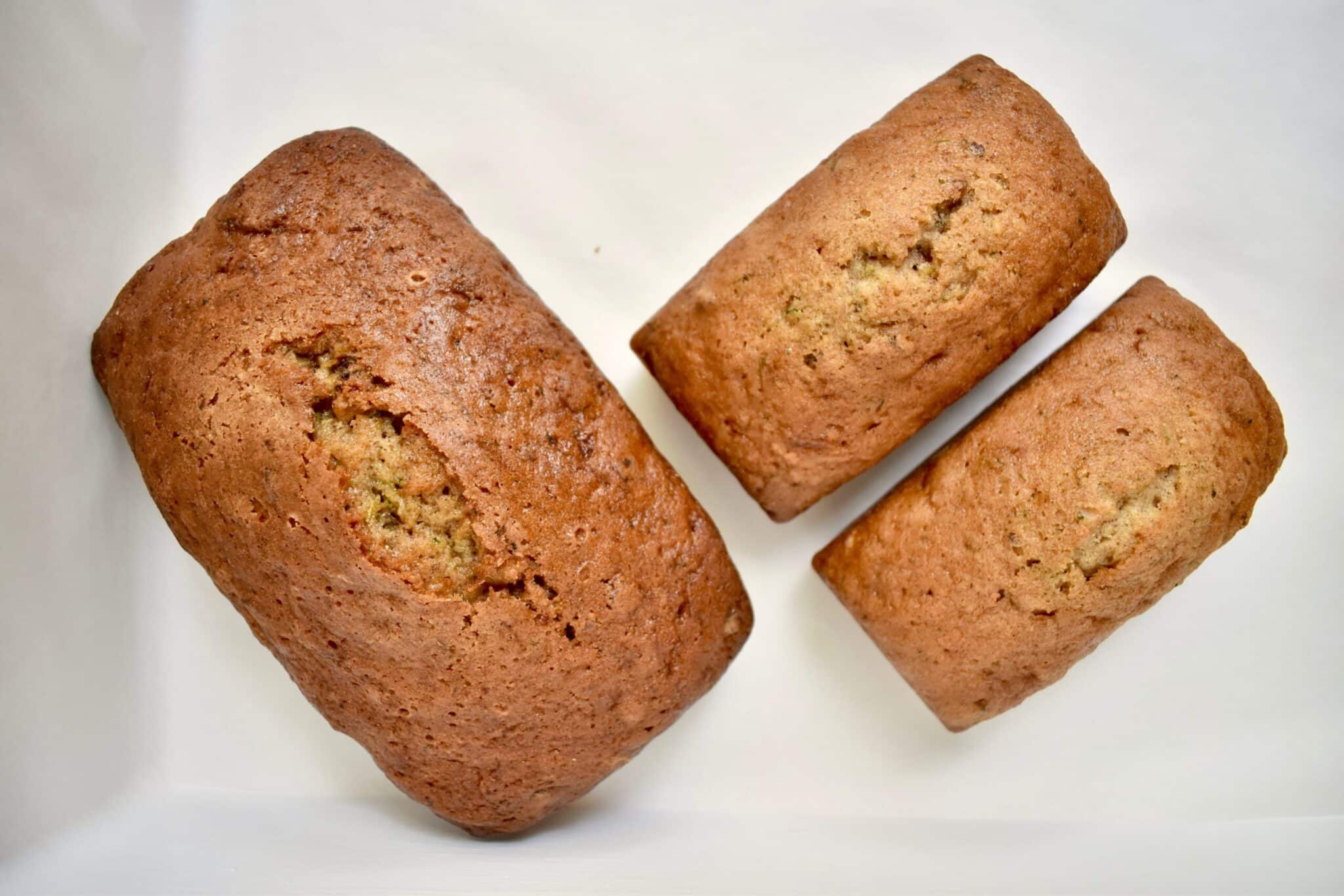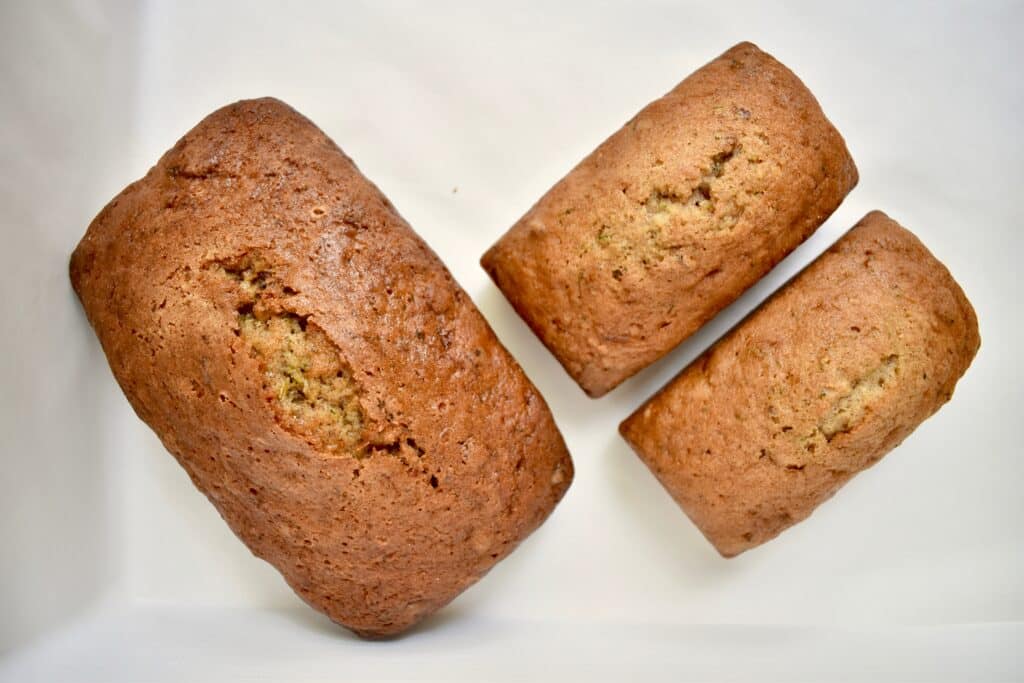 For the cake, I made a yummy salted caramel buttercream to go with it and keep the decorations super simple. If you are making loaves but want to dress them up a bit while entertaining, try spreading a layer of this salted caramel buttercream on top. I know your guests will be impressed!
Delicious. Simple. Seasonal. Versatile. Dress it up. Dress it down. Freeze it. Eat it fresh. There are so many options here! Have fun with it and enjoy this one!
Anna
The perfect summer treat, this zucchini bread is simple, versatile, and most important – delicious!
Source: thelittlebluemixer.wordpress.com
Ingredients
3 cups

flour

1 teaspoon

salt

1 teaspoon

baking soda
1⁄2 teaspoon baking powder

2 teaspoons

cinnamon

3

eggs room temperature
3⁄4 cup oil
1⁄4 cup milk

2 teaspoons

vanilla
1 2⁄3 cup sugar

2 cups

zucchini finely shredded
1⁄2 cup pecans chopped, optional
Directions
Preheat oven to 350 degrees. Grease and lightly flour baking pans.
Shred the zucchini into fine pieces and drain any excess liquid that accumulates. If desired, chop nuts. Set both items to the side.
In a medium bowl, whisk together flour, salt, baking soda, baking powder, and cinnamon and create a well in the center.
In a separate small bowl, mix together the eggs, oil, milk, sugar, and vanilla.
Pour the liquid ingredients into the dry ingredients and mix until combined.
Stir in the zucchini and chopped nuts.
Bake until a toothpick inserted in the center comes out clean:
For 2 regular loaves, bake for 55-60, covering the loaves with foil toward the end to prevent browning.
For 5-6 mini loaves, bake for 30-35 minutes.
For 3 thin cake layers, bake for 20-25 minutes. (I used an 11" x 5 1/2" scalloped pan, but you could just as easily use regular cake pans. Keep an eye on your bake to know when it's done!)
Let cool and then enjoy!
Powered by

A sweet and slightly salty caramel buttercream perfect for any cake!
Source: thelittlebluemixer.wordpress.com
Ingredients
1⁄4 cup sugar

2 tablespoons

water

1 teaspoon

light corn syrup
1⁄4 cup heavy cream
1⁄2 teaspoon vanilla
1⁄2 teaspoon white vinegar
1⁄2 teaspoon kosher salt

1 cup

butter softened

6 cups

powdered sugar
Directions
In a small saucepan, stir together sugar, water, and corn syrup.
Bring mixture to a boil over medium heat and let cook until golden brown. DO NOT STIR IT! And keep a close eye on it!
Remove from heat. Pouring very slowly while also stirring, mix in heavy cream. It will bubble up at first, that is normal.
Mix in the vanilla, vinegar, and salt and let the sauce cool completely.
Using a stand mixer, beat butter until smooth.
Gradually mix in about half of the powdered sugar.
Mix in the cooled caramel sauce (should be about 1/3 cup).
Gradually mix in the remaining powdered sugar.
Frost and enjoy!
Powered by