I have worked for Plan to Eat for almost six years now. In that course of time, I have become very familiar with our program and genuinely utilize it in my personal life. Six years has brought many big changes and because of that, my planning has gone through some dramatic shifts as well. From being single and planning for one, to getting married and planning for two and now becoming a new mom this year and planning meals for me and my husband while also caring for a newborn… Plan to Eat has become more and more vital along the way. 
Our team thought that sharing personal meal planning stories could really help our new, and even existing customers, get a feel for how other people plan their meals, and what better way than to share our own stories. My personal story revolves around having a young family, but I hope that these tips will help anyone who is trying to plan their meals around a busy schedule. 
What does weekly planning typically look like for me? 
I usually plan a week's worth of meals at once. I try to build my meals around the protein first and plan the rest of the meal around that. We typically have meat and seafood in our freezer, so I look at what we have on hand and decide if, and how, I want to use it in my weekly meal plan. Here's an example of what that looks like:
 I have frozen shrimp, so I filter my Plan to Eat recipe book for Shrimp to see what recipes use that protein. I choose one for Pineapple Shrimp Skewers (that sounds great!) and I add it to my planner.
Next, I think "What do we want to eat with that?" How about grilled corn and cilantro lime rice. I don't need recipes for those two sides, so I simply add them to my meal planner as an ingredient note. This reminds me I will be making those two sides and Plan to Eat adds them to my shopping list!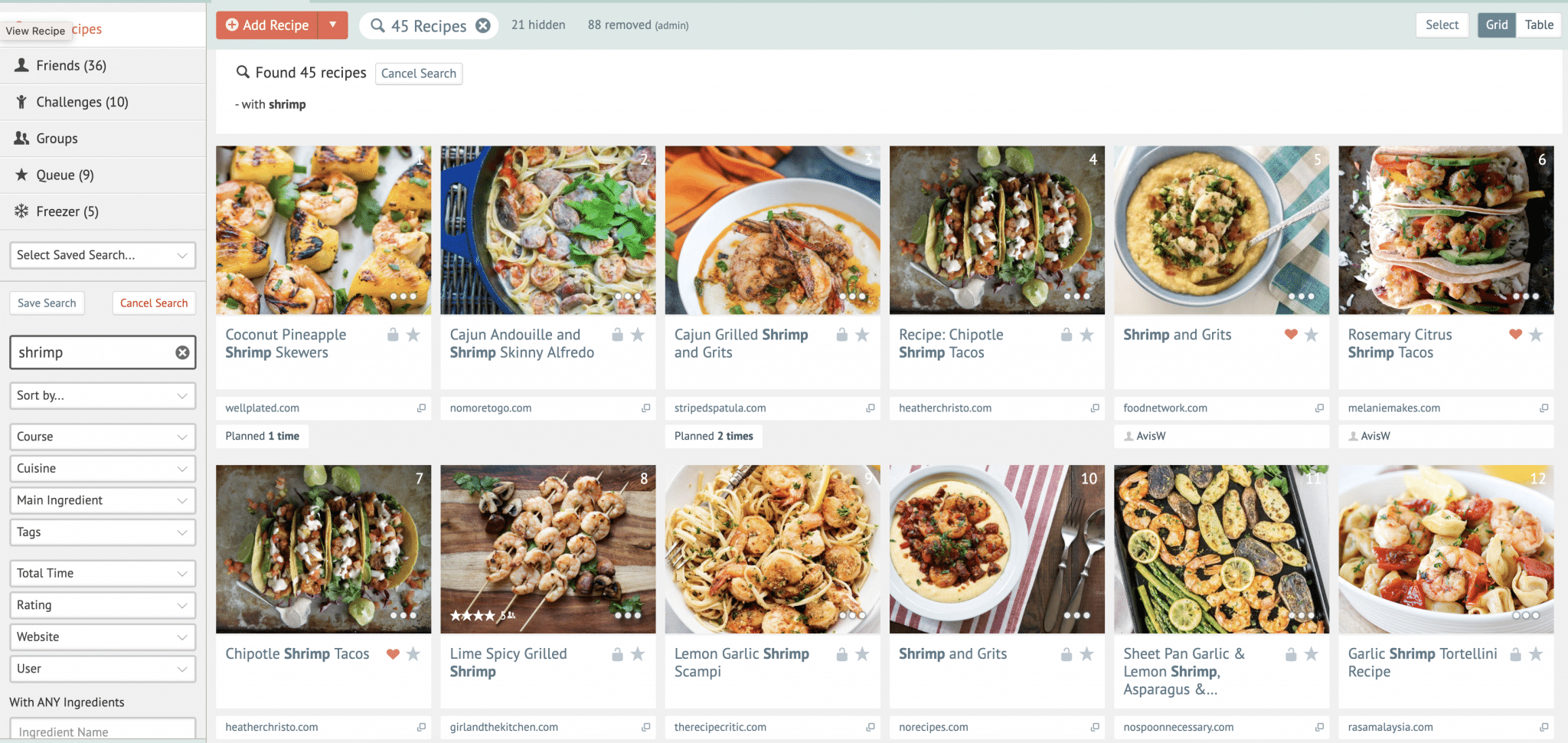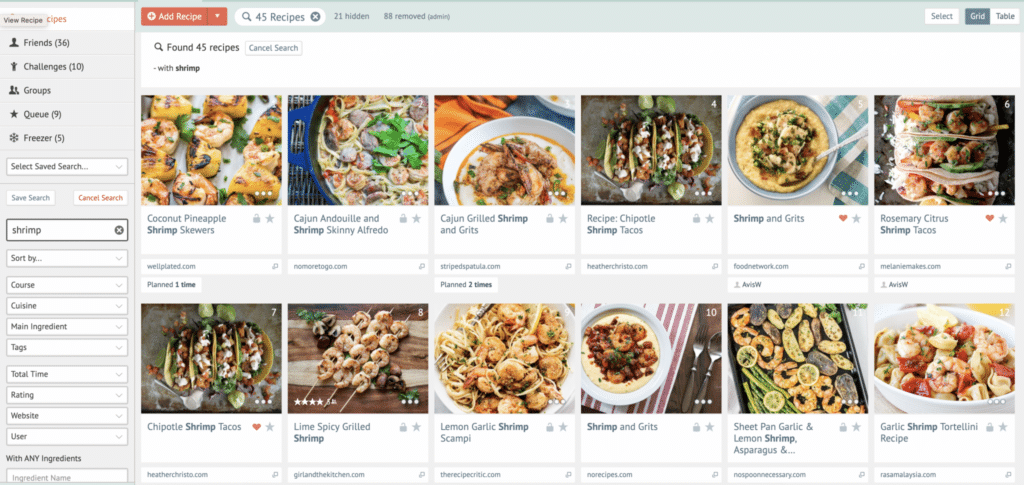 I continue to do this until my meal plan is built up with 3-4 dinners planned. If I don't have a frozen protein, I pull meals we really enjoy eating or haven't eaten in a while. To find these, I use the rating system or my custom tag "recipes we love."
For breakfast and lunches, I don't do a great deal of planning like I do for dinner. I make sure we have ingredients for sandwiches, wraps, or grilled chicken for quick salads. I really enjoy leftovers, so another trick for quick lunches is making extra servings of our dinners to eat for lunches all week long. It works really well for us! I also add these to my meal plan as an ingredient note, so those items also appear on my Shopping List. 
Once the bulk of my planning is completed, I make sure to remove any ingredients I have on hand from my shopping list, including the shrimp since I have it in my freezer already. At Plan to Eat, we call this "shopping at home first", and it works really well for me. It prevents me from even buying duplicate spices or canned goods because I checked what I already have before shopping! 
Freezer Meals
When I was pregnant, it was recommended to me to stock my freezer with meals for after baby arrived. I've been a part of meal prep parties for other new moms, so I knew this was something that would be really valuable for me with all the unknowns that motherhood would bring! My expectation was that my mom would come out and help me create some of these, so I would have less to do (Thanks Mom!). However, the pandemic hit and my mom wasn't able to come. I decided with all my newly found free time (Thanks Quarantine…), I needed to get busy preparing for the baby and create some freezer meals for myself.  
I made a list of meals that we already enjoy and ones that I knew would be easily frozen and added a few of them to my meal planner each week so I could purchase the ingredients, cook them, and then add them to my Plan to Eat Freezer. I cooked just a few extra meals each week, and my freezer was stocked pretty quickly.
While the majority of the meals I made were dinner options, I also froze snacks, cookies, and even cinnamon rolls. I made around 30 freezer meals in total. In this group of recipes, I also included meal makers such as frozen pulled pork, taco meat, and spaghetti sauce. These are really helpful because they make a meal come together really quickly and without many steps. (A lifesaver if you're trying to cook with just one hand while holding a baby!) 
While my husband is an excellent cook, he was just as tired as I was and he was grateful to know there was food prepped and ready for us. All we needed to do was pull them out to thaw so they were ready to go into the oven for an easy dinner. Since the Plan to Eat freezer offers defrost notes, we never forgot what meal to pull out each day and were never stuck with a totally frozen dinner when we were ready to eat.
My Tips for Freezer meals:
Freeze in small batches. I purchased small foil tins, which allowed us the perfect portions for dinner and just a bit of leftovers. Freezing in small batches also allowed me to easily freeze 3-4 containers of the same meal, while only prepping one large batch.
Cover your food with plastic wrap and then foil. It helps keep freezer-burn to a minimum!
Write the date, meal name, any cooking instructions, and a note to remove the plastic wrap on the foil.
I mentioned this earlier, but don't forget you can make and freeze cooked meats like taco meat or pulled pork. These are really versatile and make meals really easy and are easily frozen in large ziplock bags or foil pans.
Make sure to add all your meals to your Plan to Eat freezer, and include the number of servings and meals. This helps you know exactly what you have on hand!
You can use the PTE freezer for so many different recipes! My sister-in-law, who made us an amazing gender reveal cake, froze the cake so that it would travel better to my parents house for the party. Impressive, right?
Other features I love and use weekly:
Now that those early newborn days are behind us, my meal planning looks more like how I described it before, planning 3-4 dinners and easy breakfast and lunches. The other nights we eat something simple, such as breakfast for dinner (a staple at our house), or we occasionally pickup takeout from our local favorites.


Leftovers
The Leftover feature is hugely helpful for me now, as I make sure my meals are scaled up to feed me for lunches and some dinners each week. I use leftover notes to remind myself what's in the kitchen for lunches, because sometimes it is easy to forget! 
Grocery Delivery
We live about 40 minutes from a grocery store, so we do not have the luxury of getting to use the grocery delivery feature, however, I do utilize the grocery pickup at our store. This allows me to easily and quickly pickup our groceries without having to take a baby into the store. This is such a helpful feature and I am grateful that our store offers it. While there are a few ways I could create my grocery order, I have found this is the easiest way for me:
Pull up my Plan to Eat shopping List on my desktop computer and then open my grocery store's app on my phone. You can also use your grocery store's app and the Plan to Eat app – with split screen on some tablets.
Add items from my Plan to Eat list to the grocery store's cart, while simultaneously checking those items off my Plan to Eat list. This ensures I get everything I need for my meal plan and it keeps me super organized! 
Plan to Eat is vital to our family's success each week and we're so grateful to have such a fantastic tool. If you are expecting a new baby, already have kids, or just planning for yourself, I think Plan to Eat can be helpful for you too! 
What are your favorite Plan to Eat features?
I would love to hear what helps you each week, so leave me a comment below!