Let me tell you a little about myself. I'm a girl who has to observe certain diet restrictions in order to manage chronic illness. I'm also a mom who has four kiddos and a husband who want three meals a day. And I'm the CFO of the family who knows that there are not enough resources to feed my entire household the same thing I eat. For all of these reasons, I often find myself cooking twice at meal times, once for me and once for the rest of the family. If you think that sounds exhausting, you'd be right. And now you understand why I've been anticipating Tammy Credicott's new book, Make Ahead Paleo.*
I'm a huge fan of Tammy's last book and several of its recipes are in my regular cooking rotation. My love of this new cookbook falls slightly short of my love for her last cookbook. Really, aren't you kind of setting yourself up for that situation when you release a cookbook focused on the most indulgent, but still legal, Paleo foods? But all the same, I'm in love. Make Ahead Paleo is going to save my sanity.
Tammy is a mom who understands that sometimes Paleo cooking simply doesn't fit into work, school, and soccer schedules. This cookbook is chock-full of meals designed to be ready when you are. I love the organization of the recipes, which is by technique rather than specific meals or ingredients: meals to make and freeze, slow cooker meals, foods that travel, and meals you can cook in a hotel room. She even includes a chapter with a week's worth of meals to prep in one day. Her introduction contains lots of tips and tricks to maximize your resources (dollars and time). I've always done a thorough job of sucking the marrow out of my dollars and minutes, but even I got some new ideas. Tammy, you are my kind of mama!
Each recipe is thoughtfully laid out, explaining steps to do in advance and steps to do at serving time, and each recipe has a full-page color photo with it. Have I mentioned I like photos in my cookbooks?
When I was spending time cooking from this cookbook, I was strictly observing my Autoimmune Protocol Diet restrictions, which meant I couldn't try out the ones that made me salivate as I flipped the pages (Apple Ring Pancakes, Pecan Stuffed Chicken Thighs, Asian BBQ Chicken, Kitchen Sink Cookies….I could go on.) But I did try out all of the recipes that my mouth and my gut were able to agree on. The Thai Chicken Drumsticks even created some dinner-plate-envy from my non-Paleo family.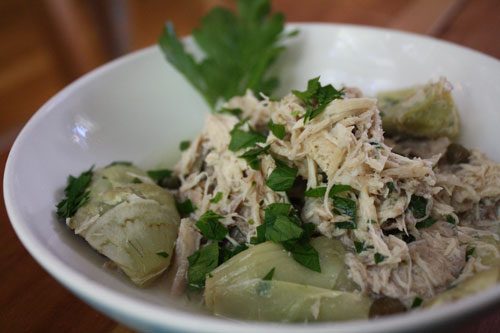 My favorite recipes have to be the ones from the Room Service chapter, which I use as prep-ahead meals, assembling the various ingredients and sauces in the morning, and then throwing my dinner together as dinner for the rest of the family is cooling.
For well-over a year, traveling has been stressful and difficult due to the nagging question of "What am I going to eat in South Dakota/the Stop 'n Shop on I-80/the middle of nowhere?" But now I actually can't wait for our next family vacation! Tammy has all the recipes I need right here.
* Review posts are my opinions on items that were sent to me free of charge. The items were given to me, but the thoughts and opinions are my own. I only provide reviews of items that I find to be truly worthy of recommendation.