By this time of the summer (or is it fall?), all of your hard work of weeding, watering, and tending that vegetable garden is hopefully paying off. If you're like me, you're wallowing in late-summer veg and are running out of ideas of how to cook it.
Today I'm sharing the perfect weeknight meal for using up all of those end-of-summer green beans and tomatoes. It's highly adaptable to whatever is plentiful and whatever is in your pantry, and it's a cinch to make. Oh, and it's delicious, too.
I pulled this recipe out of a recent Rachel Ray magazine, knowing that I'd have an abundance of tomatoes and beans in just a few weeks with which to try it out. Cherry tomatoes give the tastiest results, but if you only have Romas or heirlooms or beefsteaks, it'll be just fine. I chose to use basil instead of the recommended tarragon, because our basil is quite productive. Parsley or rosemary would also be quite tasty.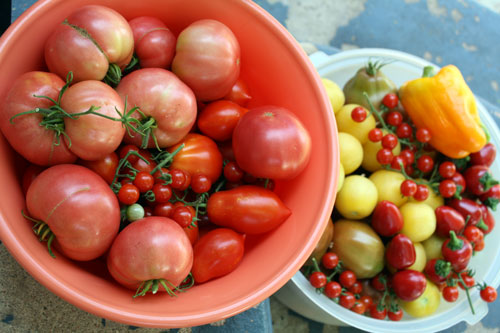 At the table, everyone proclaimed the results to be delicious. And between the deliciousness of the food and the appetites of 4 growing children and a husband who loves his basil, they licked the platter clean.
Source: www.rachaelrayshow.com
Course: Main (Vegetarian)
Serves: 6
Ingredients
1/4 cup

olive oil

4 cloves

garlic very thinly sliced

2 pints

ripe cherry or grape tomatoes
Salt and pepper

1/2 cup

dry crisp white wine

1/4-1/3 cup

chopped tarragon leaves or basil

1 pound

penne rigate

1/2 pound

thin green beans haricots verts, trimmed and cut into thirds on an angle

1/2 pound

ricotta salata for grating
Directions
Bring a large pot of water to a boil for the pasta.
Heat olive oil in a large skillet with tight-fitting lid over medium-high heat. Add garlic and swirl 2 minutes. Add tomatoes and shake to coat in oil, season with salt and pepper, and cover pan. Cook until tomatoes burst, about 10-12 minutes, then break up remaining tomatoes with a potato masher and deglaze the sauce with wine. Reduce a minute or two then stir in tarragon and reduce heat to a simmer. Adjust salt and pepper.
When tomatoes begin to burst, season the boiling water with salt then drop pasta and cook 5 minutes; add green beans and cook 3 minutes more. Reserve half a cup of starchy liquid just before draining. Drain pasta and beans, toss with sauce and starchy cooking water for 1-2 minutes.
Serve in shallow bowls topped with lots of coarsely grated ricotta salata cheese.
Powered by

//