It's pronounced like this: (flow-NYARD) [sc_embed_player fileurl="https://s3.amazonaws.com/pteblog/blog/wp-content/uploads/2013/06/forvo_fr_882596.mp3″]
I promise this dish really isn't as stuffy as its pronunciation makes it out to be. In fact, it is easy enough to make on a Saturday morning when you are half asleep, hearty enough to fill a family of hungry bellies, and delicious enough that there will be no leftovers — all characteristics of a perfect recipe to have in our Saturday morning repertoire (re-pə(r)-ˌtwär). [sc_embed_player fileurl="https://s3.amazonaws.com/pteblog/blog/wp-content/uploads/2013/06/repertoire.mp3″]
Somewhere between a baked pancake and a flavorful custard, Flaugnarde is sweet enough to be served as an after-dinner dessert, yet wholesome enough (in our recipe, anyway) to go onto the breakfast table. This 19th century gem of a recipe comes from southwestern France and traditionally includes cognac with a lot of cream. Ours is adapted to make it more appropriate for the modern breakfast table by being topped with (real) maple syrup instead of powdered sugar… and no cognac. The flan-like batter is essentially the same as the traditional recipe and has a rich, sweet flavor. The fruit provides a taste and textural contrast to the baked flan.
Flaugnarde is a close relative to Clafoutis (klä-fü-ˈtē), [sc_embed_player fileurl="https://s3.amazonaws.com/pteblog/blog/wp-content/uploads/2013/06/clafoutis.mp3″]
which is a baked flan with cherries. The difference between the Clafoutis and the Flaugnarde is that Clafoutis is distinctly made with cherries while a Flaugnarde is made with pretty much anything else. Our Flaugnarde was made with pears, but could have been made with any fruit that can be topped with a batter; strawberries, apples, blueberries, etc.
So often we are looking for that easy casserole that requires little effort and thought, yet will adequately feed the family. Here it is for your breakfast (or dessert) table!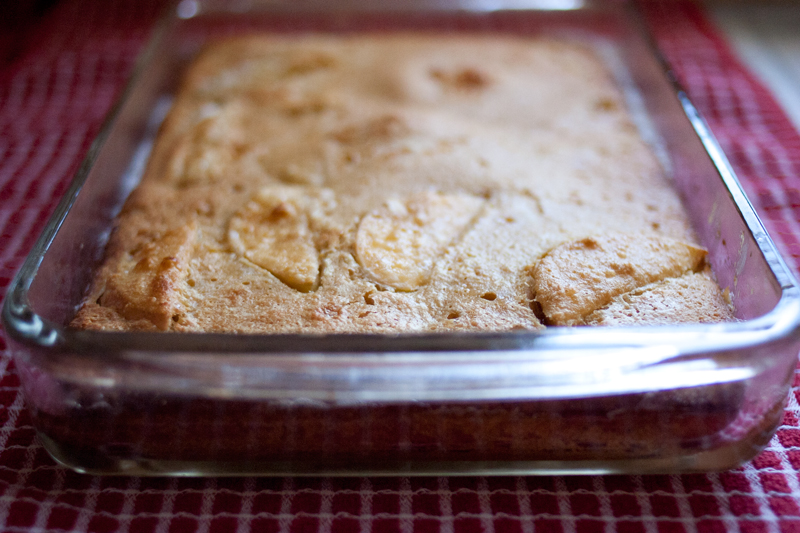 Every household has their own rhythms. Saturday morning has naturally become a time of gathering around the table for our family, probably because I love breakfast so much. On Saturday mornings we are excited about the leisure of the weekend ahead. On Saturday mornings we are looking forward to soccer games and projects in the garden. On Saturday mornings we have time to enjoy our breakfast. It's unlike any other day of the week.
I'll be posting here what our family is doing on Saturday mornings in hopes of inspiring your breakfast table. Likewise, I want to hear from you. What do breakfasts look like at your home? Do you have suggestions of what we should try? I'd love to hear from you as we are always looking for new adventures.
See you next week.
Source: shutterbean.com
Course: Breakfast
Main Ingredient: Eggs
Ingredients
1⁄2 Tablespoon Butter

8 Ounces

Sliced fruit

2 Tablespoon

Arrow Root

3

eggs

1 Cup

Milk
2⁄3 Cup Whole Wheat Flour
1⁄4 Cup Honey
1 1⁄2 Teaspoons Vanilla
1⁄4 Teaspoon Salt
Maple Syrup Drizzled atop
Directions
Preheat oven to 350°
Line a 3″ by 9″ baking dish with the butter
Toss sliced fruit with arrow root until evenly coated
Arrange fruit in bottom of dish and set aside
Mix eggs, milk, flour, honey, and vanilla until batter is fluffy
Pour batter over fruit
Bake until golden brown and set in the center; about 50 minutes
Drizzle with maple syrup and serve warm
Powered by