Almost every kid is contemptuous of where he grows up, right? I was raised in southern Georgia and spent those years counting the many reasons why it was the worst place on earth to be spending my adolescent years. I had daydreams about the midwest: rolling prairies, red barns with big doors, endless golden fields of wheat, big skies, and farm tables laden with homemade biscuits and pulled pork. When I was in college and finally had the opportunity to visit the midwest, I was disappointed. The big skies were there, and the rolling prairies, but the barns were made of metal, and they weren't red. Most disappointing of all, there were farm tables laden with food, but it wasn't homemade biscuits and pulled pork. I distinctly remember (more than one) Snickers salad being served. And it wasn't dessert.
So when I received Judith Fertig's Heartland cookbook* I was dubious at first, wondering which heartland would be portrayed. Homemade biscuits and pulled pork? Or Snickers salad? Judging by the red barn and rolling fields on the cover, I was hopeful for the former. I was not disappointed. These are the recipes from the midwest that I dreamed about while growing up in the south. This is the heartland that I always hoped existed.
This cookbook offers 150 recipes for breakfast, potluck lunch, dinner, and dessert, and also includes chapters on food preservation and bread. The recipes represent the cultural diversity found in the midwest and draw on the culinary traditions of the Amish, Swedish, Czechs, and Scandinavians. There is such diversity in these pages, and all of it is soul-satisfying. These recipes are on-trend with the farm-to-table movement, but without the pretension that comes with being on-trend.
Complimenting the recipes are the quotes, stories, and photography that are sprinkled throughout the book. If I lived in a house where things stayed put (i.e. a house without small children) I would probably consider leaving this book out as a coffee table book. It gives such a sense of place and is quite enjoyable just to sit and browse and be transported to various farms and state fairs and local festivals.
There are several recipes that I know I'll never make, like Pheasant Schnitzel with Danish Red Cabbage, but somehow I am just reassured knowing that those recipes exist and are on my shelf. Not being in the midwest, I appreciate that Heartland offers substitution suggestions for the less-available ingredients so you will not be caught unprepared when you do not have home-rendered lard, pheasant, or walleye. (Though if you are a hunter, or married to one, you will appreciate the bounty of recipes for wild fish and game.)
We sampled several delicious recipes at our table. The Farmhouse Egg Pasta was simple to make and delightful to serve. The family told me they were toothsome and delicious, just like an egg noodle should be.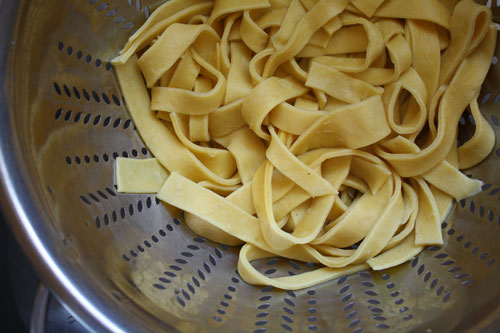 The Missouri Skillet Cornbread had a perfect, crumbly texture that went well with the Italian Sausage and Escarole Soup. Plus, the cornbread had bacon in it, which went over very well at the dinner table.
The Winterberry Breakfast Pudding made a nice change from the usual bowl of morning oatmeal (and it cooked in the slow-cooker overnight! So easy!) The kiddos would have preferred to try the Persimmon Bread Pudding with Warm Cider Caramel for breakfast, but I told them it looked more like dessert.
The Heartland Fennel Slaw had me so excited for summer's bounty that I went right out and bought a bulb of fennel just so I could make it. This would be an excellent summer potluck dish.
There are a dozen more recipes that I'm itching to try out, once the garden starts gracing our table with its fruits. And I'm very excited to try the No-Knead Clover Honey Bread Dough, which is kept in the fridge until you're ready to use it in any of the dozen or so ways presented in the cookbook. Homemade bread on the spur of the moment? Red barns and rolling fields? Farm tables with egg noodles and cornbread and steaming soup? Heaven!
* Review posts are my opinions on items that were sent to me free of charge. The items were given to me, but the thoughts and opinions are my own. I only provide reviews of items that I find to be truly worthy of recommendation.
If you can't find escarole, you can use any other bitter green such as dandelion or even kale.
Source: Heartland by Judith Fertig
Ingredients
2 Tbs

canola oil

1 medium

red onion diced

2 cloves

garlic minced

1 pound

bulk swee tor hot Italian sausage,

1

28 oz can whole Roma tomatoes, with juice cut into bite-size pieces

3 cups

chicken broth

2 heads

escarole torn into pieces

1 tsp

dried basil

1 tsp

dried oregano

1 tsp

fennel seeds

4 oz

penne optional
shredded Parmesan cheese for garnish
Directions
In a large saucepan, heat the oil over medium-high heat and saute the onion and garlic until softened, about 5 minutes. Stir in the sausage and tomatoes with their juice. Pour in the chicken broth, then add the escarole, basil, oregano, and fennel seeds. Bring to a boil, then lower the heat to medium-low and simmer, uncovered, for 30 minutes.
Add the penne and cook until al dente, about 15 minutes more. Serve each bowl with a sprinkling of Parmesan.
Powered by