Even with my food sensitivities and diet restrictions, our family is intentional about eating together most nights. But there is usually at least one night a week where we are eating at different times for one reason or another, and that's when I turn to recipes like the ones in Stacy Myers' e-book, Crock On. Because even though I am always a smidge disappointed when I can't find recipes that fit my diet, it's always rewarding to find some excellent options for the nights when I need to cook for everyone else.
Stacy is the woman behind the blog at Stacy Makes Cents, so you know her recipes are not only tasty, but also easy and affordable. And best of all? They all use real ingredients and no artificial nothing (yes, I do teach my children's grammar lessons). Stacy promises you that none of her recipes call for cream-of-whatever-soup.
Crock On contains the usual slow-cooker recipes of soups, stews, and sloppy joes, but also includes many recipes that more closely resemble casseroles (Chicken Tetrazzini, Enchilada Lasagna) and even some desserts (Double Chocolate Peanut Butter Lava Cake, anyone?). As a somewhat-improvisational cook, I love that Stacy's recipes lend themselves to adaptability. I added chopped broccoli to the Macaroni and Cheese, and extra veg to the  Maple Sesame Chicken. As the recipients of whatever dish Stacy and I had created together, my family loved the flavors. They gobbled up everything I served them from Stacy's book.
I did find myself regretting that I didn't have an actual book to hold in my hands. Now I know most of you kids out there like your e-readers and your Ipads, but I still haven't joined this decade, or the last one for that matter. For goodness sake, I just got a cell phone last year (and I don't even know how to answer it). I like to browse cookbooks in bed. I like to dog-ear the pages of recipes that I want to try. And I like to scribble notes all over the pages as I'm cooking. I just couldn't do any of that with a pdf file. Oh, sure, I know I can print the pages and do all the dog-earing and scribbling I want to. It's just not the same.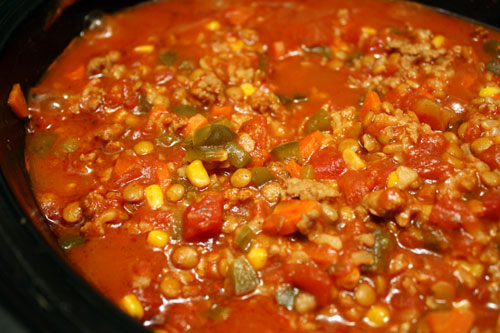 But the e-book holds benefits for all of you readers. For one thing, it's ridiculously inexpensive. Seriously, how can you beat $5 for 40 reliable recipes?? Doesn't a drive through Starbucks cost you that much? And if that's not good enough, Stacy is offering Plan to Eat readers a 15% off code, which means you can get her e-book for only $3.50 I mean, $4.25 (I really should never attempt math after dark. Thanks, Amber!). Or you can enter the giveaway and cross your fingers to win one of three that Plan to Eat is giving away (See the end of this post for info on the discount and the giveaway)
For another thing, there is no trekking out to the bookstore to find the book, or waiting for the UPS man to bring it to your door. You can get it right now. As in click here, then click there, ba-da-bing, ba-da-boom (which is jargon for "It miraculously appears onto your home computer and I have no idea how that works"). You could have dinner in the crock pot in 15 minutes.
And if you still need convincing, sweet Stacy is letting us share one of her recipes with you! Our family really enjoyed this as a main dish served with a big ol' chopped salad. Try it out, then head over to Stacy's website for the rest of the book.
Source: Crock On by Stacy Myers
Course: Side Dishes (Casserole/Potluck)
Ingredients
1 pound

ground sausage

6 cups

potatoes chopped into 2″ chunks (with or without the peel)

2 cups

sour cream

1 cup

shredded cheese + more for serving

1

4 oz can diced green chiles
1⁄2 tsp chili powder

1 tsp

salt
Directions
Brown sausage in a skillet. Drain. Transfer to
a 4-5 quart greased crock pot. Add potatoes,
sour cream, 1 cup cheese, chilies, chili powder,
and salt. Stir.
Cover and cook on low for 6-8 hours or until
potatoes are fork tender. Serve with slotted
spoon. Sprinkle each individual serving with
shredded cheddar cheese.
Powered by