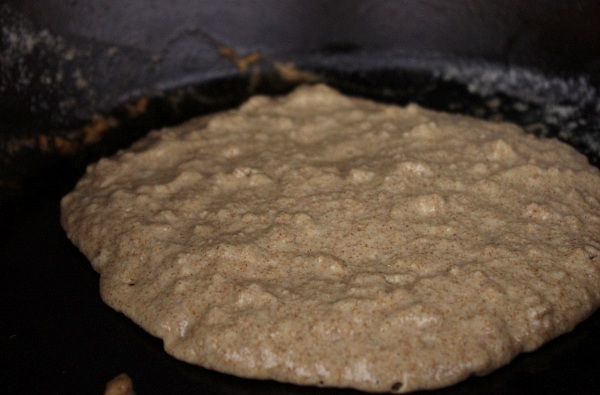 Have you tried making your sourdough starter yet? Mine is bubbling away in a 1/2 gallon container as we speak and I'm betting tomorrow morning I'll be scooping out a few cups of it to make these pancakes. Oh, and I updated the other post to include my favorite source of dried sourdough starters for beginners who would like a little microorganism "insurance".
Before I share the recipe I want to tell you about a concept in sourdough making called the starter's hydration. The term hydration simply refers to the exact ratio of water to flour you keep your starter at. So if you are feeding it the exact same quantity of flour and ratio (by weight) then you have 100% hydration. If you are creating a very thick starter and are feeding it 1 part water to 2 parts flour then you have a 50% hydration.
Hydration is only critical if you are using a sourdough starter as the sole flour and water components of your baked good, as in the case of these pancakes. These pancakes give you a great excuse to make tender, tangy, rich pancakes for breakfast while using up that bit of starter you are told to "throw out".
Before we get to the recipe, here are a few other ways to use that starter so as to not be wasteful:
Use a couple of tablespoons to soak oatmeal (or other grains) and make them more digestible.
Make a sourdough dutch baby pancake that's just a little different than the usual.
Make Wardeh's sourdough crepes and then fry them for the best tortilla chips ever.
Feed it to your chickens or the compost.
Now, for those pancakes. You can dress them up with spices, vanilla, sugar, or honey, but I give you the bare bones recipes as a starting point. And the reason I went on about the hydration of the starter is because a 100% hydration starter makes thin pancakes (since you're not adding any flour to the starter).
I like to feed mine with a higher ratio of flour : water the night before I make these pancakes so that the starter is good and thick. That way we get some lovely, fluffy pancakes in the morning.
Please note that your starter must be active to make these pancakes. The first few days, when you are just establishing your starter, the sourdough starter that you "throw away" should go to the chickens or compost pile.
Ingredients
2 cups

thick, active sourdough starter

1 large

egg beaten

3 tablespoons

butter melted

pinch

salt
1⁄4 teaspoon baking soda
Directions
In a medium bowl beat egg. Add sourdough starter, melted butter, and barely mix. Sprinkle salt and baking soda over and mix just to combine.
Ladle onto a hot skillet, cooking quickly until bubbles are forming. Flip and finish cooking. Serve with your favorite toppings – butter, jam, syrup, etc.
Powered by