Can I make a nomination for My Favorite Cookbook of 2012? Because Nourishing Meals would totally get my vote. I was so impressed with the first few recipes I made out of my review copy* that I went right out and bought a copy for a friend's birthday. This is my new go-to book for daily, allergen-friendly, paleo diet-ish cooking.
This cookbook not only contains over 300 gluten- dairy- and soy-free recipes (about 550 pages worth–everything from smoothies, to ferments, to soup, to bread, to treats), but it also includes a very hefty introduction that has fabulous information on food allergies, sensitivities, digestion, and gut issues. There is also a chapter on feeding children well, and a chapter that explains some of the specialty ingredients found in the book (good for anyone who is new to this type of cooking). 
When I received my book, I immediately flipped to (can you guess?) the dessert chapter. I tend to judge a cookbook by what kind of treats it offers me. Juvenile, perhaps. But it's usually accurate. I found a recipe I could make with what I had in the kitchen, Almond Apricot Snack Cake, whipped it up and served it to the family for dessert. I was dumbfounded by how these ingredients could possibly form a cake so moist and tender–quite possibly the most cake-like cake I've had in ages. I am very excited about the prospect of a real birthday cake next year (perhaps with Coconut Orange Buttercream Frosting?–which contains neither butter nor cream, FYI)
From there I moved on to the Dark Chocolate Coconut Custard, also delicious. I served a cup of this dairy-free mousse to the Bean after he had surgery recently. It was just the thing to soothe a sore throat and nourish a tired body. He felt like he was having a real treat, and I felt like I was giving him Good Nourishment with healthy fat, unrefined sugars, and organic eggs.
Next on my cooking priority list was snacks. Recently, my chronic digestive disorders have been giving me constant nausea, which means I hardly ever feel like sitting down to a real meal. Snacks are hugely important to me, and also hugely difficult to find in a form that I'm able to eat. I've made several versions of the authors' date balls (all delicious), and a few of the muffin recipes (also yummy).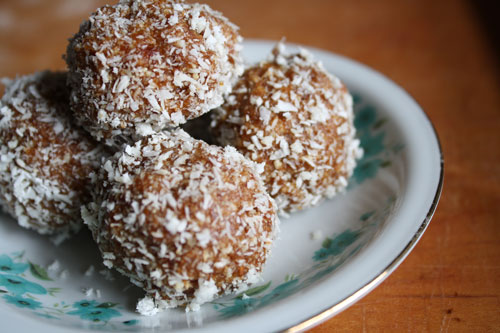 After having cooked my way through the treats and the snacks, and determined that this cookbook is more than worthy of my effort, I'm moving on to the main courses. I've filled next week's meal plan with Slow Cooked Chicken Tacos, Curried Lentil and Rice Casserole, and Coconut Cashew Curry. I'm eagerly anticipating an entire week's worth of simple, delicious dinners. Yum!
Alissa and Tom want you to cook up some nourishing meals (and snacks…and treats…), too! Plan to Eat is giving away three copies of Nourishing Meals to three lucky readers.
This giveaway will close on Saturday, November 10, 2012 at 11:59 p.m. The winners will be announced next Monday.
* Review posts are my opinions on items that were sent to me free of charge. The items were given to me, but the thoughts and opinions are my own. I only provide reviews of items that I find to be truly worthy of recommendation.