I recently was able to experience some homemade tamales now that we live in the South.  When I heard that they were just corn mush surrounding a meat filling I thought they might not be all that exciting, but I was wrong.
Those authentic homemade tamales are full of flavor, spice, and a lovely sweet corn contrast.  But, they are also a lot of work.  So I devised a recipe that brings together the delicious authentic flavor of tamales with the ease of a casserole.  It is not quite as authentic or exciting as the real deal but it tastes just as good.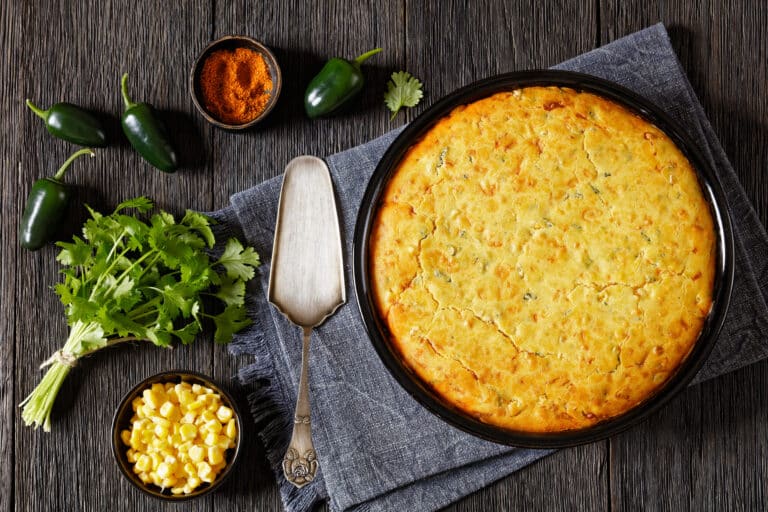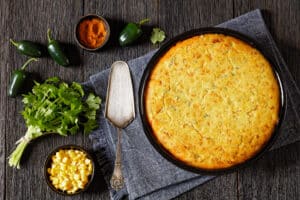 Source: plantoeat.com
Course: Allergen-Friendly Main (Chicken)
Ingredients
2 cups

masa
1-1⁄2 teaspoons baking power
1⁄2 teaspoon salt
1⁄2 cup cold lard or butter, cut into pieces

2 cups

stock or water

3 cups

cooked and shredded chicken or turkey

2 cups

broth

2 large

onions, chopped

1

6 oz can tomato paste
1⁄4 1/2 teaspoon cayenne

1 tablespoon

paprika

2 tablespoons

vinegar

2 teaspoons

dried oregano

3

garlic cloves, minced

1 teaspoon

cumin
sea salt to taste
Directions
Mix dry ingredients together in a small bowl.
Cut in butter or lard.
Add water and mix until a wet dough is formed. Set aside while you prepare the filling.
Preheat oven to 400 degrees
Saute onions in 2-3 Tablespoons of bacon grease
Add paprika, oregano, cumin, garlic, vinegar, and 1/2 cup of broth
Simmer for 5 minutes
Add rest of ingredients and simmer until thick and yummy
Transfer filling to a 13″ x 9″ pan. Top with masa topping, spreading it evenly out on top of the filling. Don't worry if the filling comes through the topping a bit.
Bake for 40-50 minutes or until golden brown around edges and firm in the center.
We like our served with salsa, cheese, and sour cream on top of a bed of lettuce.
Powered by