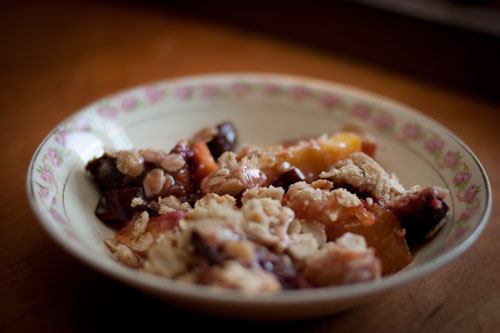 A church we used to attend had an annual 4th of July Cobbler Cook-off. This was one of our favorite days of the entire year. Practically every female in the church (and a few of the more-secure males) would bring their best cobbler/crisp/buckle/grunt for sampling. After the judging, we would all be throwing elbows to get a serving of whichever ones were the favorites. Okay, so it never got physically violent, but we did sort of question if "Love your neighbor" extended to sharing cobbler.
What can I say? We kind of like cobbler.
Fruit cobblers are a natural fit for an allergen-friendly dessert. It's fairly easy to adapt a topping to be allergen-free. I love this recipe because it combines all of my favorite summer fruits, and it's just plain simple. It's not trying to do anything new, it's just plain and delicious.
Cobblers and crisps are very forgiving of fruit that is over-ripe or under-ripe. Towards the beginning of summer I get excited at the first peaches in the grocery store and buy them too early. At the end of the summer I buy a bushel of peaches from the farm stand and end up with a few soft ones in the bottom of the box. In both of these circumstances, I usually end up cutting it up and making a crisp.
A note on oats…while oats are inherently gluten-free, most oats are processed on equipment that also processes other grains. So you will have dust from gluten-containing grains mixed in with your oats. Buy oats that are specifically labeled "gluten-free". You can find these at a natural food store.
Source: Cooking Light magazine
Ingredients
4 1⁄2 cups sliced peaches

2 cups

sliced plums

2 cups

sliced apricots
3⁄4 cup sugar

3 tablespoons

GF flour mixture
1⁄4 tsp ground nutmeg

1 cup

GF oats
1⁄2 cup packed brown sugar
3⁄4 cup GF flour mixture
1⁄2 tsp salt
1⁄4 cup coconut oil melted
Directions
Combine first 6 ingredients in a large bowl; let stand 15 minutes.
Preheat oven to 400 degrees.
Spoon fruit into a 13 x 9 inch prepared, glass baking dish. Bake at 400 degrees for 35 minutes or until bubbly.
Combine oats and next 3 ingredients in a bowl. Drizzle with coconut oil, stirring until crumbly. Sprinkle oat mixture over fruit and bake for 15 minutes more, or until topping is lightly browned.
Powered by