We recently sent out a new customer survey to find out what we can do to enhance Plan to Eat for our current (and potential) customers! If you filled out the survey, you know we gave the option for additional feedback about your experience with Plan to Eat. We absolutely love reading all the responses, but we realized there are some features that have perhaps gone under the radar!
This blog is the first in a multi-part series where we will show you some of the ways Plan to Eat already accomplishes many of the common feature requests we receive. Get ready to have your dreams fulfilled and your desires met! 🙂
Recipe subcategories
A common feature request is to have sub-categories for your recipes in the Plan to Eat Recipe Book. Luckily for you, we have a robust recipe organization system and Tags is our solution for sub-categories!
You can use Tags in conjunction with the other categories of Course, Cuisine, and Main Ingredient. Tags serve as that extra level of organization, so you can always find the exact recipe you're looking for.
You can customize the Tags in your account to whatever you want, so they meet your family's needs. You'll find the option to customize your Tags and categories from the upper right 3-dot menu in the Cook tab of the app or from the left sidebar on the website.
On the website, we also have the Bulk Editing tools to allow you to add Tags and other categories to multiple recipes at once. This is especially useful for those of you who have jam-packed Recipe Books!
Ultimately, the reason to add Tags and other categories to your recipes is to be able to find them easier! You can use the sort and filtering options on both the app and website to find recipes based on your given categories and tags.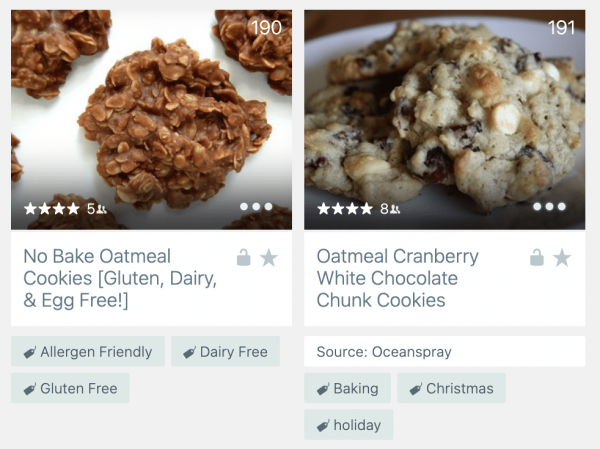 Recipe ingredient search and filtering options
Piggy backing off the first idea, we have an incredible keyword search in the app and website! The search bar will help you find recipes that not only have a keyword in the title, but will search for the keyword throughout an entire recipe! 
If you remember a recipe using sliced jalapeños, but can't remember the title, you can do a keyword search and find it in the search results. 
Or if you remember some of a recipe's ingredients, but not the name, you can use the "with ingredients" search on the website to track it down by adding multiple ingredients to the search. The Ingredient searches are also helpful when you are looking for recipes that contain ingredients you already have on hand!
You can use Plan to Eat on all your devices!
Unlike other meal planning apps, one account with Plan to Eat gets you access across ALL devices! You can use the app on your phone, tablet, and the website and all your changes will sync from one platform to another. You can even share one account with other people in your household and all have access to your recipes, meal plans, and shopping list!
Send your shopping list to grocery delivery
In 2020, we launched the Grocery Delivery feature on both the app and website! We know the option for grocery pickup and delivery is a huge time saver and we're glad it's now available on all your devices. You can find the Grocery Delivery option on the app by tapping the upper right 3-dot menu in the shopping list and on the website, by selecting recipes with the checkboxes. 
We are currently working with a 3rd party company, Whisk, to provide this service. This is something we try not to do here at Plan to Eat, but integrating with individual grocery stores is a challenging task. Whisk allows our business to use their integrations to provide grocery services to our customers. When we run into issues with the grocery delivery options, please understand we have to also work with Whisk to fix and mitigate any issues.
If you have questions or feedback regarding the grocery service integration, please contact our support team at [email protected]
Recipe library
We want Plan to Eat to be a place for you to store your favorite recipes, not ours! Which is why we do not immediately provide recipes or pre-made meal plans to our customers. However, that doesn't mean we don't have a plethora of recipes to help spark your inspiration! 
Our blog has been a source for new recipes since the very beginning and you can still access all the recipes from the Plan to Eat Blog (over 400!) through the Friend's tab. Every account starts out as Friends of the Plan to Eat Blog, so you can peruse the list of recipes whenever you need an idea or something different for your meal plan. 
We've also hosted 12 different Cooking Challenges in the past, from grilling recipes, to back to school, to Instant Pot favorites. Every recipe we used in those Challenges is available in the Cooking Challenges section.
Update recipe serving sizes 
One of our staff favorite features is Serving Sizes! When you add a recipe into Plan to Eat, it comes pre-loaded with the serving size defined by the recipe author. But if you're only cooking for two and a recipe serves six, you might not make it because it's too much food. Or if you love leftovers, but a recipe makes two servings, you're stuck trying to double or triple the recipe by hand. Unless you use Plan to Eat! 😉
From the Recipe Book, you can update the serving size of a recipe and it will automatically scale the ingredients anytime you plan it in the future! No more math for you because your shopping list will reflect these new totals.
Or you can adjust a recipe's scale once it's already on the Planner, which will update it on the shopping list for that one instance. If your friends bail on dinner, then simply adjust the serving size to feed only as many as you need. 
Our team has spent years creating the best meal planning tools and we hope you continue to explore all the possibilities of meal planning with Plan to Eat! 
For questions regarding any features, contact our support team at [email protected]