It has been pretty hot here in Oklahoma the last few weeks, and we've tried to cool off just about any way we can. As I sat outside with the kiddos the other day I realized we hadn't had any popsicles this summer! After planning to pick some up the next time we went out, I thought…. why don't I just make some?? So, I ordered a popsicle mold and did a little reading to see what I could learn about homemade popsicles.
The main tip I came across was that the process of freezing popsicles almost dulls the flavor a bit. If you make sure your flavors pop and are even a tad sweeter than you think you want them to be, your popsicles should be delicious!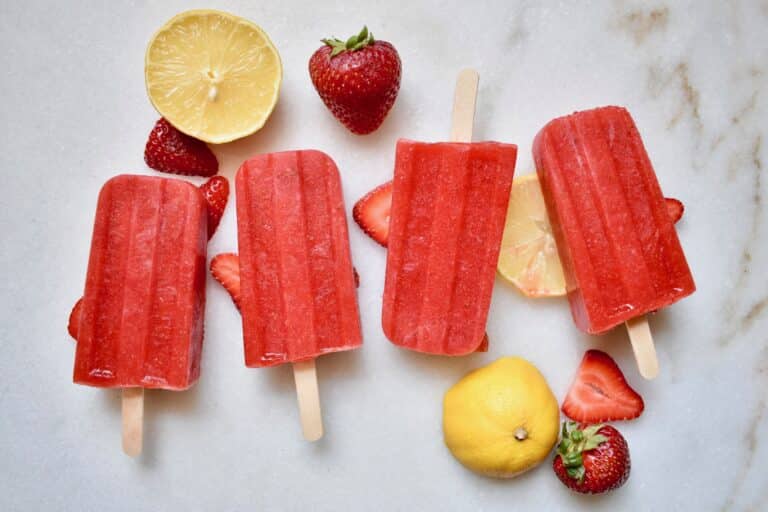 I ended up trying out two different popsicle molds. The first one was this silicone mold off of Amazon. I loved that it came with just about everything you would need. The kit included the mold, lid, popsicle sticks, funnel, cleaning brushes, and even bags and twist-ties to store the popsicles in. Overall it worked well and taking the popsicles out after freezing was fairly easy.
What I didn't like about it was how the popsicles bulged at the bottom and lost their shape a bit because the mold isn't rigid. Although it didn't affect the taste, I wanted my popsicles to be a little more uniform. It is a bit wobbly, so I also recommend using a pan under the mold while filling, moving the freezer, and freezing so you don't have any spills.
The next mold I tried was this one by Prepworks, also off Amazon.
While the molds were very similar prices, this one did not include anything other than the mold, lid, and popsicle sticks. However, it is made from plastic and metal which provides the structure and uniformity I was looking for. Removing the popsicles from the mold took a little more persistence, but after running the mold under water for a few seconds they came out clean and beautiful. Overall, I really liked this one and would recommend it for you to try!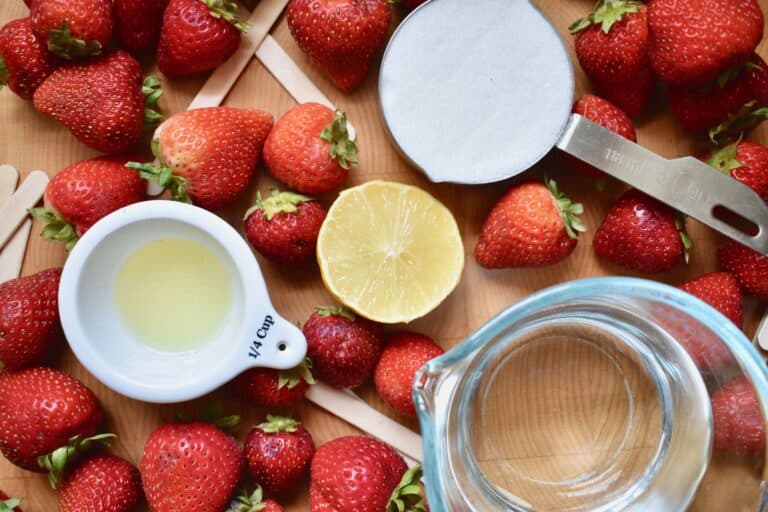 After trying out a few recipes and not loving the results, I decided to start fresh and keep things really simple. I ended up with these tasty strawberry popsicles, and I am so pleased with them! You only need 4 ingredients to make these – strawberries, lemon juice, sugar, and water.
First, wash and roughly chop the strawberries. Add the strawberries and sugar to a medium size bowl and stir until all of the strawberries are coated with sugar. Let them sit for about 10 minutes or until the sugar has dissolved.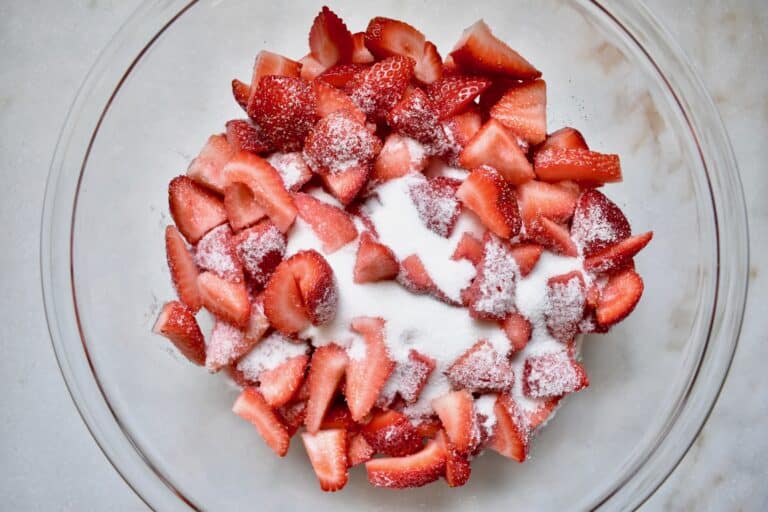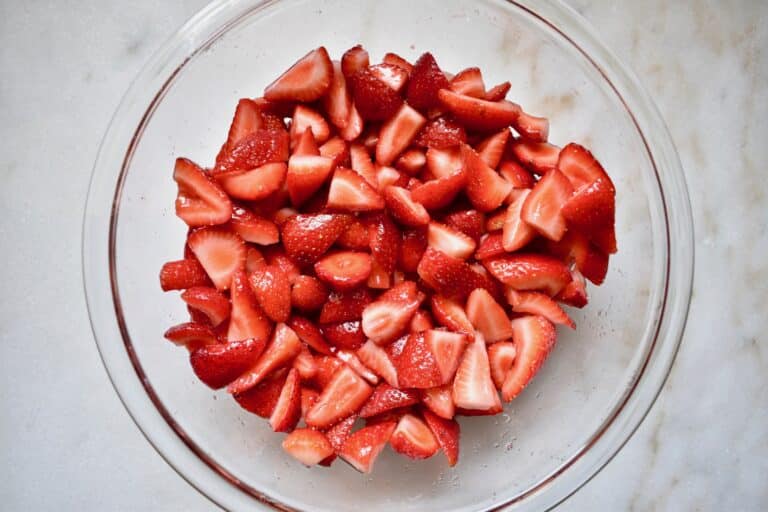 Now add the strawberries, lemon juice, and water to a blender or food processor and blend until smooth. If you prefer for your popsicles to have a few fruit chunks, just stop the blender when it looks right to you or add some chunks in after blending! This recipe yielded right at 5 cups of liquid.
The Prepworks popsicle mold holds about 3 cups of liquid, but the silicone mold holds at least 4 cups of liquid. Each mold out there will be slightly different, so fill your mold and save any extra in the rest in the fridge for the next batch or scale the recipe to your specific needs.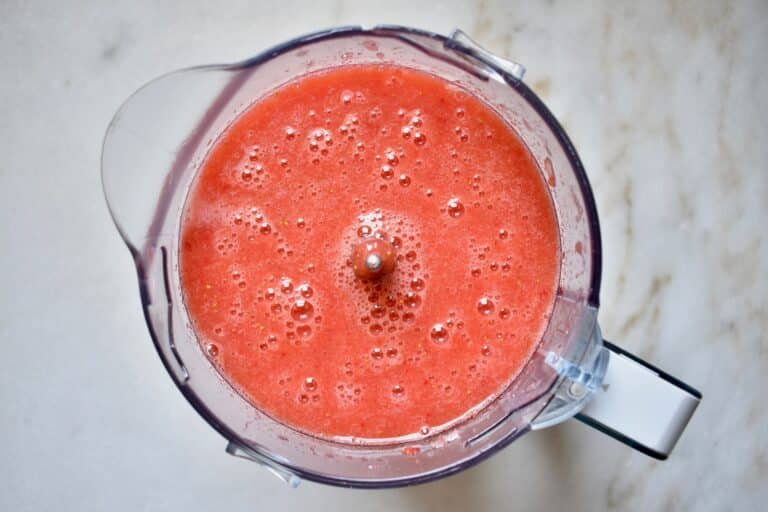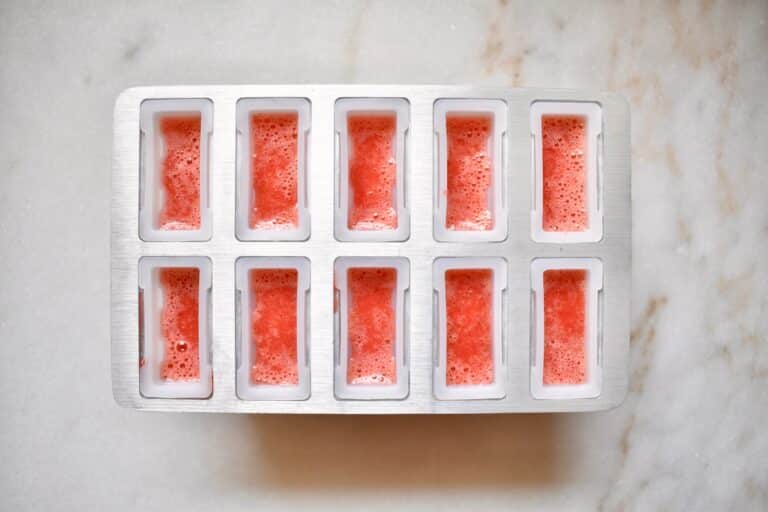 Using a funnel, carefully pour the mixture into the popsicle molds, stopping just below the top to leave room for expansion while freezing. Wipe the top of the mold clean and put the lid on. Insert the popsicle sticks and move the mold to the freezer for 4-8 hours. Once the popsicles are frozen solid, you can remove them from the mold. It may help to place the mold briefly under running water to loosen the edges and make removal easier. 
And here you have them! These were so refreshing and light, and I hope that you and your crew can enjoy them on these hot summer days!
Anna
With only 4 simple ingredients, these strawberry popsicles are fresh and light and ready for hot summer days! Gluten, dairy, egg, & soy free!
Source: thelittlebluemixer.wordpress.com
Course: Desserts
Main Ingredient: Fruit
Prep Time: 25 min
Cook Time: 4 hr
Total Time: 4 hr 25 min
Yield: 5 cups of liquid
Serves:
Ingredients
2 pounds

strawberries
1⁄2 cup sugar

1 tablespoon

lemon juice

1 cup

water
Directions
Wash and roughly chop the strawberries.
Mix together strawberries and sugar in medium bowl and let sit for 10 minutes or until sugar is dissolved.
Blend together strawberries, lemon juice, and water until smooth.
Using a funnel, pour mixture into popsicle molds. Stop just below the top to leave room for expansion while freezing. Clean the top of the mold, put the lid on, and insert popsicle sticks.
Freeze for 4-8 hours. When ready to remove, it may help to briefly place the bottom of the mold under running water to make removal easier.
Enjoy!
Powered by