Welcome to the second week of 2021! New Years is an exciting time as we all focus on new goals and resolutions. We're focused on making our meal plans interesting and fun as we make our way into 2021! If you've found yourself in a meal planning rut, we're here to help!
Today, we'd like to talk about using your own recipes to make your meal plans Original!
If your current meal plans feel a bit stale, it's probably from planning the same recipes over and over. A fun way to keep your meal plans original is to dig into those old recipe books and find some "secret" family recipes! 
These recipes are unique because they aren't widely circulated around the web; they're special creations from years of hands-on cooking experience. We've talked about the value of heirloom recipes before because they look into our past and help us connect with our family on a different level.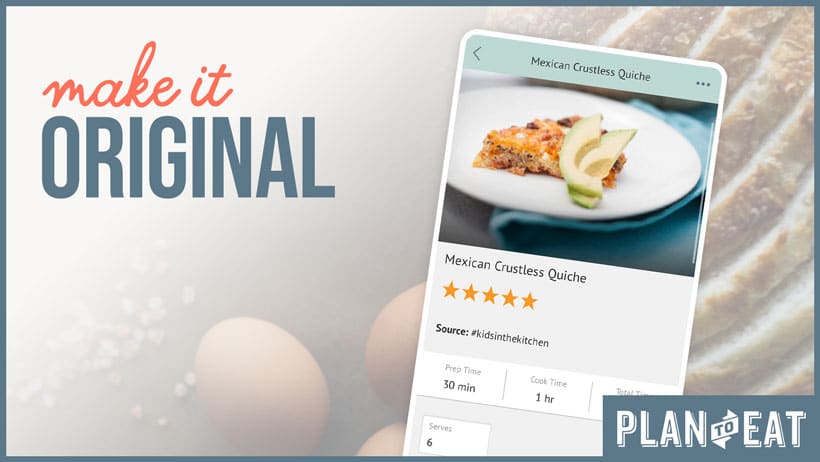 You can quickly add family favorites to your recipe book using the "bulk input" options on a new recipe. Or you can experiment with a photo to text converter app. These apps are often not 100% accurate (especially with grandma's loopy cursive), but it can give you a head-start. We always recommend double checking recipes if you are converting them from another app. 
Also, you could use the "talk-to-text" feature that's native on most mobile devices to dictate your handwritten recipes into a recipe card!
Then, make sure to tag and categorize your recipes, so you can find them quickly. Or add them to your Queue for easy planning! If you prefer to keep these recipes "secret", you can make them private, which will hide them from your Plan to Eat Friends.
Whether you import recipes from the web or find tried and true recipes from your grandmother's cookbooks, adding new recipes to your account will help get you out of a meal planning rut!
Stay with us for the entire month of January, as we give more tips on how get yourself out of a meal planning rut and refresh your meal plans this year!
And if you have questions, email us at [email protected]