A few weeks ago, we loaded up the truck and went on a small family vacay to pick apples in North Carolina. It was a new experience for all of us, and we had so much fun! The weather was great, the mountains were beautiful, and the apples were delicious. It was the perfect way to welcome in fall. In fact, we may just end up making it a fall tradition for our little family!
While at one of the orchards, we spotted a little bakery and decided to try out their cookies. The flavor sounded unique and delicious – caramel apple oatmeal. Mmm. I've had my share of oatmeal cookies. And I've had a caramel apple or two. Yet I never thought to put the two flavors together. Let me tell you, these cookies were good. So good, in fact, that I just had to figure out how to make them for myself. After a few batches in the kitchen and lots of yummy taste testing, I finally get to share these with all of you here at Plan to Eat!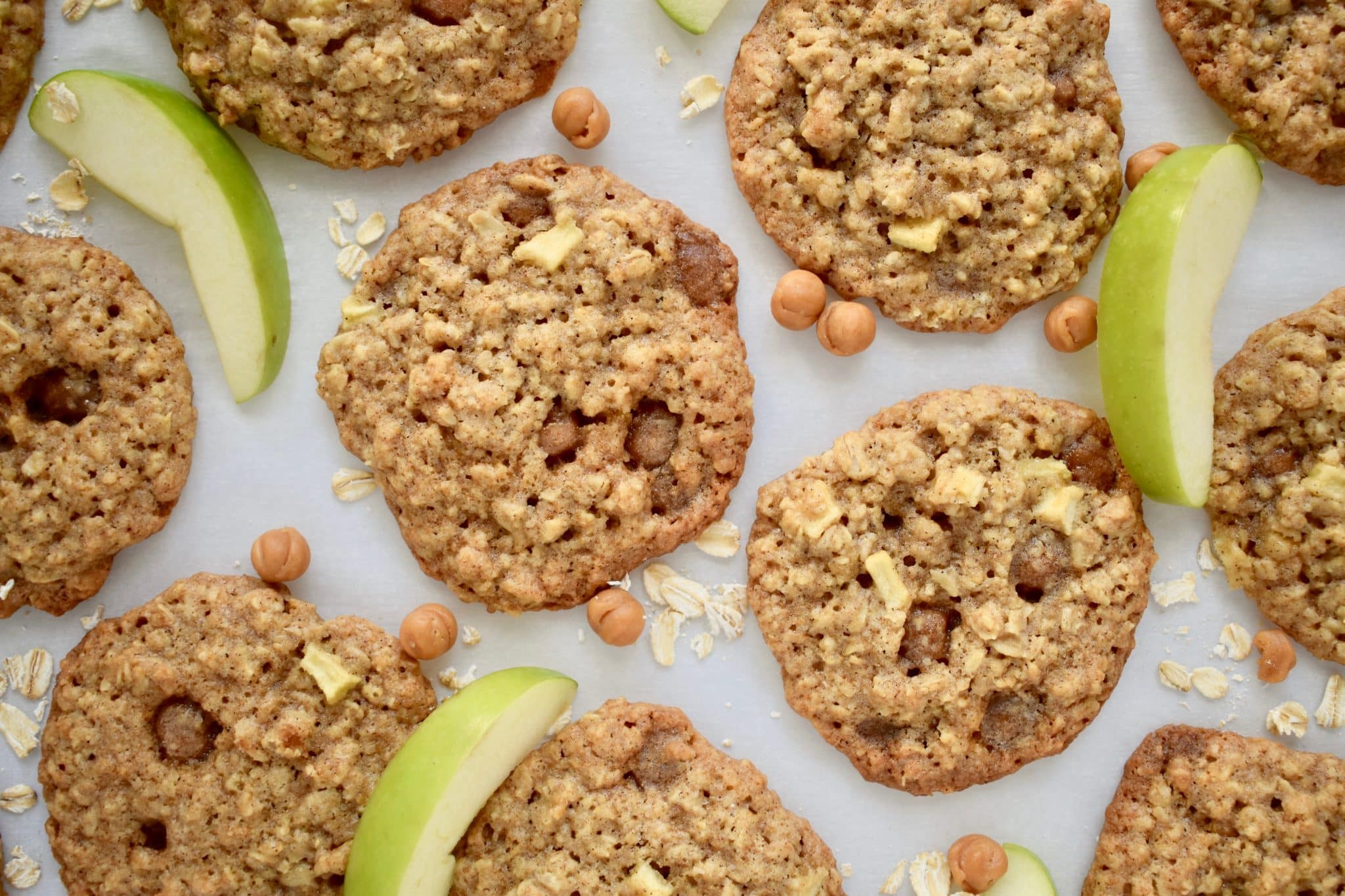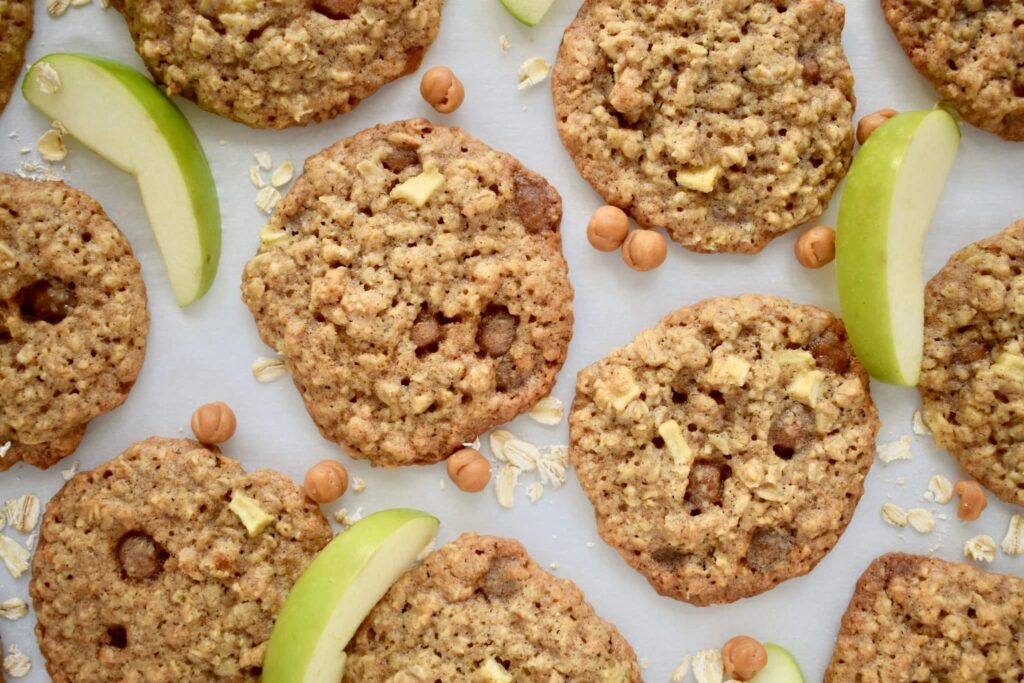 Go ahead and add the recipe to your meal plan. I promise you won't regret it! Just think… cool weather, cozy sweaters, leaves falling, the smell of these cookies baking in the kitchen… ok ok, I think I've convinced you. 😉
Let's get started on the how to!
First up, you need to prep the apples. Wash, core, peel, and slice until you have a heaping cup full. You don't want your apple chunks to be too big, so go for 1/4 inch cubes or smaller. We want lots of tasty little bites of apple throughout the cookies. 
As for the type of apple, I found Granny Smiths to hold the most flavor after the cookies were baked. I tried one batch with sweet apples like Gala, but the flavor just didn't come through. Don't worry about the Granny Smith being tart; these cookies are plenty sweet and the apple flavor mellows a bit while baking.
After the apple is chopped, toss it in lemon juice. This will help enhance the flavor of the apple. However, be sure to let any excess lemon juice drain before adding the apple to the cookie dough so as to not introduce any extra liquid into the cookies. 
For the dough, cream together the butter, brown sugar, and granulated sugar.
Next, mix in the eggs one at a time and add the vanilla. 
In a separate bowl, whisk together the flour, baking soda, baking powder, salt, cinnamon, apple pie spice, and oats.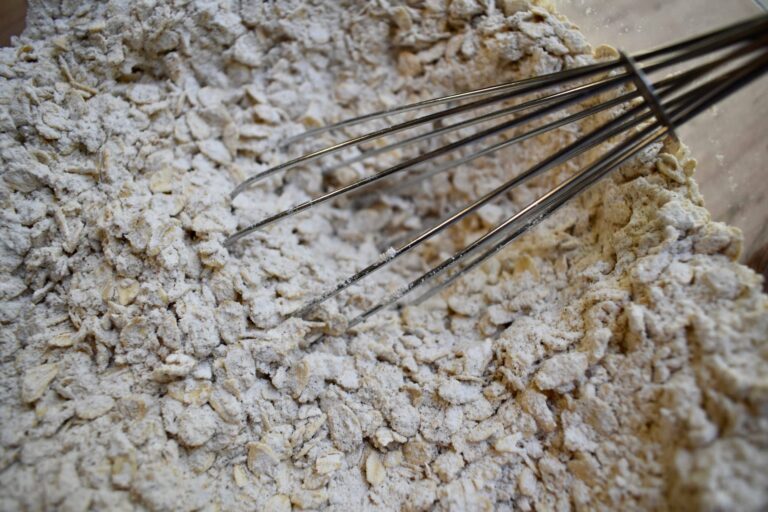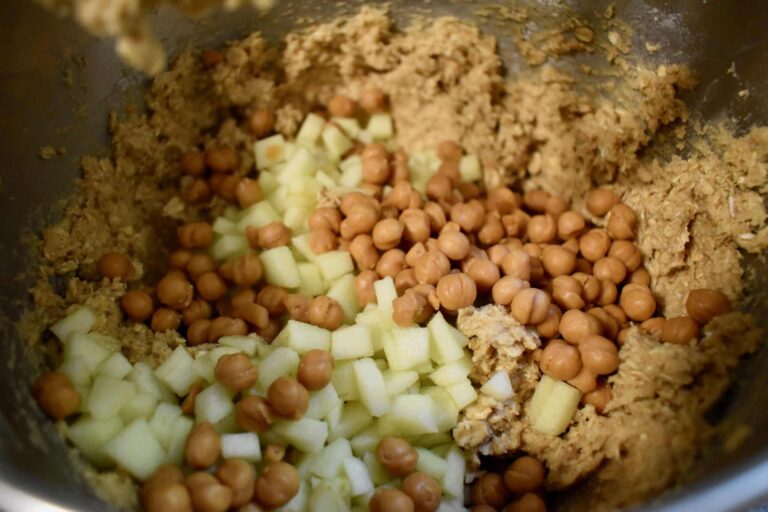 Gradually add the dry ingredients to the wet. Be sure to stop and scrape the sides of your mixing bowl down with a spatula every once in a while so everything gets incorporated. 
After the dough comes together, mix in the caramel and apple pieces just until combined. 
I used a tablespoon measure to scoop the dough and made sure it was nice and rounded on top, as you can see in the photo.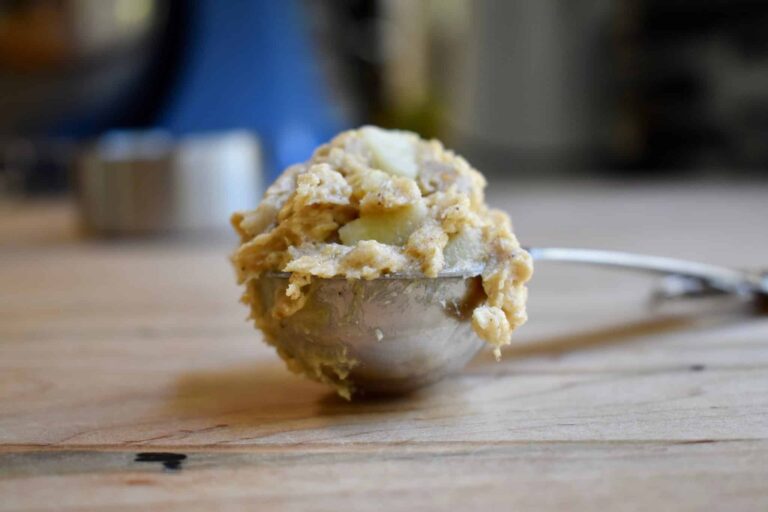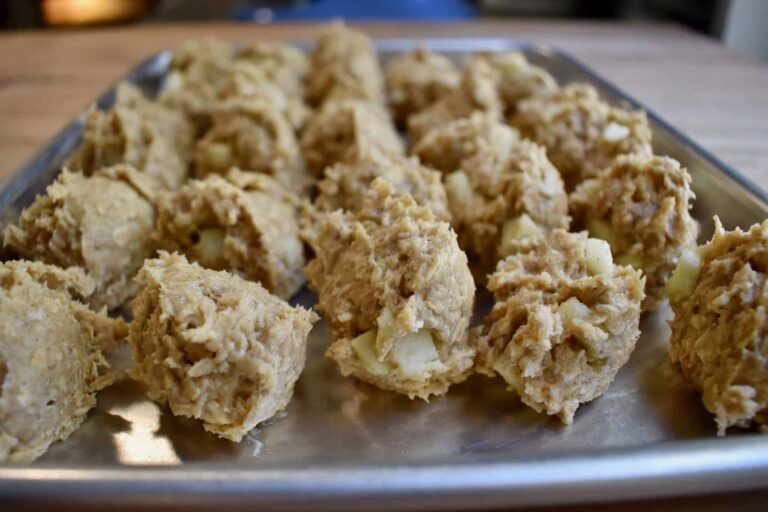 I tried baking the dough both chilled and un-chilled. In the end, I preferred the cookies that spent a little bit of time in the fridge first. If you put the cookie dough balls in the refrigerator for about 30 minutes, this will help to keep the cookies from spreading quite as much while baking.
After the dough is chilled, place the cookies about 2 inches apart on a baking sheet lined with parchment paper and bake for 14-16 minutes at 350 degrees! Parchment paper is pretty key here. The caramel tends to stick a bit if baked directly on the baking sheet, especially if left to cool on the pan for more than a few minutes. With parchment, you can just slide the sheet off onto your counter top to cool and not worry about a thing!
 If you can stand to wait (I couldn't hardly) these cookies are even better the next day. Truly. The flavors have time to mingle a bit and the caramel softens just a touch… it's pretty magical. 
I really hope you enjoy these cookies and that they can help bring a bit of fall into your home! And don't be afraid to share a few with your friends or neighbors, that's a special gesture that will stay with them for a while! 
Enjoy!
Anna
Source: thelittlebluemixer.wordpress.com
Ingredients
1 cup

butter softened
1⁄2 cup granulated sugar

1 cup

brown sugar

2

eggs room temperature

1 tsp

vanilla

2 cups

flour

1 tsp

baking soda

1 tsp

baking powder
3⁄4 tsp salt

1 tsp

cinnamon
1⁄2 tsp apple pie spice

3 cups

oats

1 cup

caramel pieces

1 heaping cup

Granny Smith apple peeled, cored, & chopped

2 tbsp

lemon juice
Directions
Prep apples by coring, peeling, and cutting into 1/4 in or smaller cubes.
Toss apple pieces in lemon juice and drain any excess lemon juice.
In mixing bowl, cream together butter, granulated sugar, and brown sugar.
Mix in eggs one at a time and add vanilla.
In separate bowl, whisk together flour, baking soda, baking powder, salt, cinnamon, apple pie spice, and oats.
Gradually add dry ingredients to butter mixture, being sure to scrape down the sides of the bowl occasionally.
Mix in apple and caramel pieces just until combined.
Scoop dough into balls, about 1.5 – 2 tablespoons each, and refrigerate for at least 30 minutes.
Bake at 350 degrees on a parchment lined baking sheet for 14-16 minutes or until the edges are golden brown.
Enjoy!
Powered by