The weeks after the holidays are a little glum, yes? Your kitchen's a mess. Your house is filthy. Your body is flabby. And spring is so far away!
Before you fill your gullet with the last of the Christmas cookies out of depression, read on! Plan to Eat has put together the perfect giveaway package to help you get back on your feet.
THE BOOK
Whatever personal routine you want to spruce up, be it what you eat, how you clean your house, or how you care for your body, Erica Strauss has the perfect starting place for you. Erica is the voice behind the Northwest Edible Life blog, and she wrote one of my favorite blog posts ever. In late summer, you'll hear me quoting this post to my husband as I sweat over a water bath canner. "Hon, this grow-and-preserve-your-own-thing is looking more like a self-made hell than the modern road to freedom. Remind me why we do this?" Erica feels it too. She gets me. And she also reminds me why we do this, even when the Sweetie Pie isn't there to.
Her new book, The Hands-On Home, is not only inspiring, but is also immensely practical. Here she has collected the essential recipes that should be a part of every natural homemaker's repertoire.
Erica has cleverly arranged her book according to seasons: spring, summer, winter, fall, and a ubiquitous year-round chapter. Each chapter contains four different kinds of recipes: cooking, preserving (canning, freezing, and fermenting), home care, and personal care.
I flipped to spring's recipes first. I couldn't help it. Green Herb Lamb Chops with Preserved Lemon Aioli. Strawberry Preserves in Balsamic-Black Pepper Syrup. An easy-peasy Carpet Freshener to revive your rugs after the long winter. They are all bursting with sunshine and freshness. I can't wait for spring.
I then spent most of December experimenting with recipes in the winter chapter. All of which turned out so warm and comforting and delicious that I feel renewed and ready to face down the rest of winter. Green Cabbage with Slab Bacon, Pasta, and Mustard Cream (recipe below!). Fermented Spiced Ginger Carrots. Homemade Apple-Maple Mustard. Mason Jar Beeswax Candles. Oat and Milk Bath Soak.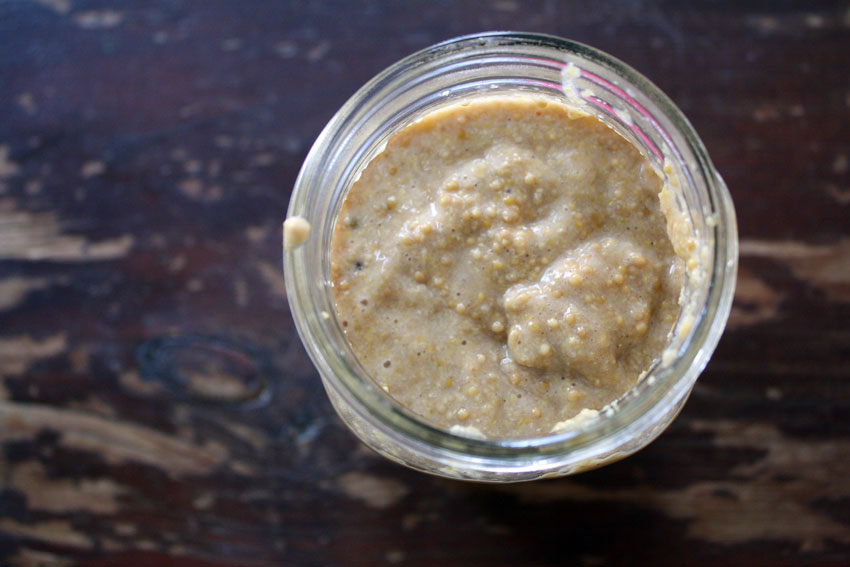 Along with the nuts and bolts of the book, Erica fills in the interstices with tips and advice that make you feel like your grandmother is standing at your elbow. "Now dear, if you don't want to die from botulism you need to be sure to keep those shredded carrots submerged." Got it.
And I adore her list of Rhythms and Routines in the first chapter. I recognize a lot of my own homemaking and gardening rhythms there, but Erica also lists some new ones for me to experiment with incorporating. The Sweetie Pie says I should prioritize "Make and freeze Meyer Lemon Curd". He says it's an essential December task and must not go undone any longer.
But I confess that my favorite thing about The Hands-On Home is the DIY Oven Cleaner That Really Works. Here's the evidence:
For real, that is my oven before and after. I don't need to say anymore, right? You want this book, don't you?
You're in luck because Sasquatch Books has generously provided us with a copy of Erica's book, The Hands-On Home, to give to a lucky reader. But we've sweetened the deal with a few other things, too. Read on!
THE GOODS
If you spend two minutes reading Erica's blog or her book, it'll be immediately apparent that she uses Mason jars for e.very.thing. In most cases, all you need to use a Mason jar is, well, a jar. And maybe a lid. A screw band is also sometimes helpful.
But if you start using Mason jars to the extent that Erica does (and, quite frankly, our family has reached that point) you'll want to invest in a few accessories to make your Mason jars work even harder for you. And if you're looking for Mason jar accessories, there's only one place to go.
Mason Jar Lifestyle is THE place to find anything you could possibly dream of for your Mason jars. Candle holders? Yep. Drinking straws and lids? Of course! A speaker for your smartphone?  Actually…yes! That too.
Mason Jar Lifestyle has put together a generous package of accessories that are particularly helpful in implementing the recipes in Erica's book. A set of four four fermentation airlocks (A), silicone lids (B), and six glass weights (C) practically ensure a mold-free Lacto-Fermented Pico de Gallo (see The Hands-On Home, page 239). A dispenser pump lid (D) means you're all set to dispense some Honey-Rosemary Hair Wash (page 156). And a spray bottle adapter (E) is just the thing to put your Greasy Grime Spray (page 148) to immediate use. And they've thrown in a silicone drinking lid (F). Just so you can sip a jar of sweet tea while you browse their many website offerings.
Plan to Eat is also including a generous one pound chunk of beeswax from our local honey source, which you can use to make Erica's lip balm, hair styling wax, or her great Mason jar candles.
And the best part of making your own home cleaners and body care products is customizing the scent. So we're including a variety of popular fragrances to get you started.
THE BONUS
What?? You want more??
Okay, how about someone (a professional, experienced someone) to hold your hand through healthier eating in the new year?
Crystal from Zen Functional Wellness wants to help you succeed. She's giving the winner complete access to her Zen Wellness Detox plan, a fully-supported, whole foods detox aimed at helping you find the right diet formula for your body.
Starting January 28, you'll join her coach-led program that will guide you through a 14 day meal plan that comes to you complete with over 60 recipes, shopping lists, and an extensive guidebook. Crystal gives you daily support to overcome body and mindset challenges. She can help you get rid of toxins, lose excess weight, and create a positive, loving attitude around food. You'll also have access to a private community forum, connecting you to others on the same journey. AND a free 30-minute one-on-one counseling session with Crystal. Seriously, what else could you ask for?
No pills. No shakes. No calorie counting. No starving.
You enjoy real food—staying satisfied and loving your body.
No matter where you are in your health journey, Crystal is sure teach you something new and help you make real changes for your health.
WHAT? ANOTHER BONUS?
We like to gild the lily.
All of these swoon-worthy items will arrive at your doorstep packaged in one of our brand-spankin' new Plan to Eat canvas shopping bags. We evaluated dozens of tote bags before finding just the right one. Not too deep, not too shallow, not too large, not too small…. It's just the right size for a gallon of milk and some fresh produce.
And to top it all off, we're including a one year Plan to Eat subscription! You can use this to start a new account, extend your current subscription, or give it to a friend.
The Clean Routines in 2016 Giveaway
This entire $400 prize package will go to one winner. Here's how to enter:
Erin's note: I admit that cabbage, bacon, and mustard do not photograph well. But this dish is so simple and incredibly tasty. Perfect for January.
Source: The Hands-On Home by Erica Strauss
Course: Main Course
Serves: 4
Ingredients
4 cups

pasta

6 ounces

slab or thick-cut bacon, cut into lardons

2 cloves

garlic minced

1 small head

green cabbage (about 2 pounds) cored and finely shredded
1⁄4 cup heavy cream
1⁄4 cup water

2 Tbs

mild whole grain mustard

Pinch

freshly grated nutmeg
Kosher salt and freshly ground black pepper
Directions
In a large pot of boiling salted water, cook the pasta to al dente, then drain well.
In a very large skillet over medium heat, cook the bacon, stirring occasionally, until the bacon renders its fat and crisps, about 7 minutes. When the bacon is nicely browned, add the garlic and cook until fragrant, about 2 minutes. Add the cabbage and cook, stirring occasionally, until the cabbage is browned in places and just tender, about 5 minutes.
Add the cream, water, and mustard to the skillet and sprinkle the nutmeg over the cabbage. Stir well to incorporate the mustard. Add the pasta and cook, stirring frequently, until the pasta is heated through and tender and the sauce has reduced to coat the pasta and cabbage, 5 to 7 minutes. Season with salt and pepper to taste and serve immediately.