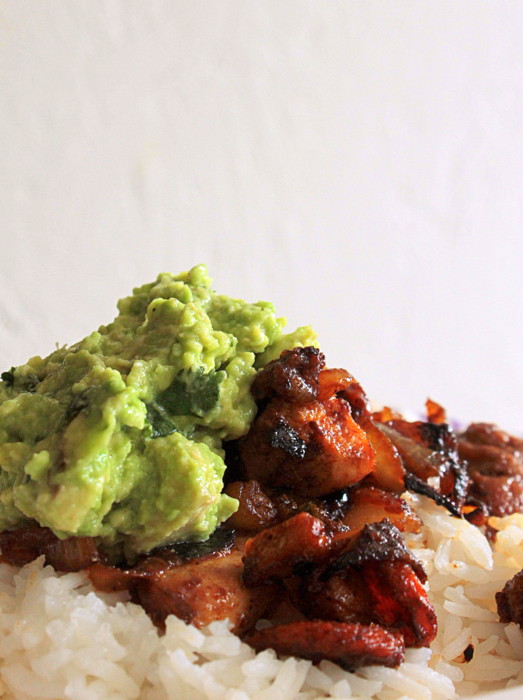 I love the idea of a Mexican haystack. Essentially it is all of your favorite Mexican meal fixings – meat, beans, veggies, rice, toppings – served buffet style. People can layer their plates with whichever of the base ingredients that appeal to them and then top them off with salsa, sour cream, guacamole, hot sauce, and more.
I find these types of meals, not unlike a baked potato bar, well-suited for crowds. I've made them with huge pots of beans, some ground beef, and rice. There have been carnitas-style pork, black beans, and sweet potatoes. Truly, the options are endless and so long as there's some good flavor involved, it always seems to leave everyone full and happy.
As the cook, one of my favorite aspects of the meal is the leftovers. Invariably there are rice or meat or fixings left on the table. More often than not I combine these ingredients into a buttered casserole and bake it until bubbly for our next meal. Covered in cheese and topped with salsa and fresh greens, this easy leftover casserole is just as good as the featured presentation.
This version takes the chicken fajita concept and incorporates it into the haystack with a good pot of rice and a quick guacamole. The slightly smoky, spicy chicken and vegetables play well with the subtle rice and lemony guacamole, making this a hit. And when winter is in full swing I swap pricey bell peppers for frugal carrots for that hit of sweet with the onion and chicken.

Source: www.plantoeat.com
Ingredients
For the Chicken Fajitas

1.5 lb

chicken thighs cut into bite-sized chunks

4

carrots sliced thin or 2 bell peppers, sliced thin

1 large

onion thinly sliced

4

garlic cloves minced
1⁄4 cup lard or coconut oil
1⁄2 teaspoon ground cumin

1 teaspoon

chili powder
1⁄4 teaspoon Mexican oregano
1⁄4 teaspoon ground cayenne
salt to taste
For Serving

2

avocados

1

lemon

2 Tablespoons

minced cilantro

1

garlic clove minced
salt to taste

1

pot of cooked rice
Directions
Cook 3 cups rice according to package instructions. Set aside.
Heat a large cast-iron skillet over medium heat until nice and hot. Add lard and allow to melt before adding sliced carrots and onions. Saute for several minutes and then add the chicken pieces. Allow chicken to sit, undisturbed for about 3 minutes in order to brown. Then stir the chicken and veggies around as you would a stir-fry and allow to cook for about 5-8 minutes or until chicken is cooked through and vegetables are browning and tender.
Stir in garlic and spices and cook for two more minutes. Season with salt to taste.
Add the avocado flesh to a small bowl. Juice the lemon into the avocado and add minced cilantro and garlic. Smash together with a fork and season with salt to taste.
Place the rice, chicken fajita mixture, and guacamole on the table with hot sauce or salsa. Serve buffet style.
Powered by