It's just about the hottest part of the year for all of us, isn't it? And I don't know about you, but I am not turning my oven on if I have a choice in the matter. That said, we still need to eat and for those of us who consume grains, homemade is always preferable. So, I've been cooking up baked goods on our griddle in fast and easy batches to feed my growing family.
It's so easy for me to fall into these ruts in the kitchen. Sometimes I just fall back on what's easy and familiar, and that's okay for a time. Sometimes I create a blind spot and think "It can't be done!" in cases like it's-too-hot-to-bake-bread. And then I come across ideas like griddle scones and I wonder how I didn't think of that. Of course you can "bake" breads on the stove top.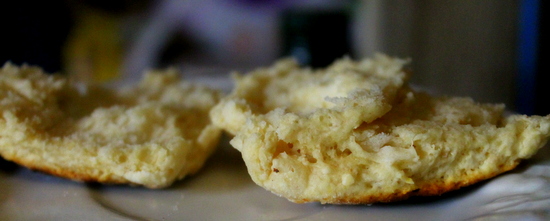 If you think about it, many breads like pancakes and griddle breads were probably made out of the need for breads when one does not have wood-burning or electric stoves. In my limited experience, it is easier to work a fire for stove-top cooking than it is for baking.
So, I've been griddle-top baking, and I thought I'd take you along for the ride. From the griddle today we have scones, one of my very favorites.
In my experience, scones are the fluffiest and most tender when the dough is left moist and handled minimally. The dough should be moist enough to be difficult to work with, but keep in mind that all you have to do is pat, cut, and get it into the pan. The heat will take care of the rest.
Yield: 8 Small Scones
Serves:
Ingredients
1 cup

all-purpose flour plus additional for dusting

1.5 teaspoons

baking powder
1⁄4 teaspoon salt

2 Tablespoons

lard or butter

2 Tablespoons

honey
1⁄3 cup milk Can go up to 1/2 cup, if needed
Directions
Preheat a griddle or cast-iron skillet over low heat. I find that the best temperature for these is to find the very lowest setting and turn it up ever so slightly.
In a small bowl, combine the flour, baking powder, and salt. Cut in the lard or butter. Drizzle in the honey and add the milk, starting with a scant 1/3 cup. If the dough is not fairly supple and shaggy, add just a bit more milk until this is achieved.
Flour a clean work surface and turn dough out onto it. Gently flour the top and knead 2-3 times, just enough to barely bring the dough together. Pat it down into a 1/2 inch round. Flour a sharp knife and cut the dough into 8 small triangles.
Carefully place scones on pre-heated griddle, giving them at least 1″ of space in between. Cook 5-7 minutes, until the bottom has browned nicely. Very carefully turn and cook an additional 5-7 minutes.
Remove from pan and allow to cool several minutes. Serve with butter, honey, or jam.
Powered by