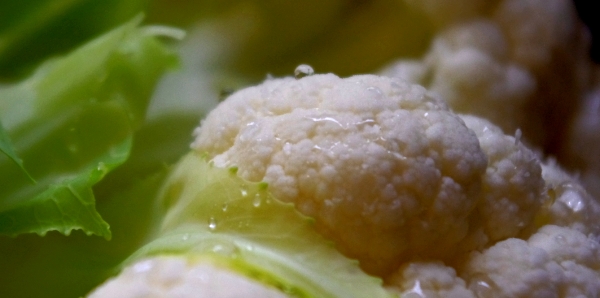 If there is a single way to make any questionable vegetable tasty, I'd say roast it or grill it. Some good fat, salt, and a high-heat cooking method turns some of the most suspiciously strong-flavored vegetables into a vegetable french fry.
Yeah I'm looking at you, asparagus, broccoli, and cauliflower.
Even though we're big veggie eaters, I still like to implement tasty ways to prepare them such as this. A couple of trays of this roasted cauliflower and a big salad loaded up with some tasty protein options, and you've got yourself a meal.
So if you're not a huge fan of boiled cauliflower, like me, then I'd give this a try.
Course: Side Dishes
Serves: 4
Ingredients
1 medium head

cauliflower resulting in about 3 cups of florets

2

or more Tablespoons of real olive oil or ghee

1

or more teaspoons of sea salt

1/8 teaspoon

red pepper flakes
parmesan cheese for serving
Directions
Preheat your oven to 425 degrees. Cut cauliflower into small florets about the size of your thumb. In a bowl toss the florets with olive oil, salt and red pepper flakes. Spread in one layer over one or two cookie sheets or a large sheet pan or pizza pan. It is important not to overcrowd the cauliflower, otherwise it can steam.
Roast at 425 for 15-20 minutes. Remove from the oven and rotate the florets to ensure even browning. Place cauliflower back in the oven. Continue to roast and turn the cauliflower in 10 minute increments until you are satisfied with it's color. You want it dark brown on as many sides as possible. This ensures an almost french fry like quality.
Grate parmesan cheese over the cauliflower and serve.
Powered by

//