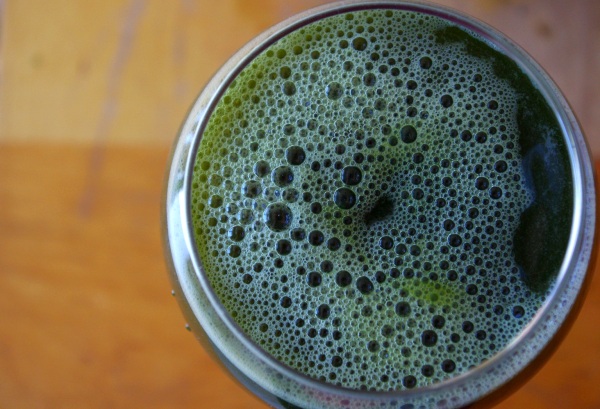 I haven't juiced in a really long time. For one, the only reason we really got started on juicing was when we were doing the GAPS diet. That was a couple of years ago and I never really explored it afterward, probably because of the other reasons – it can be crazy expensive if you don't have a big garden and we didn't own a juicer.
But we did manage to make some decent juice with a fairly high-powered blender. I'm sure it's not ideal or as great an end product as those fancy juicers are, but it saves the money and the counter space of buying a brand new juicer.
All it takes is a fairly decent blender, a tea towel for straining off the pulp, and the willingness to chop your vegetables before you "juice them".

Here's How I Did It
Place 1-2 cups of water in the blender. One cup should result in enough juice for two people.
Chop vegetables fine, like you're making a soup. So celery, carrots, cucumbers, hard fruits etc. should all be diced. Greens should be roughly chopped.
Add 1 cup of chopped vegetables to blender. Blend on low for 10 seconds and then on high for an additional 10 seconds, adjusting for your blender.
Add more vegetables, blending between batches, until you have a smoothie-like consistency like the green delight you see in the photo below.

Place a tea towel over a strainer or a narrow, deep bowl. Now pour enough of the blender-mixture into the towel that will allow you to pull up all four corners of the towel around the pulp.
Pull up the four corners of the towel and allow it to drip for a couple of minutes before beginning to twist the handle of the towel and squeeze out the remaining juice. Keep squeezing until the pulp is as dry as possible. This will take a few minutes and some elbow grease. Place pulp in compost.
Repeat with remaining blender-mixture. Voila, you have watered-down fresh vegetable juice!
Have you tried making fresh juice? What's your favorite combination?