"They're just pancakes," I told my husband as I sifted through the comments of this recipe. In reading through the thoughts of those who had tried this recipe, it was funny how incredibly different each reaction could be – most said they were the best grain-free pancakes they had ever eaten, others were spitting mad.
I looked through the recipe and I could see why you might be unhappy, if they didn't turn out how you had hoped. The ingredients are expensive and if you are used to eating regular-old white flour pancakes these are certainly a bit different. I am not a stickler for precision, but with this recipe you must follow it exactly – it's those little details in the directions and the specific ingredients that make these pancakes awesome.
And I agree with almost all of those that loved these pancakes and make them as their very favorite grain-free breakfast food. They are delicious, rich, fluffy, and a wonderful alternative to the eggs and bacon trap that I often fall into when we are eating grain-free.
There is also a dairy-free option for those who need it.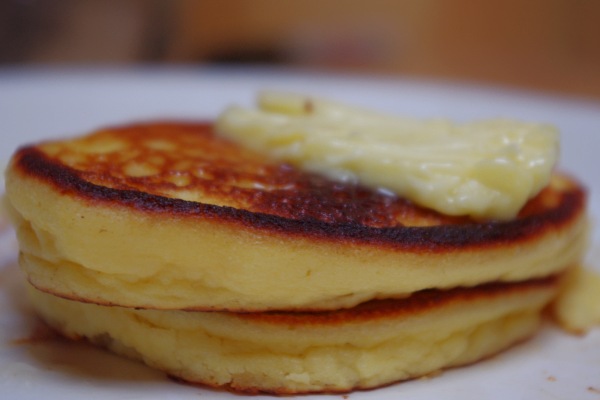 Ingredients
4

eggs room temperature

1 cup

coconut milk (this bpa-free version) or 3/4 cup heavy cream + 1/4 cup whole milk,

2 teaspoons

vanilla extract

1 tablespoon

honey or a pinch of stevia,
1⁄2 cup coconut flour

1 teaspoon

baking soda
1⁄4 teaspoon sea salt
coconut oil or butter for frying,
Directions
Preheat griddle over medium-low heat. In a small bowl beat eggs until frothy, about two minutes. Mix in milk, vanilla, and honey or stevia.
In a medium-sized bowl combine coconut flour, baking soda, and sea salt and whisk together. Stir 3/4 of wet mixture into dry until coconut flour is incorporated. Allow to sit for 3-5 minutes.
At this stage your batter should be thick, almost like brownie batter. If it is still fairly thick and dry add the rest of the wet mixture.
Grease pan with butter or coconut oil. Ladle a few tablespoons of batter into pan for each pancake. Spread out slightly with the back of a spoon. The pancakes should be 2-3 inches in diameter and fairly thick. Cook for a few minutes on each side, until the tops dry out slightly and the bottoms start to brown. Flip and cook an additional 2-3 minutes.
Serve hot with butter, coconut oil, honey, syrup, or fruit.
Powered by