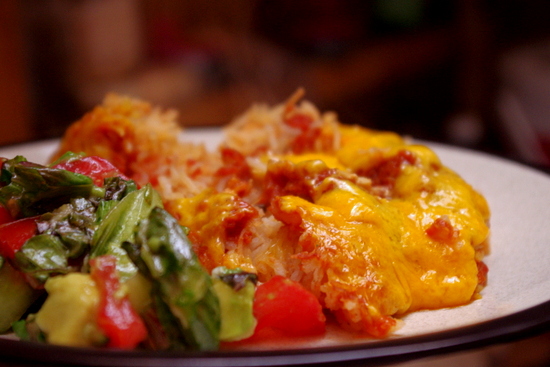 I love feeding a crowd. We've been doing a lot of that lately, even if it's just an extra couple of mouths to feed. A big pot or pan of something always seems to work well to fill up lots of bellies.
Almost every casserole I've ever eaten in my whole life has some sort of cream of something soup in it. On the rare occasion it's not that, then it's a boat load of mayonnaise or sour cream.
Even though I kind of hate those things, I love the casserole concept for its ease of preparation. Protein, carb, veg all in one pan that will bake in an hour while I wash some dishes or catch up on emails? Yes, please.
So I've been trying to come up with a few of these one-pan wonders while working inside of our family's wheat-free, dairy-lite food restrictions.
This Mexican-flavored casserole is just the ticket – fast, easy, and real. And by leaving an area of the dish cheese-free we accommodate those who are avoiding dairy.
Ingredients
3 cups

cooked chicken

2 cups

long-grain white rice

1 16 oz jar

prepared salsa

1 8 ounce can

tomato sauce

3 cups

stock or water

1 tablespoon

garlic powder
1 1⁄2 teaspoons ground cumin

1 teaspoon

chili powder

2 teaspoons

sea salt

8 ounces

sharp cheddar cheese, grated (optional)
Directions
Preheat oven to 350 degrees. Layer chicken, shredded or cubed, into bottom of 9×13″ baking dish. Sprinkle rice over the chicken.
In a medium bowl whisk together the stock or water, prepared salsa, tomato sauce, garlic, cumin, chili powder, and sea salt. Pour the liquid mixture over the chicken and rice, distributing it evenly.
Cover the baking dish either with an oven-proof lid or heavy duty aluminum foil. Bake at 350 degrees for 45 minutes. Remove dish from oven, uncover, and sprinkle cheese over top.
Place back into oven and bake an additional 15 minutes or until cheese is melted to your liking.
Serve alongside a fresh salad for a complete meal.
Powered by